WWE: 10 Best Things About the Bella Twins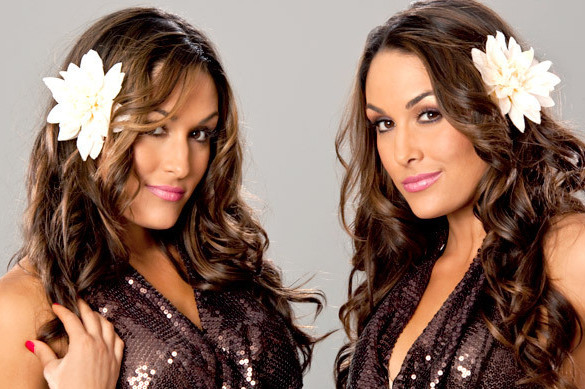 via fanpop.com
With reported rumors of the Bella Twins (from Dave Meltzer) being released from their WWE contract as early as next month, I for one would miss them.
I know they may not be as talented in the ring (or on the mic) as other divas, but I always thought they had a certain je ne sais quoi.
Can you blame me?
What follows are 10 of the best things about the Bellas:
Begin Slideshow

»
The Bella Twins' YouTube channel, NicoleBriannaTV, may not be the best pro-wrestling YouTube channel out there, but it is always nice when popular figures try to connect with the fanbase.
Though no longer active as of Feb. 14, possibly because of the WWE's revamp of its own YouTube channel, the Bellas would use their channel to answer fan questions that were submitted to them via their twitter account.
The concept is simple, but it is one I think more people on the WWE roster should do (without the WWE forcing or monitoring them).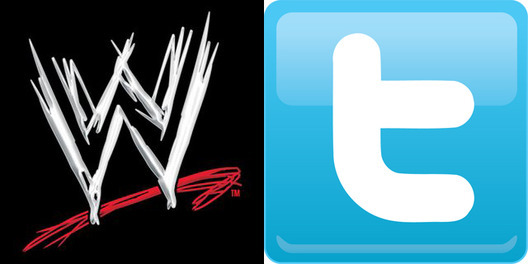 via ugo.com
Speaking of twitter...
I know many people on the WWE roster have twitter accounts, but few people update their accounts as often as the Bella Twins.
Found @thebellatwins, the Bella Twins' tweets provide an interesting insight into the life of a WWE Diva, providing such gems as:
Got my hot pink on to match my hot pink Nikes.. Super sore but that doesn't stop me! Booty lifting time! Be nice MS!! N #BellaBootCamp
and
Wind in my hair... Catching some rays... And scopin' out the hotties... Nikki
via polarcoordinate.files.wordpress.com
via www.wwehub.com
So you do not have a YouTube account or a Twitter account, and you are not really interested in the Bella Twins' talent as authors; does the beauty of photography interest you?
As two of the most attractive women in the WWE, the Bellas' work before the lenses of a camera is always of the utmost quality, reflecting the women's previous work as models.
Those not convinced of their modeling abilities can find some of their work here.
What happens when you put two of the most attractive women on the WWE roster and you have them seductively walk down to the ring in some of the most "fashionable" ring gear? Great television, that is what happens.
Don't believe me? Watch the video provided (you can thank me in the comments bellow).
As sisters, Brie and Nikki Bella, have great chemistry between each other.
Their constant bickering can be funny at times. Plus, as anyone with siblings, twin or otherwise, can attest that nothing is more fun than picking a fight with a brother or sister.
Not usually a fan of bad music, there is something catchy about the Bella Twins' entrance song. Admit it, at least once you have sang along to it. No? Just me?
At least it is better than better than Kelly Kelly's musical treasure, "Holla", or Alicia Fox's symphony "Pa-Pa-Pa-Pa-Party."
Love them or hate them, the Bella Twins play the b*tchy role really well.
Whether they are making fun of a pregnant Kharma (skip to around the three-minute mark) or turning Zack Ryder down for a date, these two women give the impression of being really mean.
Great acting! They are acting, right?
I know that working with the USO, is almost a requirement for all WWE Divas, but the fact that the Bella Twins perpetually work to entertain the members of America's military only speaks to their character as people.
When not working in a ring or in a photo studio, the Bella Twins can often be found working with several charitable organizations across the world—good for them.
The Bellas have mass appeal. Don't believe me, listen to the crowd response of the video provided (at the two-minute mark).
Those students are going crazy for them, and while most of them were teen-aged boys, there were teen-aged boys at West Point. Students there are supposed to be smart; maybe they are unto something.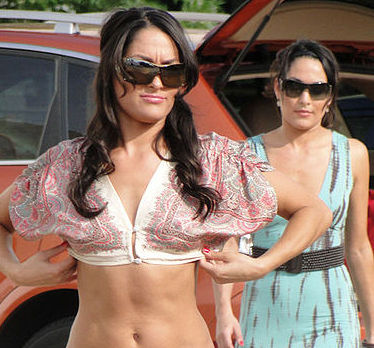 via wikipedia.org
What do you like/hate about the Bellas? Should they stay? Should they go? Please let me know your opinions in the comment sections bellow. Thanks for reading!
Luis invites you to be part of his sportswriting journey by following him on Twitter: @luchalibrelife or via Facebook.