2012 NFL Draft: 5 Running Backs the New York Jets Should Consider Drafting
Mike Ehrmann/Getty Images

Just two seasons ago, the New York Jets averaged 172.2 rushing yards per game and had the No. 1 rushing attack in the league.
Those two seasons seem like a lifetime ago. Since then, the once-dominant offensive line has declined, and the lead back duties have gone from Thomas Jones to LaDainian Tomlinson to Shonn Greene. Behind Greene's 1,054 rushing yards, New York's rushing game ranked 22nd in the league last season.
While Tim Tebow will fix some of the rushing woes, an upgrade at the lead back would be welcome.
A dual backfield, similar to the Carolina Panthers' DeAngelo Williams and Jonathan Stewart pairing, could also work.
New York can even look into drafting a change of pace back to complement Greene and Tebow's power-running games. This could be the most sensible route as it would cost the Jets only a mid- to late round pick.
Here are five running backs the Jets should consider drafting.
Begin Slideshow

»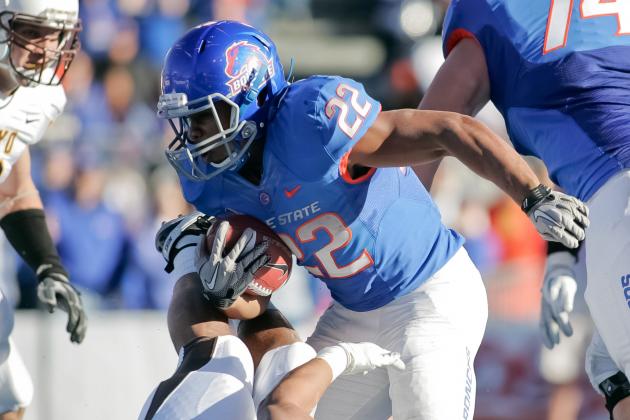 Otto Kitsinger III/Getty Images

Although Doug Martin is two inches shorter than current New York Jets' starting running back Shonn Greene, he weighs about the same.
Martin also possesses the same downfield north-south running game of Greene.
In his senior year at Boise State, Martin rushed for 1,299 yards and showed his nose for the end zone as he crossed the goal line a total of 18 times.
He also displays skill in the receiving game. Last year he also had 28 receptions for 255 yards.
While Martin is the second-rated running back in this year's draft, the Jets will have to think about using their second-round pick on him or possibly trade their 16th pick for a second- and late first-rounder to get their most value. The 16th pick is just too high to grab Martin.
If the Jets are able to land Martin, he can give them a strong dual backfield as he can line up next to Greene.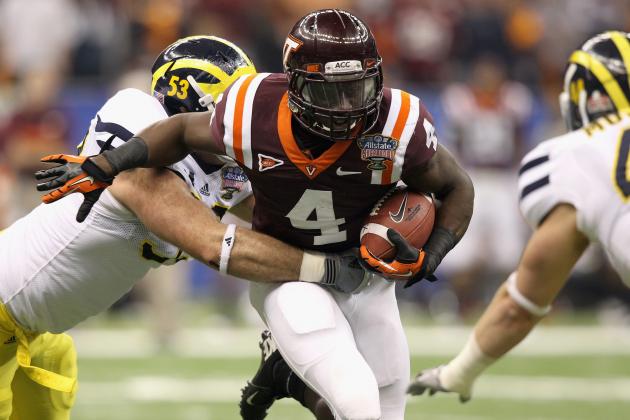 Matthew Stockman/Getty Images

At 5'9'' and 206 lbs., David Wilson is undersized but does not run like it. He has a multifaceted game as he can run between the tackles as well as kick it to the outside.
When he gets to the outside, Wilson's better-than-average speed allows him to outrun most defensive backs.
At the combine, he ran a 4.4 40, which ranked fourth among all running backs.
Last year as a junior at Virginia Tech he proved to be durable, rushing the ball 290 times and catching the ball 22 times for a total of 1,838 all-purpose yards.
Wilson will likely be there when the New York Jets pick in the second round.
Wilson's game is much different than Shonn Greene's. He has more skill and would provide an instant upgrade, possibly making Greene a second-stringer.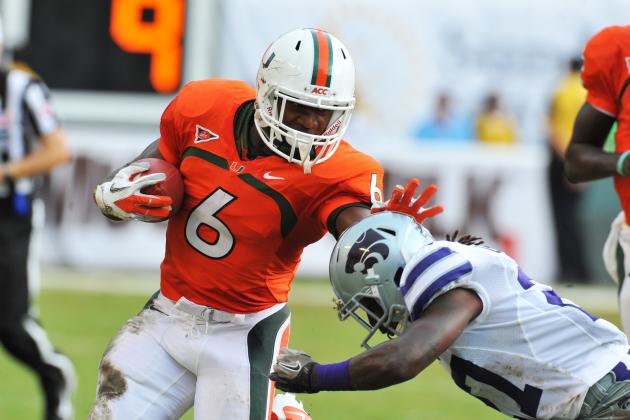 Al Messerschmidt/Getty Images

Lamar Miller is young and does not have a lot of tread on his tires. He only started one season at Miami and has only a total of 381 carries in his entire college career.
At 5'10'' and 212 lbs., Miller has just average size. He is not an overpowering back who necessarily looks for contact. Miller's game relies on more on his lateral quickness, his ability to stop and start and his vision to find the cutback lane.
Once Miller gets room to operate he is a threat to take it the distance more often than not.
At this year's draft combine, Miller ran the fastest of all the running backs with an official 4.40 40.
According to ESPN.com, he is the draft's third-best running back.
The New York Jets would have to move down from their 16th pick or move up higher in the second round to justify drafting him so early.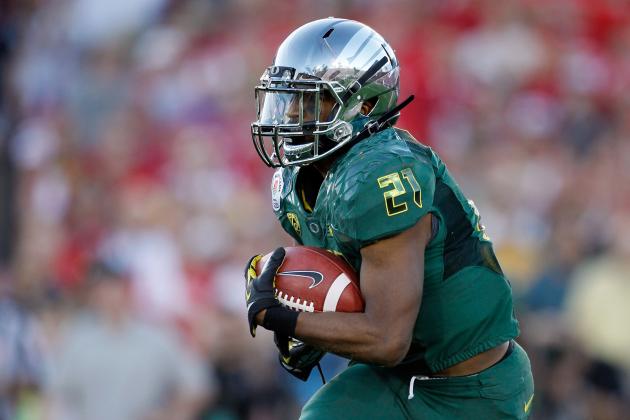 Jeff Gross/Getty Images

LaMichael James is only 5'8'', but what he lacks in size he makes up for in explosiveness. He is the home-run, change-of-pace back who can fit well with the between-the-tackles running game of Shonn Greene and the powering style of Tim Tebow.
Last year at Oregon, James rushed for 1,805 rushing yards and 18 touchdowns, averaging 7.3 yards per carry.
With a 4.45 40 at the combine, James tied for second-fastest among all running backs. He has the ability, just like Lamar Miller, to break out for a big run every time he gets past the first wave of defenders.
James also has decent catching ability. He had 17 receptions in each of his last two years with the Ducks.
While Miller and Boise State's Doug Martin are borderline first- or early second-round picks, the New York Jets can get the most value if they can snag James in the third round.
Being that James has shown throughout his college career that he does not need a lot of carries to be productive, he can be perfect to spell Greene.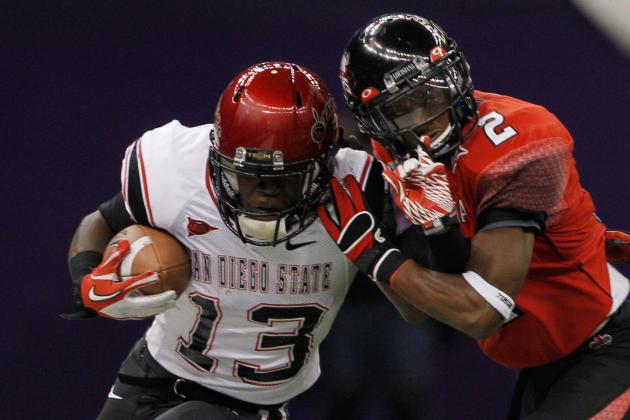 Chris Graythen/Getty Images

Similar to LaMichael James, San Diego State running back Ronnie Hillman can also be a great change-of-pace back for the New York Jets.
Hillman is 5'8'' and relies on his quickness and vision to find lanes to run through rather than looking for contact, but he doesn't shy away from it.
He is a very hungry player who is an early entry junior in the draft, leaving school early to provide for his 2-year-old son. He is also not even 21 years old as of yet.
In his two years at San Diego State, Hillman ran for 1,532 yards with 17 TDs and 1,711 yards with 19 TDs. He was voted to the All-MWC first team and was named his team's MVP this year.
At the combine Hillman showed off just how fast he is as he tied for second among all running backs with a 4.5 40.
Due to his subpar competition, Hillman can most likely be had with a late-round pick.