NHL Playoffs 2012: Western Conference Quarterfinal Predictions and Breakdown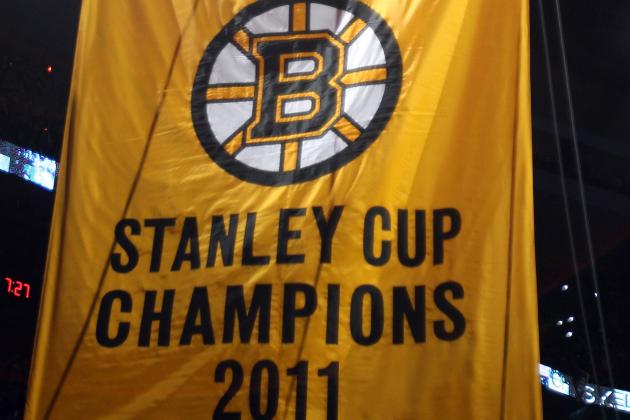 Elsa/Getty Images
It's not easy to get one of these to hang from your barn's rafters
The NHL playoffs start Wednesday, and it's time to break out the crystal ball and let you guys know how this thing is going to go down.
It's tough to figure. Are the Blues ready to contend for the Cup, or was this season just a strange coincidence? Can the Canucks win until Sedin gets healthy?
You can never tell, but that's why we watch. You know, because it's the Cup...
Begin Slideshow

»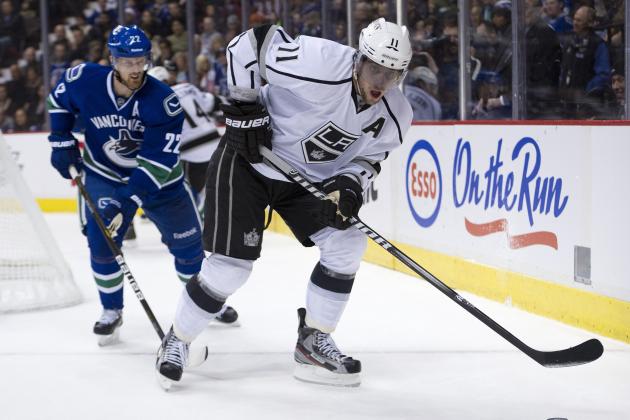 Rich Lam/Getty Images
Will Daniel be back in time to defend against Anze's attack?
Let's start with the Canucks and the Kings.
If you're a Canadian from British Columbia, you're not going to like this, but you've got to face facts. With Sedin's status for the series uncertain, the Canucks just aren't the same team.
Yes, he's skating with the team in practice, but will he be cleared to play in time to make a difference? You can never tell with concussions.
Here's another fact, Jonathan Quick had 10 shutouts this year in 69 starts. Ten!
Luongo had a respectable five but almost lost his starting job earlier this season. Face it, he hasn't proven he can come through in a tight spot.
The Kings are young and able. I'm not saying they're the best team in the league, but with Sedin out, I think this one could go a lot longer than one might think. Kings in seven, but it's going to be so close.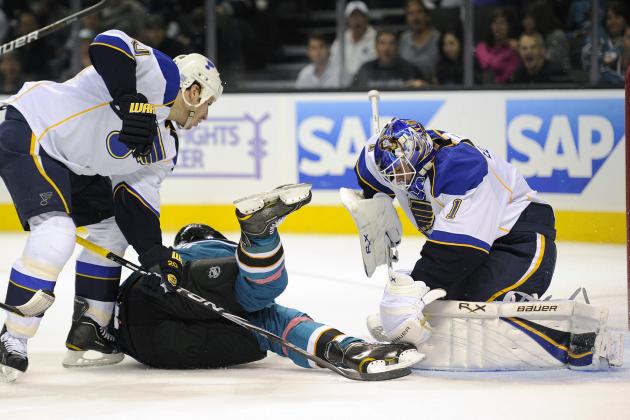 Thearon W. Henderson/Getty Images
This is the only series in the West that could get ugly fast
Next are the Blues and the Sharks.
The Sharks are perennial underachievers in the playoffs, and this year won't turn out any better for "the men of teal." Two names: Elliot & Halak. Simple as that.
To have two guys that combined for 15 shutouts this year (nine for Elliot and six for Halak) is just unreal.
As for the idea that the Blues have no experience? Consider this: Langenbrunner captained Team USA to silver in 2010, and Backes was also on that team. Oshie and Shattenkirk are two young, great players that had great years.
The Blues have been playing as a team all year, and they finished first in arguably one of the toughest divisions in hockey. Blues in five. The Sharks are talented, but the Blues are for real.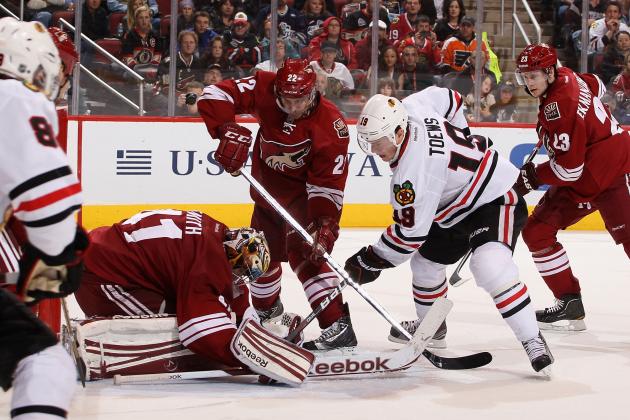 Christian Petersen/Getty Images
The Hawks need that man in the middle back to have a chance in this one
The Coyotes and the Blackhawks' quarterfinal series may be the most deceiving one this year.
Not for those who know better, but when the average person sees the Coyotes going against the Blackhawks in a game, they're betting with the Blackhawks every time. That would be a mistake this year.
Why? Captain Jonathan Toews.
The guy is still hurt, and he brings too much leadership and skill to that top line for this team to do it without him. The Blackhawks are in enough trouble at goalie as it is, but without Toews they're lost.
Coyotes goalie Mike Smith is a monster in net who had eight shutouts and a .930 save percentage in 67 starts this season. He'll shut down the Hawks in this one. Coyotes in six.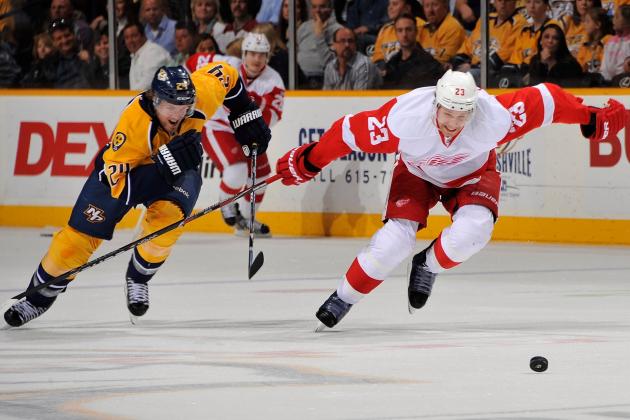 Frederick Breedon/Getty Images
This one's going to be close, real close
This final series is the most intriguing quarterfinal matchup in the West. It's going to be awesome!
Finally, the Nashville Predators have a chance to put down the hated Detroit Red Wings. Nashville wants this as bad as any team in the league wants the Cup. You know it's true "Nashvillans!"
Ultimately, the Preds are too loaded to be denied this year. They can score: finished with the best power play in the league. They can also play D: 10th overall in penalty kill percentage and had a plus-27 goal differential to finish the regular season.
Detroit is good. They have depth and more experience than anyone, but Nashville wants this too badly to be denied. Nashville by a fingernail (in seven).
As you can see, all of these quarterfinal games will be worth watching. Whether you agree with my predictions or not, we can all agree this years playoffs are going to be one heck of a ride. Thanks for reading. I'll have my Eastern Conference quarterfinal picks for you soon.