WWE Extreme Rules: John Cena and Brock Lesnar Will Steal the Show
April 10, 2012

It was just announced on Monday Night Raw that John Cena and Brock Lesnar will square off at Extreme Rules on April 29. Regardless of what the stipulation is, this match will be the best of the night. 
John Laurinaitis kicked off the show with David Otunga and introduced Lesnar as the "new face of the WWE." He went on to say that he wants to bring legitimacy back to the WWE, and by bringing Lesnar back, he will do just that.
Laurinaitis then broke the big news regarding Extreme Rules. The way he announced it was very odd, as an epic match like this should not be announced in a subtle way. 
Cena and Lesnar eventually ended up in the ring together. Cena disrespected Lesnar by slapping him in the face. This slap started a brawl that was so large that most of the wrestlers backstage came out to break up the two. Cena ended up with a bloody lip after getting hit with a strong right hook from Lesnar. 
As the two were being broken up by the giant crowd of wrestlers, Cena looked like a different person. The happy and positive man who always comes out with a smile looked anything but.
The blood was all over Cena's face and his expression told the whole story—Cena was angry. Cena was not happy that someone challenged his legitimacy in the WWE. He felt so disrespected by Johnny Ace and Lesnar that he had to react the only way he knows how. By fighting. 
Cena eventually cracked a smile with the blood on his face, but it wasn't the same smile he gives when he cuts a kiddy promo. That smile showed that Cena was ready to deliver a big-time beating to Lesnar. He wants to prove to the WWE that he is a legitimate superstar and that the loss to The Rock was a fluke.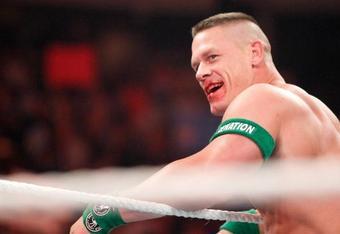 At Extreme Rules, when Lesnar and Cena are face to face, it is legitimacy that will be up for grabs. There has not been a non-WrestleMania matchup with this type of star power in a while. 
If the way the fans in attendance reacted when Lesnar came out last week on Raw was any indication of how excited the WWE Universe is, this match should steal the show. 
It won't be a Ricky Steamboat- and Randy Savage-type match or feud, as neither of the two are very technically skilled. This match will be very similar to the way Cena's WrestleMania 28 match went with The Rock. The hype will overpower anything that is happening in the ring. 
This fight will have some sort of "extreme" stipulation considering it is the Extreme Rules pay-per-view. And though there has not been any indication of what that stipulation will be, it would only make sense if this was a first-blood match. That would mean no disqualification, no count outs, and no rules to follow. 
The stipulation will already add to the hype of Lesnar's return and Cena feud. As the hype mixes in with the extreme rules, this match already has epic written all over it. The only problem is that the WWE is wasting this match at a PPV event that is not named WrestleMania, Survivor Series, Royal Rumble or SummerSlam. 
Hopefully this feud continues for the next couple of months and the WWE Universe gets to see Cena vs. Lesnar a couple of more times. This might not surpass Cena's last feud, but it will definitely come close. 
Sammy Sucu is a Featured Columnist for the WWE. Sammy also writes for the NFL, the Minnesota Vikings and the Los Angeles Lakers. You can Follow him on Twitter here @ThaFreakness_BR.