2012 Possible Atlanta Falcons Draft Pick Profile: OL Kelechi Osemele
April 10, 2012

The Atlanta Falcons are bringing in and visiting with a bunch of players this offseason.
This series will run through draft day and have two players per day posted. We're going to kick it off with Kelechi Osemele.
Kelechi Osemele
Offensive Lineman
Iowa State University
Combine Measurements

Height: 6'6-1/2". Weight: 333 pounds.  
Arm Length: 35-7/8". Hand Measurement: 10-1/4".
40 yard dash: 5.36 sec. 20 yard split: 3.07 sec. 10 yard split: 1.87 sec.
20 yard shuttle: 4.87 sec. 3-cone Drill: 7.91 sec. Bench Reps: 32 reps
Vertical Jump: 26.5" Broad Jump: 8'8"
Stats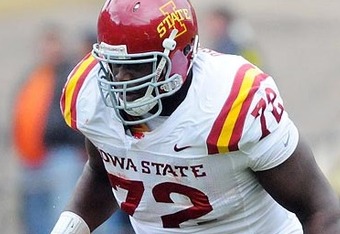 2007 - Redshirted
2008 - 12 Games, 5 Games Started at Offensive Guard
2009 - 13 Games, 13 Games Started at Offensive Guard
2010 - 12 Games, 12 Games Started at Left Tackle
2011 - 13 Games, 13 Games Started at Left Tackle
Scouting Report
Strengths
Osemele is very strong in cut blocking and roll blocking. He is exceptional in isolating a defender in the running game. He's also an over-powering player who uses his size to his advantage and plays with a mean streak.
He gets out quickly on screen plays and can block multiple players on a single play. When he can isolate a guy in a pass blocking situation he can give a good four-to-five second window on his side of the field.
Weaknesses
He will have some issues with knee-bending in the passing game and sometimes gets overextended. He had some trouble beating speed rushers to the edge in the passing game and can get beat with an inside move when matched up on a defensive tackle.
Overview
Osemele is a three-year starter and can give the Falcons someone who will fit well in a traditional pro-style blocking scheme that they will run under Pat Hill.
He's also a two-time all-conference nominee, was an all-American and a captain for the Cyclones.
Osemele is the ideal Dimitroff character pick as he is a senior with no character issues.
He played in the Senior Bowl in Mobile and has no team suspensions or arrests to be worried about. He is projected as a late-first to early-third round pick.
How he would fit into the Falcons' plans
Osemele has very correctable weaknesses in his game.
His issues are mainly technique and with a true teacher as an offensive line coach, he could be the long term solution as the left tackle who protects Matt Ryan.