Manchester United Transfers: Why Reds Should Break the Bank for Sneijder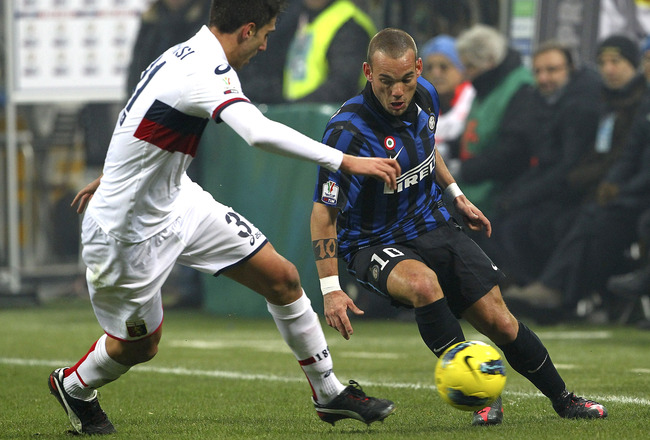 Marco Luzzani/Getty Images
For several seasons now, Dutch star Wesley Sneijder has been linked to Manchester United.
His amazing performances for Inter Milan have made him one of the hottest players in the world today.
Sneijder is an attacking-midfielder that combines speed, agility, silky dribbling skills and an ability to both score goals and provide assists.
Throughout his career, Sneijder has played regularly for his country and represented a number of tops clubs around Europe.
Here is a look at five reasons why Sir Alex Ferguson should break the bank to land this midfield wizard.
A Replacement for Paul Scholes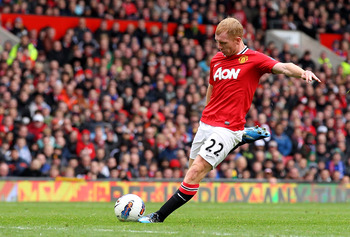 Alex Livesey/Getty Images
The one major issue facing Manchester United at the moment is the inherent lack of a player to fill the enormous boots of Paul Scholes.
Michael Carrick does not provide the attacking threat, nor does Darren Fletcher, while both Anderson and Cleverly are too young and inexperienced to slot straight into the role.
Of the four, Cleverly certainly looks the most likely to step up, as Anderson has had a lackluster Manchester career so far and questions over his future have been raised.
There is no doubt Sneijder provides both the attacking and defensive role of Scholes and is even slightly more mobile then the Englishman was back in prime of his career.
If Manchester United don't replace Scholes adequately, they will be doing themselves a great disservice. He showed at QPR yesterday how valuable he truly is. There is no doubt that Sneijder is the safest like-for-like replacement for Scholes currently available.
Age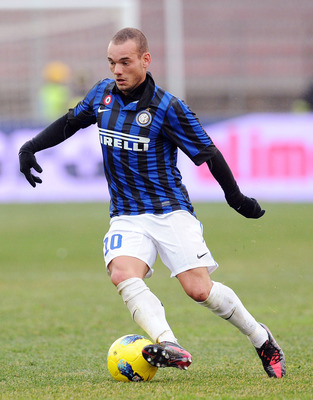 Giuseppe Bellini/Getty Images
At 27 years of age, Wesley Sneijder is sitting in what can be considered the peak-time of his career.
Sneijder is at a stage of his career where his potential has been realised while he has not started the inevitable decline that age brings.
Purchasing Sneijder now would ensure at least five good years out of the Dutchman and is a relatively safe buy considering he has shown his class at Ajax, Real Madrid and Inter Milan.
The main issue we saw with keeping a player like Ravel Morrison was that he really had not shown anything more than potential and proving this potential would take both time and money.
Sneijder has proven his potential and would be a savvy-buy for Manchester United come the transfer window.
A Free-Kick Specialist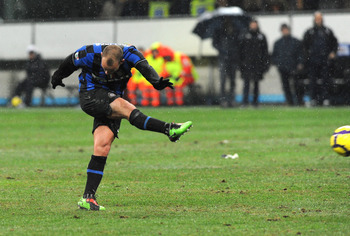 Dino Panato/Getty Images
Not since the great David Beckham graced the number seven jersey has Manchester United had a world-class set-piece specialist.
While Rooney and Nani have stepped up in the past, neither provides that edge-of-the-seat feeling that you get when the likes of Ronaldo, Messi, Sneijder and (in the day) Beckham line a free-kick up.
With Ronaldo gone, having Sneijder to take free-kicks could greatly lessen the goal-scoring burden on Rooney, while providing a part of Manchester's game that it could be argued has been missing for several seasons.
I think every Manchester United fan misses seeing the ball thundered into the goal from a free-kick 40 yards out, and Wesley Sneijder could certainly do this. Combined with his other talents, this surely makes Sneijder all but irresistible.
Proven Ability in Winning Teams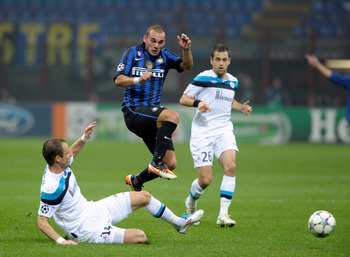 Claudio Villa/Getty Images
As football evolves and the prices of players grows and grows, more is being made of the mindset of certain players depending on what club they are from.
For example, some saw signing and player like Ashley Young a little risky as he had been at Aston Villa, a club with only mid-table ambition.
Sneijder has played constantly in the league and Champions League (when available) for Ajax, Real Madrid and Inter Milan.
The latter of the three was the most significant as Sneijder played a crucial role in the 2009-10 winning of the Champions League against Bayern Munich.
Sneijder is a tried-and-tested player who has shown his excellence against the very best in Europe for years.
Versatility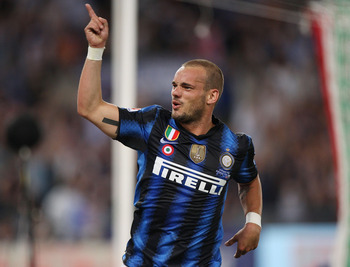 Paolo Bruno/Getty Images
Of all Sneijders amazing talents and skills, he also is an incredibly versatile midfielder.
At United, Sneijder could play as part of a flat-four midfield, or in an advanced role being covered by a defensive midfielder like Carrick, or even as a secondary striker similar to the role countryman Rafael Van Der Vaart plays for Tottenham.
Another amazing fact regarding Sneijder is his ambidexterity (ability to use both feet almost equally), meaning that he can rocket a shot from either foot.
Surely this is the kind of player the Manchester United midfield have been crying for; at the moment, it is loaded with workhorses like Fletcher and Carrick.
Sir Alex Ferguson should spend whatever it costs to bring in Sneijder as he really does have a tick in every box.
I, for one, cannot wait to see the net bulge at Old Trafford and see Sneijder's cheeky grin as he runs towards the home-fans.
Let's hope this dream becomes a reality and one of the world's most amazing players joins the ranks at Manchester United.
Keep Reading

Manchester United: Like this team?