Urban Meyer's Reign at Florida: A Tarnished Legacy?
April 9, 2012

Al Messerschmidt/Getty Images
Pope Urban of Florida certainly had many, many converts to his religion at Florida. Championships and division titles and NFL picks flowed, and he quickly became one of the best coaches Gainseville had ever seen.
If Pope Urban wasn't Saint Spurrier, then he surely would have had the whole field named after him.
And then Pope Urban left his program because of health issues, and Gainseville did cry.
Gainseville brought in Wil Muschamp and Charlie Weis, but things really didn't get going in 2011 and they were behind the Devil, Georgia and those people up north, the Florida State Seminoles. There was not a ranking to be seen wearing Orange and Blue, but they did beat Ohio State.
Pope Urban went to speak incantations at The Church of College Football (ESPN), where he was probably the best analyst the channel had ever seen. His preaching was eloquent, knowledgeable and fun.
People ignored the small matter of Florida's arrest record under him, because the Gators were winning games. Remember the cardinal rule in the Kingdom of College Football: Thou shalt not criticise a coach if he is winning games.
Heck, the VFA himself even met him in 2010 at the Super Bowl and begged him to come out of retirement and take over for Joe Paterno at Penn State, but he had nothing.
We didn't want him taking over at the Sodom and Gomorrah of Columbus, after all.
Ohio State. Now that's a place. It's a kingdom with a palace called a Horseshoe, with a fanbase that can only be called "rabid." They are evil. They don't give a damn about Michigan. They throw nuts at opposing fans. Their university has to plead with them to play nice. Their fans prefer to call their place "The Ohio State University," which is a little strange—bearing in mind there aren't any other Ohio State Universities (also, there are state universities in Ohio—like Toledo and Ohio, for example). 
Since 2003, their team was meant to be great enough to win national championships, but instead they went to the big game twice...and failed miserably both times—against SEC opposition. Their players liked tattoos, and their program went from hero to zero in a matter of a season. Saint James of The Tressel had to go, and he did. Terrelle "Pinocchio" Pryor hasn't been heard of since.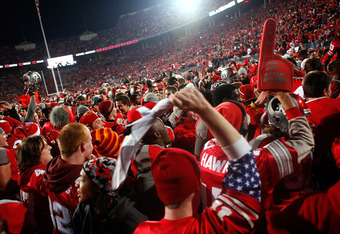 Kirk Irwin/Getty Images
But Pope Urban heard the cries of the red ones, walked away from The Church of College Football and went to take over at Ohio State University. Immediately, the Pope was the new religion. A flood of biblical proportions happened upon the Buckeyes. Yes, 5-star and 4-star recruits did smother the university, and other schools groused that Pope Urban may not have been as saintly as he was percieved to be.
In fact, Pope Urban may not have been saintly at all in his running of the Florida program, either. Matt Hayes of Sporting News accuses him of letting his disciples (or his Cardinals) run the Vatican instead of him. Percy Harvin and Brandon Spikes are named as Chief Infidels.
But Pope Urban countered each comment with denials, as accusations flowed.
The Ohio State Nation isn't about to crucify him, but will The Church of College Football?