San Francisco 49ers: 5 Reasons Why the Red Zone Offense Will Improve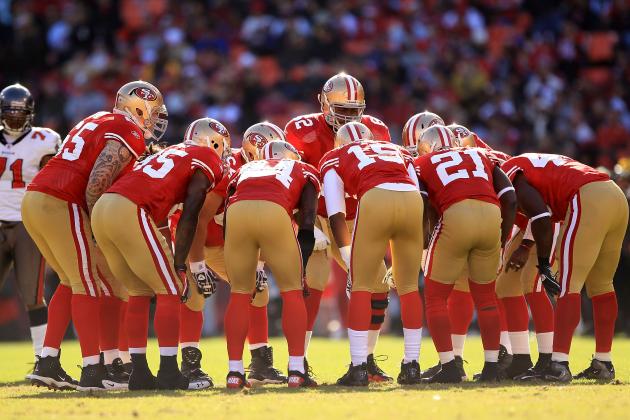 Ezra Shaw/Getty Images

It is widely known among the 49ers fanbase that San Francisco needs to improve offensively if they want to be regular Super Bowl contenders. Two specific areas they need to upgrade are on third down and in the red zone. I would also argue that the 49ers need to be able to engineer longer drives.
But for this piece, I'd like to discuss why the 49ers offense will be way more threatening in the red zone in 2012.
In the following slides, we will analyze and bring to light various reasons why San Francisco will not be a pushover in goal situations.
Begin Slideshow

»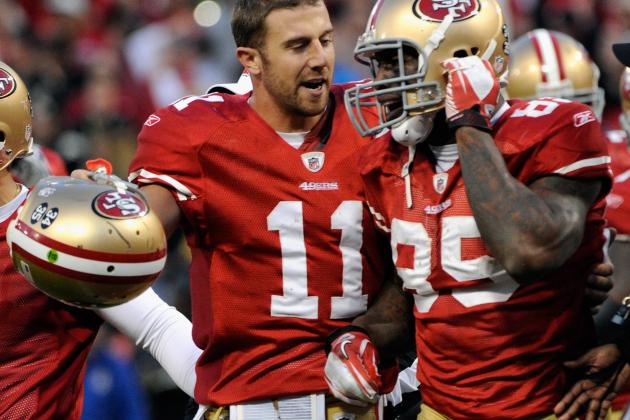 Thearon W. Henderson/Getty Images

For those of you who don't remember, even before Jim Harbaugh got his hands on him, Alex Smith had thrown 30 career touchdowns to one interception in the red zone entering 2011. In the red zone, Smith was precise and rarely made mistakes in several mistake-laden offenses.
Now, Smith plays for a head coach and runs an offensive system that is based on high-percentage passes and not turning the ball over.
In the beginning of the 2011 season, the playbook was restricted, but it opened up later on. We really saw what Smith was capable of on a national stage during the divisional playoff round versus the New Orleans Saints. He delivered in the biggest moment of his career when he hit Vernon Davis with a 14-yard strike to win the game.
Smith was cool, calm and collected during the entire season, but it was even more impressive to see it continue in the playoffs.
We also saw specific red zone plays that were drawn up by Harbaugh and offensive coordinator Greg Roman—beautiful plays that were flawlessly executed. There will be more of those sort of plays. Michael Crabtree's two-pt conversion, Delanie Walker's game-winner at Detroit and Vernon Davis' touchdown against the Steelers on Monday Night Football were fantastically schemed and executed plays.
Smith finally returning to the same offensive system for the first time will yield results; it's a virtual certainty. Not to mention his athleticism, which will be utilized in this offense.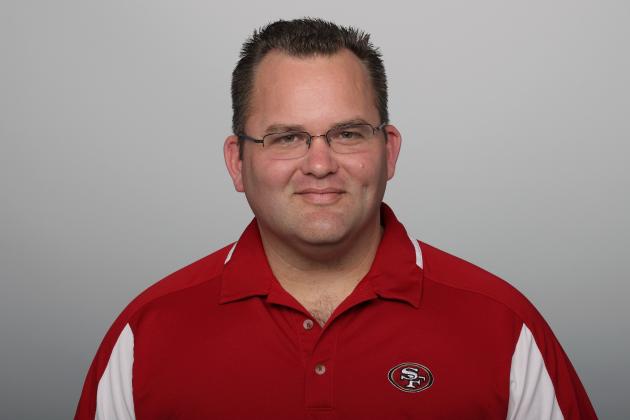 Handout/Getty Images

Not only continuing the same offensive system from year to year, but also expanding on it will prove to be successful. Greg Roman and Harbaugh have installed an offense that is entertaining in that they think three-dimensionally. They consider more than A and B, by analyzing how C, D, E and F can help them.
They are fans of misdirection and mismatches which are usually great tools in the red zone. In 2011, they used screens, motion, peculiar packages and quite a bit of play action. They proved they were just as much a threat to throw in heavy sets as they were in singleback formations. This makes it extremely tough on teams to defend what they do.
In the red zone, Roman will be excited to add to his playbook, specifically drawing up plays for the newcomers that otherwise don't have their own plays yet.
Roman has also seen this team up close and personal for a whole season, which makes him more knowledgeable about what they're capable of. The time he will have this year, with a full offseason to brainstorm and scheme, will be extremely helpful to the 49ers—especially since a good amount of his focus will be towards improving the red zone production.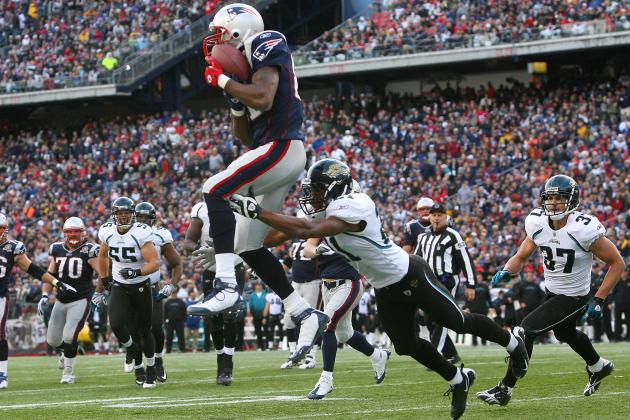 Jim Rogash/Getty Images

For this guy, it's about curls and fades in the red zone.
Randy Moss is a dominant receiver, and the fact that Harbaugh is who he is and considering his skill set as a motivator, No. 84 could finish with double-digit touchdowns in 2012. Moss is one of the best jump ball receivers in NFL history, and has some of the best hands this league has ever seen. He will not go unused in the area where his help is most needed.
Another factor that plays in with Moss is that it will either be him or Vernon Davis commanding the attention of the safeties. Having the two of them in the red zone will be an absolute nightmare for defenses that also have to be wary that San Francisco may even run with them out there.
Moss will make red zone catches and score touchdowns against NFC West opponents that look effortless. He's been a dynamite threat, and considering this could be his last NFL season ever and he's landed with a contender, Moss will be putting forth quite an effort.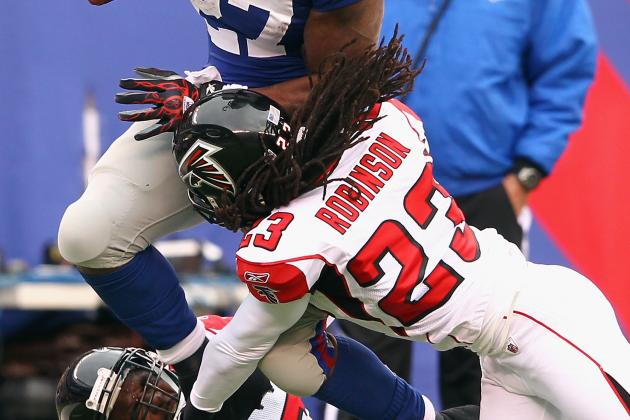 Al Bello/Getty Images

There are probably a number of reasons why the 49ers brought in Brandon Jacobs, but if you think red zone concerns weren't one of them, you're crazy.
With the 49ers, Harbaugh will have Jacobs running low again, and Jacobs will listen because he knows it will help his productivity. And if he wants to score touchdowns and get reps in the red zone like he stated, then he will indeed return to that form.
Harbaugh, Roman and running backs coach Tom Rathman will inspire and bring back that 2008 Jacobs, even if it only means the touchdowns scored—which was 15 in '08 by the way. He is an absolute hammer at times, and he runs with a little bit of extra thunder in the red zone when he knows he's got a scoring opportunity.
Jacobs will likely excel in the 49ers power offense, and I can see him eating his lunches with Bruce Miller and Mike Iupati sooner rather than later.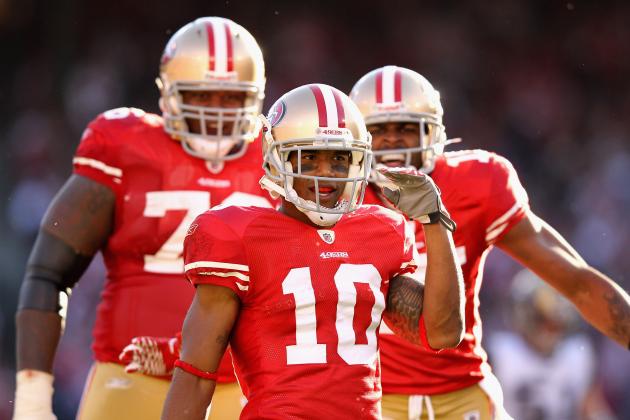 Ezra Shaw/Getty Images

Besides Randy Moss and Vernon Davis, the 49ers have a talented corps mostly made up of quick chain-movers. Going into 2012, the 49ers have Michael Crabtree, Kyle Williams and Ted Ginn Jr. returning—all of whom had their shining moments at times during the season.
In addition to that, San Francisco signed wide receiver Mario Manningham who brings a dynamism to the team. Crabtree provides pretty solid hands, and with the added talent to the roster, some more opportunities may open up for him.
Williams and Manningham bring straight quickness and explosiveness to the 49ers. The Kyle Williams of the 2011 regular season proved to be a great up and comer with starting ability someday, and that's the player we should remember. He's going to be eager to prove himself and rebound after his mistakes in the NFC Championship game.
Manningham has shown great hands at times and just a raw ability to manifest plays. Like Williams, he's quick but plays with a degree of toughness. Manningham is a great new addition, but all of these players should be able to contribute when asked to step up.
With Moss and Davis taking the top off the defense and pushing the defense back, the 49ers' other receivers will fill in the empty space underneath, leading to more touchdowns.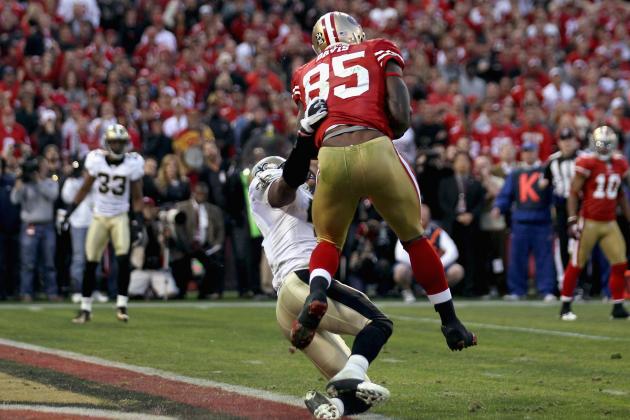 Jed Jacobsohn/Getty Images

The 49ers team will be much improved in 2012, specifically on the offensive side of the ball. It is where they know they need to improve, so it will be addressed accordingly. They've added talent, versatility, big play ability and bring back a growing playbook to help this squad get better in the red zone.
This team is about finishing, and that applies to everything, especially offensive drives. If the offense gets down field, they need to cap these drives off with touchdowns, not field goals. That was a major issue in 2011, but it won't be again.
The fact that David Akers broke Jerry Rice's points scored in a single season record set off the alarms in Jim Harbaugh's head. He doesn't want field goals instead of touchdowns any more than the fans do. This is an issue that will be corrected going into next season.
For all of these reasons, I believe San Francisco will be a more complete team and become a threat in the red zone.