Why Barcelona Will Run Rampant Against Chelsea in Champions League Semifinal
April 10, 2012

Denis Doyle/Getty Images
Barcelona and Chelsea meet in the Champions League semifinal next week. These teams last met at this same stage in the 2008-09 season.
While there are certainly reasons as to why and how Chelsea could beat Barcelona, the general consensus in World Football is that Barcelona will win.
The last few times these teams have met things have been tight. In 2008-09, both legs ended in a draw, but Barcelona went through on away goals. Things won't be the same this time around.
Barcelona will run rampant against Chelsea in both legs simply because they are the better team, with the best player on the planet. And they are also the best team Chelsea has played so far this season, never mind in the Champions League.
In 2008-09 Chelsea was Barcelona's equal, and it showed in the results. There isn't one team right now that can consider itself an absolute equal to the Blaugrana.
Chelsea still has some of the key components of that team, along with a few additions, but there is nothing about them that suggests they will give Barcelona a real fight.
John Terry, Frank Lampard and Didier Drogba are all older and less effective, with Drogba especially playing a lesser part.
He has been replaced by Fernando Torres—who, though he has shown better moments in recent times, is nowhere near the level that Drogba was back then.
Other Chelsea players like David Luiz, Ramires and Gary Cahill are untested in these situations and may end up providing more negative moments for their team than positive.
Barcelona, despite injuries to David Villa and Eric Abidal's unfortunate health issues, are still a class above this team.
Lionel Messi has an incredible 60 goals on the season, and one cannot envision anyone in this Chelsea defense being able to stop him. He is a better player than he was three years ago, and he will score goals against this team.
Chelsea will also have to deal with improved versions of Andres Iniesta and Sergio Busquets, as well as additions like Alexis Sanchez and the Barcelona version of Cesc Fabregas.
Though they got through the last two Champions league ties, Chelsea had some issues. They had to come from behind against Napoli, a team full of energy and quality but inexperienced at this level, and they almost struggled to hold off Benfica at home.
Napoli showed just how weak the team can be away from home, especially without John Terry. If the England star is unavailable for either leg, Chelsea will be in big trouble. Napoli's inexperience caught up with them in the end, but Barcelona won't be like that.
Benfica showed no such signs of inexperience and almost stole the tie away from home. They looked the better team for parts of the second leg, and had that been a side with more quality in front of goal, Chelsea would be out of the competition.
Chelsea fans will be delighted their side has reached this far in the competition, considering all that has transpired this season, but they may not be so happy once the tie is finished.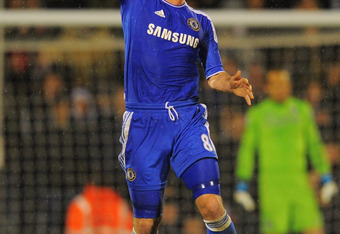 Mike Hewitt/Getty Images
This Chelsea side is weaker than what Europe or England has become used to over the years, and they have shown their weaknesses on several occasion so far this season.
Today's Fulham game provided good evidence of that, as this Chelsea side, with Juan Mata rested it must be said, failed to fully dominate its opponent and eventually let them score an equalizer.
That is not good enough for a team that is about to face Barcelona in a Champions League semifinal, and it is a prime example of how Chelsea has been all season.
Too much has to go right for Chelsea to come away from this tie on top or in an even reasonable state. They are almost like Barcelona's last opponent, AC Milan.
They are dependent on a defender, John Terry or Thiago Silva, their midfield is in no way capable of holding possession against Barcelona and their attack can be potent if on form. Though, you would have to say that more teams would fear Zlatan Ibrahimovic to Fernando Torres or Didier Drogba at the moment.
Barcelona needed some magic from Iniesta to get through the Londoners the last time they met, but they could very easily run wild on this Chelsea side this time around.