Ranking 10 Players the Philadelphia Eagles Are Most Likely to Draft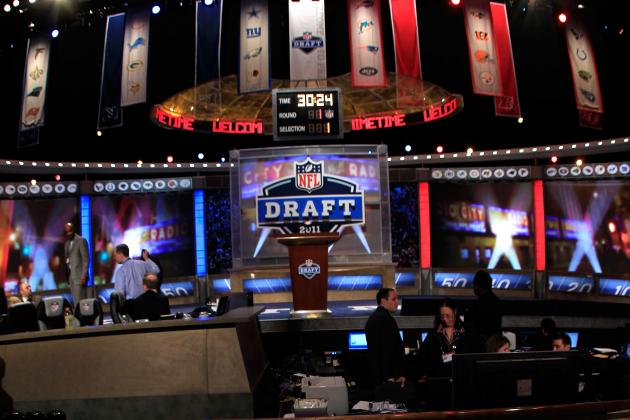 Chris Trotman/Getty Images

The Philadelphia Eagles will head into the first round of the 2012 NFL Draft with a multitude of options for their first pick. Depending on how things shake out, they could move up down or stay put.
The Eagles will have their list of a handful of players they would like to draft with the 15th overall pick of the draft. If those players are gone, they will trade down and settle for the next handful of players the like for the late portion of the first round.
The Eagles don't have any glaring needs. They have positions that need an upgrade and depth, but no position has to be replaced by any rookie this season. They will be looking for the players they believe are the best player available at their selection.
Here are the 10 most likely players the Eagles will draft in the first round. Some could be available at the 15th overall pick while some are targets if they decide to trade down later in the first round.
Begin Slideshow

»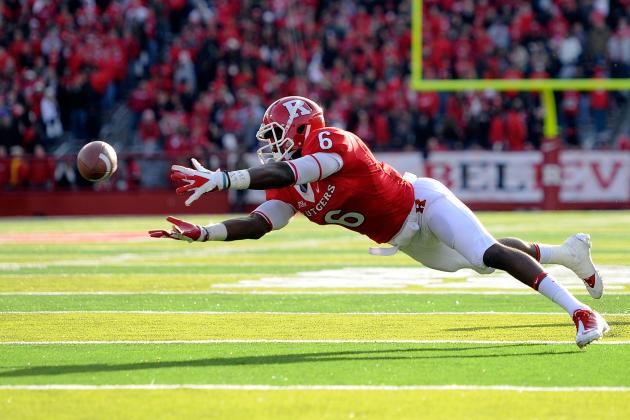 Patrick McDermott/Getty Images

The Eagles will be looking to add a receiver, whether it be tight end or wide receiver, that can make plays in the middle of the field and in the red zone. Mohamed Sanu is that type of player.
Sanu would thrive in Philadelphia being the fifth most dangerous option on offense behind Brent Celek, Jeremy Maclin, LeSean McCoy and DeSean Jackson. He will get one on one match-ups all over the field against much smaller defenders.
Sanu is a gifted route runner who has more agility and quickness then he does straight line speed. He has good size at 6'2 210 but he uses his size and strength better then almost any other receiver in the draft.
The Eagles would get a solid slot receiver who is a reliable wide out down the middle and in crucial downs inside the 20. He is an immediate impact player that Michael Vick can rely on from day one.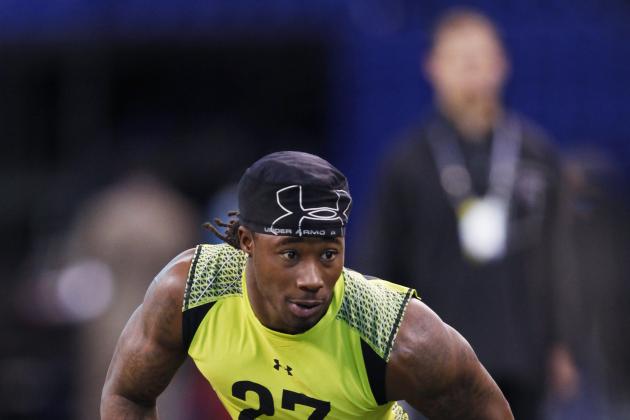 Joe Robbins/Getty Images

Janoris Jenkins won't be a player the Eagles will look at with their original 15th overall pick, but he would be a solid pickup late in the first round.
Jenkins will be an attractive prospect for the Eagles. He compares very favorably to Asante Samuel execpt for two areas. He is a much more willing tackler and he has the potential to be a much better cover corner in the red zone, two areas that have haunted Samuel.
Jenkins has outstanding anticipation skills like Samuel. He is the best cover corner in the draft under six feet tall. He has shown the ability on film to cover bigger receivers like Alshon Jeffery and A.J. Green.
Janoris Jenkins has the potential to be the biggest steal in this year's draft. He is already an outstanding cover corner with the quickness to mirror any receiver. The only thing working against Jenkins at this point is the fact that he is under six feet tall and his previous track record. He has stayed out of trouble for a year while at South Alabama and he has the athleticism and strength to overcome his smaller frame against bigger receivers.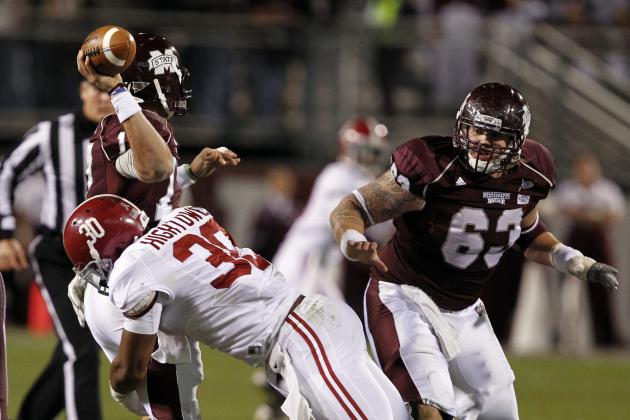 Butch Dill/Getty Images

Dont'a Hightower is one of the most versatile linebacker prospects in the draft. He can play inside or outside in the 3-4 or 4-3. If you need a linebacker that can both help in run support and bring some major physicality to your defense then Hightower is your guy.
The Eagles could really use a player like Hightower for their defense. Last season the Eagles added some serious talent with Nnamdi Asomugha and Dominique Rodgers-Cromartie, but they lacked a ferocious defender that could both consistently make open field tackles and strike some fear into their opponent.
Hightower would be a welcomed addition to the Eagles defense as a strong side linebacker. He would be able to gave great run support and be used as a blitzer very early in the season. He is also very capable in zone coverage. He isn't reliable in man coverage, but the Eagles will most likely use some combination of Demeco Ryans, Keenan Clayton or Casey Matthews in their nickel package.
Hightower would give the Eagles three very physical starting linebackers with Brian Rolle and Ryans already slated as starters.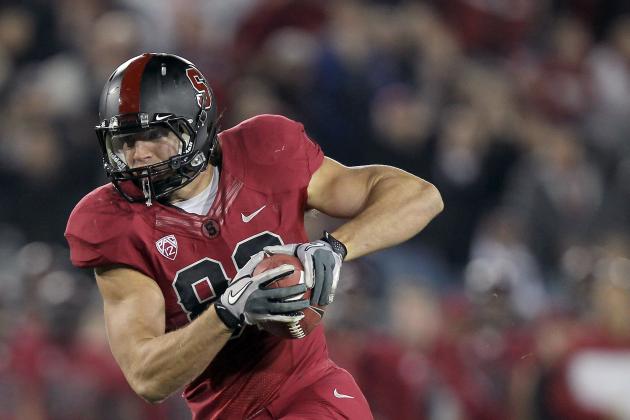 Ezra Shaw/Getty Images

Coby Fleener is the most polished tight end in the draft. Dwayne Allen is a pretty solid all-around tight end as well, but he isn't as versatile as weapon on offense and he isn't as much of a threat in the red zone. That's what the Eagles will be looking to add at some point in this draft. If a couple of their targets get scooped up earlier then projected, the Eagles very well could trade down and take the best tight end in the draft.
Fleener has lined up just about everyone on the offense while at Stanford. Whether he was lined up wide, in the slot or as a traditional tight end, he has been a very productive receiver. He reached the end zone 10 times this past season at Stanford and 17 the past two seasons combined.
The Eagles already have a legit starting tight end in Brent Celek. That's not what their looking for at tight end in the first round. They will be looking for a red zone target early in the draft and they will pull the trigger in the first round if things fall a certain way. Fleener is the type of tight end that can fit in this offense with Celek. You can line Fleener up anywhere and he can immediately help one of the most under achieving offenses inside the 20.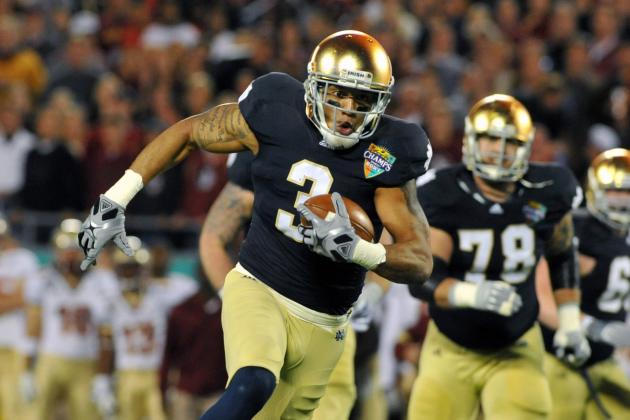 Al Messerschmidt/Getty Images

It is very unclear as to when the wide receivers in this year's draft class will be selected in the first round. Justin Blackmon and Michael Floyd could go anywhere from the top five to the late teens. Kendall Wright was once thought to be a top 10 pick but now could fall very late in the first round. Alshon Jeffery has fallen in and out of the first round so many times I have lost count.
This much I am sure of, Justin Blackmon will be the first receiver taken and Michael Floyd the second. Where Michael Floyd will fall is a mystery. He could be drafted right after Blackmon in the top 10, possibly to Jacksonville or Buffalo, or he could still be there at the Eagles 15th overall selection.
Would the Eagles actually draft Michael Floyd after locking up DeSean Jackson long-term?
The answer, hopefully is yes, in the right circumstance. The Eagles offense is not the same without their top two wide receivers, Jeremy Maclin and DeSean Jackson. Adding a third legitimate starting outside wide receiver would give this offense some serious depth while at the same time adding a solid red zone threat.
Floyd is a very polished receiver with great hands, is a legitimate deep threat and is the type of player that comes up big in big moments. He has racked up over 175 receptions, 2,100 receiving yards and 21 touchdowns in the last two seasons in South Bend.
Adding Michael Floyd to the offense would be adding another Pro Bowl caliber player to fit in with the likes of Jackson. Maclin, Brent Celek, LeSean McCoy and Michael Vick.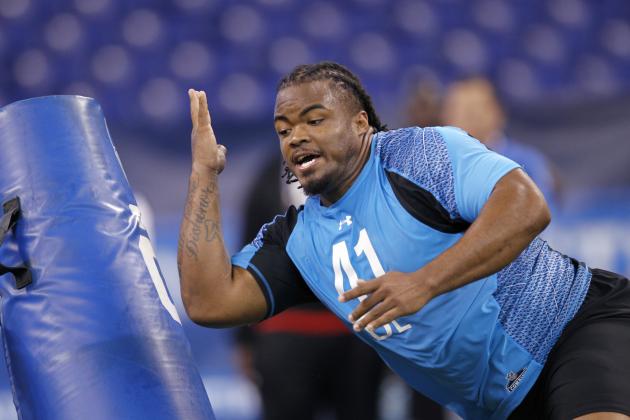 Joe Robbins/Getty Images

I don't know what to make of Dontari Poe and his future in the NFL. Will he be a bust or the next great pass rusher? There isn't a wrong answer unless you believe he is somewhere in the middle. He is either a three pitch strikeout or a 500 foot home run.
Poe had one of the most impressive combine workouts in the history of the event. It's a different story on film. It's not all bad on tape. Sometimes he is a disruptive force, sometimes he is contained by mediocre offensive lines.
In the right situation, Poe could be a superstar. Jim Washburn and his wide-9 scheme in Philadelphia could be that situation. He turned Albert Hanynesworth into a superstar in Tennessee. Haynesworth is similar to Poe.
The Eagles will be looking to add an inside pass rusher. Whoever they add will be lining up a little wide of the offensive guard on the other side and should see plenty of one on one match-ups. That could lead to very favorable situations for a prospect who has the best combination of strength and athleticism by far.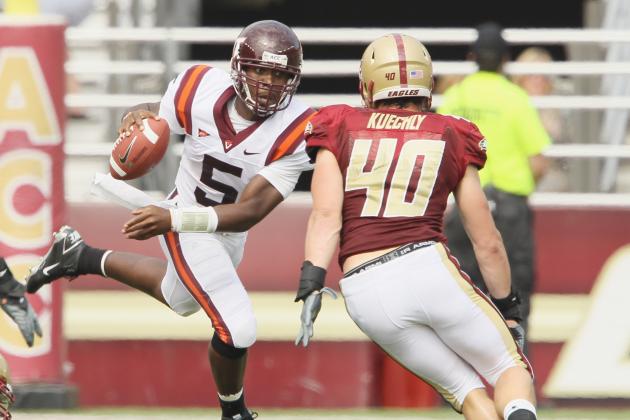 Elsa/Getty Images

Luke Kuechly would be by far the first round pick that the fans in Philadelphia would love to see the most. Eagles fans have been begging for a Pro Bowl linebacker for years and with Kuechly being added to the defense, they would have two very good football players with Demeco Ryans already at middle linebacker. They would also have a solid starter on the weak side with Brian Rolle and five reserve linebackers with experience as a starter. The Eagles would have gone from having the thinnest linebacking group to maybe the deepest.
Kuechly would be the starting strong side linebacker from day one. He has the athleticism, physicality and instincts to be a Pro Bowl caliber linebacker at any spot in a 4-3 defense. He was being projected as a top 20 pick before he wowed scouts with his athleticism at the combine.
Linebacker is a position, especially for 4-3 defenses, that has really been devalued. A player like Kuechly is talented enough to be a top 10 pick but he will could fall outside the top 10 because his position isn't as important as it once was. He should be there at the 15th pick of the first round.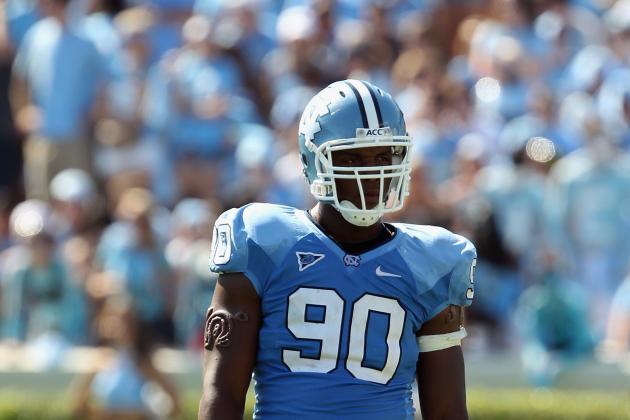 Streeter Lecka/Getty Images

Quinton Coples has faced a lot of criticism for his lack of production in 2011. Was it more because of a new coaching staff and defensive scheme or was it due to his lack of effort. I don't buy either excuse. I believe he hasn't been used to his full potential yet. He hasn't been in the right type of defensive scheme to show off his rare strength and athleticism combination.
He has played at both defensive tackle and end in the past two seasons at North Carolina where he totaled 17 sacks in those two seasons. He is the type of player that needs to play in space. He has a great burst right off the line and has the strength to push even some of the biggest offensive linemen backwards.
In the Eagles wide-9 scheme, Coples would play both tackle and end. He doesn't have quite the array of pass rush moves you would like in a top 20 pick, but he could certainly develop a couple learning under legendary defensive line coach Jim Washburn.
In a more aggressive defensive line scheme, Coples can play both defensive tackle or defensive end full time. He is strong enough to survive on the inside and athletic enough to wreak havoc on the outside. In Philadelphia he would get to do both.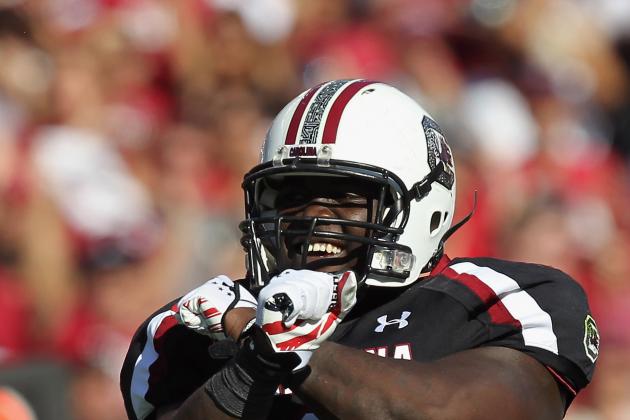 Streeter Lecka/Getty Images

Like Coples, Ingram is a great option for a 4-3 defense looking to boost their pass rush. Also like Coples, Ingram can move to the inside on passing downs. Ingram is a much better pass rusher then Coples though. Ingram is a lot more athletic and there are no questions about his motor.
Ingram is so athletic that he is being projected more as a 3-4 outside linebacker then he is as a 4-3 defensive end. He is talented enough to be a star in either defense.
He has an array of pass rush moves and isn't afraid to cut inside to beat his man. He has quick hands and quickness off the snap. He has plenty of strength to take on tackles for four quarters. He doesn't have a major weakness as a pass rusher and he is both disciplined and strong enough to hold up against the run as well.
Ingram could go as early as the seventh overall pick to Jacksonville. Because he is athletic enough to play both the 4-3 and 3-4 as an edge rusher and because you can never have too many good pass rushers, he could fall to any team in the top 15 of the draft.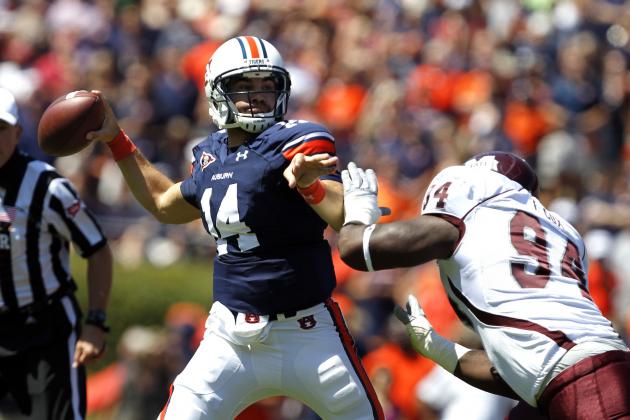 Butch Dill/Getty Images

Fletcher Cox is the best defensive line prospect in the draft. He has plenty of evidence on film to back it up but he really proved how dynamic of a player he can be at the combine with a 4.79 40 and 30 reps in the bench press.
Cox lined up all over the defensive line at Mississippi State. He has strength, athleticism and versatility. In the right scheme, he could turn into an All-Pro.
The wide-9 could be that scheme. Cullen Jenkins lined up at both defensive tackle and end last season in the Eagles wide-9 scheme. Had racked up 5.5 sacks and wreaked havoc in the backfield all season long. Cox is even more athletic then Jenkins and could put up even better numbers as a rookie.
I believe that Cox is the Eagles top target in the first round. He has risen too much on every team's draft board to last all the way to 15. The Eagles have two second round picks they can use to move up into the top 10 of the first round if they want Cox or any other prospect.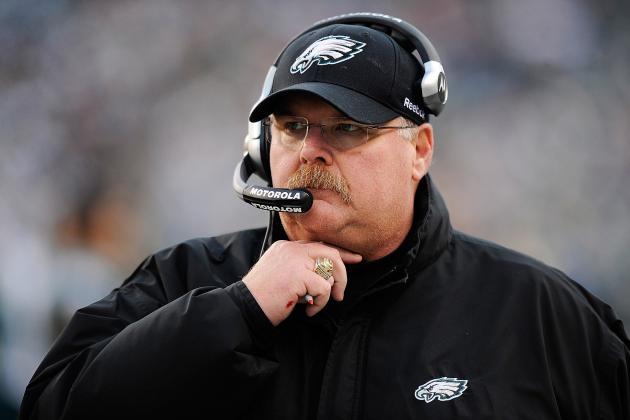 Patrick McDermott/Getty Images

The Eagles will look very closely at all 10 of these prospects and a few others before the first round opens up on April 26th. Every player that sneaks into the top 15 will chance their draft strategy and every pick that a Fletcher Cox and Melvin Ingram get passed over push the Eagles closer and closer to trading up and getting their coveted pass rusher.
Fletcher Cox- 25%
If Fletcher Cox is still on the board at 15, then the Eagles would be 100 percent likely to take him. I don't that happening no matter what happens on draft day, so this is more a 25 percent chance the Eagles trade up into the top 10.
Melvin Ingram- 5%
The Eagles would love to have the best defensive end in the draft, but I doubt he last past the top 10. The Eagles need a pass rushing defensive tackle much more then they need a defensive end. If he falls closer to the their 15th overall pick then I believe they pull the trigger.
Quinton Coples- 20%
Coples is a great fit for the Eagles wide-9 scheme. He can play defensive tackle and defensive end. He is actually a better pass rusher on the inside. Criticism about his lack of effort and motor will drop him outside of the top 15. Three of the next four picks before the Eagles run a 3-4 defense. Coples is a much better for the 4-3 defense. If he drops out of the top 10, the chances he falls to the Eagles 15th pick is very likely.
Luke Kuechly- 15%
Andy Reid has never put much priority on linebackers. Having said that if Luke Kuechly is on the board at 15 and prospects like Fletcher Cox, Quinton Coples and Melvin Ingram are not then Kuechly makes sense. It would give the Eagles a very deep linebacker core and the potential to have a top 10 defense with a loaded secondary and pass rush. The fact that the NFL has become a pass happy league will drop Kuechly's value and almost certainly guarantee he is still on the board for the Eagles.
Dontari Poe- 10%
I have no idea what Jim Washburn thinks of Dontari Poe and his potential as a superstar in the wide-9. I do know that Andy Reid would listen to Washburn if he really wanted Poe. It's not a safe pick with Poe but the potential is there to make this the steal of the first round. If Washburn believes he can be a dominant force, that may be enough for him to pull the trigger.
Michael Floyd- 5%
The Eagles don't need Michael Floyd to have a top five offense this season. But man what it makes this offense really deadly. He probably doesn't get out of the top 10, but if he does last to the Eagles pick I see them either drafting him or trading down with another team that covets Floyd and getting a lot of picks in the process.
Coby Fleener- 15%
If the Eagles trade down in the first round, Fleener is probably the guy they will be targeting. He is an immediate red zone target that gives the Eagles two very good receiving tight ends who can also block. Add that to an offense that already has Pro Bowl caliber players in LeSean McCoy, DeSean Jackson and Jeremy Maclin for Michael Vick to target and this offense has the potential to be the best in NFL this season.
Dont'a Hightower- 1%
Hightower would bring a physical presence to the Eagles defense. Andy Reid has never drafted those type of players early in the draft, at least not in the first round. Nothing is out of the question with these 10 prospects, but it isn't likely they take Hightower in the first round.
Janoris Jenkins- 3%
The Eagles will eventually trade Asante Samuel to free up cap space. They can draft the next best thing in Janoris Jenkins. He anticipates routes just like Samuel does but he is a much more willing tackler. If they want another crack at having three elite cornerbacks in their defense then they could take Jenkins late in the first round and get an extra pick or two in the process by trading down.
Mohamed Sanu- 1%
I don't think the Eagles will spend a first round pick on a wide receiver who will play in the slot early in his career. It isn't a position of need and he doesn't have the star potential that Michael Floyd has. There will be plenty of big, athletic receivers available in the second and third rounds so I don't think the Eagles make the move on Sanu here. However, no receiver in this class is better at catching the ball in traffic and that has been something missing from the current Eagles receiving core.