Phoenix Suns Have Plenty of Motivation for Unlikely Playoff Push
April 10, 2012

Christian Petersen/Getty Images
Michael Redd sat with his tortured knees iced following his 21-point performance in Phoenix's road win over Utah last week. He had already answered the bevy of questions regarding his personal performance, the importance of the win for the playoff-chasing Suns and Steve Nash's cold-blooded game-winner with 1.6 seconds left.
Then came a question less formal, but perhaps more important for Redd than anything else he had addressed that night.
"How's the knee?" a reporter quipped.
Redd's face immediately relaxed and broke into a grin.
"It feels good, man," Redd said. "It's not even a thought. I'm just playing.  A lot of hard work has gone into this. I've missed the last year and a half, two years of NBA basketball. To come back and play at this level has been very rewarding."
Redd's recent resurgence coincides with that of the Suns, who have overcome a 12-19 start to find themselves hovering just outside the playoff picture. Yet it's also just one of several festering motivations propelling Phoenix to a stretch that prompted Nash to declare the following to ValleyoftheSuns.com on March 30:
"Overall, we've put ourselves in a position I don't think anybody thought we'd be in. That's great. We got to try to close the deal and sneak back in the playoffs here."
It's a popular mantra, overachieving. It speaks of little guys that could; underdogs with more bite than expected. A closer look, however, at Phoenix reveals plenty of reasons why Nash's words may be more than that.
Shannon Brown
Brown may have a ring, but his rep was all dunks and highlights heading into the 2011-12 campaign. The beginning to this season didn't help, as he hurt the team with bad shot selection and, subsequently, bad performances.
A team meeting following the All-Star break produced several suggestions to the coaching staff, one of which was that head coach Alvin Gentry give a longer leash to the bench. Not coincidentally, Brown has flourished, averaging 12.5 points per game on 44 percent shooting since the break. His production increased further since Grant Hill underwent knee surgery, forcing Gentry to start Brown in his place.
Saturday's 125-105 win over the Lakers saw Brown go off against his former team, scoring 24 points in 30 minutes of play.
Between Brown wanting to prove he's more than one-dimensional highlight guy and this being a contract year, it's safe to assume there's plenty to drive him—and the Suns—for whatever remains of this year.
Sebastian Telfair
A failed preps-to-pros prospect who caused either laughter or shaking of heads, Telfair has emerged as the unlikely backup to Steve Nash late in the year.
Like Brown, he has benefited from Gentry's looser hold on the reserves' playing time, showing equal energy and tenacity on defense as well as offense. His jump shot is still suspect at best, but with Redd and rookie big man Markieff Morris stretching the floor, Telfair has found himself free to do what he does best: drive and create without the entire weight of a team on his shoulders.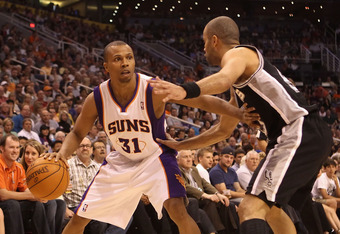 Christian Petersen/Getty Images
And—like Brown—he's also in a contract year.
Marcin Gortat
Once the greatly touted and limited backup to Dwight Howard, Gortat has become the best non-All-Star big man in the league with averages of 15.8 points and 9.9 rebounds per game and 56.5 percent shooting.
Gortat wasted no time making his presence felt upon arriving to Phoenix last season, calling out teammates for lack of effort and admitting his own shortcomings when they led to losses.
While much of his offense is owed to Nash's spoon-feeding help, Gortat has given the Suns a rebounding and shot-blocking presence not seen since...well, ever.
Robin Lopez
The former Stanford big man received the dubious honor of being just the second 2008 lottery pick to not get his team option picked up for 2012-13, leaving him a restricted free agent this summer.
Lopez's lack of natural mobility and spectacular Afro have kept even diehard fans from stocking too much hope for him, his good three-month stretch in 2010 notwithstanding. Combine that with a bad back and a center-starved franchise, and Lopez became something of a frustrating punchline in Phoenix.
With Gortat now aboard and all expectations off the table, however, Lopez has quietly made himself into a quality backup center, averaging 6.8 points, 3.7 rebounds and 1.3 blocks in just 16 minutes per game since the All-Star break.
While it's uncertain how much this late surge will help Lopez as far as a new contract, there's no debating his impact helped Phoenix from becoming a Gortat-only big man show.