UFC on Fuel TV 2: Burning Questions Heading into the Gustafsson vs. Silva Card
The drought is almost over.
On Saturday, April 14, the UFC will hold its first event since March 3, when the promotion travels to Sweden to present UFC on Fuel TV 2—a card that will be headlined by a light heavyweight scrap between Alexander Gustafsson and Thiago Silva.
One change on this card is that the event will be broadcast live with the preliminary card set to be streamed on Facebook beginning at 12:30 p.m. ET. The main card will begin at 3 p.m. ET, and as the card name indicates, will be broadcast on Fuel TV.
Many of the preliminary card fights will feature combatants that will make their UFC debut in Sweden, while the main card will feature several fighters looking to put themselves in position to challenge for UFC titles.
What follows are the questions we have as we near Saturday's fight card.
Can Jason Young Get on Track?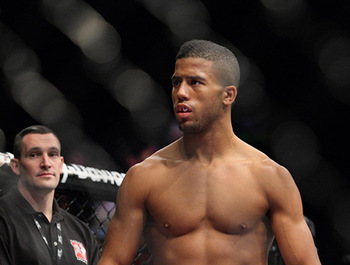 Photo: Lee Whitehead for MMAWeekly
Jason Young entered the UFC with an 8-3 record. His last fight outside of the promotion, a unanimous decision victory over Jorge Britto, was declared the 2011 Score Fighting Series Fight of the Year.
Unfortunately for Young, his first two fights in the UFC's featherweight division were against two top-25 opponents. In his first bout, he fell to Dustin Poirier, who was coming off a win over top-ranked Josh Grispi.
After losing that bout via unanimous decision, he was booked to face Michihiro Omigawa, who was coming off losses to Chad Mendes and Darren Elkins in his previous two fights. Again, Young dropped a unanimous decision.
That brings us to UFC on Fuel TV 2. Young was originally booked to face Akira Corassani, however, an injury forced Corassani from the card and the 19-7 Eric Wisely replaced Corassani.
This is most likely a fight that Young needs to win. The key for Young will be to keep the fight standing. Wisely is mainly a striker, but he does have three submission wins, so it will be interesting to see if he decides to fight to the strength of Young or attacks his weakness—takedown defense.
Is the End of the Road Near for Cyrille Diabate?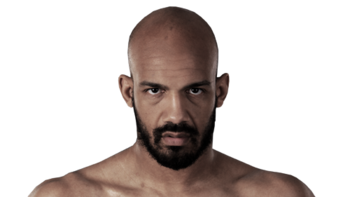 Cyrille Diabate made his professional MMA debut in 1999. Since that time, he has put together a record of 17-8-1. Now, at 38 years of age, he will be facing the 7-0 (0-0 UFC) Tom DeBlass in Sweden.
The problem is that Diabate is a pretty one-dimensional fighter, having great skills as a kickboxer, but outside of that, he's limited.
As the sport progresses, fighters like Diabate get passed by. With his limited skill set, advancing age and limited fan appeal, Diabate may be nearing the end of the road.
Will the end come in Sweden?
Will Papy Abedi Get His First UFC Win?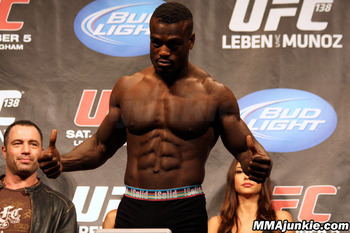 Photo via MMAjunkie.com
Papy Abedi, who has lived in Sweden for the last few years, entered the UFC in November, 2011. Abedi, perhaps in a moment of hubris, agreed to face former UFC welterweight contender Thiago Alves in his first UFC bout. Abedi didn't look bad during the bout, in fact, he stood toe-to-toe with Alves and landed some nice strikes.
The fact that he was able to stand with such a noted striker may have been his undoing. With his growing confidence, he stayed too long inside with Alves, who found an opening and sent Abedi to the mat, where Alves pounced on him and delivered a healthy dose of ground-and-pound. Abedi then gave up his back, and Alves clamped on the rear-naked choke, forcing the first-round tap.
Abedi's competition in Sweden will be James Head, which is probably the level of fighter he should have faced in his UFC debut.
Head, like Abedi, will be fighting in his second UFC bout, and again like Abedi, he's coming off a rear-naked choke submission loss, falling to Nick Ring at UFC 131.
Will Pickett or Page Make a Jump Up the Bantamweight Rankings?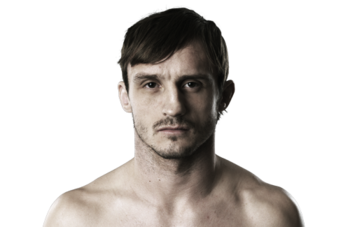 Brad Pickett will enter the Octagon on Saturday with a record of 1-2 in his last three fights. Prior to that rough stretch, he had put together a nine-fight winning streak. Interesting fact, both of Pickett's losses garnered "Fight of the Night" awards.
Pickett's opponent, Damacio Page, is 12-6 overall, but two of those six losses came in his last two fights, dropping both fights via guillotine-choke submissions.
This fight is very important to both Pickett and Page. A dominant win from either could start them on the path toward a bantamweight title shot. It's especially true if Dominick Cruz is able to successfully defend his title against Urijah Faber this summer as neither fighter has faced Cruz in the past unlike many of the other top-ranked bantamweights.
Will Dennis Siver Become a Featherweight Contender?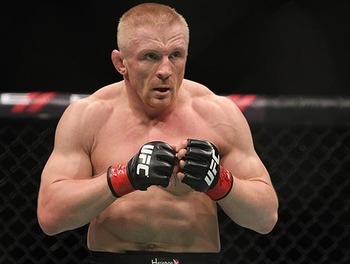 Photo: Scott Petersen for MMAWeekly
In early 2011, Denis Siver faced George Sotiropoulos. At the time, many saw the fight as a step down in competition for Sotiropoulos—a fighter who had put together an impressive eight-fight winning streak, with seven of those wins coming in the UFC.
Among the fighters Sotiropoulos had defeated were George Roop, Joe Stevenson, Kurt Pellegrino and Joe Lauzon. For his part, Siver's biggest wins were Paul Kelly, Spencer Fisher and Andre Winner. Prior to the announcement of the Siver fight, there were some that thought Sotiropoulos deserved a shot at the UFC lightweight title.
When the odds were announced, Sotiropoulos was a -500 favorite, so when Siver took the unanimous decision victory it was quite the upset.
Siver followed up the victory over Sotiropoulos with a win over Matt Wiman. However in his next bout, he fell short, submitting to Donald Cerrone at the 2:22 mark of Round 1. Siver will look to get back on track when he faces the 16-2 Diego Nunes in Sweden.
The fight will mark Siver's featherweight debut. If Siver can get past Nunes, the move may very well put him in the mix for a shot at featherweight champion Jose Aldo, as the featherweight division does not have a very deep pool of top contenders at the moment.
Who Is Siyar Bahadurzada?
Paulo Thiago has been fighting in the UFC since February 2009. His opponent on the UFC on FUEL TV 2 card will be UFC newcomer, former Shooto light heavyweight champion Siyar Bahadurzada.
Bahadurzada has been fighting professionally since 2002 compiling a record of 20-4-1. Bahadurzada is currently enjoying a six-fight winning streak with five of those wins coming via knockout or technical knockout. Overall, Bahadurzada has ended 10 fights by knockout, six by submission and four by decision.
Bahadurzada had been signed by Strikeforce in 2010, but the promotion never obtained a fight for him. He then signed with the UFC in late 2011, an injury delayed his debut until the UFC on Fuel TV 2 fight card.
When describing his style, Bahadurzada told MMAJunkie, "My game is grappling, but I don't like to grapple during a fight. I just like to make it messy and violent and just knock people out. I just want to knock people out and give people their money's worth."
Does Brian Stann Deserve a Top-Five Opponent with a Victory?
Brian Stann will face Alessio Sakara on the UFC on Fuel TV 2 fight card. Stann enters the fight with a record of 11-4. In his last bout, he was submitted by Chael Sonnen at the 3:51 mark of Round 2. Prior to that loss, Stann had gone on an impressive run, stopping Mike Massenzio, Chris Leben and Jorge Santiago.
On a recent episode of UFC Tonight, Stann stated that he wanted a top-five opponent if he is able to defeat Sakara.
You'd be hard pressed to find Sakara on any top-20 middleweight ranking, so that request may be a bit ambitious on Stann's part. By no means is Stann a slouch, but he lacks wrestling skills that may prevent him from making that leap to top contender status.
If he does defeat Sakara, the only top-five middleweight who does not have a fight booked at this time is Mark Munoz, who would have a very good chance of exploiting Stann's lack of wrestling acumen.
Can Thiago Silva Redeem Himself or Will He See His UFC Run End?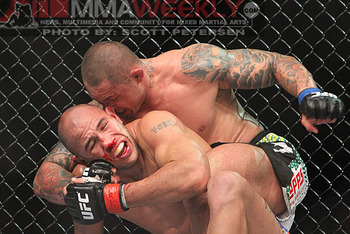 The last time we saw Thiago Silva in the Octagon, he was disfiguring the face of Brendan Vera at UFC 125. The loss led to Vera being released from the UFC. That release was short lived, as it was later revealed that Silva had used a urine adulterant during his drug test for the fight.The failed drug test led to Vera being brought back into the UFC fold.
Silva did not deny that he used altered urine, instead he offered an explanation at his hearing with the Nevada State Athletic Commission, as reported by MMAJunkie, "I reinjured my back 45 days before the fight with Brandon Vera. After not fighting for a year, I made the decision to not pull out of the fight. I also decided that the only way I could continue with the fight was to take injections in my back and spine that contained substances prohibited by the Nevada (State) Athletic Commission. I also made the decision to use a product to hide the presence of these substances in a urine test."
That hearing led to a one-year suspension. Silva's fight against Alexander Gustafsson will mark his first fight back since his suspension ended.
Silva's in a strange position heading into Saturday's fight card, over his last four fights, he has gone 1-2-0-1, and he comes back when MMA is being inundated with positive drug tests and elevated testosterone levels. If he wins and wins convincingly, his past indiscretions may be put behind him, but if he loses, could it be within the realm of possibilities that he would be released from the UFC?
Where Does a Win Put Alexander Gustafsson?
Alexander Gustafsson will bring an overall record of 13-1 with him into the Octagon on Saturday, with his only loss coming to Phil Davis in April 2010. Since that loss, he has won four straight, with none of those fights going past the second round.
Gustafsson finished Cyrille Diabate and James Te-Huna via submission and Matt Hamill and Vladimir Matyushenko via TKO.
There are some who believe the 25-year-old Swede is a possible contender for the light heavyweight title. However legitimate, that talk may be—a title fight for Gustafsson does not look like it will happen in 2012 as the winner of the upcoming Jon Jones versus Rashad Evans light heavyweight title bout is likely to face Dan Henderson.
If Gustafsson can get past Thiago Silva, he could be matched up against Mauricio Rua or Lyoto Machida, two former champions who could test the mettle of the up-and-coming Gustafsson. If not one of those two, a rematch against the man who defeated him, Phil Davis could be another possibility or perhaps the loser of the Jones versus Evans fight.
While he may be a few fights away from a title shot, there are plenty of intriguing matchups for Gustafsson.
Keep Reading