What's Inside the Mind of New York Mets General Manager Sandy Alderson?
April 9, 2012

Chris Trotman/Getty Images
By the end of the season, Mets fans may thank Sandy Alderson for not succumbing to demands for Jose Reyes, or Yu Darvish, or for that matter, any high-priced international free agent from last year. He could also right the wrong that has been done by Omar Minaya, and get them to within striking distance of the postseason, rather than the fourth place rut that they have been in since the beginning of the Citi Field era.  
Sandy Alderson's philosophy differed from that of his predecessor.  He wasn't interested in continuing Minaya's Los Mets teams from 2006-10 that at first seemed attractive, but eventually fell flat. While he was willing to keep the likes of Ruben Tejada, Manny Acosta and Johan Santana, it was because he knew that they would not attempt to be bigger than their team, much like Reyes. 
From what I can tell about Alderson's philosophy is that he's developing from the bottom up. If you looked at the Mets' game two lineup against the Braves, the only two players that weren't brought up through the Mets minor league system were R.A Dickey and Jason Bay. While Dickey has earned Alderson's trust, as he's emerged as a legitimate minor league pickup, Bay's star is fading fast, and he'll need to get back to his Boston days if he wants to prove he wasn't a bust. 
When Andres Torres went down with an injury, Kirk Nieuwenhuis, not Adam Loewen, was given the promotion, and rightfully so. Nieuwenhuis has already established himself as a jack of all trades player with no weaknesses when he was in the minors. and had it not been for surgery that wiped out his season he would have been a September call up.
While there were critics of Alderson who were unhappy that he had done nothing to fortify the rotation, it turned out that they were wrong. This includes me. Losing Chris Capuano to the Dodgers was definitely going to hurt, but then again, losing Johan Santana for the year hurt a lot more. That said, Capuano was not destined to become a longtime member of the rotation.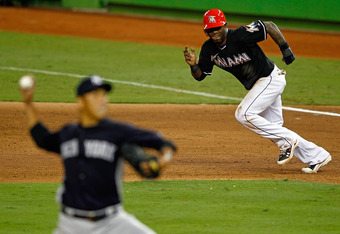 Mike Ehrmann/Getty Images
His loss coincided with Santana's return, and took pressure off RA Dickey, who had to fill the ace spot. In addition, Jon Niese had another solid year in his second season after his horrific injury in 2009 and was rewarded with a five-year extension. He then proceeded to throw six no-hit innings against the Braves on Easter Sunday.
Dillon Gee strung together a series of wins that tied him with Dwight Gooden for most consecutive wins by a rookie. While he couldn't capture his first-half magic again, he did prove that he was worthy of spot role in the rotation for a few years.
Sandy, however, is growing tired of perpetual head case Mike Pelfrey who has yet to pitch at the level he did back in 2010 when he looked like an all-star. It was so bad for him that the GM and Mets ownership discussed releasing him during 2012 spring training. One thing is definitely for sure: Pelfrey is playing on borrowed time. With the new Generation K pitchers in the wings, Matt Harvey, Zack Wheeler and Jeurys Familia, and with the likelihood that Harvey may find himself promoted by July, Pelfrey may find himself traded before the deadline.
Thus answereth the question: what is Alderson thinking? It's obvious the he wants the best for the team, and while the best is not exactly what fans want, it's certainly gotten them three wins already with 159 games to go.