NBA Mock Draft 2012: How Thomas Robinson Going Pro Reshapes the First Round
April 10, 2012

Ronald Martinez/Getty Images
Thomas Robinson appears to be a lock to go inside the top five picks now that he's declared his plans to turn pro, and there is strong reason to believe he could go inside the top three selections.
It will certainly be interesting to see how the season ends, but as of right now, here is an idea as to how the chips could fall on draft day.
1. Charlotte Bobcats: Anthony Davis, PF, Kentucky
Davis is incredibly skilled on the defensive end around the basket, and his length will certainly cause problems for the opposition at the next level.
He's got to work on his approach on offense in order to become a more complete player, but he's got plenty of time to do that.
2. Washington Wizards: Thomas Robinson, PF, Kansas
Whatever team lands Robinson will immediately improve its frontline with a kid who never takes a night off and has an incredibly impressive work ethic.
3. New Orleans Hornets: Michael Kidd-Gilchrist, SF, Kentucky
There is a chance Kidd-Gilchrist doesn't turn out to be a star, but he isn't afraid to attack the rim, and that is something not nearly enough wing players do on a consistent basis.
4. Cleveland Cavaliers: Bradley Beal, SG, Florida
Beal is an incredibly versatile guard who rebounds very well for his size, and there is good reason to believe he can improve even more as he transitions to the NBA.
5. Toronto Raptors: Harrison Barnes, SF, UNC
Barnes didn't have his strongest showing during March Madness, but it would be a huge surprise to see him fall out of the top seven picks.
6. Portland Trail Blazers: Andre Drummond, PF/C, UConn
Drummond's potential is simply too great to pass up, and although he has inexplicably drawn comparisons to Hasheem Thabeet, Drummond has far more upside than Thabeet ever did.
7. Sacramento Kings: Arnett Moultrie, PF, Mississippi State
Despite the fact that Moultrie will need to add a little bulk to his frame, he deserves to go much higher than many would expect.
8. Detroit Pistons: Tyler Zeller, PF/C, UNC
Zeller's height is going to get him drafted high, but should that really be the case?
Some have cut him slack for his rebounding because he shared a frontcourt with John Henson, but someone of Zeller's size should be dominating the paint in collegiate contests.
9. Utah Jazz: Damian Lillard, PG, Weber State
Devin Harris has been playing well recently, but there is no question Utah would still look to move him in the right deal.
Lillard has the skills to blossom into a point guard that the Jazz can build around for the foreseeable future, and this Weber State product shouldn't be overlooked at all.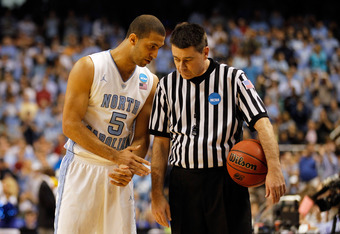 Streeter Lecka/Getty Images
10. New Orleans Hornets: Kendall Marshall, PG, UNC
Marshall has a distinct ability to make his teammates better, and it wouldn't be surprising to see him be the first point guard off the board.
Although he was sidelined for UNC's tournament run, there are no questions about what Marshall can bring to his future NBA team.
11. Portland Trail Blazers: Austin Rivers, SG, Duke
Rivers is going to have to land in a spot where the team will allow him to have the ball in his hands frequently in order for Rivers to fulfill his potential early during his rookie season.
12. Milwaukee Bucks: Meyers Leonard, C, Illinois
Leonard is another prospect who will be drafted based on his size, but it's hard to know exactly what type of success he'll enjoy at the next level.
He had success in college, but that isn't an indicator for his future, and he'll have a hard time guarding the more dominant big men in the paint at the onset of his playing days.
13. Phoenix Suns: Perry Jones III, F, Baylor
With the news that Jones will be entering the draft, there is no reason to believe he'll land outside the lottery.
If Phoenix nabs him here, the Suns could come away with one of the best value picks of the entire first round.
14. Utah Jazz: Jeremy Lamb, SG, UConn
Some love what Lamb can bring from the perimeter, but that alone shouldn't be enough for him to go inside the top 10.
15. Houston Rockets: Jared Sullinger, PF, Ohio State
Sullinger has carved out a reputation as a lazy defender, and he'll simply need to prove he can hold his own down low on both ends of the floor.
He's a big kid, but Sullinger lacks athleticism and may struggle with the pace of the NBA schedule.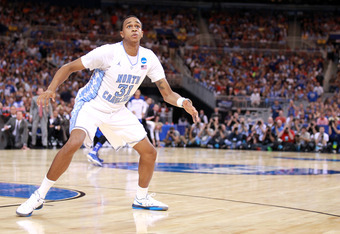 Andy Lyons/Getty Images
16. New Jersey Nets: John Henson, PF, UNC
There is a lot to like about what Henson could bring to the right club, but he's going to need to add strength to his wiry frame before earning consistent playing time.
17. Denver Nuggets: Dion Waiters, G, Syracuse
Waiters is a combo guard who will need a permanent position in the league, but he's a fearless player who isn't afraid to play his game regardless of who he is up against.
18. Philadelphia 76ers: Doron Lamb, SG, Kentucky
Whether it's Evan Turner or Jodie Meeks at the shooting guard spot this season, there is no doubting that Phladelphia could use reinforcements in the second unit.
19. Dallas Mavericks: Terrence Jones, SF
Jones' versatile game will certainly open a lot of eyes among scouts, but he doesn't bring emphatic efforts on the floor as frequently as many would like to see.
20. Atlanta Hawks: Terrence Ross, SG, Washington
Ross' game would fit Atlanta's scheme nicely as the Hawks need a backup behind Joe Johnson, but there are questions in regards to what Ross' ceiling will be at a higher level.
21. Boston Celtics: Royce White, SF, Iowa State
With Boston needing to get younger and more athletic on the wing, White could really be a huge value pick outside the top 20 selections.
22. Memphis Grizzlies: Moe Harkless, SF, St. John's
Harkless needs to improve at both ends of the floor before cracking a rotation, but the Grizzlies would be a good place for him to learn under Rudy Gay.
23. Orlando Magic: Andrew Nicholson, PF, St. Bonaventure
Nicholson could be the biggest steal of the entire draft.
He improved every season he was in college, and his maturation process on the hardwood was fascinating to watch this season.
It isn't out of this world to believe Nicholson could be an instant contributor during his inaugural season.
24. Indiana Pacers: Jeffery Taylor, SF, Vanderbilt
Taylor is an incredible athlete, but will his elite athleticism translate to success in the NBA?
There have been multiple instances where Taylor seems to become disengaged, and that simply won't cut it.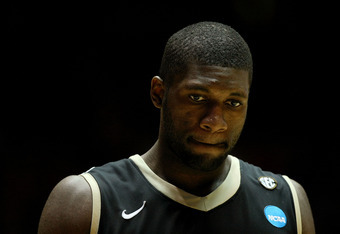 Christian Petersen/Getty Images
25. Boston Celtics: Festus Ezeli, C, Vanderbilt
Ezeli would be a slight reach for the Celtics here, but Boston needs size and he's certainly worth the gamble.
26. Cleveland Cavaliers: Draymond Green, SF, Michigan State
The Cavs need help on the wing, and Green could definitely fill a hole. However, he'll need to commit to finding his role at small forward in order to make it work.
27. Golden State Warriors: Tony Wroten, G, Washington
There is a whole lot to love about Wroten's upside and potential, but he's still very young and will take some time to develop.
He would've gone a lot higher next season had he stayed at school, but Wroten's game is made for the NBA and he wanted to get there as soon as possible.
28. Miami Heat: Fab Melo, C, Syracuse
Like Boston, Miami is in desperate need of size.
The Heat would be wise to roll the dice on Melo even if he will take some time to carve out a consistent role in the NBA.
29. Oklahoma City Thunder: William Buford, SG, Ohio State
The Oklahoma City Thunder really don't need to add much, but Buford could really develop his game under James Harden and turn into a solid contributor in the rotation.
30. Chicago Bulls: Kris Joseph, SF, Syracuse
Joseph could certainly use a lesson or two from Luol Deng, and he'll really need to improve his outside shot in order to validate his belonging in the NBA.