10 Keys for the Detroit Pistons Down the Stretch Run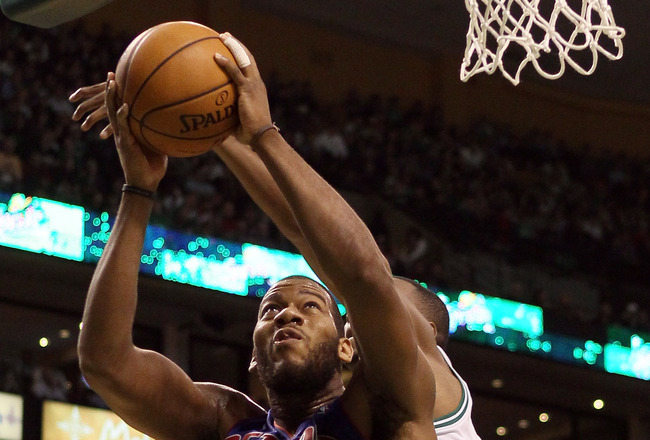 Elsa/Getty Images
The Detroit Pistons' season did not go exactly how the front office would have liked.
For most fans, the fact that this team struggled was not a shock.
But after a terrible start, the team showed signs of life, and they even had a nice run.
That being said, the Pistons are limping towards the end of a tough season, another one which will see the team outside of the playoffs and eagerly anticipating the NBA draft lottery.
However, the season has been far from a lost cause, and in fact there are certainly reasons for optimism going forward.
And as the season winds down, there is still some business to be settled.
Here are 10 keys for the Pistons down the stretch run.
10. Put Ben Gordon in a Position to Succeed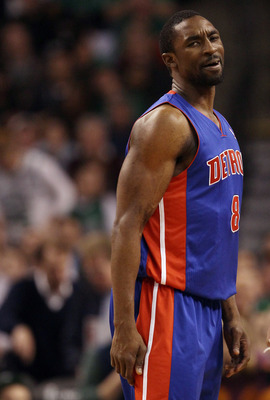 Elsa/Getty Images
Ben Gordon has been a huge disappointment for the Pistons since signing a free-agent contract a few years ago.
He still has a one year on his contract, and a player option for 2013-14 of $13.2 million.
That being said, Gordon still has some value left in this league. He can shoot the lights out, is capable of carrying an offense and can score in bunches.
On the right team, he could be a difference-maker as a sixth man. But with Detroit, he is a luxury that the team doesn't need.
But the Pistons need to get him meaningful minutes, something that has been in short supply with Rodney Stuckey's return from injury.
They also need to run more plays for him and work on the inside-outside game with he and Greg Monroe.
If Detroit can show that Gordon still can score like he did a few years ago, they might have a chance at unloading him this offseason.
9. Run the Offense Through Greg Monroe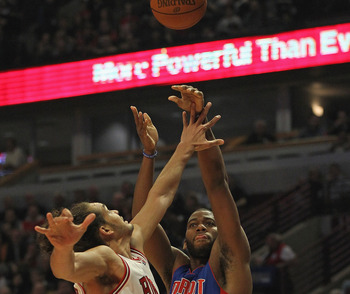 Jonathan Daniel/Getty Images
Greg Monroe is without a doubt the Pistons' best player. He is young, talented and capable of becoming an elite player.
But the Pistons refuse to run their half-court offense through him.
True, part of this stems from the fact that they are playing a more uptempo game these days.
But in the half-court offense, too often the Pistons rely too heavily on the perimeter players.
In the last month, Monroe has only shot the ball more than 13 times in two games, both of which were wins.
In fact, the Pistons are 6-3 in the last month in games in which Monroe has double-digit shot attempts, but only 2-5 during that span in games that he doesn't.
Simply put, the Pistons need to feed their big man.
8. Encourage Brandon Knight to Distribute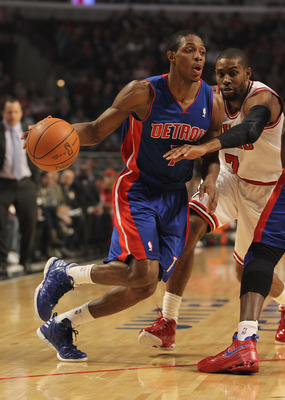 Jonathan Daniel/Getty Images
The Pistons are hopeful that Brandon Knight will be a star in this league.
If he is going to realize his potential, it is going to have to be as a point guard. There is no question that 6'3" combo guards are a dime a dozen, and they are typically not overly successful in this league.
Knight flat-out needs to pass the ball and set up his teammates.
In games this season in which Knight had seven or more assists, the team is 5-1.
Knight has the potential to be a star in this league, but he needs to do it as a point guard, and he needs to pass the ball.
7. Figure out What Austin Daye Has to Offer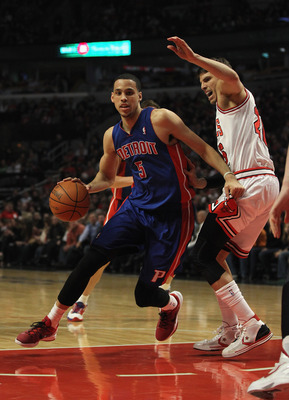 Jonathan Daniel/Getty Images
I have been a vocal critic of Austin Daye for a while now.
I think he looks lost on defense, and his offensive game has regressed in most ways.
But I think that Daye needs to get on the court for a number of reasons.
First, the Pistons need to find out exactly whether or not he fits the team going forward, and in what role.
Is he a shooting guard, a small forward or just a role player.
Second, if he doesn't fit the team, then they need to boost his trade value. He was a first-round pick, and at this point, his value is severely stunted.
If he can't even crack the rotation of a team as bad as Detroit, then how good could he actually be?
Perhaps Daye can surprise some people and put together some strong performances and boost his value.
Worst-case scenario, he doesn't help the team and the Pistons lose more games. At this point, is that really such a terrible thing?
6. Cut All Ties with Charlie Villanueva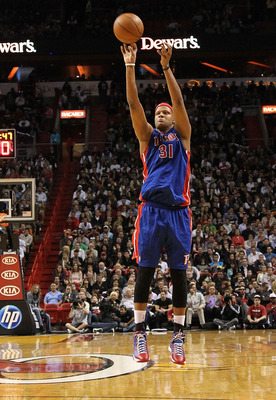 Mike Ehrmann/Getty Images
Charlie Villanueva may be the worst free-agent signing in team history.
He obviously does not fit with the team's plans, so why exactly are they keeping him around?
Sure, they can hope that they can unload him after the season. But it seems unlikely that anybody would be willing to take on his contract ($8 million next season, $8.5 million player option the year after).
Therefore, it seems likely that Villanueva will be an amnesty cut after the season.
So why wait?
The Pistons need to end the suspense and make Villanueva inactive for the rest of the year. Sure, they can't technically cut him and use the amnesty clause yet, but they can make him inactive and get him out of the picture.
This will be a boost to the fanbase, and it will help turn the page on one of the more forgettable moments in Pistons history.
5. Bring Back Vernon Macklin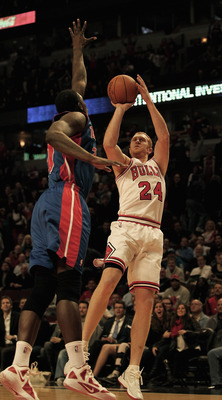 Jonathan Daniel/Getty Images
The Pistons sent Vernon Macklin to their Developmental League affiliate a few months ago, and by all indications he has been very successful there.
In 10 games, Macklin is averaging 14 points and 14 rebounds per game.
He has shown a willingness to accept the demotion, handled it properly and now should be promoted.
The Pistons could use more size up front, and given the likelihood that Jason Maxiell may walk after this year and Ben Wallace will retire, the Pistons definitely should see what they have in Macklin.
4. Scale Back Tayshaun Prince's Minutes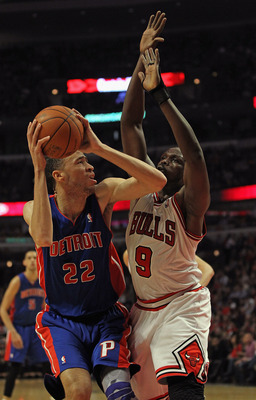 Jonathan Daniel/Getty Images
Tayshaun Prince has had a nice run for Detroit.
He will likely be the only remaining player on the roster next year from the 2004 championship team.
But that doesn't mean that the Pistons need to wear him out this year.
Prince averaged 35 minutes per game in both February and March.
Given the fact that both Austin Daye and Jonas Jerebko are still developing, it makes more sense for the Pistons to give some of Prince's minutes to them.
Prince will still be with the team next year. Why wear him out for a lost season?
3. Leave Will Bynum on the Pine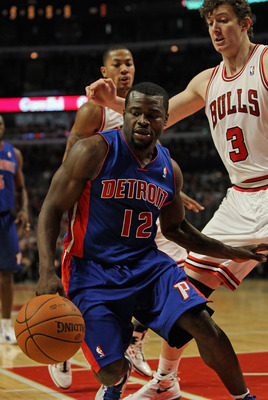 Jonathan Daniel/Getty Images
Rodney Stuckey and Brandon Knight are the future of the Pistons' backcourt.
Ben Gordon likely will be with the team for at least the next year or so, meaning he needs minutes as well.
But there is no real reason why Bynum should be getting meaningful minutes.
He is not in the Pistons' future plans, he only has a $3.5 million salary next season, meaning that he is easily tradeable and every minute he plays takes away from players that need to be developed.
The Pistons have explored the idea of playing Austin Daye at shooting guard. So between Daye and the other three, there really should be no minutes left for Bynum.
Of course, if there are injuries, that is another story. But Bynum and Walker Russell Jr. should not be given any minutes going forward without injuries being an issue.
2. Scout Free Agents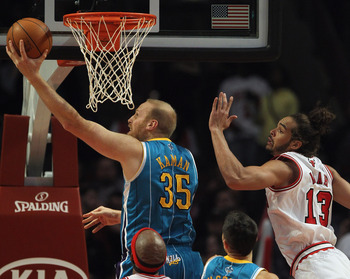 Jonathan Daniel/Getty Images
The Pistons have a lot of holes on their roster.
They are woefully slim up front and need a physical presence to pair with Greg Monroe.
They need more athleticism on the wings, and they need to figure out whether or not Brandon Knight is capable of being a star point guard.
So while some of the questions about the roster will be answered by the draft, some will need to be figured out in free agency.
Ideally, the Pistons will find a big man in the draft, but given their current draft position, it seems unlikely that they will get one of the top bigs.
Therefore, they need to figure out which free agents will fit well with Monroe.
There will be a lot of physical big men becoming free agents.
Brandon Bass, Ian Mahinmi, JaVale McGee, Marcus Camby, Roy Hibbert (restricted), Marresse Speights (restricted), and Ersan Ilyasova, among others.
Even if Detroit gets lucky and lands a big man in the lottery, they probably still will want to add to their depth at this position, and it would behoove them to have a strong breakdown on these options.
1. Lose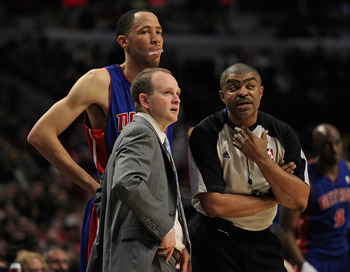 Jonathan Daniel/Getty Images
OK, so this one is meant to be more tongue-in-cheek than anything else, but it really is true.
The Pistons need to improve their draft position, and they won't do that by winning meaningless games.
Obviously, the Pistons can't coach to lose, and nobody really should want that.
But what they can do is start to drastically cut the minutes of some of the veterans and give more of the younger guys meaningful minutes.
Daye, Jerebko, Knight and Macklin need to get more minutes, and players like Bynum, Prince, Wallace and Maxiell should see their minutes reduced or cut outright.
Sure, this doesn't jibe with coach Lawrence Frank's mantra that the best lineup will always get the most minutes.
But the worst place for a team to be is in the no-man's land, which is between the 11th and 9th position in the conference.
It doesn't typically lead to an elite lottery pick, and the team isn't good enough to compete.
And it makes no sense whatsoever for Knight to have his minutes reduced, which has happened so far this month (three of four games with fewer than 30 minutes).
If injuries aren't an issue, Knight, Daye and Jerebko should be logging well over 30 minutes per game down the final stretch, and Macklin should be on the roster and in the regular rotation.
This will lead to growing pains, and the losses will mount. But they will be productive losses, rather than just riding a core that will likely not be completely intact after this year.
Keep Reading

Detroit Pistons: Like this team?