2012 NHL Free Agents: Ryan Suter and Playoff Stars Set to Test the Market
April 9, 2012

Gregory Shamus/Getty Images
Here today, gone tomorrow.
That mantra isn't reserved solely for the 16 NHL teams vying for the top prize in the Stanley Cup playoffs. It also applies perfectly to more than a few stars partaking in the postseason who are scheduled to hit free agency once the summer rolls around.
Like these three, all of whom will cash in somewhere—be it with their current teams or others—once the market opens up.
Ryan Suter
The Nashville Predators went out of their way at the trade deadline to prove to Ryan Suter that they were serious about competing for the Cup. GM David Poile sloughed off a slew of prospects and draft picks to bring in the likes of Andrei Kostitsyn, Hal Gill and Paul Gaustad, all of whom will be free agents themselves after the season.
The Preds will have a solid measure of leverage with their other young defenseman, restricted free agent Shea Weber, but won't have that same luxury with Suter, who will be unrestricted come summer.
As such, a deep playoff run would go a long way toward convincing Suter to stay in the Music City, rather than bolt for greener, more championship-caliber pastures.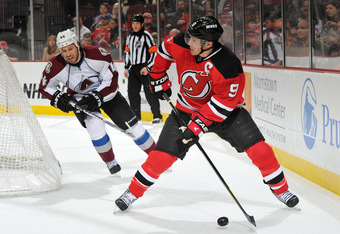 Christopher Pasatieri/Getty Images
This much we know: Someone is going to pay Zach Parise a ton of money to play hockey.
Where he plays and how much he gets is anybody's best guess.
For now, Parise will be busy helping the New Jersey Devils battle the Florida Panthers in the 3-6 matchup in the Eastern Conference.  
However deep into the postseason the Devils advance, they figure to be somewhat reticent to keep Parise at or near his current salary of $6 million, what with the winger's minus-five rating and recent history of serious injury.
Not to mention all the dough they still owe Ilya Kovalchuk.
Alexander Semin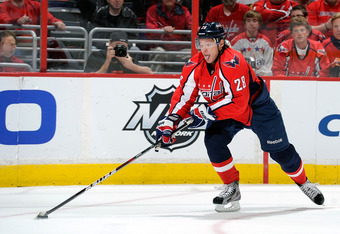 Greg Fiume/Getty Images
Contrary to popular belief, the Washington Capitals are NOT a one-man team, though Alex Ovechkin may seem like the only player of consequence who skates in DC sometimes.
Nor are they a one-Alex team, with Alexander Semin also filling the left wing.
Trouble is, the Caps may not have the cap space to keep both. Ovechkin will make top dollar in DC from here to eternity, while Semin will set off onto the free-agent market after adding $6.7 million to his coffers this season.
In the meantime, the Caps will need everything they can get out of Semin if they're to upend the defending champion Boston Bruins in the first round of the Stanley Cup playoffs.