Red Sox Rumors: Why Red Sox Faithful Should Expect More from Carl Crawford
April 9, 2012

Elsa/Getty Images
To say that Carl Crawford's first season with the Boston Red Sox was a disappointment would be an understatement. It was a disaster.
Crawford, one of baseball's premier players heading into 2011, hit .255 with seven home runs, 65 runs, 56 RBI and 18 stolen bases in 506 at-bats.
But Red Sox fans should expect more from Crawford in 2012...because Crawford will deliver.
Alex Speier of WEEI.com tweeted on Saturday:
Crawford will start playing in extended spring training games soon.

— Alex Speier (@alexspeier) April 7, 2012
Crawford is expected to return to the Red Sox lineup in early May, according to Rotoworld.com. And with the Red Sox getting swept by the Detroit Tigers to start the season, he couldn't arrive at Fenway Park early enough.
Let me first start with what should be the obvious: Carl Crawford is still one of the premier players in the league. Before last season, he averaged .298, 92 runs and 50 steals in his prior eight seasons. That kind of talent doesn't magically go away.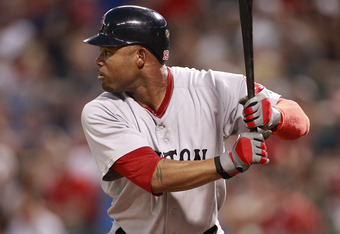 Rick Yeatts/Getty Images
You also have to factor in Crawford's hamstring injury last season. Injuries have a way of derailing a player's season, and that certainly factored into the equation in 2011. And while Crawford may not charge out of the gate this season following his wrist surgery, he's simply too talented a player to bomb like he did last season.
Crawford's durability should also not be put into question. Before last season, he played in fewer than 143 games just once since 2002. He's not a youngster anymore, but he's also not ancient at 30 years old. He still has plenty left in the tank.
It's only natural for Red Sox fans to be skeptical of Crawford after he comes off wrist surgery following a dismal 2011. But once he gets in the flow of things this season, he's going to change public opinion mighty quickly in Boston.
Follow me on Twitter. We can talk about the Red Sox and baseball together.