Chicago White Sox: Ozzie Will Always Be Ozzie
April 9, 2012

Andy Lyons/Getty Images
Ozzie Guillen likes opening his mouth.  
For years, Chicago White Sox fans were entertained by the onslaught of his bizarre antics.  
Believe me, bizarre is an understatement.  
Whether it was listening to Guillen bash Jay Mariotti or following Ozzie and his entourage on Twitter, the guy kept us on our toes.
Was I surprised when Ozzie described his respect and admiration for a man who has ruined thousands of people's lives?
A little bit.
To be completely honest, I didn't think even Guillen was dumb enough to get himself in this type of pickle. In a nutshell, his comments regarding Fidel Castro essentially made him the most-hated man in Miami. Unfortunately for Guillen, this is his new place of employment.   
Should the Miami Marlins have fired the extroverted skipper on the spot? A definite no.
If the Marlins want to fill those seats, the organization will have to cater to its vast Latino community. Bringing in Guillen was a step in that direction. Teaching Guillen to zip it sometimes will also be a step in that direction.
Unless owner Jeffrey Loria was living under a rock for the past eight seasons, he must have realized that this is typical Ozzie. Like it or not, this is Ozzie's modus operandi.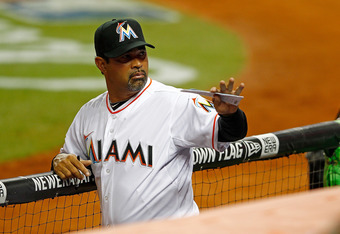 Mike Ehrmann/Getty Images
This outburst just happened to be tied to pretty harsh consequences. Regardless of Guillen's political leanings, Ozzie has to realize what words puts smiles on the faces of fans.  
Smiling faces in the seats = happy owner = contract extension for Ozzie. That's simple mathematics.
From a financial perspective, this irrational statement may have cost the Marlins millions. From a life perspective, this could have cost Guillen his reputation.
How can Guillen win back this disgruntled fanbase?
The answer is simple. He must issue a meaningful apology and win ball games. If those two things happen, Marlins fans will realize that Guillen just slipped up. A goof that is one of many.
Personally, I believe that Guillen's desire to be center spotlight was more responsible for this incident than his political inclinations.
Nevertheless, Marlins fans will have to learn this love this guy. He's their problem now. 
Recently, Ozzie said he would never return to the Sox with Kenny Williams is in charge. Hey Ozzie, news flash. Regardless if Williams is employed by the team in the future, you aren't exactly wanted in these parts. Thanks for 2005, but it's time for everybody to move on.
As a Sox fan, you can only say, "I'm glad the hoopla is over and Robin is in town."
Now, the Sox just have to figure out how to hit...