2012 NFL Mock Draft: Mocking the Entire First and Second Rounds
April 11, 2012
Joe Robbins/Getty Images
1. Indianapolis Colts: Andrew Luck, QB, Stanford

After a brilliant pro day workout, there really shouldn't be any other questions surrounding this pick. Luck will be the top selection here for the Colts, expected to help the city of Indianapolis adjust to the post-Peyton Manning era.
2. Washington Redskins: Robert Griffin III, QB, Baylor
There is a reason that Washington went ahead and traded up to get this pick. That reason's name is Robert Griffin III, and he looks like the franchise quarterback that Redskins fans have been patiently waiting for.
3. Minnesota Vikings: Matt Kalil, OT, USC

Many believe that Kalil is the most well-rounded offensive tackle prospect in the past decade. With that said, this should be a no-brainier for a Vikings team that desperately needs to protect its young franchise quarterback, Christian Ponder.
4. Cleveland Browns: Trent Richardson, RB, Alabama
The Browns are going to draft a big-time playmaker with this pick, and with the departure of Peyton Hillis, it looks like Trent Richardson will be that guy. He is without question the top running back in this year's draft class.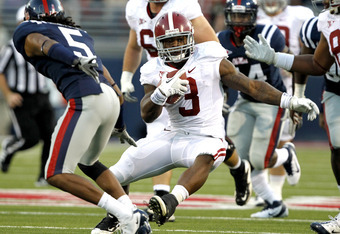 Butch Dill/Getty Images
5. Tampa Bay Bucs: Morris Claiborne, CB, LSU
Claiborne is hands-down the best cornerback in this draft ,and despite his awful score on the Wonderlic Test, this kid can flat out play. With Ronde Barber at the end of his career and Aqib Talib facing legal trouble, Claiborne is a perfect fit in Tampa Bay.
6. St. Louis Rams: Justin Blackmon, WR, Oklahoma State
Sam Bradford needs a true No. 1 receiver to throw to, and assuming the Rams keep this pick, they should get their man in Blackmon. Assuming they do, that trade with the Redskins looks pretty good for the Rams.
7. Jacksonville Jaguars: Michael Floyd, WR, Notre Dame

Jacksonville could very-well look to trade this pick, but if not, they might go ahead and take the first big stretch of the draft. This team desperately needs to add some offensive skill players to help out second-year quarterback Blaine Gabbert. In Floyd, they get a talented wide receiver who should be able to step in and start from day one.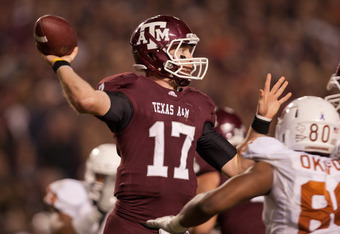 Darren Carroll/Getty Images
8. Miami Dolphins: Ryan Tannehill, QB, Texas A&M
This organization knows that they can't rely on Matt Moore to be their quarterback of the future, and after missing out on the Peyton Manning sweepstakes, they have no choice but to address their QB need in the draft. Tannehill isn't worthy of a top-10 pick, but this is a selection based strictly on need alone.
9. Carolina Panthers: Dontari Poe, DT, Memphis
Carolina struggled at stopping the run last season, which makes Poe a perfect fit for this team. His combination of size and athleticism is simply too impressive to pass up at this point in the draft.
10. Buffalo Bills: Riley Reiff, OT, Iowa
The Bills have made several big moves on the defensive side of the ball this offseason, and now they address the offensive side with this pick. Reiff is a complete player with solid running and blocking skills. He should help solidify this line and provide exceptional protection for years to come.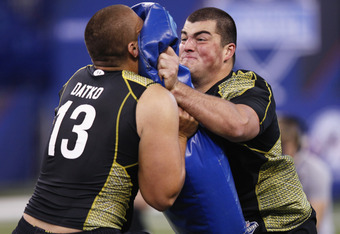 Joe Robbins/Getty Images
11. Kansas City Chiefs: David DeCastro, G, Stanford
This pick is going to likely come down to DeCastro or linebacker Luke Kuechly of Boston College. In the end, Kansas City has great needs on the offensive side of the ball, and DeCastro is a once-in-a-decade type offensive guard, which will be tough to pass up at this point.
12. Seattle Seahawks: Quinton Coples, DE, North Carolina

Coples has great size and is a fierce pass rusher off the edge, which is something that the Seahawks have been lacking for some time now. This is a great value for a position that Pete Carroll's team desperately needs to address.
13. Arizona Cardinals: Melvin Ingram, DE, South Carolina

The Cardinals would love to grab a receiver here, which makes me believe that if Michael Floyd is still available, they will go that route. But if not, look for Arizona to add a pass rusher to that improving defensive unit. Ingram is a menace off the edge, and he has the versatility to play several positions if needed.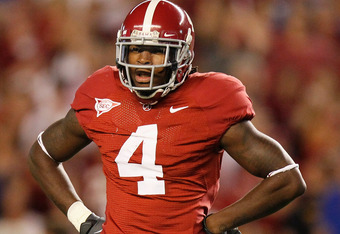 Kevin C. Cox/Getty Images
14. Dallas Cowboys: Mark Barron, S, Alabama

Jerry Jones will take a chance on a guy who he feels is the most talented player at a position of need. The Cowboys still have plenty of holes in their secondary, and Barron is a playmaking safety who can step in and battle for a starting spot from day one.
15. Philadelphia Eagles: Luke Kuechly, ILB, Boston College

This defense was downright awful at times last season, and it all started with the poor play of the linebackers. The Eagles made a big move in signing DeMeco Ryans this offseason, and now, if they could add an inside linebacker like Kuechly to the mix, this unit should be much improved next season.
16. New York Jets: Courtney Upshaw, OLB, Alabama
Upshaw's physical style of play is perfectly suited for Rex Ryan's defense. Upshaw has the versatility to play both linebacker and defensive end, and his non-stop motor makes him an ideal fit here. He reminds many of a young Terrell Suggs.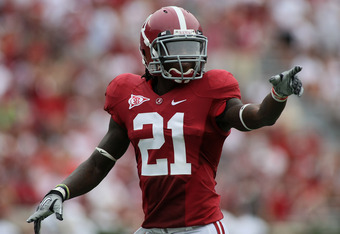 Greg McWilliams/Getty Images
17. Cincinnati Bengals: Dre Kirkpatrick, CB, Alabama
The Bengals have to address a major need in their secondary, and with Kirkpatrick still on the board at this point in the draft, this is the perfect time to pull the trigger. He is a tall prospect who should give this team a nice compliment to Leon Hall.
18. San Diego Chargers: Fletcher Cox, DT/DE, Mississippi State

The Chargers have questions on both the offensive and defensive line, but history shows that A.J. Smith will likely side with a pass rusher in the first round. Fletcher Cox is the top 3-4 defensive end in this draft, which is exactly what fits the mold for this San Diego defense.
19. Chicago Bears: Cordy Glenn, G/T, Georgia
The Bears drafted Gabe Carimi last year, which filled a void at one of the offensive tackle spots. Now, look for Chicago to continue and build up that line by selecting Cordy Glenn, who has the size to play tackle and skill set to play guard at the NFL level.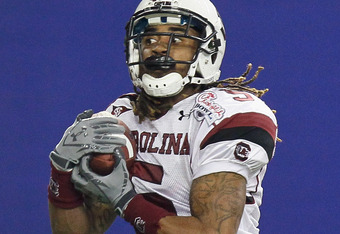 Kevin C. Cox/Getty Images
20. Tennessee Titans: Stephon Gilmore, CB, South Carolina
With the loss of Cortland Finnegan to free agency, the Titans are almost locked in to taking a cornerback with this selection. If Gilmore is still available at this point, he should be the pick.
21. Cincinnati Bengals: Michael Brockers, DT, LSU
The Bengals filled their need at cornerback with that No. 17 pick, and now they should look for the best player available if they do indeed hold onto that pick. If Brockers is still available at this point, you really can't pass up on a guy with that much talent. It also helps build depth on an average defensive line.
22. Cleveland Browns: Kendall Wright, WR, Baylor

Assuming the Browns go with a running back with that first pick, they will try and add more offensive firepower with this selection, most likely a wide receiver. Next to Blackmon and Floyd, Wright is the best wide receiver in this draft and will provide another weapon for Colt McCoy.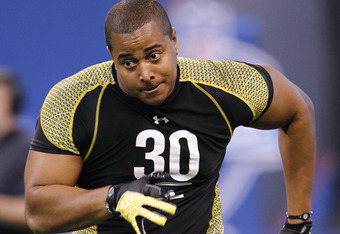 Joe Robbins/Getty Images
23. Detroit Lions: Jonathan Martin, OT, Stanford

Detroit has been waiting to replace OT Jeff Backus for a long time now. If Martin falls to the Lions here, there is no way they could pass on him. Adding a franchise offensive tackle just helps make this offense that much better.
24. Pittsburgh Steelers: Dont'a Hightower, LB, Alabama

Hightower could very well be the fourth Alabama defensive player to be taken in the first round, and, honestly, I think he's the best of all of them. The Steelers have bigger needs than at linebacker, but could you ever imagine a better fit for this hard-nosed linebacker? This guy is meant to wear a Pittsburgh Steelers uniform.
25. Denver Broncos: Jerel Worthy, DT, Michigan State
The Broncos made a huge splash in free agency with the signing of Peyton Manning. Now, they can turn their attention to the defensive side of the ball and finally go after a big defensive tackle. Worthy is a force in the middle of that defensive line, which is just what this team needs.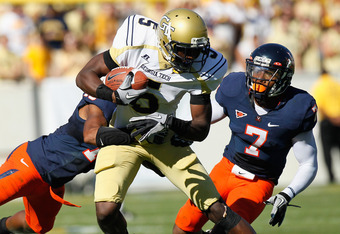 Kevin C. Cox/Getty Images
26. Houston Texans: Stephen Hill, WR, Georgia Tech

The Texans need a receiver to complement Andre Johnson. With Hill, they get a guy who has both great size and speed and will help them stretch the field. This is a selection that will take some development, but one that could really pay off down the line.
27. New England Patriots: Nick Perry, DE, USC
The Patriots desperately need a pass rusher, and Perry can come in and fill that void right away. This would be an ideal fit for both sides.
28. Green Bay Packers: Peter Konz, C, Wisconsin
How fitting would this pick be for the Packers? The team loses Scott Wells to free agency and then adds Peter Konz, the top-rated center in the draft who played his college football in the state of Wisconsin. Perfect? I think so.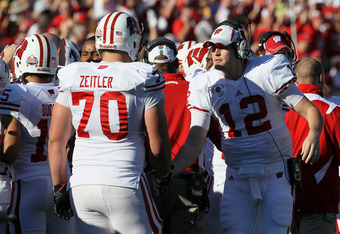 Stephen Dunn/Getty Images
29. Baltimore Ravens: Kevin Zeitler, G, Wisconsin
This may be a bit of a stretch here, but the Ravens have no choice but to address that offensive line with this pick. This team is desperate for help at guard, and that makes Zeitler the obvious pick here, assuming DeCastro and Konz are both already off the board.
Jerel Worthy

9.9%

Peter Konz

16.5%

Alshon Jeffery

23.3%

Melvin Ingram

30.1%

Other

20.2%
30. San Francisco 49ers: Whitney Mercilus, DE, Illinois
The 49ers have been busy in free agency, specifically on the offensive side of the ball. If Mercilus is still available at this point, they need to switch their focus on defense and make sure to lock up this pass rushing specialist.
31. New England Patriots: Janoris Jenkins, CB, North Alabama

Chances are that the Patriots will probably end up trading this pick away, but if they hold onto it, why not upgrade what was the worst secondary in the NFL this past season? Jenkins has a lot of baggage attached to his name, but he's more likely to shape up under Bill Belichick because he knows that if he doesn't, he could be gone at any time.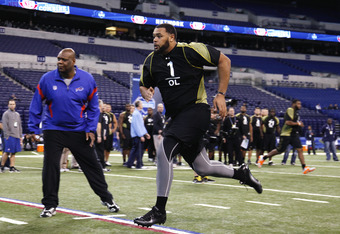 Joe Robbins/Getty Images
32. New York Giants: Mike Adams, OT, Ohio State

The Giants are lacking depth at offensive tackle, and with the possibility of Adams still being available at this point, he would be near impossible to pass up here.
Second Round
33. St. Louis Rams: Devon Still, DT, Penn State
34. Indianapolis Colts: Coby Fleener, TE, Stanford
35. Minnesota Vikings: Alshon Jeffery, WR, South Carolina
36. Tampa Bay Bucs: Lavonte David, OLB, Nebraska
37. Cleveland Browns: Brandon Weeden, QB, Oklahoma State
38. Jacksonville Jaguars: Andre Branch, DE, Clemson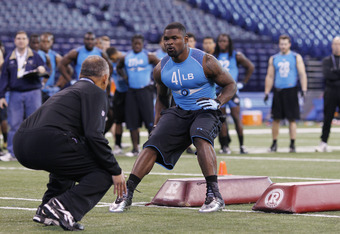 Joe Robbins/Getty Images
39. St. Louis Rams (From Washington): Bobby Massie, OT, Ole Miss
40. Carolina Panthers: Josh Robinson, CB, Central Florida
41. Buffalo Bills: Rueben Randle, WR, LSU
42. Miami Dolphins: Vinny Curry, DE, Marshall
43. Seattle Seahawks: Zach Brown, OLB, North Carolina
44. Kansas City Chiefs: Mychal Kendricks: LB, Cal
45. Dallas Cowboys: Kendall Reyes, DT. Connecticut
46. Philadelphia Eagles: Brandon Thompson, DT/DE, Clemson
47. New York Jets: A.J. Jenkins, WR, Illinois
48. New England (From Oakland): Alameda Ta'amu, DT, Washington
49. San Diego Chargers: Mohamed Sanu, WR, Rutgers
50. Chicago Bears: Orson Charles, TE, Georgia
51. Philadelphia Eagles (From Arizona): Harrison Smith, S, Notre Dame
52. Tennessee Titans: Dwayne Allen, TE, Clemson
53. Cincinnati Bengals: Brandon Taylor, S, LSU
54. Detroit Lions: Alfonzo Dennard, CB, Nebraska
55. Atlanta Falcons: Kelechi Osemele, OG/T, Iowa State
56. Pittsburgh Steelers: David Wilson, RB, Virginia Tech
57. Denver Broncos: Amini Silatolu, OG, Midwestern State
58. Houston Texans: Zebrie Sanders, OT, Florida State
59. Green Bay Packers: Ronnell Lewis, OLB, Oklahoma
60. Baltimore Ravens: Bobby Wagner, OLB, Utah State
61. San Francisco 49ers: Trumaine Johnson, CB, Montana
62. New England Patriots: Philip Blake, C, Baylor
63. New York Giants: Doug Martin, RB, Boise State