San Francisco Giants: 10 Biggest Differences from Last Season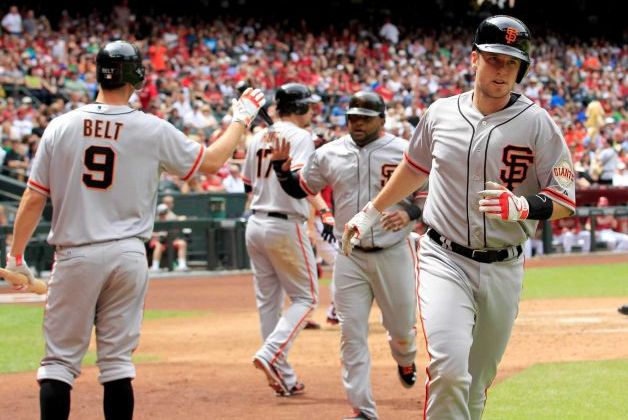 By and large, the San Francisco Giants started 2012 with few changes from the season before.
Sure, there were new players and healed players and the team made a few trades.
Still, a team that won the 2010 World Series with brilliant pitching and solid defense opened their newest season with the same strengths and weaknesses of the clubs that immediately preceded them.
To some, this was reason for disappointment. Others took solace in the roster Bruce Bochy finally revealed ahead of Opening Day.
Sometimes it's the small changes that make the biggest differences. Case in point: the additions of Pat Burrell and Cody Ross to the 2010 squad. No one thought at the time that either was an answer to the Giants' most glaring needs, but both were instrumental in leading the club to October glory.
And while Burrell and Ross came along with the season underway, there is no reason to discount what small changes may have big impacts on the Giants in the season ahead.
Here are 10 of the biggest changes the Giants have made going into 2012.
Begin Slideshow

»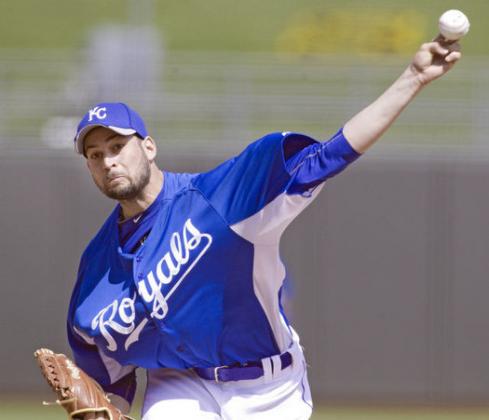 New uniform, same old erratic delivery.
Jonathan Sanchez is a Royal.
During the offseason, Brian Sabean pulled the trigger on a deal that sent Sanchez to Kansas City in exchange for outfielder and leadoff candidate Melky Cabrera. At the time, the Giants were feeling very secure in a rotation built around Tim Lincecum, Matt Cain, Madison Bumgarner and Ryan Vogelsong.
In the wake of an Opening Weekend sweep at the hands of the Diamondbacks, a few wistful eyes watched as Sanchez allowed only two runs through five innings in his Royals debut Sunday. Two runs seemed like a luxury after the holy trinity of Lincecum, Cain and Bumgarner gave up a combined 17 runs (with some help from a shaky bullpen).
Of course in the long run, no one expects the Giants starters to continue hemorrhaging runs. If Barry Zito can pitch a complete game shutout at Coors Field, all hope simply cannot be lost. Ryan Vogelsong will inherit the fifth spot in the rotation as soon as he leaves the DL. Meanwhile, Sanchez is fitting well in his role as the third starter on a potent Royals roster.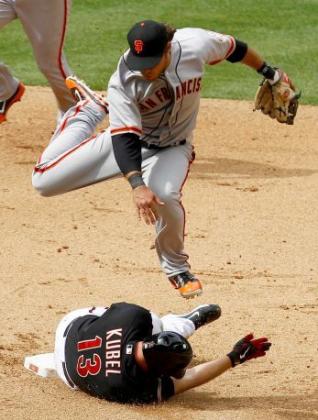 Who knew Brandon Crawford could levitate?
Brandon Crawford didn't have the Opening Weekend he was hoping for.
He hit a dismal .091 and was charged with two errors along the way. Let it be noted that Crawford was suffering from a thumb injury that forced him to play with a splint in his glove.
Monday saw Crawford hit a three-run double, which should silence those questioning his bat prowess for a little while.
Back to the defense, though. Two errors is unacceptable, but stats won't reveal any of the impressive plays Crawford did make in the course of his three starts in Arizona. Anyone watching those games saw a shortstop that handled his business, which is a welcome relief from band-aid stopgaps like Miguel Tejada and Orlando Cabrera.
The second-base situation remains a more pressing debacle, but the trifecta of Sandoval, Crawford and Belt covering three-fourths of the infield should prove to be a valuable asset.
*Or so we thought.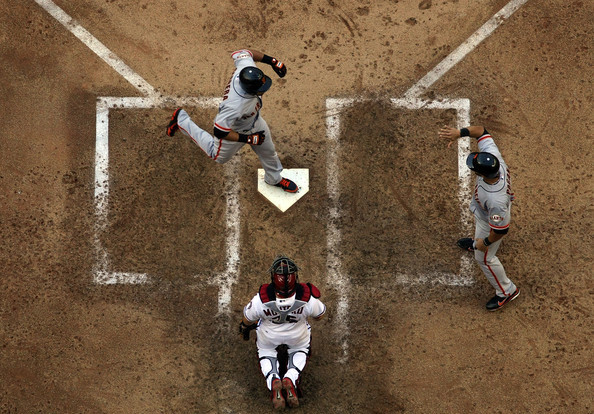 The most beautiful sight in the world.
In the last handful of seasons, Giants were never much for stealing bases.
This was partly a result of the myriad of aging veteran players the team fielded nightl, and a frustrating reliance on long balls when the fundamentals didn't yield results. What a surprise it is to now see so many fleet-footed players gracing our roster.
Putting aside the short but storied run of Darren Ford (hope we see ya again, Darren!), this crop of base thieves is a promising lot. There's Angel Pagan, who's challenge is getting to a base from which to steal others. Also aboard is Melky Cabrera and Gregor Blanco. To add the threat of the steal to a limited offense is huge.
Small sample sizes are always deceiving, but the Giants have scored 21 runs in their first four games. We'll take it.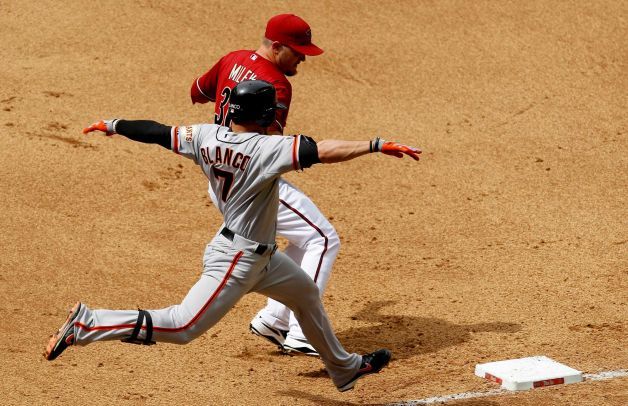 Look for Gregor Blanco in the upcoming sequel to Black Swan.
Pinch-hitting is never a top priority for a ball club. Still, for a team where every game last season seemed to come down to a lone run, having some bats off the bench is quite important.
The Giants roster for Opening Day 2011 featured a bench consisting of Eli Whiteside, Mike Fontenot, Mark DeRosa, Aaron Rowand and Nate Schierholtz. Later on Cody Ross would rejoin the outfield and Pat Burrell would join the pine warmers. All in all, that's a horrible bench.
For 2012, they've upgraded to Emmanuel Burriss, Brett Pill, Hector Sanchez, Gregor Blanco and Nate Schierholtz. You might not be too familiar with the names, but you've seen their work.
Pill is the guy who likes to hit pinch-hit home runs. Sanchez is the chap who just caught a complete game shutout at Coors Field and tacked on a 2-for-5 with an RBI at the plate. Blanco is making a case to be a starter in the outfield.
That's three bats right there that the Giants couldn't count on late in games last season.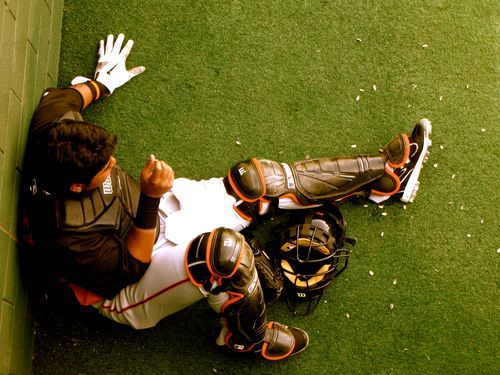 Hector Sanchez practices his calendar pose.
Technically the Giants started last season without a third catcher too, but the start of last season was a very different story.
Buster Posey sustained a gruesome injury. Anyone who tells you he's fully back is living in a dreamworld. The home run he mashed on Sunday was a welcome sight, but the defensive errors behind the plate are extremely troubling. Perhaps he's dusting off the cobwebs, so to speak, but until we see the confidence return, fans and coaches alike will remain apprehensive.
When Bruce Bochy decided that Hector Sanchez was all the backup catcher he needed on his active roster, it came as a shock. Not only did most figure Bochy would opt for experienced options Eli Whiteside or Chris Stewart, but the consensus also seemed to be that caution would require Bruce and his staff to keep his catching choices deep.
Hector Sanchez was picked for his bat, with the hope he will grow more confident in the squat.
As of Monday evening, Sanchez appears to be living up to expectations. However, one would be wise to remember that Eli Whiteside could easily return to the team if the brass has a change of heart.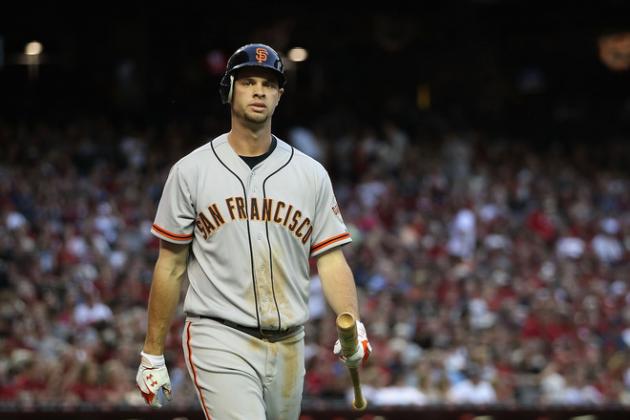 Will Brandon Belt once again perform his famous disappearing (off the roster) act?
Friday was not Brandon Belt's first Opening Day roster, but it was his first start on the inaugural day of the season.
2011 was a year that saw Belt go up and down from majors to minors and back again more times than an elevator with all the buttons pushed. For whatever reason, the Giants couldn't find it within themselves to give up on Aubrey Huff and let Belt take his swings. As the latter rotted on the bench, the former continued a season-long slump.
Now Huff is stashed away in left field and first base is Belt's to lose. Actually, he's already lost it. Bochy opted to bench Belt and give Huff first on only the fourth game of the season. After assuring the press that Belt was going to get his chance, it took less than a week of subpar at-bats from the Baby Giraffe to land him on the reserves.
Perhaps the benching was a temporary reprieve to help Belt shake off his subpar start. Perhaps it's an indicator of coaching choices to come.
Jeremy Affeldt has five million reasons to start pitching better.
You can always count on the bullpen. At least, that used to be the case.
Bullpen issues are a new set of problems for the San Francisco Giants. Sure, Brian Wilson and Sergio Romo dealt with nagging injuries last year. Yes, the pen had its meltdowns. However, as a whole, the reliever corps was steadfast in protecting leads and limiting damages.
In four games so far, the bullpen has been worrisome. The concerns began in Spring Training, where Sergio Romo missed time and the bullpen broke down a handful of times in the final weeks heading into April.
This past weekend in Arizona, things weren't much better. Dan Otero gave up a run on Saturday. On Sunday, a flurry of relievers combined to help the Diamondbacks as they surmounted an 0-6 deficit to beat the Giants 7-6.
Again, the small sample size must be noted. Several relievers pitched well, and Brian Wilson hasn't thrown a pitch yet in the new season. Still, if the starting pitching is off to a shaky start, there is absolutely no room for the relievers to let things slide any further.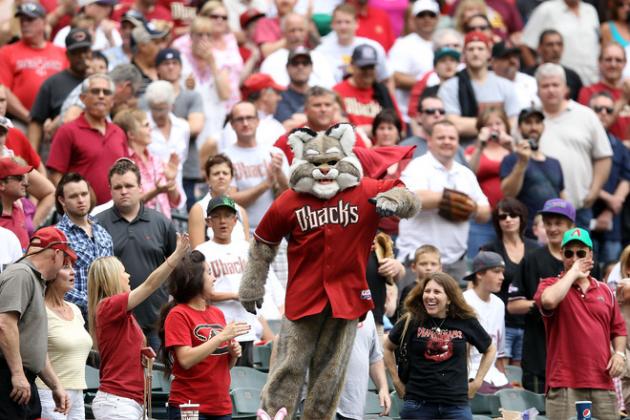 Diamondback Nation has our number.
Giants fans saw the Diamondbacks clinch the NL West late last year.
On San Francisco's first day of the new season, they sat by and watched Arizona hoist their division banner. Afterwards, they got the smackdown with their ace on the mound. Two losses later and the Diamondbacks had swept the Giants to start to season.
For any of the reasons above, Arizona would be in the crosshairs of the orange and black going forward. But all of those reasons combined make the Diamondbacks the Giants' most heated rival. This isn't to say that the Dodgers, led by Giant-slayer Clayton Kershaw, are off the hook, but the Giants will almost definitely be looking to return the favor to Arizona all season long.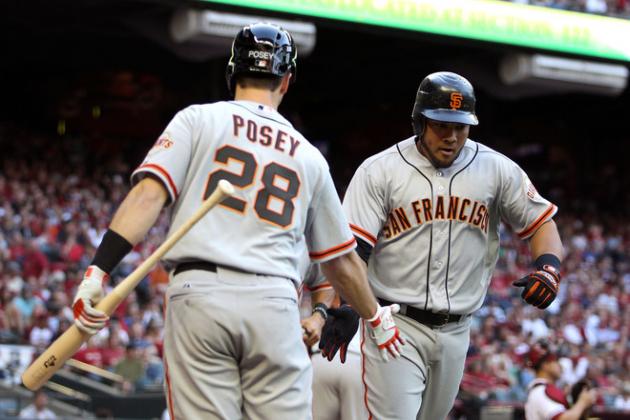 Buster Posey drops the newly developed "2 percent" handshake on Melky Cabrera.
The era of dairy puns is upon us.
Through four regular season games, Melky Cabrera has two RBI, six hits and a home run to his name. Combined with his potential as a base-stealer and his defensive skills in the outfield, he's been a welcomed addition to the team.
Batting second, Cabrera has gotten himself on base for Pablo Sandoval and delivered some runs of his own. If Angel Pagan can remember how to hit, the Melk Man will be a great table-setter for the heart of the Giants' lineup. Certainly he's an improvement over predecessors Aaron Rowand and Andres Torres.
Even with the starting rotation dealing with a few question marks, Brian Sabean's big offseason move of swapping Jonathan Sanchez for Cabrera is looking pretty sweet at the moment.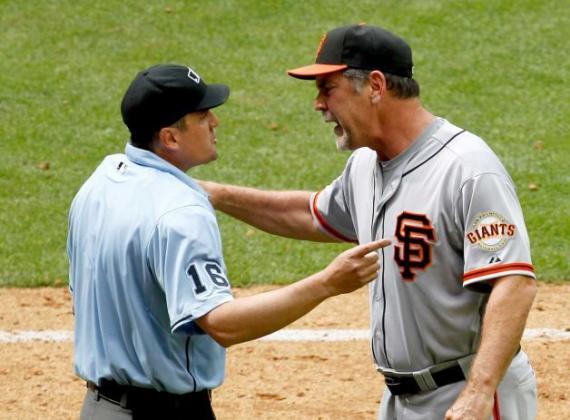 "Of course he's safe. We won the World Series in 2010!"
If the World Series is a Saturday night of drinking, then 2011 was the Sunday hangover.
Fans were forgiving, able to recall the heroics of their team the fall before. But 2012 is Monday, a time to return to work and get back to the grind.
The free passes and lowered expectations that fans (myself included) extend to clubs coming off a championship will be in short supply following a lackluster season filled with mediocre play.
The fanfare of ring ceremonies and banner raising is behind us.
Perhaps the biggest change between last season and the one just under way will be how the Giants play without a World Series to stand behind.