UFC 145: Why Rashad Evans Has the Tools to Beat Jon Jones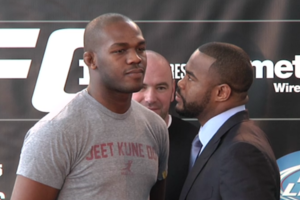 mmafighting.com
Sometimes an individual emerges within the confines of the expected. In the combat sports, it happens suddenly, oftentimes wildly, and violently exceeds all those expectations with such ease that it's almost vulgar.
Terms are quickly attached to such individuals: prodigy, virtuoso, wunderkind and so on.
When Jon Jones came into the spotlight against Stephan Bonnar at UFC 94, observers were left scrambling to find which of those terms best applied to this fluent, violent, almost acrobatic slam-machine that tossed Bonnar around the cage like a practice dummy.
But the truth is, we've seen this before.
Mark Coleman and Mark Kerr were thought to be unbeatable in their heyday, only to find out that the sport of MMA is one of constant motion. They thought their dominance was the status quo, but they learned that to stay the same in MMA is to seem immobile. In the jungle, it's always the animals stuck in quicksand that are devoured.
Undefeated fighters have long basked in the glory of those calling them unbeatable. It is a fan virtue in the fight game to be the first to "see" greatness in its earliest stages and openly proclaim it before the fighter becomes popular.
But it rarely lasts; just ask fighters like Royce Gracie, Vitor Belfort, Lyoto Machida and, of course, Rashad Evans.
Soon, he will bring his excellent record into the Octagon to challenge a man he knows well: the undefeated (disregarding the DQ loss to Matt Hamill) superstar of the moment, Jon "Bones" Jones.
So, who has the advantage? And where? Read on and find out.
It's closer than you think.
Begin Slideshow

»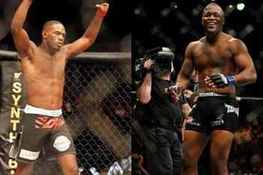 via bleacherreport.com
Both Evans and Jones are powerful men in the cage. They are able to prevent their opponents from muscling them into bad positions and they have the functional strength to force themselves out of most any danger zone.
The difference may be one of frame.
Jones is able to throw his opponents around due to his long reach advantage and his understanding of the application of leverage—something he has in abundance, given his savant-like execution of throws and sweeps.
Evans, on the other hand, seems to generate his horsepower from hard training and natural, God-given athleticism. He does not have the length of Jones, but has thrown around men much larger than himself, even during his time among the heavyweights.
In this realm of the game, for all practical purposes, they seem even.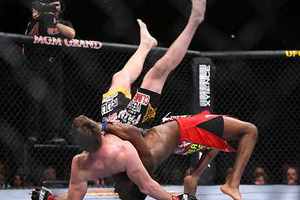 courtesy of thegarv.com
Much like GSP, Jon Jones is unique in his ability to wrestle and throw opponents as if he has been competing in the sport on a Division I/Olympic level his entire life.
The truth is, Jones is able to make it look so easy due to practice, daring and leverage. When it comes to the areas of Greco-Roman and freestyle wrestling, his is not a conventional game, but it works perfectly for him due to his body type.
With all the praise for explosive throws being afforded Ronda Rousey lately, it seems everyone has forgotten how Jones has made it look just as easy and effortless. He's also done it against better competition, to be honest.
But he can't afford to rest on his laurels when he faces Evans, who is good enough to capitalize on any mistake Jones may make. The minute Jones tries to do something fancy in the striking realm may be the exact moment Evans steps under those long limbs and double-legs Jones to the floor.
When all is said and done, when it comes to wrestling, the advantage belongs to Jones.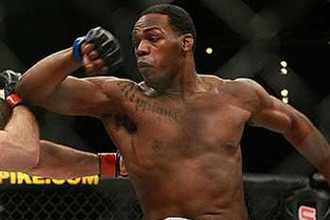 via mma.actionsportshub.com
One of the great things about the striking aspect of MMA is how varied it is. Much like multi-level chess, fighters have to worry about it all, save kicks and knees to the head of a downed opponent.
Jon Jones has grown in leaps and bounds with his striking, thanks in part to his willingness to take chances. He lets loose with flying knees upon a whim, snaps out push kicks to the head and face like Ali range-finding with his jab, and he's got a wicked spinning back-elbow that may start decapitating people once he perfects it.
Then, there is Evans, whose main area of focus in the stand-up is boxing. Granted, Evans can launch a high kick to the head with brutal results, but mainly he likes to keep his feet under him, his hands up and his chin down.
And he's getting very good at it. So good, in fact, that when you look at both Evans and Jones, it is clear that when it comes to boxing, Evans is the better man.
Still, MMA striking is not about boxing alone, and the two fists, two knees, two elbows and two feet of Jones are more than the two fists of Evans.
Arithmetic has no mercy, thus the advantage belongs to Jones.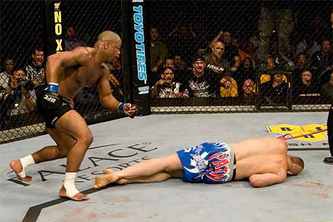 cageinsider.com
This is one area that is pretty clear cut.
Of these excellent fighters, only Evans has outright starched an opponent with a single punch or kick.
As damaging as Jones has proven to be, he has yet to generate the kind of power and technique needed to flat-line the opposition.
Oddly enough, he may never be able to do this, at least not with any regularity, thanks in part to his frame.
What is a blessing for Jones in the grappling world becomes a bane in the striking, as most KOs seem to happen in short distances; a punch that travels no further than half the distance from elbow to wrist.
Evans, on the other hand, seems to have just about the perfect frame for this. It allows him the range of motion needed to deliver the kind of blunt force trauma that ends nights quickly.
When these two men get in phone-booth range, Jones had better keep his hands up and his elbows tucked in to protect those short ribs.
When punches fly, it's to the advantage of Evans.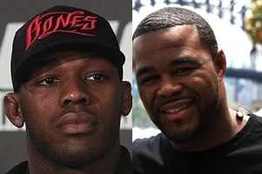 via mmaweekly.com
It's one of the fundamental questions every fighter must answer: How well do I take a shot?
When the heavy leather starts flying, a few lucky fighters have that rare quantity of granite in their chin that allows them to absorb and continue unabated, with no hesitation.
For Rashad Evans, he learned that answer after being pinned against the cage, eating heavy punches from Lyoto Machida.
He eventually fell, out cold thanks to a single blow that caught him flush, but that blow was set up by other heavy shots that left him stunned and basically defenseless.
Jon Jones, on the other hand, has never really had his chin tested, as of yet.
Many will cry foul at this, but I cannot equate an untested chin to be superior. Evans was knocked out, to be sure, but it is his lone loss, and Machida has proven to be heavy handed in his career.
Until we see Jones take powerful shots flush to the jaw, delivered by men with an established KO pedigree, this field remains even.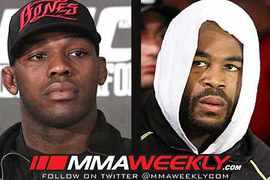 Given how great both of these fighters are, it is no real surprise that neither of them have ever participated in a bout that has went a full 25 minutes, save for Evans' last fight against Phil Davis.
Both men are relatively young (especially Jones), in their primes and are known for a hard work ethic in the gym.
The importance of cardio is so well known these days that it is almost shocking when we see an elite-level fighter gassing. Odds are that will not be the case when they meet at UFC 145 in Atlanta.
When it comes to the wind each man can catch in their sails, they appear even.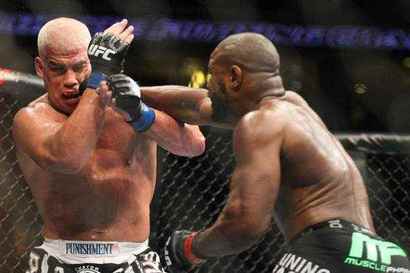 courtesy of oklahomajiujitsu.com
Another relatively easy area to judge, even for the armchair enthusiast.
Jon Jones has many gifts, but fast hands and feet are not among them. True, his striking is not slow, especially when he throws that spinning back elbow, but overall, his strikes come at a level slower than Evans.
Jones manages to beat his opponents to the punch because of his frame. It gives him such an advantage that he can, at times, wait for his opponent to begin a course of action, and then counter that, landing first from long range.
Evans, on the other hand, simply is the faster fighter. You can see it in his movements, be they short or long, offensive or defensive.
In the fight game, one saying has proven true with shocking regularity: speed kills. Evans has that kind of speed, with both his hands and feet.
And in a fight this close, that may prove all the difference in the world.
When it comes to speed, the advantage goes to Evans.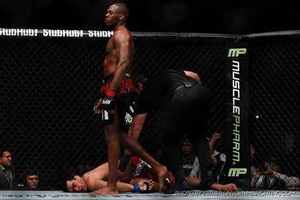 via mmamania.com
There is a saying about the study of classical guitar: "The guitar is one of the easiest instruments to learn, one of the hardest to master."
The same thing is true about the world of submissions.
This is why fans point to Jones as a wunderkind. He is still very young at the game, but has pulled off submissions against some excellent fighters who have spent far more time in the study of jiu-jitsu than Jones has put into the study of the fight game overall.
Once again, daring and leverage help Jones, but there is more to it than that. He seems to understand the basics so well that he can extrapolate intricacies worthy of an established BJJ black belt.
Thus far, Evans seems to have either disregarded this aspect of the game or decided to focus on defense rather than offense.
That bit of hubris may cost him, because when it comes to submissions, the clear advantage goes to Jones.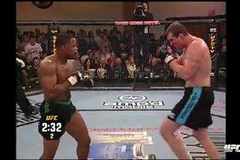 biographies.inthetube.tv
When it comes to the area of experience, the question is a simple one: Which is better, quantity or quality?
In the case of Evans, he has both on his side.
There is more to this field than a list of each fighter's opponents. What it is really about is how Evans and Jones allow their respective experience to influence how they make game plans and how they react to adversity.
It is one of the few intangibles that is worth its weight in gold, especially title gold.
Evans has had more time in the cage on the big stage than Jones, by far. He's experienced adversity, whereas Jones has yet to find any and he's allowed himself to learn from past mistakes, remaking himself by equal parts reinvention and dedication to the basics.
He's become confident with experience, while remaining a harsh critic of himself.
Odds are, when this fight starts to get ugly and aspects of each man's game are thwarted by the other, it will be Evans who reasserts himself with greater conviction.
The edge in experience goes to Evans.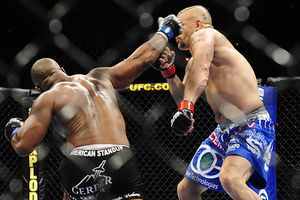 from bleacherreport.com
As in life, timing is everything in the fight game.
It's not just catching your opponent unaware—that occurs often because one fighter decides to try and jam a square peg into a round hole and thus commits to a five-move combo when it failed after move two.
Timing is more about quick, damaging moments that can be a bridge to victory.
There is math in everything, and part of the formula for fight math is timing. Once one fighter gets his timing down, such as Ray Leonard did in his rematch with Roberto Duran, the other man usually gets beaten to a pulp just trying to catch up with the music.
There is an element of timing that is like musical counterpoint. It has to do with one fighter recognizing the timing of the other, then exploiting that with counter strikes, takedowns, transitions or simply lateral footwork, just to name a few.
Thus far, Jones has enjoyed such success standing and on the ground that he is able to unload dazzling attacks with no concern of timing, because his opponent is already on the defensive.
But there have been times when his opponents have decided to attack, and suddenly both men are bouncing off each other, trying to get their bearings.
Evans has grown patient with experience while training his body to be explosive when the window is open. Should Jones try one of those highlight-reel moves too early, he could end up eating a counter that puts out his lights, a la the counter that finished the night for Chuck Liddell.
Timing goes to Evans.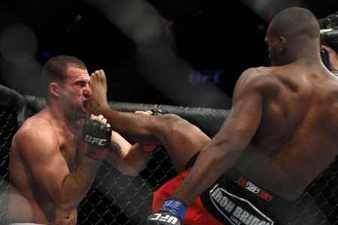 via lasvegassun.com
There are going to be many obstacles Evans must successfully contend with at UFC 145, and distance will be one of them.
Jones has proven to be masterful at utilizing his reach and keeping opponents at long range, where he can blast them when they stand still, or catch them coming in with straight shots.
Evans is going to have to get on the inside with equal measures brute force and finesse if he hopes to test the chin of Jones.
The distance Evans has to overcome becomes worse if the fight goes to the ground.
Should he get Jones on his back, he has to try to overcome that long frame and those legs. The image of Evans atop Jones, locked down in some variation of the guard while Jones keeps those wrists wrapped up and pushed well away, controlling Evans, could very well become a reality.
If it is Jones working from the top in any position, Evans has to find a way to get out, and the length of Jones and the leverage he exerts in positional scrambles are going to make that incredibly hard.
Unless Evans is able to catch Jones doing something foolish and knock him out with a clean counter strike, he is going to have to find a way to deal with that distance, and odds are, he will find it to be a muddy, bloody road.
When it comes to distance, the advantage goes to Jones, by a country mile.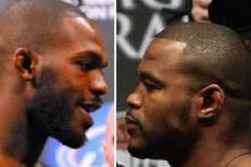 courtesy of mmaweekly.com
As hype for the fight continues to build, many seem to think that Evans must be inside the head of Jones simply because Evans is doing all the bold smack talk while Jones is demure, almost to the point that he seems afraid.
We honestly don't know if Evans is in the head of Jones or not. We sure don't know who got the best of who in training, and we don't know how each man will contend with the specific kinds of adversity the other brings to the table.
Talk is one thing, training another, and fighting the be all and end all.
On the psychological front, there is no real edge that we can bet on, so I see it as even.