Nebraska Football: Checking in on the 2013 Recruiting Class
April 9, 2012

Eric Francis/Getty Images
With just a week before the Nebraska Cornhuskers suit up for the 2012 spring game, recruiting is beginning to heat up. Nebraska is bringing in a group of high-profile recruits and will do their best, with the help of the loyal Nebraska fanbase, to blow them away with a game day-like atmosphere.
A couple of those recruits are current Husker commits Tre'vell Dixon and Marcus McWilson. Though we hear a lot about players the Huskers are currently pursuing, we often overlook the players that are already part of the class. However, Dixon and McWilson are early commits that fans should be very excited about.
Tre'vell Dixon
Dixon, a 6'1", 195-pound athlete out of Baldwin, Louisiana, was the first commit of the class back when Corey Raymond was still the secondary coach. Now that Raymond has left for LSU, it seems likely that Dixon would switch his pledge to LSU the moment he were to get an offer. However, the addition of Terry Joseph, who has big connections to SEC country, could help the Huskers retain Dixon's commitment, one that on the surface still looks fairly strong.
Assuming Nebraska is able to hang on to the talented Dixon, they would be getting a gem. As a high school quarterback, Dixon threw for 1,700 yards and 14 touchdowns while rushing for another 780 yards and eight touchdowns, averaging an incredible 11.0 yards per carry.
Though the Huskers are recruiting him as a defensive back, Dixon could end up finding himself in a Jamal Turner-type role on offense just as easily. If he stays in the secondary, his combination of size and speed would be invaluable at the cornerback position.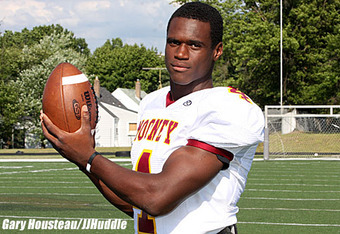 Marcus McWilson
The Huskers traveled northward to Bo Pelini country to secure the commitment of McWilson, a Rivals.com 4-star safety out of Youngstown, Ohio. He hails from Cardinal Mooney High School, Pelini's alma mater.
Though he is listed at a solid 6'0" and 195 pounds, McWilson's muscular frame has room to pack on weight. He's the type of guy who could quickly develop into a punishing Big Ten safety.
McWilson has a surprisingly small amount of offers for as high as he's rated (granted, coaches don't use Rivals to do their recruiting), and he still has yet to earn one from Ohio State. If that happens, things could get interesting. However, Pelini's deep Ohio roots and excellent defensive resume should keep this kid on board.
Going forward
The Huskers' two commitments are far less than some of the nation's big programs—slike Texas, Michigan, Alabama, LSU, Ohio State and Notre Dame—but that doesn't come as a surprise. What's important is that the Huskers are still competing for some of the nation's top prospects.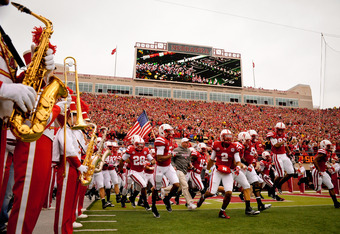 Eric Francis/Getty Images
Nebraska continues to pursue big names like Su'a Cravens, Joe Mathis, Mackensie Alexander, Priest Willis and Kenny Lacy, and while most of these players will likely land elsewhere, it's encouraging to see the Huskers become more and more competitive in recruiting.
Some other names to keep your eye on include the following" quarterback Aaron Bailey; running backs Tyshon Dye and Terrell Newby; receivers Demorea Stringfellow, Francis Owusu and Kevin Gladney; tight ends Jon Wisnieski and Keith Trowbridge; guard Zach Hannon; defensive ends Christian Lacouture, AJ Natter and Naim Mustafaa; defensive tackles Scott Pagano and Toby Johnson; linebackers Nick Ramirez, Chans Cox (also an H-back), Josh Banderas, Marcus Newby and Courtney Love; defensive back Tahaan Goodman and Mike Minter Jr.; and athletes Elijah Qualls and Drake Martinez.
The Cornhuskers still have a long way to go in filling out one of the larger classes in recent memory. But with the talent still available, there's a good chance Nebraska will be able to stock up on some outstanding talent.