2012 NHL Playoffs: First Round Predictions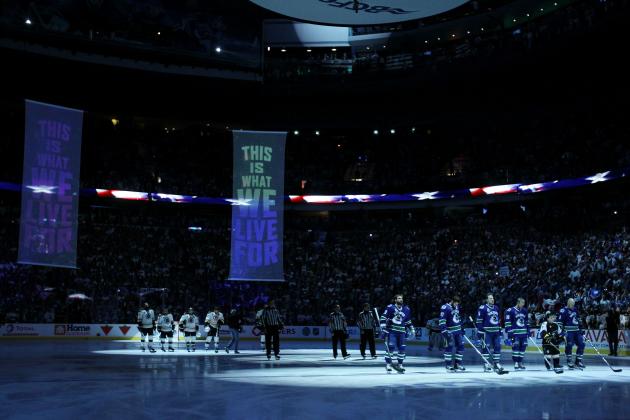 Elsa/Getty Images

Hockey fans, playoff hockey is back.
All eight first-round matchups have been set, and the 16 teams involved are ready to go. As for how they'll fair against each other, I've made my predictions on how it'll all play out.
Just as a reminder, I'm not a prophet. I'm a hockey analyst.
Feel free to debate, speculate or comment below.
Begin Slideshow

»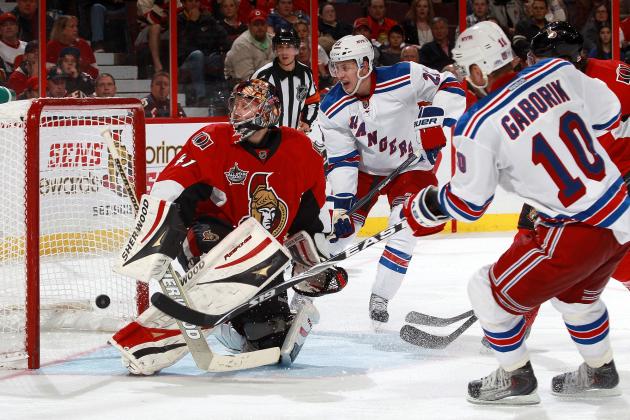 Jana Chytilova/Freestyle Photo/Getty Images

Prediction: New York Rangers win series, 4-1.
The Rangers are a deeper hockey team than Ottawa, and the most significant edge they have over the Sens is between the pipes. Henrik Lundqvist has been, in this writer's view, the best goaltender in the NHL from start to finish this season.
New York is also more physical and better defensively, which is going to make it tougher for Jason Spezza and Milan Michalek to get their scoring opportunities.
It's reasonable to expect a ton of offensive production from Erik Karlsson at the point, but his defensive miscues will be far more consequential this time of year. For whatever reason, Karlsson's a Norris candidate, but his odds could dwindle if he's a defensive liability during this series.
Ottawa outscored the Blueshirts, 14-8, taking three out of the four contests between the two teams in the regular season, but the playoffs are a whole different ballgame, one the Sens are simply not adequately prepared for.
The Rangers, on the other hand, have the tools to make a deep postseason run. That starts with a first-round series win over the Senators.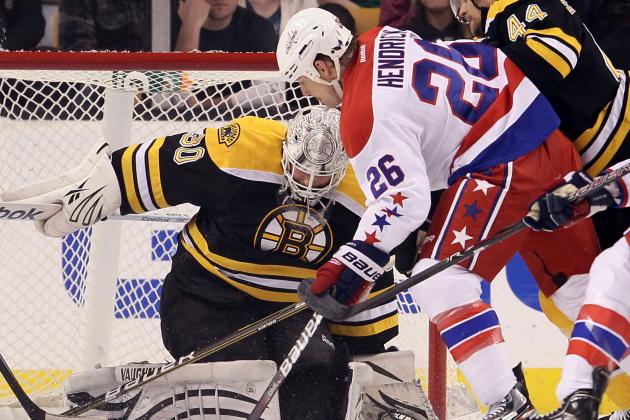 Elsa/Getty Images

Prediction: Boston Bruins win series, 4-3.
The Bruins didn't finish atop the Eastern Conference, but at times, they clearly were the best in show.
Boston is four lines deep, defensively sound and strong at both ends of the ice. They also happen to have Tim Thomas, who hasn't necessarily had the best season of his career but another excellent one, nonetheless.
There's a reason this team won the Stanley Cup in 2011 and, given the quantum leaps taken by Tyler Seguin and Brad Marchand, one could argue that they're even better now than they were last April.
As for Washington—it's been a disappointing season no matter how you slice it.
The decision to ax head coach Bruce Boudreau was not an intelligent one—that was my take on the matter when it initially happened, and it's the same one I have now. It was a move that was purely reactionary and, had GM George McPhee exercised just a little more patience, the Caps might actually have won the Southeast Division.
Washington's played brilliant hockey at times, but at others, they've appeared to be lethargic and disinterested. I don't think they're particularly well-coached, either. Dale Hunter knows he's not part of the organization's future plans, barring a successful postseason.
The Caps are simply too talented not to push this series to the brink. Alex Ovechkin will bring it, as will Nicklas Backstrom, John Carlson and Karl Alzner, among others.
Having said that, the Bruins are simply too talented to let it slip away.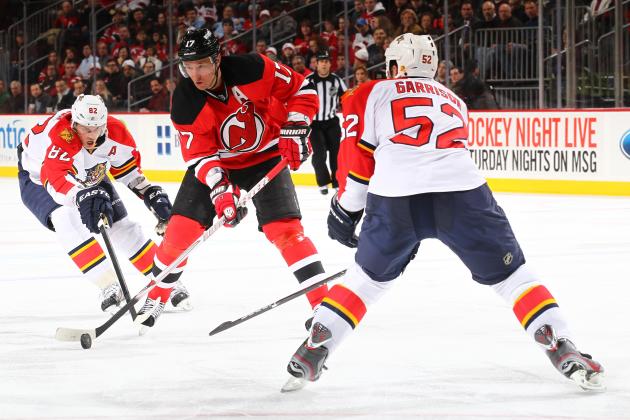 Al Bello/Getty Images

Prediction: New Jersey Devils win series, 4-1.
I think what the Panthers have done this season is a phenomenal achievement.
Most of these players joined the Cats over the summer and hadn't played together or developed any chemistry, yet head coach Kevin Dineen was able to mold them into a formidable unit. Florida reached the postseason for the first time since 1999-2000 and captured their first Southeast Division title in franchise history.
Even more impressive, they did so without two future cornerstones in Jonathan Huberdeau and Jacob Markstrom (who did play a little this season, but not much). No one could've predicted this team would take that next step before Markstrom and Huberdeau arrived.
This team really does score by committee, but the trio of Stephen Weiss, Tomas Fleischmann and Kris Versteeg is definitely an underrated one, something the Devils have to be conscious of over the course of this series.
Florida gets production from their blue line as well—Brian Campbell, Dmitri Kulikov and Jason Garrison distribute and shoot the puck well.
But if there's an Achilles' heel on this roster, it's between the pipes. The Panthers don't have a ton of depth in their lineup, but that would not have been as much of a factor in this first-round matchup. Jose Theodore, on the other hand, has not been consistent.
Both Theodore and backup goaltender Scott Clemmensen have been solid, but when you're going up against Martin Brodeur and an offense that includes Ilya Kovalchuk, Zach Parise and Patrik Elias, solid isn't going to be good enough.
Brodeur is in vintage form these days and, assuming he maintains it, New Jersey will win this series. The defense in front of him hasn't blown anyone away, but they've been able to get the job done. Whether or not they're able to do so in the playoffs is a different story but at least in this series, I think they will.
GM Dale Tallon and the coaching staff have done a real nice job with this Panthers team this season, and I think they'll only improve going forward. As far as this series is concerned, I don't like their chances.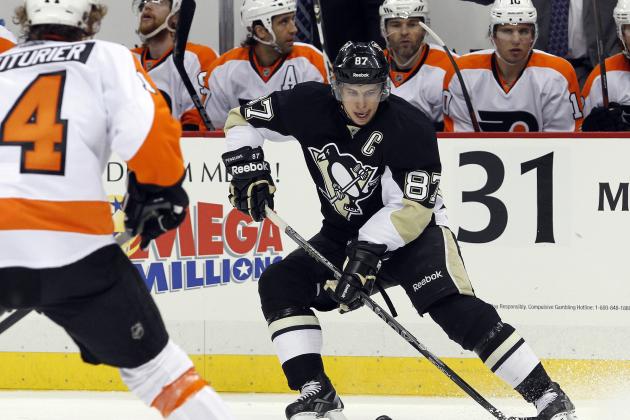 Justin K. Aller/Getty Images

Prediction: Pittsburgh Penguins win series, 4-3.
Bound to be the most exciting one of the first round, this series between the Penguins and Flyers has "Game 7" written all over—depending on which Flyers team shows up, that is.
There have been points during this season when Philly has looked incredibly dangerous. But there were also times when they looked downright pathetic. If the latter occurs, this is going to be a very quick series.
I don't expect that to be the case, and if Ilya Bryzgalov (dare I say it) plays at the level he's capable of, things could get interesting.
There's a ton of bad blood and drama between these interstate rivals. If you watched the most recent Pens/Flyers game, you know exactly what I mean.
You've got Jaromir Jagr going up against the team he once starred with. You've got Max Talbot, who's also now a Flyer but won the Cup with Pittsburgh. Sidney Crosby's going to be a prime target to get hit every time he touches the puck.
You want star power? How about Crosby, Evgeni Malkin, Kris Letang, James Neal, Marc-Andre Fleury, Ilya Bryzgalov (when he plays like one), Claude Giroux, Jagr, Kimmo Timonen, Scott Hartnell (this season, at least) and Daniel Briere?
Pittsburgh will emerge victorious, because not only are they better than the Flyers, they're better than everyone else in the Eastern Conference. The 1-2-3 punch of Crosby, Malkin and Jordan Staal, combined with the scoring touch of James Neal, Fleury's clutch goaltending and their two-way prowess will all be too much for Philly to handle.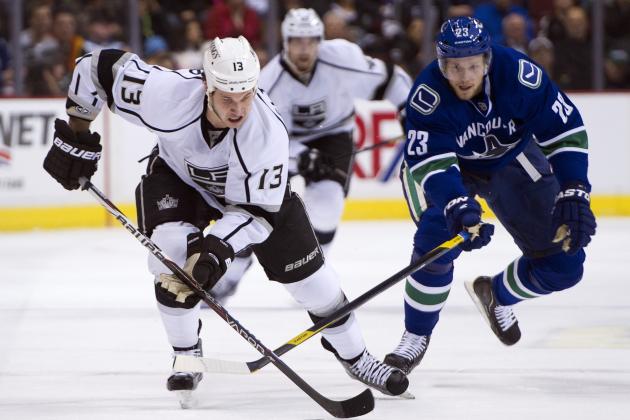 Rich Lam/Getty Images

Prediction: Los Angeles Kings win series, 4-2.
This is definitely a bold prediction, I'm not going to deny it.
Vancouver didn't capture the President's Trophy by accident; they're deep and talented and are one hell of a hockey team. I'm not a fan of head coach Alain Vignault, and that lack of direction from the coaching staff certainly hurt the Canucks in the Finals last year.
Sure, Roberto Luongo deserves plenty of the blame for that epic collapse, but it was Vignault's responsibility to steer the ship out of trouble and, instead, he simply let it crash straight into the iceberg, causing it to sink.
Speaking of Luongo, I see no reason to trust him in the postseason. It's not that he can't perform under any pressure, because he's done that. But in the games that have mattered most, he has not come through for the Canucks. I strongly believe that Cory Schneider is the best goaltender on this team.
Conversely, Jonathan Quick has been lights-out for the L.A. Kings. He's having a Vezina-caliber season and has all the right tools to steal four hockey games away from the Canucks.
His team is not half-bad, either. L.A. almost wrapped up the Pacific Division, and though they fell to eighth in the Conference, I still think they're better than Phoenix and San Jose.
Anze Kopitar, Mike Richards, Jeff Carter, Dustin Brown and Justin Williams give the Kings plenty of scoring punch up front, and I firmly believe they can match Daniel and Henrik Sedin, Ryan Kesler and Alex Burrows, goal for goal.
L.A. doesn't have as much depth on defense as Vancouver, but they do have Drew Doughty—a game-changer who's clutch, physical and sound at both ends of the ice. Don't underestimate his potential impact on this series.
I think Quick will help neutralize the Canucks' high-powered offense, and his Kings will find another gear and a way to win this series.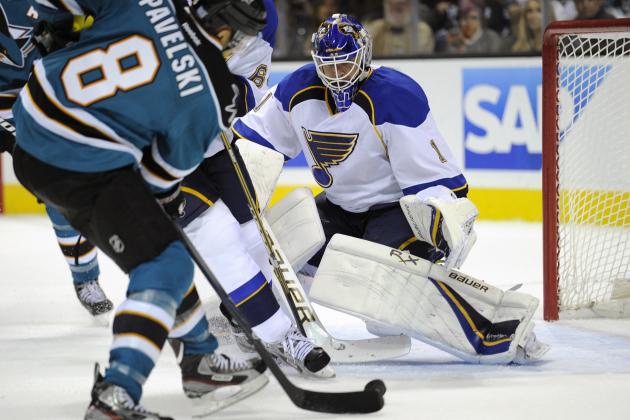 Thearon W. Henderson/Getty Images

Prediction: St. Louis Blues win series, 4-3.
Ken Hitchock's done a fantastic job with the Blues, ever since he took over for the outgoing Davis Payne.
He's also gotten a ton of help from his netminders, Brian Elliot and Jaroslav Halak. Both have been outstanding, and both are likely to share the spotlight down the stretch.
Whether or not that system will work is a different story. It did during the regular season, but I'm a firm believer that, come playoff time, it's imperative that you know who "the guy" is and that you run the table with him. That's how a goalie gains enough confidence and momentum to carry his team.
I think the Blues have some legitimate firepower in David Perron, David Backes, T.J. Oshie and Jaden Schwartz. On defense, Alex Pietrangelo, Kevin Shattenkirk and Barret Jackman have done an excellent job for the Blues.
My issue with the Sharks is that they're clearly talented enough to knock St. Louis out of the playoffs, but they just look like a team that lacks any sort of drive right now. I believe they'll reach a Game 7 because of their talent, but the Blues are the hungrier team.
I don't think goaltending will be a problem for the Sharks because Antti Niemi has and always will be a clutch playoff performer. He reminds me a lot of Chris Osgood in that regard.
Unfortunately for Niemi, I don't see his team winning this series.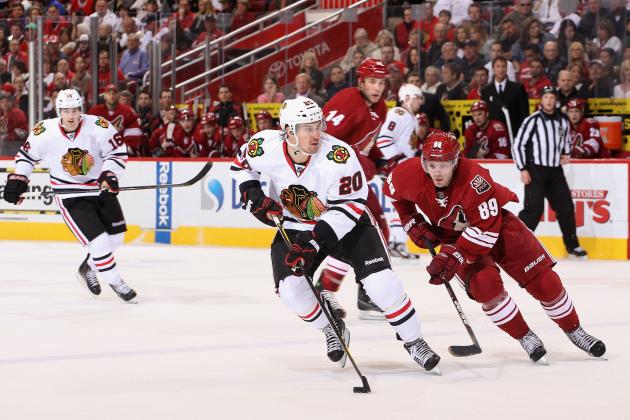 Christian Petersen/Getty Images

Prediction: Chicago Blackhawks win series, 4-1.
Last year, Ilya Bryzgalov helped the Coyotes win 43 games and finish third in the Pacific Division with 99 points.
In 2011-12, Mike Smith catapulted Phoenix to their first Pacific Division Championship since moving to the desert. In fact, it was the first division title in franchise history. The 'Yotes won 42 games and finished with 97 points.
If you correctly predicted this sequence of events, you should be working for an NHL team immediately, if not sooner.
Smith turned in a stellar performance, and if he can keep that going, this could be a long series. He gives the 'Yotes an edge in goals over Corey Crawford and the Blackhawks.
As we've grown accustomed to seeing over the last few seasons, the Coyotes have survived on strong goaltending, clutch scoring and defense.
Radim Vrbata, Ray Whitney and Shane Doan are the most dangerous forwards on the roster, while Keith Yandle and Oliver Ekman-Larsson are the top dogs on the blue line. Those five will need to be even better if Phoenix is to beat Chicago.
I think Chicago is just too deep, even if Jonathan Toews doesn't play.
Patrick Kane, Patrick Sharp, Marian Hossa and Andrew Shaw will be more than enough offensive support. You also know what you're getting out of Duncan Keith and Brent Seabrook on defense. David Bolland (if healthy), Viktor Stalberg, Andrew Brunnette and Brendan Morrison comprise an impressive supporting cast.
The 'Hawks will take this series, barring a complete meltdown from Crawford.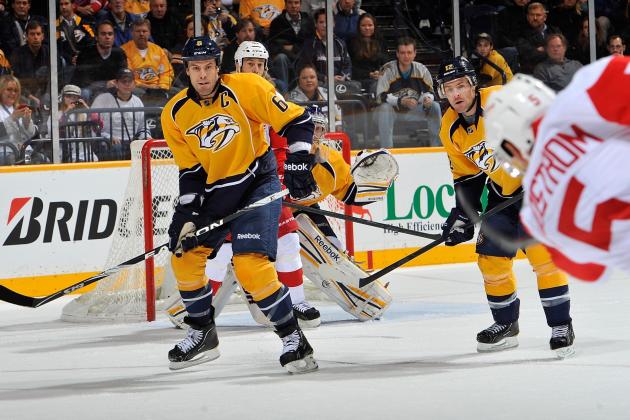 Frederick Breedon/Getty Images

Prediction: Nashville Predators win series, 4-3.
If Penguins/Flyers is the marquee matchup in this first round, Predators/Red Wings is right up there. Both of these teams are four lines deep and both are strong at both ends of the ice. And while Detroit's more experienced, this is Nashville's time to shine.
This idea that the Preds can't score is such a misnomer. In fact, Nashville finished eighth in the NHL in goals per game. They have an excellent pair of snipers in Martin Erat and Alex Radulov and both are extremely dangerous with the puck on their stick. Mike Fisher, David Legwand and the Kostitsyns have been pretty darn solid as well.
Nashville has not one, but two franchise defensemen in Shea Weber and Ryan Suter. Hal Gill, Kevin Klein, Francois Boullion and Jack Hillen have really stepped up for the Preds. As if that weren't enough, Pekka Rinne has been an absolute stud in goal for Nashville.
Nicklas Lidstrom is a legend and, along with Nicklas Kronwall and Brad Stuart, gives Detroit a formidable defensive corps. But I give Nashville the edge in that department.
I think Pavel Datsyuk, Henrik Zetterberg, Johan Franzen and Valtteri Filppula will definitely present a tough challenge for the Preds but not one they're incapable of overcoming. This team is good enough defensively, and Rinne should be able to hold down the fort.
Jimmy Howard's a stud in his own right, but unfortunately for Detroit, he is the second-best starting goaltender in this matchup.
The Red Wings' 21st consecutive playoff appearance will be a relatively short one. Nashville has the goods to go the distance, and that starts with a big series victory over Detroit. They also have home-ice advantage, which will play a major factor here.