Sir Alex Ferguson: 10 Things Managers Can Learn from Manchester United's Master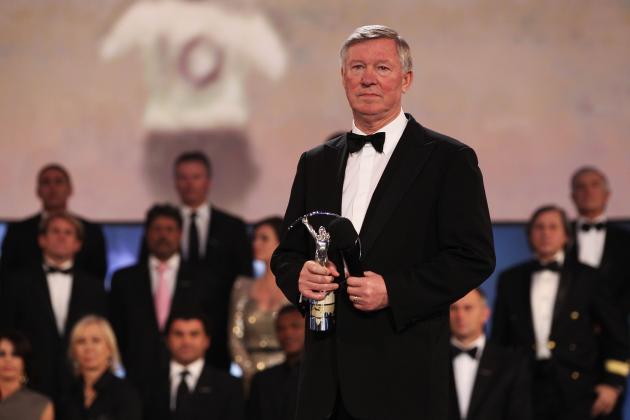 Ian Walton/Getty Images

Who is the greatest football manager of all time?
That's like asking who is the best footballer of all time. Right now, there is a growing appreciation of Lionel Messi, but in their day Pele or George Best were every bit as good.
And why is it always the creators or goalscorers? What about Paolo Maldini, Lev Yashin or Peter Schmeichel?
The game is different now. I can go back 57 years with a clear memory. How can you compare Ronaldo or Messi to Tom Finney or Sir Stanley Matthews, when the latter had to play with a football like a pudding when it was wet, that didn't fly or swerve like the modern balls do? Kicking it could break your toe!
So what about Gento, Di Stefano or Puskas, who could make that pudding talk?
But when it comes to comparing managers, there is absolutely no doubt that the modern game—especially in the Premiership—is the toughest it has ever been for managers.
And here is a fundamental point. I'm talking here about managers, not coaches. In Europe, most clubs employ a coach. The role of Director of Football has come out of Europe; Liverpool, Chelsea and Manchester City have one.
Manchester United have a manager, who does everything. Bill Nicholson at Spurs was a coach, way ahead of his time, as was Walter Winterbottom. Sir Alf Ramsey was a manager.
Sir Matt Busby was a manager; he had Jimmy Murphy as his coach. Busby bought and developed the players; chose the team and the tactics; sheltered the team from criticism; and dealt with other external matters, from media to the owners (and even the FA, who he took on when he decided to take United into Europe).
Sir Alex Ferguson is very much a manager in the Matt Busby mold. He may be the last of his generation and, in my opinion, he is the greatest football manager ever.
Some are born great, and some have greatness thrust upon them. Mozart was born great. Sir Bobby Robson had to graft for everything he got in life and everything he achieved. So did Sir Alex. But Sir Alex had huge self-belief, tempered by generosity and humility.
The pressures in the Premier League are far greater than any other league in the world. There is more money involved; the competition is tougher, from top to bottom (on their day any team can win); there is far more blending between home-grown and bought, British and foreign. And managers have to do far more.
So if you accept that premise, Sir Alex must be the best. Better than Shankly, Paisley and Busby, who were also Scottish.
Here, in reviewing the many things that other managers can learn from Sir Alex—the greatest manager of all-time—we also get an insight into what makes him great.
I don't expect you to agree with everything and would welcome any other suggestions as to what other managers can learn from him.
Begin Slideshow

»
To be a great manager, you must first have credibility. Sir Alex has that in spades.
Paul Lambert is 20/1 eighth favourite to be the next Manchester United manager, ahead of Carlos Queiroz, Fabio Capello, Gus Hiddink, Harry Redknapp, Marcello Lippi, Otmar Hitzfeld and Luis Felipe Scolari.
Come on...you've got to be kidding me...
So, some might say, "Hang on, Fergie was only 37 when he took over at Aberdeen, and he is Scottish." Aye, but Aberdeen had only ever won one league title and nothing else.
By the time he took over at Manchester United, he was 44. He had not only broken the stranglehold that Celtic and Rangers had over the Scottish League, he had just won the European Cup-Winners Cup, by beating the greatest club of all time, Real Madrid!
Like me, when he was growing up, Sir Alex must have admired the great Real Madrid and Hungarian sides and the way they played football.
He cannot fail to have been influenced by what Sir Matt Busby did—not just once, but twice. Sir Matt built United into one of the best sides in Europe and then, when tragedy hit, did it all over again.
By the time he left Aberdeen, Sir Alex had won no less than ten major trophies. In the Granite City, he is a legend.
For many managers, their credibility is based on what they have done with their current club, not their past. David Moyes had little credibility when he was appointed at Everton. He had done a good job, blending youth and experience at Preston. Bill Kenwright took a gamble, and it paid off.
Manchester United were taking something of a gamble when they appointed Sir Alex, but he came with a track record of being able to achieve greatness with limited resources and, like Sir Matt Busby, he knew how to build a team, a squad and a football club for greatness.
And so it proved.
So among the qualities that give a manager credibility are: having a great footballing CV and building a track record of success. It also helps if you've been a former player at the highest level. Sir Alex had played for Rangers.
Scottish football may not currently stand at the pinnacle, but as a player, he was top scorer in the Scottish League, playing for un-fancied Dunfermline, scored 45 in 51 games for them and then went on to score 44 in 57 for Rangers.
So the first requirement to be a top manager is credibility. Mark Hughes doesn't yet have it, but Ole Gunnar Solskjaer does. At Molde, he has just won the Norwegian League for the first time in their history and taken them into the Champions League.
Paul Lambert and Mark Hughes are unlikely to do that any time soon, with their equivalents, Norwich and QPR...
Each human being is unique, so there is no way you can clone yourself as Sir Alex, but there are a number of personal characteristics that can help you to be a great manager.
Among them is a sense of humour. Sir Alex can get very angry at times (though he has mellowed in recent years), but he has never lost his sharp sense of humour. Sometimes especially sharp when you're a journalist on the receiving end.
Moral of the story: don't ask stupid questions; and especially don't ask about Roy Keane...
The greatest influence on him was his father, as his interview with Gordon Burns shows.
From both his father and his mother he got great strength of character and especially determination from his dad, who worked in the Clyde shipyards. Alex grew up in Govan, which was as tough as it gets. He wasn't alone in that respect. Kenny Dalglish was also brought up there.
Glasgow itself bred Sir Matt Busby, Jock Stein and George Graham, but also four other current Premier League managers: David Moyes, Alex McLeish, Owen Coyle and Steve Kean.
You can't help where you were born, but coming through tough times and a tough upbringing can mold either great strength or great weakness. Paul Gascoigne had great talent but poor self-discipline. Michael Carrick has humility, self-discipline and strength of character. Both had humble beginnings on Tyneside.
So it is pretty important to have the right personal values, but not all managers are the same. Sir Alf Ramsey was quietly spoken; Brian Clough was brash. Sir Alex has mellowed in his golden years.
He does have some important values that aspiring managers would do well to cultivate.
Despite his shortness of temper and volatile public persona, one of his great qualities is patience. That doesn't mean that he isn't determined.
He can be determined to get Luka Modric and will patiently bide his time for the right opportunity and the right price. If he is frustrated in this target you can rest assured he will have other targets lined up, cultivated with personal contact and patience.
Another quality that may tend to get overlooked is his humility.
"Whaaat!" you might say
Yes, humility. He also expects that from his players. They are often asked about their own contribution to a game, and almost without exception they will deflect the question to how the team performed and their contribution to the team.
And it is this team ethic and team spirit that will win United their 20th title.
You will never hear Sir Alex trumpeting his own achievements. OK, so he had a publicly spoken aim to "knock Liverpool off their perch," but his mother brought him up well.
He is also generous of spirit. He does a great deal of unsung work for charity and generously gives of his personal time daily.
In that article his humility is mentioned—he never forgets where he came from. He is approachable but can also suss out a time-waster. We shall return to this theme when we consider his relationships with other managers.
His tough exterior belies a generous and caring person inside. Who could have failed to be moved by his genuine delight and surprise when the new "Sir Alex Ferguson Stand" was unveiled?
So if you want to be a great manager, have or develop qualities such as these. As James Collins notes in his book Good to Great, the great Chief Executives in the study he undertook were neither headhunted nor legends in their own lunch-hour. They were, at core, humble.
When things went wrong, they took the blame on themselves; look how many times this season, Sir Alex has said "It was my fault."
When things went well, they gave the praise and credit to others. Sir Alex is selective, genuine and fulsome in praising his players, often singling out an individual achievement or an unsung hero.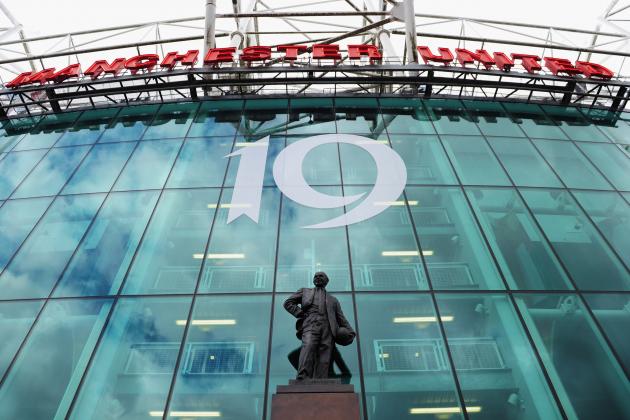 Shaun Botterill/Getty Images

To be a great manager, you need to know how to build a great football club and how to source and develop great players. Brian Clough knew these things. He turned unfashionable Nottingham Forest into European Champions by building a squad of largely unheralded players, getting them to believe in themselves and to play as a team.
Sir Alex learned much from Sir Matt that he was able to graft on what he had achieved at Aberdeen. He didn't just recruit a team to win Scottish titles and a great European competition; he built a dynasty.
He was recruited to Old Trafford because the man who was to become his mentor, Sir Matt (who also had great humility and personal generosity), recognised the same qualities as he had himself.
Sir Matt entrusted the legacy he had built to a man he believed could emulate him. Little did he dream that man would go on to eclipse him in such a mighty way.
Sir Alex has built a dynasty. That will make it both easy and hard for his successor to follow. Easy because there is a self-perpetuating machine in place; hard because they have to follow in the footsteps of the great man.
But like Sir Matt, Sir Alex will make it easy. He will be there when needed, but only when called upon.
This is why Pepe Guardiola would make such a great successor. He also knows how to build a dynasty and has similar personal qualities.
Sir Alex has taken the model and evolved it, to build generation after generation of great teams, not necessarily flooded with great or well-known individuals. Maybe Alan Pardew can do this at Newcastle. The signs are hopeful, so far.
So the first thing a manager can learn from Sir Alex is how to build a great football club.
Now you might say he had an unfair advantage in this respect, because United are so rich. But the misguided souls in green and gold scarves will tell you he has had no money since the Glazers took over—yet he's won 13 major trophies in those six years, including four and probably five Premier League titles. So that puts paid to that ridiculous claim.
United is now one of the two or three richest clubs in the world, but it wasn't when Fergie took over. They were so poor that three years later, Michael Knighton nearly succeeded in buying them for £20 million on borrowed money.
Ten years later, Rupert Murdoch bid £680 million; the Glazers paid £800 million in 2005; and United are now believed to be worth anything up to £1.6 billion.
And the biggest single factor in that has been Sir Alex. He built the squads; he achieved the success; he bolstered the brand; he attracted the supporters; he made United really great.
Football club management is a threatened art, mainly because of the move to the new model of coach and Director of Football. Harry Redknapp has it and Arsene Wenger excels in it, but the French professor of economy has not turned his business management into a trophy for eight years.
In truth, Sir Alex has David Gill alongside him, but they complement each other perfectly: Gill manages the business; Ferguson the football.
Yes, Sir Alex has his own idiosyncratic style, but even that has evolved over the years. He himself admits that he never stops learning, and that is the one overriding quality of a great manager and springs from humility.
Although he started life as a shop steward, it is arguable that he would have been successful in big business also. He knows how to set out a structure and build a football club from top to bottom and from bottom to top. He could write the MBA syllabus for football management.
There are many pieces to the jigsaw, however. He knows how to win the undying loyalty of the clubs' owners. He had it with Martin Edwards and also from the Glazers. The main reason why they are never seen at Old Trafford is because their investment is in safe hands.
They just leave Ferguson and Gill to get on with it. When the two of them ask the Glazers for something, they get it. It helps that David Gill is a world class chief executive. He has grown and grown with the club to its present £400 million turnover, dwarfing that of Chelsea and City.
Ferguson also understands the business and financial management. He is no mug. Some supporters think the Glazers won't give him money to spend on players, but his childhood gave him an appreciation of value, and he treasures the club's funds as if they were his own.
He is a master of economy. He has been the first to admit that he has made mistakes, like Eric Djemba-Djemba, who was pretty much disconnected from reality. But he also bought Chicharito for only £8 million and Eric Cantona for £1 million.
He will have a short, medium and long-term strategy. The short is each season; the medium will be the period taken to transition to the next generation; the long is his ultimate master-plan. Sadly, that will include his time of going and his successor.
It would not surprise me one jot if Sir Alex hasn't put forward two or even three potential successors, agreed with Gill and Sir Bobby Charlton. They will already be lined up and sworn to secrecy, which means it won't be Jose Mourinho (although he makes a convenient stalking horse).
My choice would be Pepe Guardiola to take over at any time; or a team of Carlo Ancelotti and Ole-Gunnar Solskjaer, with the latter groomed for succession after three years.
Although Sir Alex has teams of people to do everything, it is in his makeup that he would not ask anyone to do something he would not prepared to do himself. He does his own dirty work.
He will have personally told Berbatov he would not even make the bench for the Champions League Final; and also that he can leave at the end of the season. But as with so many players before him, that won't stop Dimitar from praising the boss before and after he goes.
Best of all, it is such a delight to see a manager writing his own programme notes. These are all written from the heart.
Also, he is constantly exhorting his "twelfth man" (the crowd) to support the team at difficult times. And they respond, as they did at Blackburn magnificently, and will for the rest of the season.In short, they love him.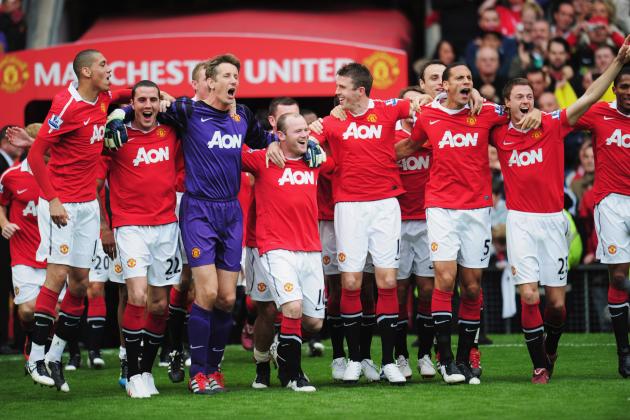 Shaun Botterill/Getty Images

How many times has he done this? Four, five...
The structure he and his predecessors have built from bottom to top and top to bottom, is based first and foremost, like Barcelona, on the development of talent.
Every young individual is taught the same skills and teamwork. Defenders are taught to attack and vice versa. For the Academy players the result is less important than playing "the Manchester United way."
Will Keane was delighted, for example, when Warren Joyce was promoted to reserve team manager, because he had coached the young Keane and knew all his strengths and qualities. For Keane, it meant certainty and self-belief.
United care less about size than skill. Can you imagine even a pub team signing Lionel Messi as a teenager—too small!
Ferguson and his team have a blueprint for players. Paramount are the personal qualities. What do Phil Jones, Ashley Young, David de Gea, Chris Smalling and Chicharito have in common, apart from being United's last five signings?
Answer: humility. Oh and pace...and skill...and determination...and a team ethic. Just like Ryan Giggs, Paul Scholes and Michael Carrick.
From now on, United will only sign players with these qualities—especially pace, skill and humility.
Blueprint for Success
Sir Alex will have a blueprint for success for every player. For example, he knew that he didn't have the finished product in David de Gea, who needs bulking up and has worked with Eric Steele a great deal since his arrival, to manage the rigours of the Premier League, which will be different from La Liga.
What he did know was that he was buying potentially the best goalkeeper in the world, but unlike Edwin van der Saar, with the possibility of United having him for his whole career.
Sir Alex has a comprehensive global scouting network. He will have thoroughly examined all the possibilities before choosing de Gea. It is known, for example, that he looked at Manuel Neuer and Maarten Stekelenburg.
All the time, the scouts will be searching for and watching known needs and world class talent in general.
They have to keep a number of considerations in mind, however. If a player isn't British, they will need a work permit. This is no problem if they are a European citizen or have one from another EC Member state. Otherwise, the player needs to be a proven international or a player of 'exceptional talent'. That may mean they have to go to a feeder club first.
Youth and Experience
This is almost a guaranteed blueprint for success. Sir Alex is building another team and squad. This time, he has two particular challenges: to replace the aging stars as soon as practicable; and to blend in a larger potential supply of talent from the Academy than he has ever had before. This will test his man management skills.
There never will be another Paul Scholes, but United do need to reshape their midfield for the future. Sir Alex has done a great job in defence so far, but he may need to sign one or even two midfielders this summer, depending on whether Paul Pogba stays and how he grows.
He cannot do all these things without a substantial coaching staff. There will, of course, be the sports scientists and the medics to complement them, but again the coaching team itself develops and grows.
Brian McClair is a fixture and Paul McGuinness has been Academy manager for a few years. Warren Joyce was appointed as reserve team coach to replace Ole Gunnar Solskjaer. Joyce had Paul Scholes helping him earlier in the season, and Darren Fletcher has been drafted in while he is medically unfit.
It can be expected that Ryan Giggs, Scholes himself and Rio Ferdinand will join the first team and/or reserves coaching staff in due course.
This pattern provides directly relevant experience and continuity. Rio Ferdinand, for example, is already working with and advising younger members of the squad, such as Paul Pogba.
While Sir Alex leads the training with Mike Phelan, Rene Meulenstein is the first team coach. Again, he has worked with the younger players, previously.
So Sir Alex knows how to build a dynasty in the club and in the playing and coaching staff. This means that unless the next manager is a complete disaster, United are a self-perpetuating machine. That is the biggest legacy Sir Alex will leave behind.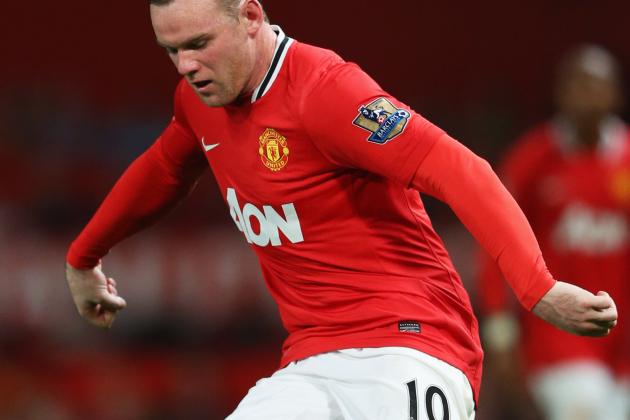 Alex Livesey/Getty Images

When we talk about Mario Balotelli, it is easy to overlook the challenges that Wayne Rooney has brought to Sir Alex Ferguson.
From the moment he was signed, he was always going to attract the attention of the media and paparazzi, because he is the finest English footballer of his generation.
Starting with visiting a middle-aged prostitute and ending in high-class call girls, Rooney has courted controversy and potentially damaged the name of the club as well as his own. The fact that this fall-out has been minimal is a testament to Sir Alex's powers of player management.
Players who have been found to have taken drugs have never been tolerated at Manchester United. If Rooney had not been such a talented footballer, Sir Alex may have "let him go" in the way he did with David Beckham.
Rooney had almost as high profile a celebrity life as Beckham's before he was tamed. The contract dispute last season was a major turning point in their relationship. Ferguson was at his masterful best. The only reservation I have is that nobody should be able to hold a gun to the head of any employer.
On this occasion, Sir Alex blinked, but he managed to make it seem that he had persuaded Rooney to stay against his will.
Each player brings his own challenges—some much fewer than others. It seems likely that Evra and Vidic were wanted elsewhere last summer. Ferguson made them club captain and vice captain and both have a new lease of life.
Cristiano Ronaldo never made any secret of his wish to play for Real Madrid one day. Ferguson kept him for six years, including persuading him to give the club "one last year" to try and win the European Champions League again. Ronaldo still looks on Sir Alex as a second father.
Players like Ji Sung Park are no trouble at all, nor is Chicharito. As the players get older, part of their role is to nurture and guide the younger players coming through.
Part of Sir Alex's model is that any incoming player should be given up to two years to settle into the Manchester United way. Luckily, all his recent signings have hit the ground running, but Nani took a little longer. They are helped by being welcomed and integrated into the existing team unit, where the Boss knows they will already fit.
His door is always open for any player with a problem or a grudge. Gary Neville was the shop steward while he was captain—always looking out for the welfare of his colleagues, going into bat for them and particularly helping the younger players.
Teamwork and team spirit are fundamental to the ethos that Ferguson espouses. Without that, he would find it very difficult to maintain his policy of squad rotation.
This policy may well be the key factor in this season's success. The squad was big enough to withstand the injury onslaught that left up to 11 players unfit for weeks at a time. But this was also manna from heaven for the Tinkerman, because he was able to rotate his players with ease.
Phil Jones and Chris Smalling have probably had much more opportunity than they would have dreamt when they signed for United, because of the injuries, but the main thing is that Sir Alex has given them their chance, and they have repaid his faith,
Sir Alex is loyal to his players and they repay that loyalty. How many players leave the club of their own free will? What better testament is there than Giggs and Scholes giving their entire careers to one club? How often do we see that elsewhere?
Rio Ferdinand came through West Ham's ranks and arrived at Old Trafford via Leeds United. He has just completed ten years in Manchester. David de Gea expects to spend his entire career here.
The manager's loyalty also extends to protecting them. He deflects criticism of individuals unless it is completely warranted but then will defuse the situation by making clear he is taking appropriate action. You cannot believe that the Suarez incident would have happened at United, let alone blow up and develop into a sore that ate away the brand.
He carries unquestioned authority at the club. In the past, he has been renowned for his "hair dryer" attacks on players, but even he acknowledges that has changed. If it ever was appropriate, it no longer is, in an era when players earn the UK national average wage every week.
No player is bigger than the club. Roy Keane and David Beckham found that out in different ways. Sir Alex probably thought that Beckham's celebrity status and that of his wife was a distraction. Jaap Stam's book implicitly criticised Ferguson, but at least the manager was honest enough to accept that he made a mistake, thinking that Stam was past his best.
Players know not to step out of line. Federicho Macheda will have got short shrift for saying in a recent interview that Paul Pogba would do well in Italy. He may not survive the summer clear-out as a result.
At 70, none of the players expect the Gaffer to do keepie-uppies for twenty minutes, but Sir Alex is still a tracksuit manager. He is out in all weathers and takes an appropriate part. Other managers in Europe may prefer to delegate to a coaching team for that part.
One thing is for certain, while Roberto Mancini is one of the best coaches in the world, he can still learn from Sir Alex, especially in the player management stakes, but in other ways as well, which we shall consider.
Sir Alex and United are renowned for scoring late goals. Nobody does it better.
I watched the Blackburn match utterly confident that we would score...and we did. It's inevitable.
When the chips are down, Manchester United know how to win. Sir Alex has made sure of that. They have done it so many times.
They win matches they have no right to. They come back from the dead to win trophies, such as the Kevin Keegan "I would love it" Newcastle collapse.
Like Nick Faldo grinding down Greg Norman in the Masters, United have ground down City, turning around 17 points in a few months.
How do they do it? First, Sir Alex does it. He's been doing it for years. As in the Chelsea match where the team turned round a 3-0 deficit to draw 3-3. You just know it's going to happen.
It's not luck either. The players never stop believing. That was their downfall against Man City at the start of the season—they kept trying to score.
The philosophy at United is simple. They try and win every match. They play attacking football. Last season Sir Alex put out the most bizarre team ever at Old Trafford against Arsenal in the Cup, fielding eight defenders...and won the match at a canter.
You will see it in cup and European must-win matches. As the game goes on, he brings on more and more attacking players to chase a result when needed. I once saw him play five strikers by the end of a match.
While United never know they're beaten until the last whistle, Sir Alex has also made sure they know how to lose—gracefully after the event, but hurting, every man.
There is always something to learn. There may occasionally be a fall guy—someone who didn't follow the plan, gave the ball away too much or simply played badly.
But United have collectively won so much. According to the match programme against QPR, the team United fielded had ten times the career experience with United that the QPR players had with their club.
That says a lot about loyalty and also about desperation.
Sir Alex hates losing and that pervades his squad. Twice this season, United have suffered bad defeats—first against City and then against Blackburn and Newcastle. Both times they went on unbeaten runs. Since the Newcastle match, United have won every match except one and that was the 3-3 draw against Chelsea.
United know how to win; they know how not to lose; and they know how to take defeat—badly—and then repay the opposition in spades.
That's down to Sir Alex. He has a winning mentality; he signs and produces winners. Above all, he HATES defeat, and don't his players know it?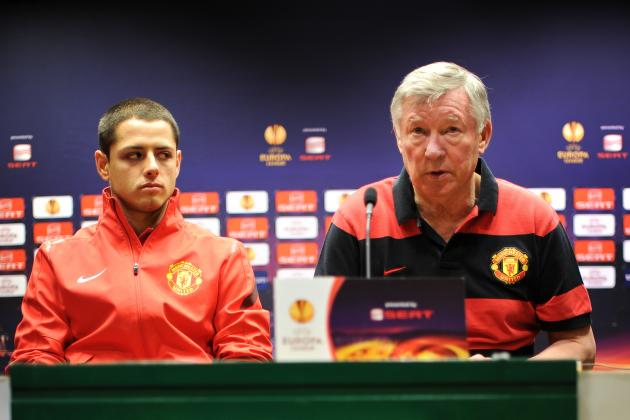 Jasper Juinen/Getty Images

Sir Alex is brilliant at handling the media. You probably wouldn't get many to say they like him, because he can be brusque and abrasive and press conferences run to "Fergie Time" and Fergie's Rules.
You can see innumerable examples on YouTube about how he handles the press. He can be genial and good-natured or he can lay into them big time.
This interview was one of his most aggressive. He starts by reminding that some of them had been banned for a few weeks and then lays down the law.
Journos know where they stand. You have to earn credit points with Sir Alex through good behaviour. If you play ball with him, he will with you, but you can never be complacent.
He is also not above using the media to manipulate the opposition, officials or whoever.
However, at his best he is very good. He usually gives good copy and is fairly straightforward. One of his great qualities is that he gives his players media experience and trusts them not to let the club down, as with the case with Chicharito above, before the away leg against Bilbao.
Journalists loved Jose Mourinho, because he played ball and gave them good copy. Sir Alex has at times had a love-hate relationship with the media, as with his long refusal to give any interviews to the BBC after they ran a programme about his son.
You know where you stand, and a lot of managers may well have learned by watching him.
Sir Alex isn't always elegant with his handling of officials, whether they be the FA or referees, but he gets his point home and hardly ever gets fined or banned.
Again, everybody knows he's manipulating them, whether complaining about too much or not enough injury time, referees being unfit or bad or not giving United any favours or whatever.
They all know he does it, and to some he gets away with murder, but he also either gets his point home or at the very least uses his rants as a way to deflect attention from or take pressure off his players.
Nobody does it better. To watch his press conferences and post-match interviews is to attend a masterclass in media management. You learn what to do and what not to do.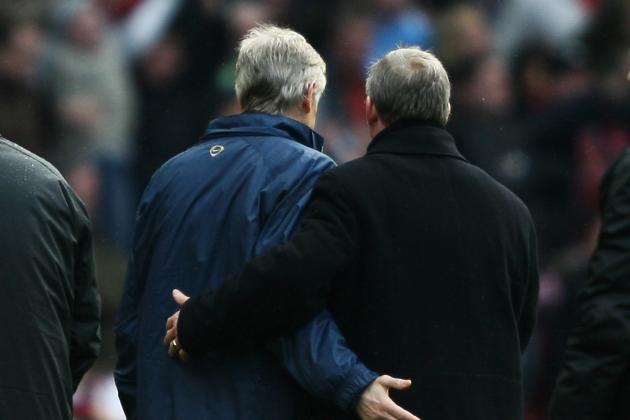 Clive Brunskill/Getty Images

Sir Alex is particularly savvy in this aspect. Some of the aspects are uniquely his own.
Her knows how to wind managers up, as he did with Kevin Keegan. He knows how to disarm other managers by flattering them.
He has relationships with every other manager—not all of them great. You cannot imagine him and Roberto Mancini having dinner together until the latter leaves his job, but they were probably on good terms before City.
On TV he has appeared to be at a distance from Arsene Wenger, but there is clearly a great mutual respect.
Jose Mourinho was his biggest opponent while he was at Chelsea, but is fulsome with admiration for the United manager and in some ways has sought to emulate him, including how he manipulates all and sundry.
Sir Alex clearly rubbed Rafa Benitez up the wrong way so successfully that the Liverpool manager eventually came out with a list of accusations at a press conference. He didn't last long after that.
Clearly Sir Alex gets on well with other great managers, such as Carlo Ancelotti and Otmar Hitzfeld.
He also invests a huge amount of time in his younger aspiring brethren. Brian McDermott, the Reading manager, has been fulsome in the response he got when he rang the Scottish Knight for advice. He credits Sir Alex with having helped him and its paying off at Reading.
Ferguson also went out on a limb to defend Steve Kean, his fellow Scot, who was getting vitriolic abuse from all and sundry at Blackburn. We may never know, but he may have saved Steve's job for him. He certainly drew out a lot of the poison.
Many, many managers pay homage to Sir Alex. He has a great personal style. He is always willing to receive calls; has helped and advised many after they have lost their job; and willingly coached some who might one day be good enough to be his adversaries.
Another of his qualities is that he never attacks someone directly. He doesn't need to. When Patrick Vieira, the Manchester City Director of Football, unwisely decided to try the mind games with Sir Alex, it backfired spectacularly, giving the latter more than enough ammunition to pile more fuel onto the bonfire of City's ambitions.
And after he has retired, you can bet your life that he will be available with his wisdom and sagacious advice, not only for his successor, but also to his fellow professionals, exactly as he is now.
So, if you want to be a great manager, there is much you can learn from Sir Alex—especially from how he handles other managers—starting with developing a love for, knowledge of; and cellar of, fine red wine....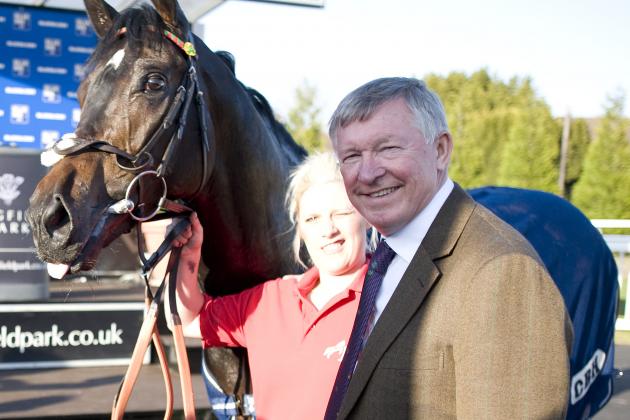 Alan Crowhurst/Getty Images

One of the things that has helped Sir Alex's longevity is that he has a life outside football.
Most people know about his love of horse racing, especially his part-ownership of Rock of Gibraltar, which was European Horse of the Year in 2002, having won both the 2,000 Guineas and the Irish equivalent.
The rock in his own life is his wife Cathy. Like his own mother, she brings great strength, support and love to the Ferguson family. When Sir Alex previously announced his retirement (which backfired), Cathy may have been the major factor in changing his mind. It is reputed she asked him what he would do without football.
It may be that Sir Alex's brief heart scare when he was 61 contributed to his premature decision to retire. Whatever the reason, it was a rare error from which he has learned. He now says he will go on as long as he has his health.
In this he is supported by all his family, including son Darren, who has also had mixed success as a football manager and is currently back at Peterborough. Twin brother Jason is an events manager. Sir Alex and Cathy have a third, older son, Mark.
Sir Alex is a driven man with a keen awareness of others. He is generous with his resources and with himself. You don't have to like him to respect him.
Both his longevity as a manager and his breadth of qualities give a wealth of learning opportunities for aspiring or even established managers. Whatever happens from hereon, he will remain one of the greatest managers of all time in global football.