Masters Results 2012: Power Ranking the Biggest Masters Surprises
April 9, 2012

Streeter Lecka/Getty Images
The 2012 Masters tournament has come to a close with Bubba Watson winning the green jacket.  The tournament was filled with surprises, leading to an incredible finish on Sunday.  
Here are the four biggest surprises from the 2012 Masters tournament. 
1. Bubba Watson Donning the Green Jacket
Where to begin? Bubba came into the Masters ranked 16th in the world yet was considered a long shot for victory.  He had never placed higher then tied for 20th at the Masters.  
The guy has never taken a practice lesson or worked with a swing coach.  Before the win he was inconsistent and typically fell apart under pressure—hardly the image of a winner.  Now, he's a Masters champion.    
2. Bubba's Shot On the Second Playoff Hole Out of the Pine Straw
This shot was absolutely incredible.  Deep in the woods, on top of the pine straw, Bubba hit a wedge that somehow managed to hook 40 yards and land on the green, 10 feet from the hole.  
Considering the circumstances, that shot was easily the greatest of the tournament and essentially guaranteed Bubba's victory.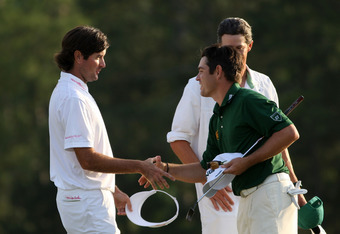 Jamie Squire/Getty Images
3. Louis Oosthuizen's Double Eagle
Lost in all of the commotion of Bubba's incredible shot on the second playoff hole and his ensuing victory was Louis Oosthuizen's double eagle.  His double eagle was only the fourth in the history of the Masters and the first ever on the second hole.  
By holing out his four-iron from 253 yards, Oosthuizen's double eagle goes down as the longest in Masters history.      
4. Tiger Woods and Rory McIlroy Failing to Contend
Going into the tournament, Tiger Woods and Rory McIlroy were considered the favorites to don the green jacket.  Both were ranked in the top 10 of the world golf rankings and each had a victory already in the season.  
However, each had trouble with his game, struggling throughout the tournament. Ultimately, neither was a factor, finishing tied for 40th at five-over par.