NBA Playoffs 2012: Chicago Bulls and More Teams on Shaky Ground
April 9, 2012

Chris Trotman/Getty Images
The 2012 NBA Playoffs will have all the awkward delight of a middle school dance. The quirkiness of the strike shorted seasons will add a different dimension to the playoffs.
It happened in 1999 and it will happen again in 2012. A few playoff bound teams are already looking as dicey as 12-year olds trying to slow dance. 
The Spurs may enter the playoffs as the No. 1 seed, but look more 1999 Miami Heat than 1999 model of themselves.  
There are a few more teams entering the playoffs looking uncomfortable. Here is a look at some of the teams on shaky ground as the playoffs approach:
Chicago Bulls
The Chicago Bulls have proven they can win a bunch of regular season games without Derek Rose. If the Bulls can clinch first place in the Eastern Conference it will have been an amazing feat.
It will unfortunately have been quite meaningless, as well.  
Rose returned to the court on Sunday against the Knicks after missing 12 games, but questions still linger about his health.  
If Rose is not 100 percent heading into the playoffs, the Bulls might as well start cleaning out their lockers now.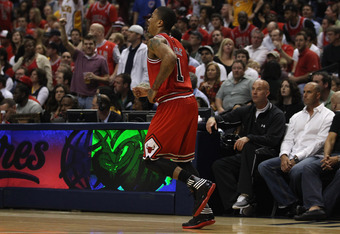 Jonathan Daniel/Getty Images
Chicago gives maximum effort and intensity every night under Tom Thibodeau. The problem is that this normally overwhelms teams in the league, who seemed almost unwilling to go all out for a regular season game.
In the playoffs, all of that will change. The Bulls are going to find themselves in trouble when other teams start to fight back. Thibodeau has his team playing to its ceiling, but most other teams in the league still have a lot of room to improve. 
Unless Derek Rose regains his MVP form and avoids injuries, the Chicago Bulls are looking extremely vulnerable heading into the playoffs. 
San Antonio Spurs 
The San Antonio Spurs are like the really hot girl from a small town. She seems like a 10 when she is at home, but then you go to a big city and realize that she's actually very average.
Greg Popovich's team is playing some of the best basketball around, but once the playoffs start it is likely they will be exposed once again.
Memphis knocked them out last season and if San Antonio has the face Denver or Dallas in the first round, it could easily happen again.
The Spurs may have the veteran nucleolus to make a playoff run, but they have been lacking a certain dynamism since Tim Duncan started to decline as a player.
Successful playoff teams have at least one player who can spark his team. Popovich does not really have that option.
Tony Parker is nice but not the imposing figure who can take over a game at a moment's notice. The rest of the roster is comprised of role players.
The Spurs may look good now, but once the playoffs begin that beauty will fade when compared with the other teams around them.
Los Angeles Clippers
Without Chauncey Billups, the LA Clippers seem like a team unprepared for the playoffs let alone to contend for a championship..
Vinny Del Negro is a dead man walking, Blake Griffin has become an alarmingly one-dimensional player and Chris Paul is showing, once again, he is not a true leader.
The Clips are going nowhere in the playoffs and they are going to get there in a hurry.
The main problem Los Angeles will face is that they have to play efficient half-court offense. It has taken the Oklahoma City Thunder two years to fully grasp what it takes to succeed in playoffs from an offensive standpoint.
This coupled with LA's other problems heading into the playoffs spell trouble for Donald Sterling's team.