NBA Draft 2012: How Thomas Robinson Going Pro Alters Big Board for Underclassmen
April 9, 2012

Jeff Gross/Getty Images
Thomas Robinson will announce his decision to leave Kansas and declare for the 2012 NBA draft on Monday, according to a report from the Journal-World.
Robinson's former coach at Kansas, Bill Self, "confirmed" that Robinson would be heading to the NBA ranks. It's a move that should surprise relatively few in league circles and even fewer fans of basketball.
He's projected to go inside the top three picks and could even sneak into the top two. There are a number of teams that would be lucky to land him on draft day.
With the news that he'll be headed to the NBA, here are the top 15 underclassmen on the big board of the 2012 draft class.
1. Anthony Davis, PF, Kentucky
Davis is a monster around the rim and has the chance to blossom into an incredibly special player if he lands in the right situation.
2. Thomas Robinson, PF, Kansas
Robinson leaves it all on the floor every time he takes the court, and that type of play will appeal to several teams.
3. Michael Kidd-Gilchrist, SF, Kentucky
Kidd-Gilchrist loves to attack the basket, and several teams near the top of the draft will need a player like that to improve in the foreseeable future.
4. Bradley Beal, SG, Florida
Beal could easily wind up being the steal of the draft with his versatile game and desire to consistently improve.
5. Andre Drummond, PF/C, UConn
Despite being loaded with potential, Drummond will have to prove he can ascend to new heights in the NBA.
6. Harrison Barnes, SF, UNC
Barnes will need to learn the limitations of his game in order to blossom at the highest level against tougher competition.
7. Perry Jones III, F, Baylor
Despite Jones' ceiling being incredibly high, he comes in at seventh because he doesn't show his talent on the court nearly as often as he should.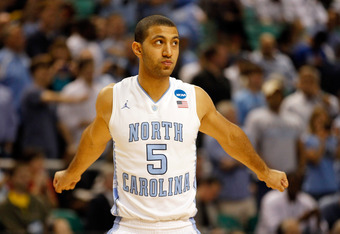 Streeter Lecka/Getty Images
8. Kendall Marshall, PG, UNC
Marshall is an unbelievable young point guard who has a bright future ahead of him if things align in the right way.
9. Damian Lillard, PG, Weber State
Lillard would undoubtedly be drafted higher if he weren't from Weber State, and whatever team nabs him should wind up feeling very good about it.
10. Austin Rivers, SG, Duke
Rivers' game should fare better at the NBA level, but he's going to have to have the ball in his hands in order to sway public opinion about what he can bring.
11. John Henson, PF, UNC
The UNC product will need to add bulk to his frame in order to contend with the bigger opposition he's certain to see at power forward.
12. Tony Wroten, G, Washington
Wroten is incredibly young, but he has the chance to be a serious contributor if his game rounds out like it should.
13. Jared Sullinger, PF, Ohio State
Sullinger had success in college, but will it translate to the NBA? He'll have to improve defensively in order to get more supporters in his camp.
14. Terrence Jones, SF, Kentucky
Jones is blessed with a versatile game, but there is not any one element of his attack that he does extraordinarily well.
15. Royce White, SF, Iowa State
White might not have the upside of some others on this list, but he should be able to help a team for a long time on the wing.