Weekend's Worst: Josh Beckett, Jayson Werth, Mat Gamel Among Bad Performers
April 9, 2012

Earlier at Horsehide Chronicles, we covered how badly several bullpens performed over the weekend. But relievers weren't the only ones who struggled in the first few days of the season.
Several starting pitchers and a few hitters also had weekends that they'll want to quickly forget. Fortunately, it's very early in the season, and there's plenty of opportunity to move on. But in some cases, maybe these performances are the beginning of trends to keep an eye on.
Here are five players who are probably glad to start a new week.
Josh Beckett, Boston Red Sox
Last season, Beckett gave up 21 home runs in total. Saturday against the Detroit Tigers, he served up five long balls. Four of those were smacked by two batters, Miguel Cabrera and Prince Fielder.
Was Beckett's wonky thumb to blame for the bad performance? Nope. He says the problem was pitch location.
"They were all in the middle of the plate, and they hit them hard," Beckett said after the game.
Jayson Werth, Washington Nationals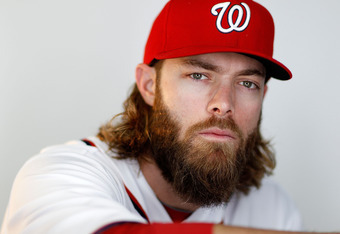 Mike Ehrmann/Getty Images
The Nats could have left Chicago with a sweep and tied with the New York Mets atop the NL East. Instead, they lost on Sunday, in large part because the lineup didn't score enough runs for Jordan Zimmermann.
Among the chief culprits was Werth, who went 0-for-7 with four strikeouts over the weekend. That puts him at 0-for-10 after three games.
To be fair, as MASN.com's Dan Kolko points out, Werth has hit some balls hard. In Sunday's game, he was robbed of a hit on a great diving stop by Cubs third baseman Ian Stewart. So maybe some of those knocks just need to start falling in.
Josh Collmenter, Arizona Diamondbacks
The D-Backs made a strong opening statement for the 2012 season by sweeping the San Francisco Giants. But they almost didn't pull off the sweep, thanks to Collmenter's poor start. 
Collmenter lasted only three innings on Sunday, allowing six runs (five earned) and five hits. That kind of performance against the low-scoring Giants was enough for many D-Backs fans to call for top prospect Trevor Bauer as a replacement.
But as the Arizona Republic's Nick Piecoro reports, Collmenter's history shows he could rebound next time out.
Mat Gamel, Milwaukee Brewers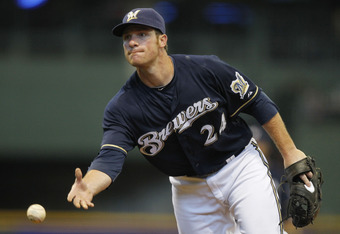 Jeffrey Phelps/Getty Images
No player in the National League, certainly in the NL Central, has more pressure on him than Gamel, who's replacing Prince Fielder at first base for the Brewers.
Gamel went 0-for-6 in Milwaukee's two weekend games against the St. Louis Cardinals. On Sunday, manager Ron Roenicke replaced him with Travis Ishikawa in the fifth inning, after Gamel struck out in his first two at-bats. 
Bartolo Colon, Oakland Athletics
OK, it's kind of easy to pick on Colon. And that's really not fair, since he threw eight innings and allowed one run on three hits in his 2012 debut. 
But either the Seattle Mariners knew what was coming in facing him for the second time in a week or Colon was jet-lagged after coming back from Japan. He gave up seven runs and 10 hits in four-and-a-third innings on Saturday. 
Colon pitched well early last year, surprising almost everyone in baseball. But he eventually settled into kind of a good start-bad start pattern as the season wore on. Might that be how he begins this season?