Atletico Madrid vs. Real Madrid: Preview, Live Stream, Start Time and More
April 9, 2012

Denis Doyle/Getty Images
League favorites Real Madrid will take on rivals Atletico Madrid in a match that could have serious ramifications for the remainder of the La Liga season and title race.
After dropping points in three of their past five matches and inviting Barcelona back in to the league title race, Real Madrid travel to Atletico Madrid and must get back on course with a win if they are to maintain their lead.
Atletico currently sit in seventh position, but anything other than a loss would see them move past Osasuna in to sixth position on the La Liga table.
They have only been beaten once at home since Christmas and could be a real challenge for Madrid, who have only lost one match away from home all season.
This is the Battle of Madrid—where everything you need to know and more is right here so with that, let's roll.
Where: Vicente Calderón Stadium
When: Wednesday, 11th April at 4pm ET
Live Stream: ESPN
Key question: Can anyone stop Real Madrid's forwards?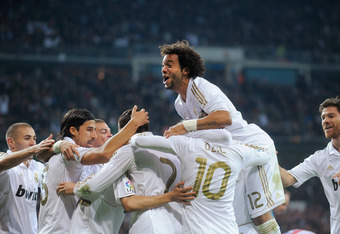 Denis Doyle/Getty Images
It might seem to simple, but stopping Real Madrid has been the toughest ask all year for defenses in La Liga—though their scoreless draw at home to Valencia last week may give a glimmer of hope for the hosts here.
Real have notched up 100 goals for the season so far at an incredible average of 3.22 goals per game and if they can find the back of the net with that frequency in this one, then it could turn ugly for Atletico Madrid.
Atletico will not only take comfort in knowing that their rivals can be held scoreless, but that at home, they have been completely solid defensively.
Conceding only 0.66 goals per game on average and 10 times for the season, Atletico Madrid have notched up clean sheets in more than half of their home games this season—holding even the dynamic Levante and Barcelona to just two goals and every other side to less than that.
Keeping the Real Madrid attack under wraps will be the biggest question that Atletico Madrid must answer if they are to take the points away from this one.
Three key numbers:
37. Cristiano Ronaldo has found the back of the net 37 times for Real Madrid this year with 17 of those coming on the road. Whilst Ronaldo will be out to prove that he truly is one of the greatest players in the world, Atletico Madrid will know that it is possible to stop the Portuguese star, as long as they play their best football.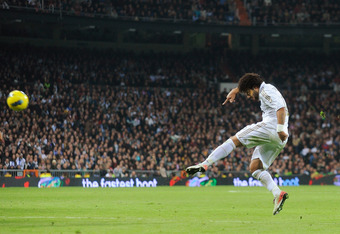 Denis Doyle/Getty Images
20. Out of their 100 goals for the season, 20 more have come for Real Madrid at home than they have on the road, which might not seem huge, but in reality, is a more than a goal per game. They currently average 2.67 away from home compared to the 3.75 they average at home—highlighting the potential Atletico have to stop the juggernaut of an attack that Real boast.
24. That's the number of second-half goals that Atletico Madrid have conceded this year, compared to just 13 in the first half. 64.9 percent of their goals against this season have come after the interval, which they must address against a side that has scored just the 58 second half goals this season.
Prediction: Real Madrid win 3-1
Atletico Madrid haven't been held scoreless at home since a 0-0 draw against Valencia back at the beginning of February, which funnily enough, was the same scoreline that Real Madrid had against Valencia last week.
At home, they will play their best football, and could take the lead early like they did when these two met earlier in the year.
Yet despite the drop off away from home, Real Madrid will know the significance of this match for their title chances and their attack is simply too strong to keep quiet. The likes of Ronaldo, Benzema and Higuain will fancy their chances against a solid Atletico Madrid defense, as Real show once again why they sit atop the La Liga table.
I'm thinking Benzema to score first, followed by an equalizer from Atletico Madrid just before half-time, before Real kick away late with a brace from Cristiano Ronaldo to finish with a 3-1 victory in the Battle of Madrid.
Read more articles by Dan here — or  Follow @dantalintyre