2012 NFL Draft: 6 Quarterbacks After Luck and Griffin Who Could Go First Round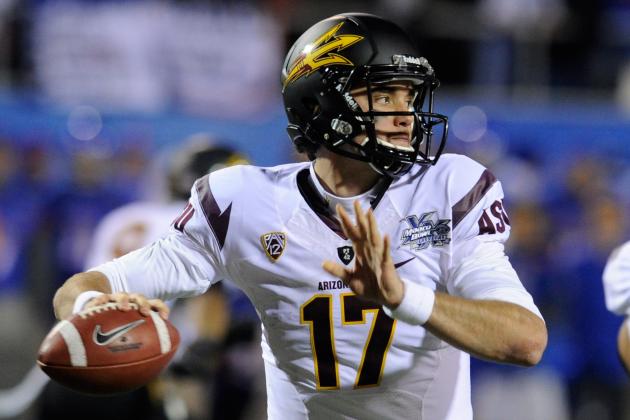 Ethan Miller/Getty Images

The night of the NFL draft will almost certainly start in a very anticlimactic fashion.
With the first pick, the Indianapolis Colts will select Andrew Luck. With the second, the Washington Redskins will select Robert Griffin III.
After that is when things start to get interesting.
In a quarterback driven league, marginal prospects can be propped up into high first-round picks, and every quarterback who can throw is given a serious look.
Despite the necessity of having a good quarterback on the roster, a surprising amount of teams still have a major need at the position. That gives players like Ryan Tannehill and Brock Osweiler a chance to go far earlier in the draft than they should.
Multiple quarterbacks beyond Griffin and Luck have a chance to get drafted into the first round this year, and here are the six most likely to do it.
Begin Slideshow

»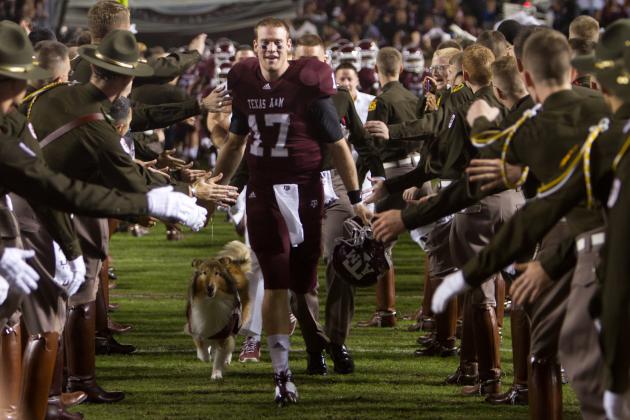 Darren Carroll/Getty Images

Ryan Tannehill's status as a first-round pick may be a foregone conclusion at this point, but the hype around him only started picking up steam when Matt Barkley and Landry Jones declined to enter the draft.
Before this thinning of the draftable quarterback prospects, Tannehill was an afterthought, barely mentioned among the top quarterbacks.
Now, there is talk that he might go as high as the fourth pick overall to Cleveland.
All this for a quarterback who only started one full season, one in which he threw 15 interceptions.
While Tannehill has immense talent, he does not look like a first-round pick on film. He managed to sneak into first round consideration early, and now he could sneak into the top 10.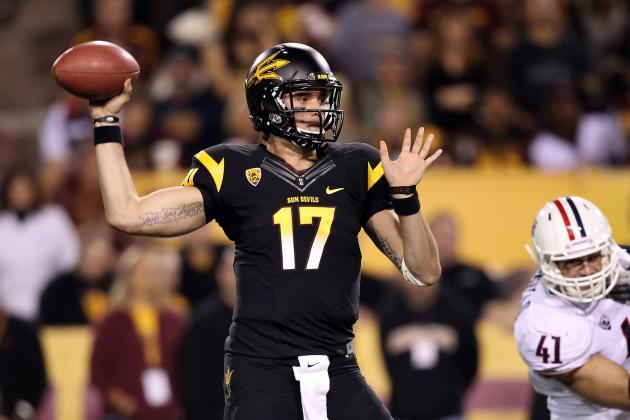 Christian Petersen/Getty Images

After Tannehill, the draft enters the realm of uncertainty. Multiple quarterbacks will be vying to be the next selected, without a clear consensus about who should be the guy.
After his pro day, though, Osweiler has solidified himself as the fourth best quarterback in the draft, and a potential first round pick.
Osweiler is unique for an NFL quarterback. Standing at 6'7" and operating out of a shotgun offense in college, Osweiler towers over his competition in terms of height, but cowers below them in terms of experience.
Still, Osweiler can make all the throws, as he showed at his pro day, and his raw ability will likely convince a team that he is a franchise quarterback.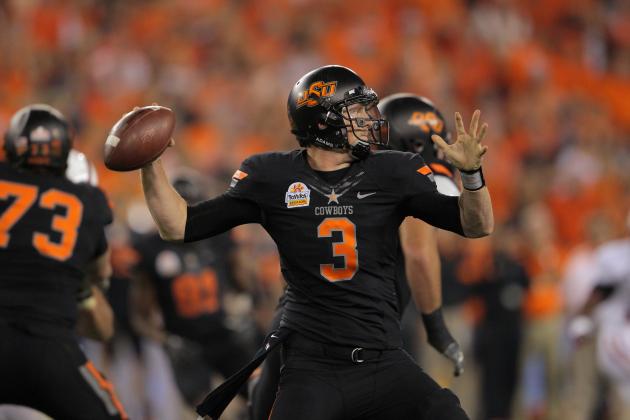 Doug Pensinger/Getty Images

Brandon Weeden might be the best quarterback on this list.
He certainly has had the most success at the college level, and he might just have the most complete set of tools after the top two quarterbacks.
Complicating matters is his age. Unlike the other available quarterbacks, Weeden is already in his prime and will be 28 years old on opening day.
While Weeden might be ready to play right away, he will only have 10 good years in the NFL in a best-case scenario.
A team drafting him simply cannot afford to let him sit and learn for an extended period of time.
While Weeden has all the skills required to be an NFL quarterback, he won't be afforded the same time to learn as other quarterbacks.
He is a boom or bust potential pick, but his pure natural ability makes him a potential first rounder.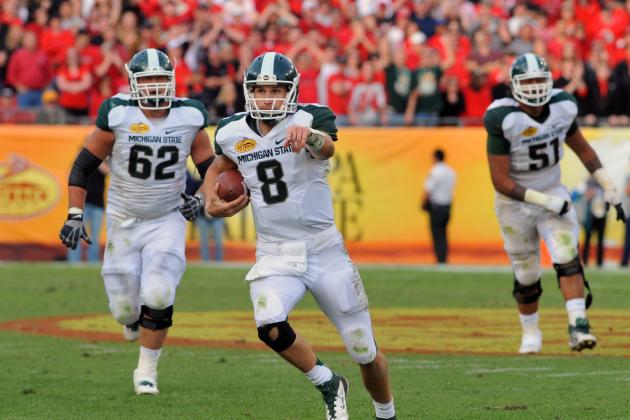 Al Messerschmidt/Getty Images

After Weeden, the picture becomes even more hazy. Out of this third tier of quarterbacks, a few stand out as potential high round picks.
Kirk Cousins highlights this group. As probably the best quarterback at the combine, Cousins has helped his stock significantly throughout the draft process.
While Cousins never dominated at the college level, he played well enough in a conservative offense to show some solid skills for the next level.
His leadership and command of the offense were excellent throughout his college career, and he is also one of the more experienced prospects available.
All of this could encourage a team to take him in the first round, especially a team looking for a quarterback to start right away.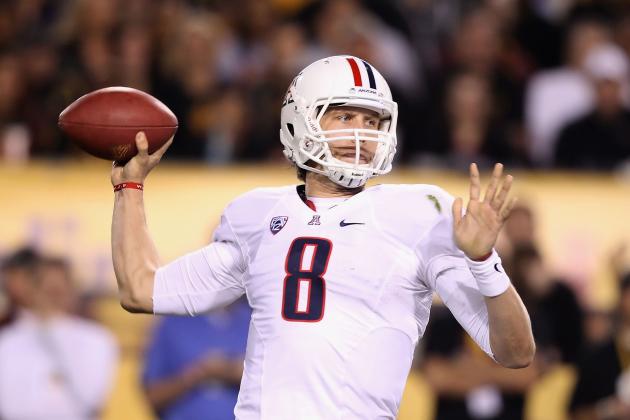 Christian Petersen/Getty Images

Even with the glut of strong-armed quarterbacks available this year, Nick Foles stands out as one of the most impressive throwers in the draft.
Foles also possesses the experience and leadership ability that coaches look for in a quarterback.
Unfortunately, Foles is also prone to mistakes and lacking in athleticism.
Despite these flaws, Foles has the arm strength to encourage a long look as a potential first-round pick.
After an excellent college career surrounded by marginal talent, Foles deserves a chance to show what he is capable of at the next level.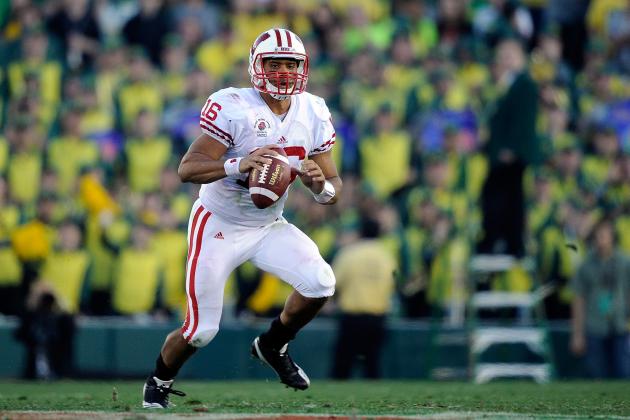 Kevork Djansezian/Getty Images

Russell Wilson has been proving critics wrong throughout his career.
On first glance, the critics seem to have a point. Standing under 6', Wilson does not look like an NFL quarterback, and few quarterbacks his height have found success in the NFL.
A look at his game film, though, shows a quarterback who can play at the highest level. Despite his height, Wilson does not lack for arm strength, as he can push the ball downfield with the best quarterbacks in this class.
Wilson has also found great success at the college level. Despite a difficult transfer from 'North Carolina State to Wisconsin, Wilson was able to lead the Badgers to a Big Ten Championship.
If Wilson were 6'5", he would be a surefire first-round pick. As it is, he remains on the fringe, and while he could just as easily fall to the back of the draft, a team may be enamored enough with him to take a chance early.