Muhammad Ali: "The Greatest" as He Always Should Be Remembered
April 9, 2012

It is an issue that holds a special place in my heart, which is why it hangs in a prominent spot in my family room. Featured on the cover is one of the most famous fights in the past century—the February 25, 1964 bout between Cassius Clay and reigning heavyweight champion Sonny Liston. At the time no one knew it would be the launching point for the career of perhaps the greatest pugilist that ever stepped into a ring.
Prior to the bout, Cassius Clay had established a reputation as a young, brash fighter who was the 1960 Olympic gold medalist, and entered the fight with Liston sporting an undefeated professional boxing record. He was also outspoken in self-promotion, garnering the nickname "Louisville Lip." He ratcheted up his talk prior to the championship, providing the media with endless taunting quotes directed at his opponent, including the now famous "float like a butterfly, sting like a bee" that he would forever be known for.
He went so far as to predict that Liston would fall in eight rounds. People wondered if it was said out of fear as Liston had developed a reputation for being ferocious in the ring, and it resulted in Clay being a 7-1 underdog for the fight.
It turned out that Cassius Clay was wrong—Liston only lasted six rounds—proving that Clay backed up his brashness with superior boxing. From that day forward, Cassius Clay would be known as Muhammad Ali (he waited until after the fight and the next day proclaimed his conversion to Islam, changing his name as well).
I literally grew up in the Muhammad Ali "era," as the Liston fight occurred on the day of my birth. I remember as a boy I was never a fan of the controversial, polarizing figure that was Ali. In those days there was no such thing as "Pay Per View," and often fights were televised on the major networks. My favorite boxers were Joe Frazier and whoever was fighting Ali. As it turned out, watching on T.V., I was frustrated more often than satisfied with the outcomes of the fights. Ali nearly always backed up his borderline offensive comments, which he dished out on a regular basis prior to his bouts. Ultimately he always seemed to convincingly come out on top.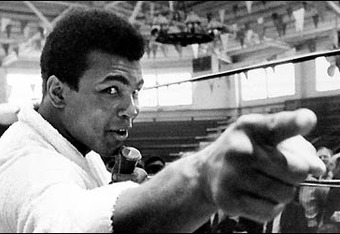 The exceptions to the rule were the fights with Frazier. The three times they met were considered some of the best, and most brutal, fights in the history of boxing. Ali would end up winning two of the three bouts, but it has long been said that those three fights took more out of him than any of the other 58 professional contests in his career.
As time went on I could no longer question Muhammad Ali's ability and grew to respect him as a boxer in spite of his self-promotion and seeming disrespect. He always bounced back from a defeat, and each time he entered a ring you could be certain that he'd have some unexpected, innovative strategy to fend off his opponent.
His was the total package—he danced around a boxing ring like no other, and often his size and reach would prove to be too much for an opponent to overcome. Yet there was more to it than size and technique. His taunting, both inside and outside of the ring, was also part of his brilliance. Before a contest would begin he'd have his opposition so frustrated and worked up over what had been said that they'd disregard their own strategies, succumbing to anger and ultimately playing right into Ali's hand.
I didn't realize the wonderful color Muhammad Ali added to the world of boxing until he left. I drifted away from following boxing as closely as I had to it during Ali's time. What rivalries there were did not come close to what I witnessed in the three fights with Joe Frazier, and no boxer that came along could command the attention of so many as "The Greatest" did.
Ali's final fight was in 1981. Three years later he was diagnosed with Parkinson's disease, but that hasn't kept him from remaining active in the public. In 1990 he traveled to Iraq during the Gulf War to meet with Saddam Hussein to negotiate the release of American hostages, and in 1996 he was selected to have the honor of lighting the Olympic Flame to open the games in Atlanta.
Even though he has remained in the public eye, the tolls of the disease continue to grow. In his most recent public appearance, Muhammad Ali was asked to present the first pitch at the Miami Marlins park opener on April 4, 2012. It was a great honor as Ali won that bout with Liston all those years ago in Miami. Unfortunately the cruelty of 28 years with Parkinson's disease was evident as the greatest boxer who ever lived had to be slowly wheeled out to the field with Marlins owner Jeffrey Loria supporting him the entire way. The champ was frail and visibly shaking, and a shocked crowd remained hushed during the ceremony. It is not how "The Greatest" should be remembered.
I am glad I did not watch that event at the ballpark in Miami. I want to remember the Ali that I grew up with—an intimidating physical specimen full of life, dancing around a ring, and with an undeniable spirit that instantly touched all who witnessed it. That is why I keep that Sports Illustrated on my wall. It represents the beginning of the golden era of boxing which was defined by "The Greatest". It is how Muhammad Ali should always be remembered.