Stan Van Gundy: Undeserving of Praise for 'Outing' Dwight Howard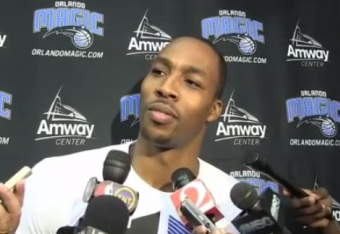 Van Gundy shoudn't have put Dwight in this position.

Stan Van Gundy has been praised in the past few days for his bravery. His candid remarks during Thursday's morning shoot around prior to a nationally televised Knicks game has been labeled "refreshingly honest". So many people could relate with his distaste for "bullshit". Van Gundy simply wanted to "be honest and deal with what's out there". He remarked how "some people have a hard time with that", seemingly referring to Dwight Howard. He's actually been referred to as a martyr, willing to sacrifice his job so the truth can be told.
I'm a huge fan of Stan Van Gundy. I think he's been a great coach that has been saddled with poor management. He has designed a team to play around Dwight's strengths. Without a go-to scorer, the best way to succeed with Dwight is to surround him with 3-point shooters. With that said, Van Gundy is no martyr. And while he was very candid in his remarks in front of a larger-than-usual media circle, he was by no means brave. In fact, he was a coward, a hypocrite, and a bullshitter himself.
Take a look at his facial expressions and body language as he confirms the reports that Dwight tried to get him fired. He drops this massive piece of information in between sips of Diet Pepsi, as if he's answering a question coming from the editor of Sports Illustrated For Kids. As if this showstopping soundbite was "no big deal". He was fully aware that what he was doing was completely unprofessional. To act like it wasn't a big deal was…..bullshit.
He talks as if the biggest thing on his mind is stopping Carmelo Anthony in that evening's showcase game. But how much do you really think he cared when he was willing to drop this huge nugget of information right before the game? Van Gundy put himself above his team. Even if Howard is a pain in his butt, he put himself above guys that are on this squad trying to win a championship. Guys like Jason Richardson and J.J. Redick. He had to have known that this was going to be a huge distraction. But, no different than Dwight, he let his ego get in the way. If you could take one thing away from what Stan was telling the reporters, it was that he was uncomfortable with lying and secrecy. So much so, in fact, that he just had to admit what he knew, which was that his superstar center, Dwight Howard, wanted him fired as soon as possible. He even criticizes those who are unwilling to face the music, seemingly referring to Dwight. Yet the moment Howard walks into the picture, Van Gundy is the one incredibly uncomfortable. Van Gundy is the one that has absolutely no desire to face the music.
"We're not worried about that, right?" Dwight asks Van Gundy, as things get super awkward at the Magic practice facility. Van Gundy then starts to stutter "That's what I just said" as he frantically starts chugging down his Diet Pepsi. Now, I understand Stan can't just say "Well actually Dwight, I was just telling these fine reporters how you want me out of here". I understand that. But he should've darn well understood that him outing Dwight was equally as irresponsible. Much like Dwight can't admit to the fact that he wants Van Gundy gone from the team, Van Gundy couldn't just admit to Dwight what he had just told the reporters.
But isn't that exactly what Stan Van Gundy had been blasting a minute earlier? He was a coward to throw Dwight to the wolves, and skip out of there just before the wolves attacked. He was a hypocrite to judge others for not being transparent, when he wasn't being completely transparent himself.
The fact is Stan Van Gundy is everything he seems to hate. And while Dwight had to look foolish as he was forced to face the music that Van Gundy created, the coach gets to be the innocent victim in all this. Let's not praise Van Gundy's egotistical and unprofessional actions. Because within a couple minutes of being the refreshingly honest, no-bs, face the music kind of guy, he cowered when it was HIS turn to face the music.
This article is
What is the duplicate article?
Why is this article offensive?
Where is this article plagiarized from?
Why is this article poorly edited?

Orlando Magic: Like this team?