2012 Masters: 9 Vital Observations from Augusta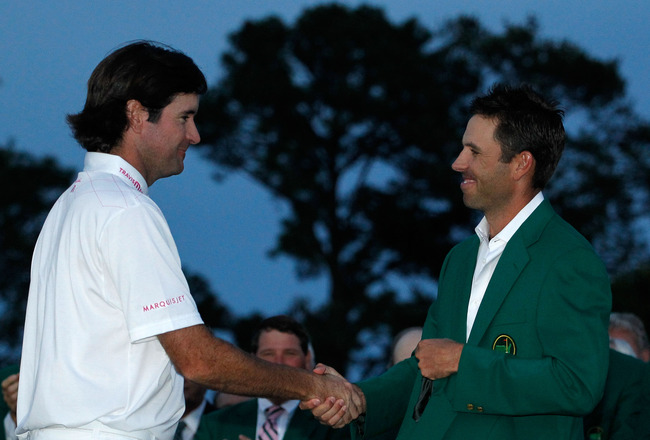 Streeter Lecka/Getty Images
Bubba Watson came away with the green jacket on Sunday, beating out former British Open champion Louis Oosthuizen in sudden death to win his first major championship of his career.
If you didn't quite have the attention span to sit through every hour of the tournament, here (in no particular order) are the nine most important takeaways from the week at Augusta.
Tiger Woods Proved to Be One Giant Tease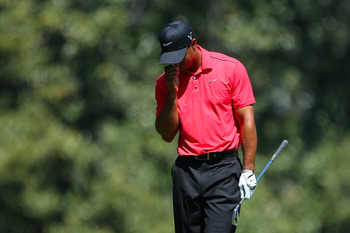 Andrew Redington/Getty Images
Heading into the week Tiger Woods looked as if he were back to his old form again. He was coming off his first PGA tournament victory in two years and it appeared he had worked out the kinks in his swing.
After the first round he found himself at even par and five behind the leader—right in the thick of contention and right around where any contending player of his caliber and capability would want to be. However, it turned out that Tiger bogeying 17 and 18 to close out Thursday's round would be a hint of what was to come.
On Friday Tiger didn't disappoint. Same goes for Saturday and Sunday. By that I mean he didn't deviate at all from what he's done the past two years in majors. He came in as one of the favorites, we talked him up, talked him up some more, put our stamp of approval on him, watched as he showed signs of life in small spurts and were ultimately forced to painstakingly abandon ship as the weekend wore on.
The good news: We've seen worse from Tiger.
Phil Mickelson's Flop-Shot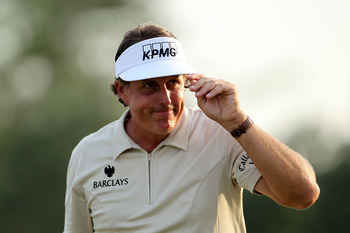 Jamie Squire/Getty Images
After showing replay after replay after replay, David Feherty said, "If that doesn't make every hair on your body stand up, then you need therapy."
That's when my mom, who happened to be watching, chimed in and said, "That didn't make my hair stand up." Forgive the woman, for she's never picked up a club in her life and has been desensitized to anything that doesn't involve Tiger Woods.
Like many, she did not fully understand how ballsy it was to attempt such a shot on one of the more dangerous, intimidating holes/greens in all of golf, let alone in the third round of a major when you're one dumb mistake away from taking yourself out of contention.
(FYI: Phil Mickelson is always one dumb mistake away from throwing away a tournament.)
Sadly, we won't remember that shot because the end result wasn't Mickelson winning his third Green Jacket.
Louis Oosthuizen's Double Eagle Would Have Went Down in Masters Fame, But...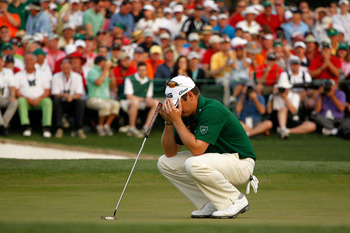 Streeter Lecka/Getty Images
Back in 1935 Gene Sarazen double eagled the famous 15th hole at Augusta in what became to be known as "The Shot heard 'Round the World." To this day some will tell you they've never heard the crowd at Augusta erupt louder than when Sarazen holed out.
The three-stroke swing led to a 36-hole playoff where Sarazen would go on to beat out Craig Wood for the win. That wasn't quite the case with Oosthuizen's double eagle on the par-five second. Yes, it ultimately led to a playoff with Bubba Watson (because every stroke counts), but that playoff ended in a runner-up finish for Oosthuizen. However, his inability to seal the deal is not the reason we won't be showing highlights of that shot for years to come.
I'll put it like this: If that were Tiger that had holed a double eagle in that same situation/position, Augusta would have instantaneously erupted. No, really, it would have erupted—we would have been left with an overhead blimp shot of a giant mushroom cloud and nothing else.
So what have we learned so far? If anyone other than Tiger Woods does something absolutely amazing on the golf course, 24 hours later we aren't going to give a crap.
Fred Couples Nearly Killed My Father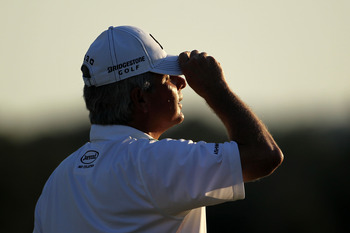 Jamie Squire/Getty Images
My dad is 60 years old. In teaching me the game of golf he attempted to mold my swing into a carbon copy of Freddy Couples'. He's probably more infatuated with Couples' swing than any other human being is, or should be. It's actually unhealthy on his part. I never even really knew if he liked the guy; I just knew that Fred Couples swing sent him into some sort of hypnotic trance.
On Friday, though, when I came home for Easter weekend I found he did indeed like Fred Couples.
Entering the weekend, Couples—52 years of age and all—was tied for the lead. This is when I found my dad was on the verge of a nervous breakdown. No more than two holes into his third round (thanks to starting bogey-bogey) Couples became unworthy of any CBS camera time. After birdying 11 and 12 Couples roped my poor dad back in. Sadly, this happened just in time for him to see Couples' green jacket hopes come crashing down as he hit it into the water on the 15.
What did we learn here? Don't ever continue to live vicariously through an aging golfer that hit his prime 20 years ago because it most likely won't end well. (See: Tom Watson, 2009 British Open)
Tiger Woods Should Keep Throwing Clubs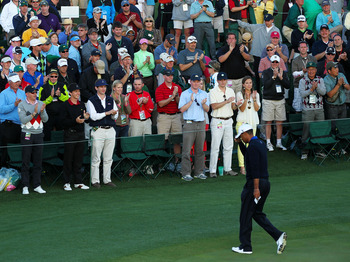 Jamie Squire/Getty Images
On Saturday Tiger's anger was on full display—so much so that it warranted talk of a fine from the PGA. And to that I say, "Get over it."
The PGA is Tiger Woods. Golf is Tiger Woods. Ninety percent of the people who watch golf watch it primarily because of Tiger. Heck, of that 90 percent, 80 percent of them probably took up or grew an obsessive love for golf because of Tiger. Of that 80 percent, 75 percent of them couldn't care less that he's "dishonoring the game" with his on-the-course swearing, club throwing and, in Saturday's case, club kicking. They couldn't care less because deep down they probably derive joy from it.
Well, at least they would if Tiger were still killing two birds with one stone and actually winning majors instead of tight-roping the cut line.
I can sit here and tell you that I think that type of stuff is a disgrace to the game, that there is no room for it, and that I wouldn't want my kid to look up to someone who handles himself on the course like that, but I would be lying to myself. The truth is that the majority of people out there get really, really angry when they golf and—guess what—they want to see professional golfers who are making millions of dollars to play a game go through the same type of on-the-course emotions as them. It's truly the only way we can relate to them.
That's the entire reason the rough at the U.S. Open is grown to eight inches high. The USGA, though it won't admit it, wants to make these guys appear human for us amateur viewers out there. And that's exactly what Tiger Woods is doing every time he hits a bad shot, and we shouldn't try to fight it any longer.
But if you really are turned off by Tiger's antics, then...
Matt Kuchar Should Be Your Favorite Golfer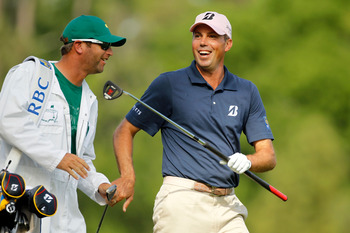 Streeter Lecka/Getty Images
As mentioned in the last slide, golf can be a frustrating game. You've got to admire a guy who talks to himself in third person, and says "Oh dear, ohhhhhhhhhh dear" every time he hits a terrible shot. It's pretty comical, actually. You've got to admire him because it's not as if he's your average cool-headed golfer going about his round. No, this is a guy who has been so close so many times before in majors but has always managed to let it slip away from him.
If anyone ought to be throwing clubs and dropping "F" bombs in front of little children, it should be Kuchar.
On Sunday he took a share of the lead with an eagle on the 15th. When he sank that putt I've never seen a more joyous looking golfer. However, then, just as it looked like it was finally his day, it turned out that, well, it wasn't his day.
So with that said, I'm going to be rooting for Kuchar from now on. Actually, I'm going to go out on a limb right now and predict he wins the U.S. Open this year.
Rory McIlroy Is a Baller, and so Is Sergio Garcia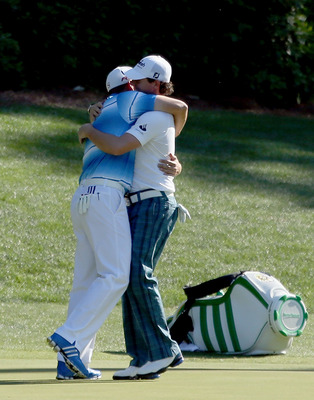 Andrew Redington/Getty Images
There comes a point in every sports fan's life when people who are younger than yourself make their way onto the professional sports scene. It's a weird juncture of life because not only does it essentially cement the end of your dreams of becoming a professional athlete, but it also makes you feel like crap knowing how much more money they're making than you.
For me this happened when 18-year-old Rory McIlroy stormed onto the golf scene. At the time I was also 18.
Needless to say, because he was "my first" I've never been the biggest Rory McIlroy fan. However, on Saturday that changed.
Heading into the weekend, I picked McIlroy to win it. That prediction of mine proved wrong as McIlroy saw his green jacket prospects come to a halt before he made the back-nine turn.
After making his first birdie of the day on the par-three 12th, he gave a fist pump a belted a sarcastic "Woooooooooo." Moments later he and his playing partner, Sergio Garcia, who had also just recorded his first birdie of the day, exchanged a hug for the ages. And in that one moment in time I became a huge Rory McIlroy fan—a fan for life.
And just like that I am changing my U.S. Open pick from Matt Kuchar to Rory McIlroy.
We Should Begin Feeling Sorry for Lee Westwood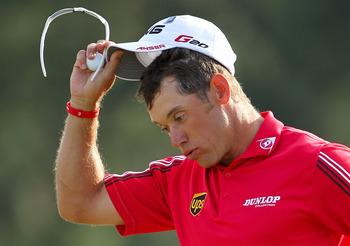 Jamie Squire/Getty Images
There's a lot of luck involved in winning majors, and Lee Westwood hasn't had much of it. He hasn't had any terrible luck either, though. It's not that he folds under pressure, it's not that he isn't clutch, it's not that he always makes one big mistake at the most inconvenient of times—it's not any of that.
All it is is a very good golfer who simply can't finish with the lowest 72-hole score in a major championship, nothing less and nothing more.
And for that, you've got to feel sorry for him...I think?
The lesson here? Lee Westwood will probably go down as the game's best golfer to never win a major championship. However, because he is so bland, not a lot of us will care.
Bubba Watson's Victory Is Why We Watch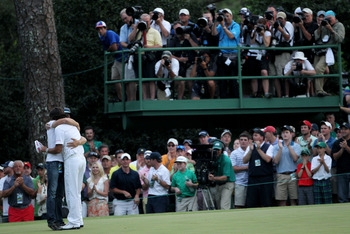 Jamie Squire/Getty Images
In the 2010 PGA Championship at Whistling Straits, Bubba lost out to Martin Kaymer in a three-hole playoff. All of this was overshadowed because it occurred on the same day of Dustin Johnson's "I fold in the final round of majors" coronation. It was also the PGA Championship, which, for some reason, no one really cares about as much as the other three majors.
With all of that in mind, it was very rewarding to see Bubba Watson win on Sunday.
Outside of Phil, Tiger and Rory, Bubba Watson was the guy everyone was rooting for. I mean, how can you not be pulling for a guy who just had his first child with his wife who recently battled and overcame cancer? How can you not be pulling for a guy who, not too long ago, lost his father to cancer? Furthermore, how can you not be pulling for a guy who rocks a pink driver shaft and hits the ball a mile?
(Speaking of hitting the ball a mile, anyone who still believes that driving distance is overrated is trapped in the 20th century. They are lengthening every course on tour on an annual basis, and they're only going to get longer and longer. So if I'm Dustin Johnson or Bubba Watson, I like where my game is at right now.)
In the end, that's what golf (and its majors) is all about—feel-good stories like that of Bubba Watson.
The 2012 Masters didn't disappoint.
Keep Reading