6 Funny, Ridiculous, Crazy, Stupid and Bizarre Goal Celebrations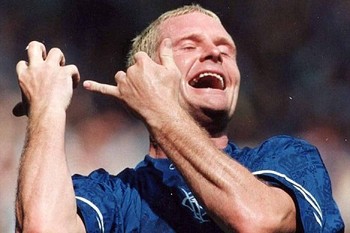 Over the past few years, many fans and pundits have bemoaned the lack of quality goal celebrations. Perhaps, the game is saturated with the "rocking the baby" or "sucking the thumb" routines, but a truly memorable goal celebration—good, bad or repulsive—only comes around once in a while, unless you watch Stjarnan FC every week.
A memorable celebration can occur for various reasons, and the examples that follow will go down in history as some of the funniest, most ridiculous, craziest, stupidest and most bizarre goal celebrations in recent times.
These will add to the list of infamous celebrations, like Paul Gascoigne's "Dentist Chair" or the "flute" playing incident that nearly caused a riot during an Old Firm Derby.
Iranian Players Suspended for Butt Grab

Ouch!

In October 2011, two Iranian footballers—Mohammed Nosrati and Sheis Rezaei—were banned from not only playing, but also entering any football stadium in the country.
Their punishment was a result of a butt grab during a goal celebration by their team Persepolis. The players also faced the possibility of imprisonment, fine and public lashing.
Reports have differed since the two men made headlines, with some saying they have returned to playing. However, reports have been few and far between since the turn of the year.
Stjarnan FC

Football needs more teams like this.

Icelandic club Stjarnan FC gained worldwide exposure a few years back when their highly choreographed goal celebrations hit the web. It wasn't long until the extremely popular videos were shown on Sky's Soccer A.M. and BBC's Football Focus.
The club may have fallen out of the limelight in recent times, but the club is still playing in the Icelandic top-flight. Perhaps one day, the club could even perform one of their crazy celebrations in the Europa League or Champions League tournaments.
Robbie Fowler's Infamous Line Sniffing

The infamous sniffing the line goal celebration.

Once known as "God" by Liverpool supporters, Fowler scored 183 goals during his Liverpool career. He wasn't without his detractors, however.
Fowler's contributions and notoriety grew on and off the pitch, and this made him a target for the ire of opposition supporters. It was the supporters of Merseyside rivals Everton, that labeled Fowler as a drug abuser.
Their insults led to one of the most infamous goal celebrations of the Premier League era.
Di Canio Ingrains Himself into Football Lore

Di Canio makes an everlasting impression.

Loved by Lazio and West Ham supporters, loathed by Romanisti, Paolo Di Canio has long been a lightening rod for controversy.
Lazio has often been seen as a club favoring fascism, and it was Di Canio's fascist salute toward the Lazio supporters—following a goal against Roma in the derby—that ignited a storm of controversy.
Emmanuel Adebayor Celebrates Against Arsenal

The ex-Gunner mocks his former supporters.

In September 2009, Manchester City new-boy Emmanuel Adebayor, decided to celebrate his goal in front of the supporters. Unfortunately, the supporters he celebrated in front of were those of his former club, Arsenal.
The Togo international ran the length of the pitch to knee slide in front of a Gunners' supporters' section seething with hate.
Eric Hassli, One Goal, One Red Card

Hassli's double shirt celebration.

In the Vancouver Whitecaps' inaugural MLS season, no player was more dynamic than Frenchman Eric Hassli. However, the striker picked up three red cards in 26 appearances for the club.
Hassli saved his best red card for the Whitecaps' match against the New England Revolution, when he scored a penalty and removed his shirt, throwing it into the supporters' section. Underneath his shirt was a second top.
The red-card happy MLS referee, Baldomero Toledo, wasn't impressed by the Frenchman's antics. Hassli got his second yellow card of the night and his marching orders.
Keep Reading