Cleveland Browns Mock Draft: Michael Floyd and 9 Perfect Fits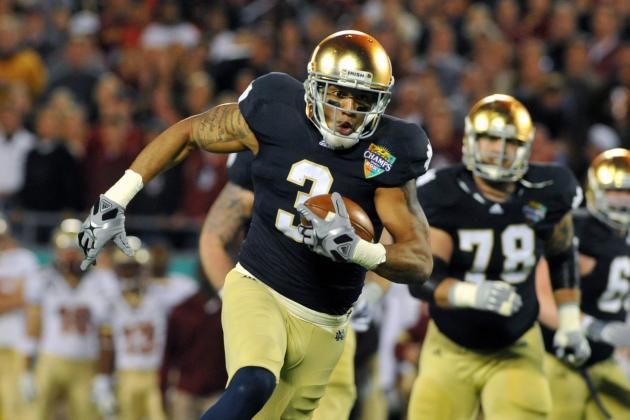 Al Messerschmidt/Getty Images

With Cleveland brass already saying that the franchise will be turning towards the draft to address their numerous issues, this upcoming draft is critical.
The Browns need everything from a backup QB to a defensive end that can put up better than second-string numbers as a season-long starter. This makes for a tall order come draft day due to the sheer volume of talent Cleveland management must not only bring in, but sign.
Although Cleveland is blessed with the gift of more draft picks than one may logically know what to do with, who the Browns decide to pick up is crucial to their success and the drafted player's success.
Begin Slideshow

»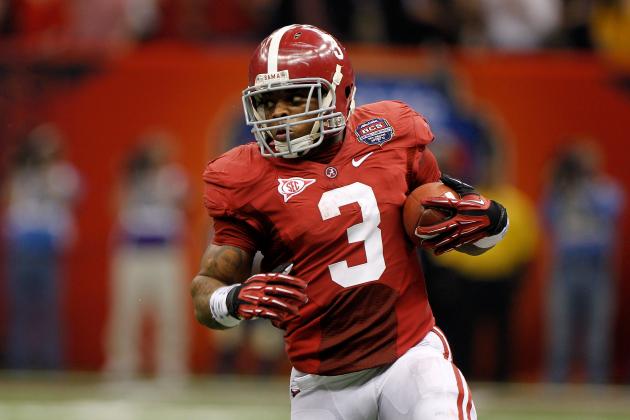 Chris Graythen/Getty Images

Trent Richardson making this list should not be surprising to anyone! With the Browns' holding the No. 4 overall pick, drafting T-Rich is common sense.
Since the departure of Peyton Hillis earlier this offseason, Cleveland has been left in a dire situation when it comes to who's going to be the premier ball carrier for the Browns this season.
Many would say it's going to be Chris Ogbonnaya, but that's an insane proposal to make with the opportunity of drafting such a talent knocking at your door.
If all goes according to the predictions—and not the ones that say the No. 4 pick will be for Blackmon or Claiborn—T-Rich will be a Brown, and he will be the starting ball carrier come the opening of training camp.
He has the hard-nosed, hit-first-talk-later running style that Cleveland offense loves and is used to, along with being a complete freak in regards to work ethic, training and pure ability.
Richardson will be handed the reins to the ground game if he comes to Cleveland. He would maintain the featured back title that he held at Alabama, along with having the luxury of nobody trying to change the way he plays. He would be a perfect fit and a perfect answer for Cleveland.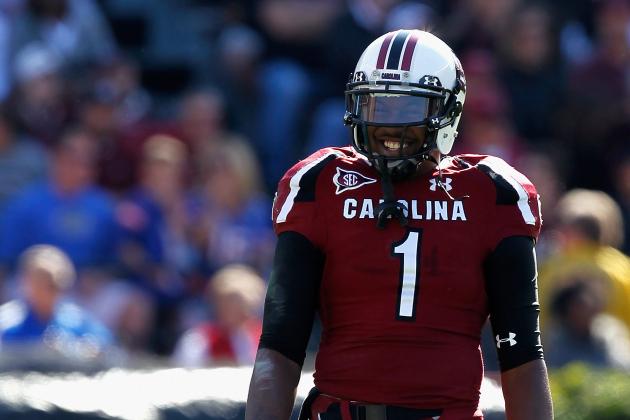 Streeter Lecka/Getty Images

In short, Cleveland needs a slot receiver, and Alshon Jeffery can deliver just that. The Biletnikoff finalist has made quite the name for himself these last two season, not only in Gamecocks land but around the nation and especially around draft day scouts.
During his time at South Carolina, Jeffery racked up 179 receptions for nearly 3,000 yards along with 22 touchdowns. That's more than the majority of Cleveland's wide receivers can say about the last three years of their careers.
Jeffery will be satisfying a very crucial role in the Cleveland offense. Not only will he provide a reliable set of hands in the slot, but he will foster competition among the existing wide receivers and push them to return to a caliber of play that could actually win the Browns some games.
Jeffery would fall right into place as a day-one starter and would no doubt help the Cleveland offense tremendously.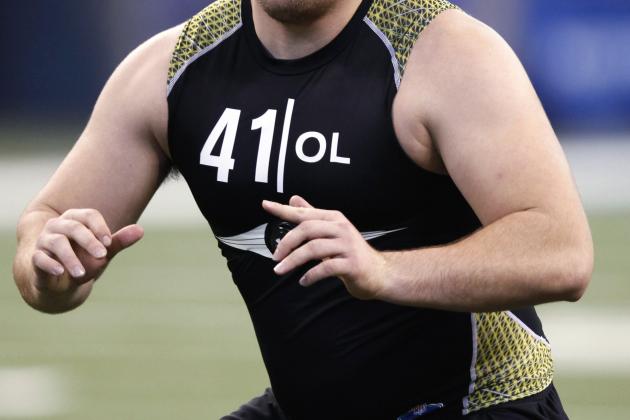 Joe Robbins/Getty Images

It goes without saying that the Browns need a tackle to couple Joe Thomas. The right side of the Cleveland offensive line was atrocious last season. The backs and McCoy were on the ground what seemed like every other play. Saying that this lack of talent hurt the offense would be a gross understatement.
Many would say they would rather have Matt Kalil, but it's common knowledge that Minnesota is going to take him away with the No. 3 pick. So if Cleveland chooses not to go with Richardson and goes with a tackle, Riley Reiff is their guy.
This 6'6", 300-lb Iowa boy would be a perfect and logical first step towards rebuilding the Cleveland O-line. He's big, strong and quick on his feet, with a football IQ that's off the charts. He would fall perfectly into place on the line and be a great contribution for years to come if he were to land in Cleveland.
I know that he's being scouted as a left tackle, but the questions that have surfaced about his lack of athleticism and questionable fitness—and the fact that Joe Thomas has the left tackle spot—makes me believe that he isn't quite cut out to be the blindside protector at the NFL level.
Putting him on the right side will give him time to develop and learn from one of the best tackles in the league. His quickness and strength would do wonders for the Browns next season, especially if they pick up a premier back or get some solid wide receivers.
The running lanes and extra seconds that would come along with improvement to the offensive line would be a first step on the long road to making Cleveland a postseason team.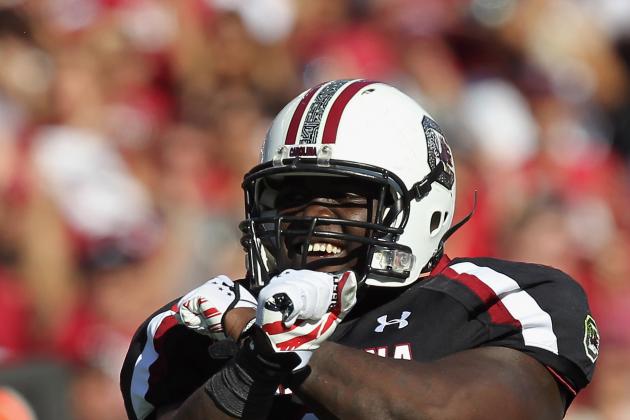 Streeter Lecka/Getty Images

In a nutshell, Jayme Mitchell sucked last season, and it's time for someone to take over for him. So why not give control to Melvin Ingram? Exactly—no answer.
Melvin Ingram is the perfect specimen for the Cleveland defense. His superb athleticism, speed, strength and agility along with pure talent make him a no-brainer if he were to be on the board when Cleveland starts thinking "defense" in the upcoming draft.
Ingram's 21.5 sacks and 111 total tackles should speak volumes for itself.
The only negative thing that could be said about this 6'1", 264-lb monster on his combine workouts was that it's unknown if his first step is quick enough to be a defensive end or if he's big enough to play...AT DEFENSIVE TACKLE.
So he won't be an interior lineman, but he very well could be a defensive end to replace Mitchell, or he could back up play outside linebacker.
Regardless of where he plays, he's going to thrive, but in Cleveland he'd be welcomed with open arms. He could be the key to turning around what was a spotty defensive front.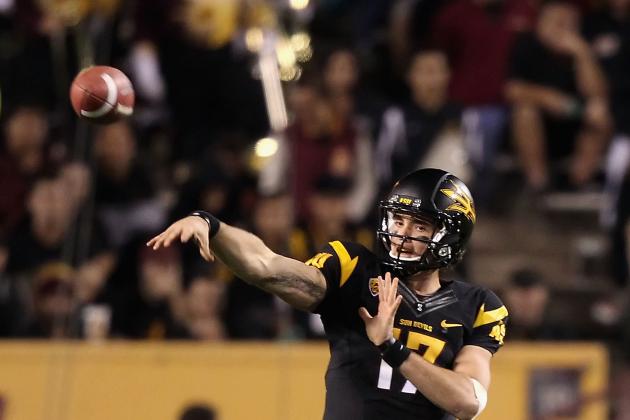 Christian Petersen/Getty Images

DISCLAIMER: This is not a pick suggested as a replacement for Colt McCoy.
Now that that's out of the way, Brock Osweiler will make a perfect backup for McCoy as he enters his last chance at becoming the franchise quarterback that Cleveland needs.
Osweiler is a big, mobile, strong-armed quarterback that will provide a lot of much needed competition for McCoy. The addition of Osweiler will also enable the Browns to finally cut loose the tumor that is Seneca Wallace and free up a lot of cap room in the process.
Osweiler, despite his 6'7" stature, is a natural at the position, with his quick release above average accuracy. He shows great on the field leadership and makes decisive decisions during a game but has a tendency to chuck the pig skin wherever he wants when things go for him. He also has trouble with turnovers.
This lack of maturity and polish could be easily remedied if he were to sit a few seasons on the bench and get acclimated to the next level of play. Cleveland also presents the notion that he could easily get play time if McCoy doesn't work out the way some hope, or if injury were to strike again.
Osweiler would fall in nicely as a competitor and understudy to McCoy. At the same time, he will be pruned to either be a successor or, if needed, a starter. Much could be gained from having this man on the roster.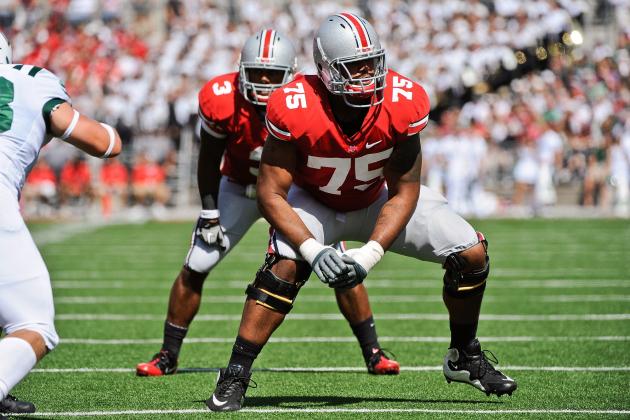 Jamie Sabau/Getty Images

As mentioned with Reiff, the Browns need offensive lineman. When it came to Reiff, though, we were dealing with a solid first-day pick that the Browns may or may not be able to draft. To make up for this, Mike Adams will surely be available much later in the draft than any other decent offensive lineman will be.
This is mostly going to be due to the fact that Adams had a horribly mediocre combine. He posted only 19 reps of 225 pounds in the bench press and fell somewhere in the middle of the pack for the rest of his measurable figures.
This lackluster performance has some upside, however:
1. He will be around for a day or two longer than any other solid offensive lineman will be.
2. He's a player that can be picked up cheaper than a Reiff or a Kalil but can also be worked out and moved around to the liking of the coaches and coordinators.
3. He's still 6'7", 323 pounds. That says a lot for what a tackle is capable of doing.
4. He'll be looking to prove that he can make it at the next level.
Setting the combine aside, Adams had an impressive career at Ohio State and doesn't deserve the bad rap that he's gotten since utterly collapsing at the combine.
He could be picked up and help improve a reeling offensive line in Cleveland that is in dire need of some size and skill. Conveniently enough, Adams has plenty of both.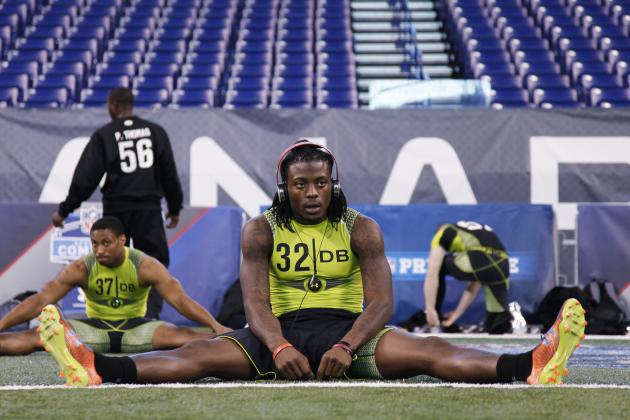 Joe Robbins/Getty Images

The Browns may already have Joe Haden, but that still leaves a whole other side of the field that needs to be covered. That's where Dre Kirkpatrick will come in.
Even though he stands at an above average 6'2", Kirkpatrick possess superb footwork and athleticism that beautifully compliment his obvious height.
Kirkpatrick's large gait and speed allow him to cover large expanses quickly and close the gap in less time and fewer strides than the majority of cornerbacks that are currently playing.
He also shows talent in both zone and man covering skills, a duality that makes him a juicy prospect right out of the gate.
There are questions about his smaller physique and even more questions about his lack of physicality, but that is not to be fretted over. It's been suggested before—and is a potentially lucrative proposal—that Kirkpatrick could easily be shifted over to assume the role as a safety. which would reduce the physicality of his position and reduce his liability in regards to tackling.
Conveniently enough, the Browns could use either another corner or a safety. Kirkpatrick would not go without a home in Cleveland.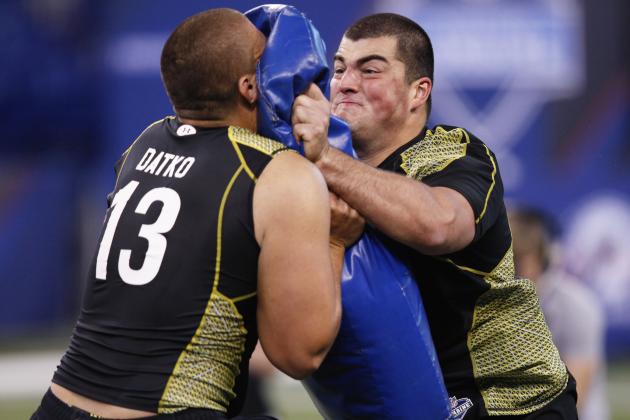 Joe Robbins/Getty Images
Who wouldn't want this guy on their team??
To continue with the mantra that Cleveland needs to improve their offensive line, I present David DeCastro.
You can have the best tackle in the world, but if you have a nobody at the guard position, then the tackle will be, at the most, ineffective. Opposing defenses will just simply blitz the responsibilities of the lame guard and ignore the stud tackle all together.
This is why Cleveland would benefit greatly from DeCastro's services. His almost mechanically precise offensive line play was a main cog in the offensive line that protected what is soon to be the No. 1 overall pick in this year's draft.
He's strong, a brilliant football mind and an incredible worker with near perfect footwork. He's everything that one could ask for in an offensive guard. And to top it all off, he's a perfect 6'5", 316 pounds. What more could you ask for?
In essence, if he's on the team, the team is significantly better than it was before he got there. And in Cleveland's case, he needs to get there quick!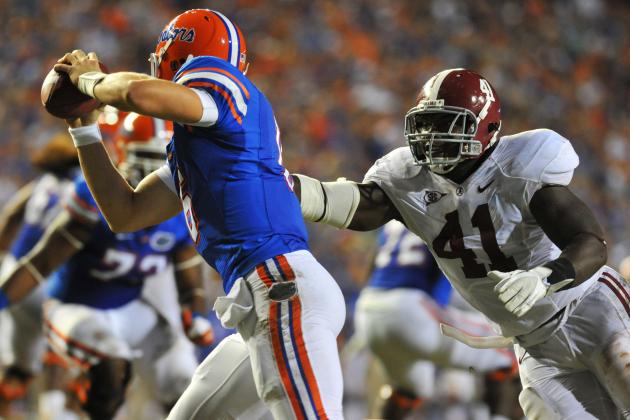 Al Messerschmidt/Getty Images

Alabama's Courtney Upshaw made this list primarily because Cleveland needs someone that can stop the run, and Upshaw is that someone.
Last season, Cleveland had the second worst run defense in the league. That's saying a lot because they also had the second best pass defense in the AFC, so it's clear what they need to improve on.
Upshaw has some faults with his footwork and speed along with having a little difficulty catching runners outside, but give him a few years next to D'Qwell Jackson and Scott Fujita and he'll be in tip-top shape.
Upshaw also comes with the innate ability to be able to overpower tackles, running backs, tight ends, anything, along with being very effective at shutting down tight ends through his coverage.
He may not come into Brown's camp and be a starter, but the hard work can only do him good and teach him valuable things he will need to learn before he can be an everyday starter at the NFL level.
Regardless of faults, Upshaw stops runs. The Cleveland Browns do not. Therefore, the Cleveland Browns need Courtney Upshaw.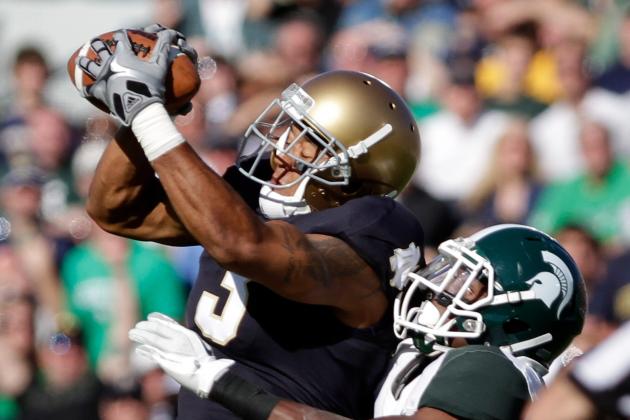 John Gress/Getty Images

Michel Floyd is arguably one of the top three receivers in this year's draft class. He is both a deep threat and a possession receiver.
He can block just as well as he can catch and is as reliable as clockwork in third-down situations. He's a big, physical and experienced receiver that will make an impact the second he puts on his new hat on draft day.
There is so much upside to Floyd that it is hard to pick a spot to start.
In short, Cleveland needs a reliable receiver that will not be afraid to go up against those stifling AFC North defenses. He will go across the middle and catch the ball, he will explode off the line and catch it at midfield and he will be in the end zone 50 yards away if that's where he's needed.
The abilities that Floyd has at his disposal should make McCoy get butterflies in his stomach. If Floyd were to become a Brown, McCoy would have a dependable receiver that he could send all over the field and be confident that the ball will safely land in Floyd's hands.
Aside from his potential with the passing game, Floyd is notorious for being an excellent blocker when it comes to the run game. He's one of the few receivers that are physical enough to move would-be-defenders out of the way in lineman fashion and is also known to lay very effective cracks on unsuspecting linebackers.
These running bonuses will lend to the running game, just as much as Floyd gives to the passing game. The running lanes will be wider, and the back will have a mobile blocker that can keep pace with him while at the same time still having the ability to lay effective blocks.
Micheal Floyd is the complete package. He's everything the Browns want and need and will be a perfect fit if he lands in Cleveland. He'll start from day one and will be making headlines the whole time.