Manchester United: Can Fabio Become the Long-Term Solution at Left-Back?
April 18, 2012

Mike Hewitt/Getty Images
Sir Alex Ferguson confirmed Fabio da Silva will spend next season on loan, and this could be the perfect move for the player to stake his claim for a spot with Manchester United.
Reports have linked Fabio with a season-long loan to Benfica as part of a deal to bring Nicolás Gaitán to Old Trafford. The obvious question still remains if Fabio can establish himself as the first-choice left-back when he returns.
While Rafael appears to be the current first-choice right-back for United, Fabio has not benefited from the same fortune as his twin brother since they moved to Old Trafford in 2008. It is not necessarily that Rafael is superior to his brother, but rather that he was fortuitous to be in the right place at the right time.
The twins arrived in Manchester just as Patrice Evra was establishing himself as one of the world's elite left-backs, while long-serving right-back Gary Neville was coming to the conclusion of an illustrious career with United.
As a right-back, Rafael was provided with opportunities soon after his arrival in England, as Sir Alex prepared for life after Neville. Meanwhile, Fabio found chances limited at the left-back position as Evra became an ever-present member of the team. In fact, Evra has since led the the squad in appearances for three consecutive seasons now.
However, Evra's dominance at the left-back position has shown signs of diminishing this season as he struggles to replicate his outstanding form of recent seasons. Now into his 30s and approaching the twilight of his career, United must look toward the future and evaluate how to replace their aging star.
At the conclusion of last season, Fabio appeared to be the obvious choice as the long-term replacement for Evra. With Rafael sidelined with injury for the final stretch of last season, Fabio filled in at right-back, proving to be a highly capable full-back. So impressive were his performances that he earned himself a spot in the team against Barcelona for the 2011 Champions League Final.
How did such a promising run of form decline so rapidly that just a year later Fabio is being sent on loan to gain first-team experience? An unfortunate series of injuries, the continued reliance on Evra and the reemergence of his brother Rafael at right-back have all had an unfortunate impact on Fabio's first-team chances this season.
Fortunately for Fabio, time is still very much on his side. The twins have been around for so long that it seems they are older than the actually are, but the inseparable duo will only be 22 years old in July. Unfortunately, separation may be what is best for Fabio's development and his long-term future at Old Trafford.
Everything seems to be in Fabio's favor for establishing himself as a future regular for United. Although Rafael has become an important member of the squad, Fabio was actually considered by some to be the superior player when they arrived. If he can just reach the same level as his brother, let alone surpass it, the future is certainly bright for Fabio.
In his youth, Fabio captained Brazil at the 2007 FIFA U-17 World Cup and was the team's joint-leading goalscorer with two goals. He has since made his debut for Brazil at the senior level, featuring against Mexico in a 1-0 victory. Such experience representing one of the world's most dominant footballing nations should never be underestimated.
Since joining United, Fabio has shown himself to be a capable full-back, albeit reckless at times. As with most young defenders, his composure will likely improve with age and first-team experience. His apparent lack of fear to put his body on the line for his team, while admirable, is likely the cause of his ongoing injury struggles, and hopefully he can adjust his game to avoid further injuries.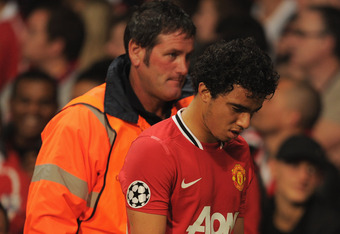 Michael Regan/Getty Images
Perhaps his greatest asset, Fabio offers a fantastic attacking option as a full-back, a characteristic that United supporters have long admired in Evra and more recently Rafael. In fact, should a future in defense not pan out, Fabio's future could arguably be as a winger given his impressive attacking ability and flair. Fabio scored twice last season for United while playing as a winger, against Arsenal and Wigan.
While a future in midfield remains a possibility, Fabio has demonstrated strong defensive attributes as well. Although not as defensively assured and reliable as his brother, Fabio has also not had the benefit of the wealth of experience Rafael has. Fabio is exceptionally quick, which is a valuable asset when marking against the pacy attacking talents of the Premier League.
His marking has continued to shows signs of improvement while in the first team, and regular opportunities on loan next season would be invaluable to further developing these crucial defensive attributes.
Rumors linking Fabio with Benfica have been confirmed by his agent and are certainly reason for excitement. Regular games at a strong European side such as Benfica could be immensely beneficial to the player. Reports indicate that Fabio would likely be the first-choice left-back for Benfica, as it is a position the club have struggled with this season.
Of course, there is the concern that a bad loan spell could have a devastating impact on a young player's development, something United supporters have witnessed with Federico Macheda. However, if Fabio does indeed establish himself as the first-choice left-back for Benfica and remains fit, the reward of his growth as a player could be massive.
Plenty remains to be seen if Fabio can indeed become United's long-term solution at left-back, and after some tough seasons at Old Trafford, a possible move to Benfica seems the ideal scenario to take Fabio to the next level and allow him to push for a spot in the United first team.
Fabio certainly seems to possess all the natural ability to become a top player, and it is now his responsibility to make sure he fulfills his potential. United have provided him with the optimal opportunity, and if he makes the most of his time away from Old Trafford, there is no reason he couldn't return to claim the left-back position as his own.