NHL Playoffs 2012: 10 Scoring Lines That Will Be Looked at to Pick Things Up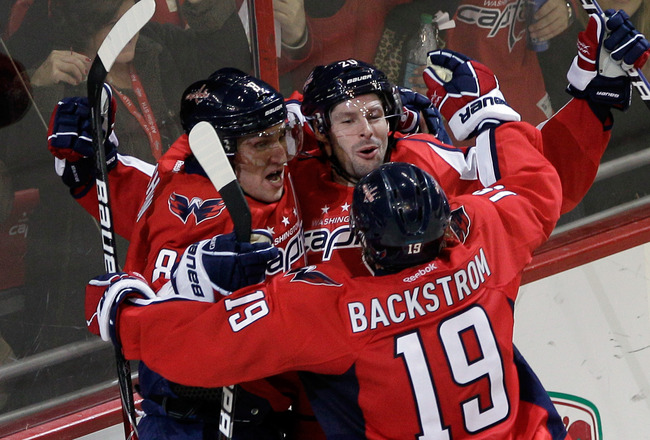 Rob Carr/Getty Images
Today's NHL is full of talent, possibly more than ever.
In the past, there were players that played well without much skating ability, strength or skill. These days, it is basically a prerequisite to be fast, strong, and skilled if you're going to stick around and help your team win.
But with such talent everywhere in the league, talent alone no longer means very much.
Because there were those aforementioned not-so-talented players in league's past, the most talented players were able to dominate at will. If a line like the San Jose Sharks "team Canada" line of 2010 (Joe Thornton, Patrick Marleau, Dany Heatley) played 25 years ago, they'd have not only put up awesome numbers, they'd have carried their team to the Stanley Cup.
In reality, the line was broken up the next season. This year, uber-talented lines around the league such as Anaheim's Corey Perry, Ryan Getzlaf and Bobby Ryan line or Tampa Bay's top group of Steven Stamkos, Martin St. Louis and Teddy Purcell couldn't even carry their teams to the postseason.
Because there is talent everywhere these days, winning requires much more than, well, just talent. A player, line or team needs to be smart, committed to the system, willing to give 100 percent on every shift and most of all, mentally strong enough to fight through cold streaks. Because everyone goes through bad ones in today's game.
The Stanley Cup Playoffs are the best professional sports tournament in the United States, if not the world. One of the biggest reasons for this is that talent doesn't determine who comes out on top. Well, with one caveat—when the most talented players play the most determined hockey of their lives, their teams win.
Here's a look at 10 lines around the league that have the ability to dominate but need to turn up their desperation and commitment meters in order to do so this postseason.
Brandon Dubinsky, Brian Boyle and Ruslan Fedotenko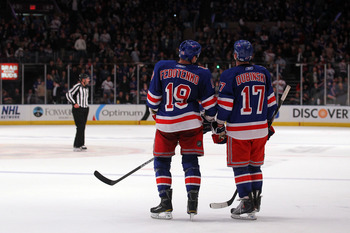 Bruce Bennett/Getty Images
The New York Rangers have won all year with defense. Don't get me wrong, they also score 2.71 goals per game, which is good for 11th in the NHL.
The problem is that they want to win the Stanley Cup, and the other contenders in their conference (Pittsburgh, Boston and Philadelphia) all average at least 3.17 goals per contest. Other top contenders such as Vancouver, Detroit and Nashville also outscore the Rangers considerably.
The Rangers also have gotten a higher percentage of their goals from their top scorer, Marion Gaborik, than any other Cup contender. Boston, Pittsburgh and Philadelphia have equally if not more potent top lines, followed by scoring line after scoring line.
The Rangers third line, by contrast, has been anemic offensively. Brandon Dubinsky, Brian Boyle and Ruslan Fedotenko don't look to be much of a match for, say, Matt Cooke, Jordan Staal and Tyler Kennedy or Maxime Talbot, Sean Couturier and Jakub Voracek.
That being said, the Rangers third line is capable of being one of the best in the playoffs. All three of them scored less goals this year than last, with Dubinsky and Fedotenko setting career lows.
That may not mean anything or may simply be a bad thing. However, Dubinsky and Boyle had career years last season and are young enough to still live up to that potential.
Fedotenko was a major factor during the Stanley Cup run for the 2004 Lightning and 2009 Penguins, scoring 12 and seven goals during those respective postseasons.
If everything goes right, this could end up being "that line" this postseason, and the Rangers could ultimately win the Cup with their help. If these three continue to underachieve, whether they're together or broken up, New York won't have the offensive depth to beat the league's elite teams.
Ryane Clowe, Logan Couture and Martin Havlat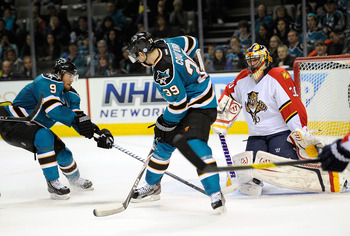 Thearon W. Henderson/Getty Images
Conventional wisdom says that a team needs three scoring lines to go the distance in the Stanley Cup Playoffs. Top lines tend to get checked very tightly, and unexpected, ugly goals from guys outside the top six are often the difference in a series.
San Jose has a less offensively-potent third line than they've had in some time and because of that don't appear to be the Cup contender they usually are. However, there are two factors that could counteract this shortcoming.
First, is that "unexpected, ugly" goal that often comes from unexpected (not necessarily ugly) sources. So while no one in the Sharks bottom six has double-digit goal totals this season, guys like Daniel Winnik, Torrey Mitchell, Dominic Moore, Tommy Wingels and Andrew Desjardins do have the motor and focus to score some big goals.
Second, and more important factor that conventional wisdom doesn't account for is just how good a team's top six is. And truth be told, there may not be a second line in the NHL as good on paper as Ryane Clowe, Logan Couture and Martin Havlat.
Clowe is an elite power forward who can score goals, handle, hold onto and pass the puck, defend, get fired up, get physical and get mean.
Couture is an explosive young center who can score in a variety of ways, win faceoffs, wreak havoc on the forecheck and get on his horse defensively.
Havlat is a veteran winger who is incredibly creative with the puck and without it. He is an incredible set-up man and can finish equally well. He's smart and has tremendous speed.
That's all on paper. The reality has been something different this season.
Clowe has had the worst season of his career and until recently hasn't even been nasty.
Couture has continued to light the lamp and dominate offensively, but his defensive game has suffered during his sophomore season, and he's proven to not be above disappearing.
Havlat has been awesome in his 13 games since returning from injury, but it remains to be seen if he'll be better or even as good as Devin Setoguchi was last season.
If San Jose's second line play's to its potential (the first line must as well, but is also much more likely to), the Sharks could go back to the Conference Finals, if not all the way to the Cup Championship. If they play below their potential (i.e. about as good as most second lines around the league), the Sharks won't escape round one.
Jeff Carter, Mike Richards and Dwight King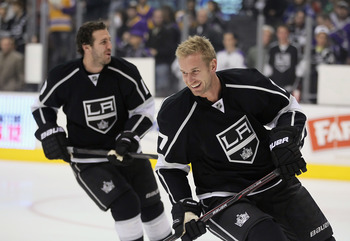 Jeff Gross/Getty Images
The Los Angeles Kings have made two enormous acquisitions at forward since the end of last season.
Over the summer, they moved Wayne Simmonds and Brayden Schenn to Philadelphia for Mike Richards. After the trade didn't help the offense at all through over four months, the Kings sent Jack Johnson to Columbus for Richards' former mate Jeff Carter.
Both men have had their worst season since 2006-07, and the Kings go into the playoffs still looking offensively impotent. Meanwhile, Simmonds has put up more goals and points than Richards this year, while Johnson has, amazingly, put up more points than Carter.
Simmonds production is especially disturbing because it reveals a scary truth for L.A.—putting up offensive numbers as a Philadelphia Flyer is relatively easy.
If the Flyers offensive approach and pace is heavily responsible for the 30 G, 60 P seasons that Richards and Carter routinely put up there, then they have severely harmed their franchise moving forward.
Of course, no system or pace makes scoring a point per game (as they each did in 2008-09) easy, and the fact that they played on the same line back then means that the chemistry is certainly there.
The Kings top line is strong with Dustin Brown, Anze Kopitar and Justin Williams. Their defense and goaltending is excellent.
But for their defensively weak and offensively underachieving second line to not get absolutely dominated by Vancouver's Mason Raymond, Ryan Kesler and David Booth line, they need the former captain Richards and former 46-goal scorer Carter to play the series of their lives.
Tomas Fleischmann, Stephen Weiss and Kris Versteeg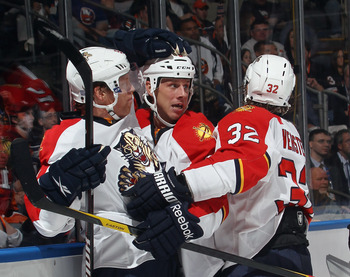 Bruce Bennett/Getty Images
Poor Florida. The Panthers have their best season in over a decade, beat out the Capitals for the Southeast Division title and are rewarded by absolutely no one picking them to win a playoff series, despite them being the No. 3 seed.
Well, they did only win 38 games, while the No. 6 seeded Devils won 48. They also are a mere one game above .500 at home, negating their home-ice advantage (especially because the Devils are the league's fifth best road team). They were also outscored by 24 goals this season.
So, like about everyone else, I too am picking the Devils to beat the Panthers handily. However, Florida does have a chance to make it a series. They were 2-1-1 against New Jersey this season, and they have a top line that can get very hot.
In order for the Panthers to compete in this series, Tomas Fleischmann, Stephen Weiss and Kris Versteeg need to be the league-busters they were early this season.
Before the new year, these three combined for 105 points and a plus-38 rating in 39 games. During the final 43 games, they combined for only 65 points and a minus-40 rating.
What was considered the hottest line in the NHL early on, now looks like the least effective top line in the postseason. But these guys have also shown an ability to feed off of each other, share the puck and play as a three-man unit (when they are all clicking) like few others combinations.
If these guys don't regain their first-half form, the Panthers could be swept. If they do, things might get interesting.
Alexander Steen, Patrik Berglund and Chris Stewart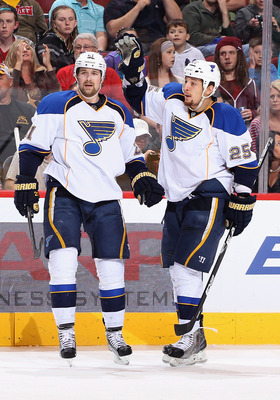 Christian Petersen/Getty Images
Ken Hitchcock's system, lineup management and leadership have made him the deserving front-runner for this year's Jack Adams Award.
However, while his team dominated the regular season, he will need to change one key element of his approach during the playoffs—line juggling.
The Blues have one of the deepest and most versatile collections of forwards in the league. Most of them can score and create, while all of them can skate and defend. This allows Hitchcock to change his lineups almost nightly, creating the toughest four lines for each given opponent while maintaining balance top to bottom.
The playoffs don't work that way. You play the same team every night until someone reaches four wins, which can take what feels to fans and players like an eternity. As a series gets longer, the games get tighter, and this means that lines must play with a level of familiarity, savvy and cohesion never experienced during the regular season.
For this reason, Hitchcock must stick to four lines as strictly as possible for as long as possible this postseason. His top line will likely be David Perron, David Backes and T.J. Oshie.
After that, Hitchcock would be wise to pair Steen, Berglund and Stewart together. Berglund is a defensively-minded center who can create turnovers and handle faceoff duties despite being below 50 percent. Steen is a perfect compliment—a winger who holds onto the puck, scores a lot (15 G in 43 games) and can step in and win faceoffs (55.8 percent).
The wildcard is Chris Stewart. After scoring 15 goals in just 26 games with the Blues last season, Stewart only scored 15 times total this season. He also gave the puck away more than any other forward, and his plus-one rating was worst among forwards on the top three lines. This would be OK if he was the dangerous, aggressive sniper the team wants him to be.
And that's exactly what this line would need out of Stewart. With a great top line and two awesome checking lines, this line would need to be the Blues quick-strike line. That will only be possible if Stewart gets his game going offensively and, even more importantly, if Hitchcock keeps them together.
Petr Sykora, Patrik Elias and Dainius Zubrus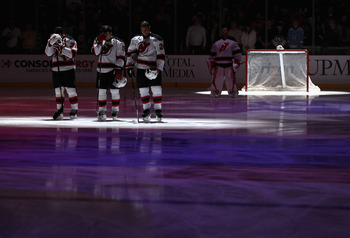 Christian Petersen/Getty Images
The New Jersey Devils can escape the first round relatively easily. Their road record (24-15-2) is better than Florida's home record (21-9-11). That should negate Florida's home-ice advantage, and New Jersey is certainly a better home team (41-13-4) than the Panthers are a road team (17-17-7).
To win that series, all the Devils will need is their top guys to carry them offensively and their stellar defense and penalty kill to do its thing.
But if the Devils want to beat the Rangers in round two, they better not rely on Ilya Kovalchuk and Zach Parise to do everything. They also can't rely on their awesome third line of David Clarkson, Adam Henrique and Alexei Ponikarovsky to be as good as they were during the regular season.
What they can and need to rely on is their experienced second line stepping up.
Zubrus, Sykora and Elias are a combined 103 years old. They also have a combined 46 seasons of NHL experience and 321 playoff games under their belt. Sykora and Elias won the Cup as linemates in 2000, while Elias won a second Cup in 2003.
Make no mistake about it, everyone will be looking to this line, along with Marty Brodeur, for leadership as the Devils move deeper into the playoffs. And in what will be a defensively dominated series versus the Rangers (if that series in fact happens), this line will need to step up to a level they haven't been at all season.
Sergei Kostitsyn, Mike Fisher and Martin Erat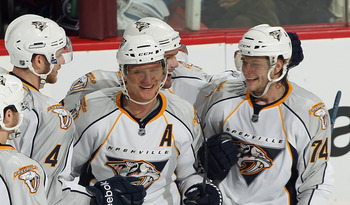 Doug Pensinger/Getty Images
It seems as though all of a sudden, the Nashville Predators have become the sexy pick to win this year's Stanley Cup.
Many think they will upset Vancouver and St. Louis, while I haven't seen a single person yet pick the Red Wings to beat them.
While the Predator-love that's going around makes sense—they have the best defensive trio in the league with Weber, Suter and Rinne, with the offensive depth and deadly power play to back it up—people may be jumping the gun on this team.
Last year, Nashville had the same awesome defensive trio, and they had excellent forward depth. For those two reasons, they beat the Anaheim Ducks in round one and played the Canucks hard in round two. They ultimately lost because they lacked a top line to match Vancouver's.
This year, they are hoping for several new Joel Ward-like players (their offensive star last postseason) to emerge and for their defense to be even better with Hal Gill. This very well may happen, but they also aren't playing the Anaheim Ducks in round one.
They are playing the Red Wings. The Wings are one of the only teams in the league that has the top-end defensemen (Nick Lidstrom, Nik Kronwall) and forward depth to match Nashville. Nashville's only edge comes in net, but Detroit has the biggest edge of all—top six.
Sergei Kostitsyn, Mike Fisher and Martin Erat are good players, so good that one of them could crack Detroit's top six. But for Nashville to beat Detroit in a playoff series, these three will all need to play up to the levels of Pavel Datyuk, Johan Franzen and Todd Bertuzzi.
Detroit has disposed of a similar team the past couple of seasons—the Phoenix Coyotes. While the Yotes had depth, defense and a star goalie, the Wings talent up front overwhelmed them. For Nashville to not be this year's Phoenix, the Preds' top line must step up in a big way.
Jason Chimera, Mathieu Perreault and Alexander Semin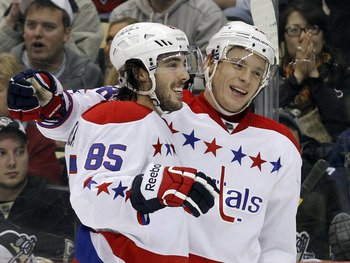 Justin K. Aller/Getty Images
Alex Ovechkin is the NHL's most scrutinized player, and he probably deserves it. The man has failed to reach 40 goals in two straight seasons after averaging 54 during his first five seasons. He is also the captain of a team that routinely dominates the regular season and exits the playoffs early.
What are some facts that people fail to realize? For starters, despite his drop-off in scoring, Ovechkin is still the NHL's second best goal scorer over the past three seasons.
More importantly, the man is arguably the best postseason performer in the NHL not named Sidney Crosby.
In 37 career playoff games, Ovi has 50 points. That points/game ratio (1.35) is better than his regular season ratio (1.22). His 25 goals in those 37 games give him .68 goals/game, whereas he scores .61 G/G during the regular season.
Every time he's been in the postseason, Alex Ovechkin has led the Capitals in scoring. So while his name, fame and skill creates very lofty expectations, Ovechkin has, amazingly, met them.
If Washington exits early again, Ovi will again get the blame. But the fact is that Washington's playoff fate will be determined by other players stepping up or fading away.
The Caps second line is a pretty solid defensive line with a good blend of experience and youth. But the Boston Bruins can form a better defensive line in their sleep, which means that for Washington to compete in round one, these guys need to break out offensively.
Alex Semin, a player who utilizes his skill far less effectively than Ovechkin, needs to regain his scoring touch. Jason Chimera needs to ride the momentum of his career year offensively and have his best postseason ever. Mathieu Perreault has never been in the postseason and better learn very fast if he is to keep up with Patrice Bergeron or David Krejci.
Daniel Alfredsson, Kyle Turris and Nick Foligno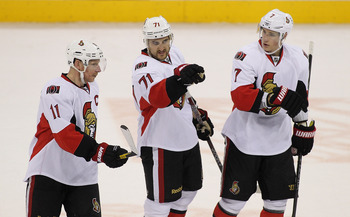 Marianne Helm/Getty Images
The Senators had a ton of success early in the season with their Alfredsson, Spezza and Michalek line. As the season wore on and the games got tighter, the Senators had to spread out their scoring.
The team's play has also slowed down considerably, and the Senators have fallen from a sixth seed looking to take advantage of the Panthers to the eighth seed looking to be shut down by New York.
In order for the Senators to give the Rangers a fight, they'll need their top six to be the strength of their team. Erik Karlsson will be challenged by New York's defensively astute forwards, and Ottawa's power play will be met with one of the league's best penalty kills.
Even if the top line produces a little, it won't be enough to carry them past New York—a team with multiple scoring lines and an uncanny ability to close out games.
That's why it will be up to Ottawa's 39-year-old captain to play like he did in 2007 (14 G, 22 P during a Stanley Cup Finals run). Daniel Alfredsson will also be responsible with elevating the play of Kyle Turris and Nick Foligno, who have never won a playoff series and only scored three combined goals in 14 combined playoff games.
Even then, the Rangers will likely win the series, but without multiple lines clicking, Lundqvist will likely sweep Ottawa away.
Viktor Stalberg, Jonathan Toews and Patrick Kane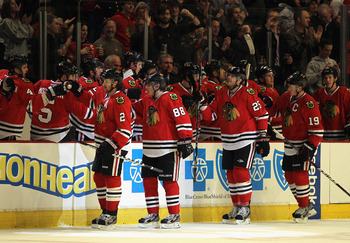 Jonathan Daniel/Getty Images
The Blackhawks have been one of the most active teams in the NHL during each of the past two offseasons.
After winning the Stanley Cup, Chicago found themselves in Salary Cap jail and were forced to give up several key pieces. After the loss of depth and defense led to huge regression last season, Chicago spent this past offseason trying to mend their roster.
The results were marginal. The Hawks won one more game and finished with four more points, while scoring 10 less goals and allowing 13 more. They jumped from the No. 8 seed last year to No. 6 this year.
But when you look at the fact that Jonathan Toews played in only 59 games, things change a little bit.
Toews is not Sidney Crosby, but a healthy Toews is as important to Chicago as a player in the NHL can be to a team. Toews won the Conn Smythe Trophy during the Hawks Cup run in 2010, has 46 points in 46 career playoff games and is the best centerman in the league outside of Pittsburgh.
Most importantly, he's the most important factor in determining Chicago's immediate playoff fate. If Toews, who's missed 22 straight games since suffering a concussion on February 19, cannot return before or very early in the Blackhawks first round series against Phoenix, there won't be a second round for Chicago.
The Yotes have better forward depth, better defense, better coaching, far superior goaltending and home-ice advantage. The one thing Chicago has that Phoenix severely lacks is star power.
But even amazing wingers like Marian Hossa, Patrick Kane and Patrick Sharp can be contained by a tight-checking team in the playoffs. Chicago needs their captain in the middle wreaking havoc on both ends and winning faceoffs like no other (literally) to overwhelm the Coyotes, much like Pavel Datsyuk did last year and the year before.
Keep Reading