Five Things to Take Away from Rangers' Opening Weekend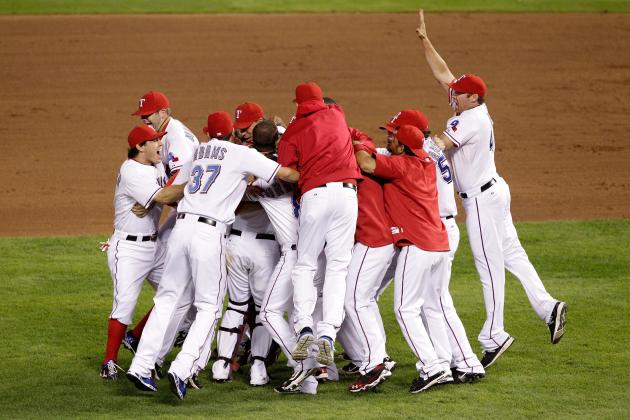 Bob Levey/Getty Images
Texas got off to a good start in defending their AL Pennant, taking two out of three from the White Sox.
No question, it's way too early in the new baseball season to make any assumptions about any team.
But one team that will have the national microscope around them this year, are the two-time defending American League Champions, the Texas Rangers.
Texas took two out of three over the weekend from the Chicago White Sox and their new manager Robin Ventura, as they begin their quest for a third straight trip to the World Series, hopefully bringing home that other trophy that eluded their grasps last season.
For a 162-game season, the opening three-game stretch for almost all teams doesn't mean anything except to signify the beginning of a new season. But to most people, these early games might signify something out of the ordinary that needs to be changed.
Behind great pitching, defense and offense once again showing up when needed, the Rangers are off to a good start, but the bigger questions for this team haven't even come up yet. Those will be answered this week when Neftali Feliz and Yu Darvish take the mound as starters for the first time in Texas.
But as we close out this chapter of opening weekend in Major League Baseball, here are five things that stood out from the back-to-back AL Champs from their first three games.
Begin Slideshow

»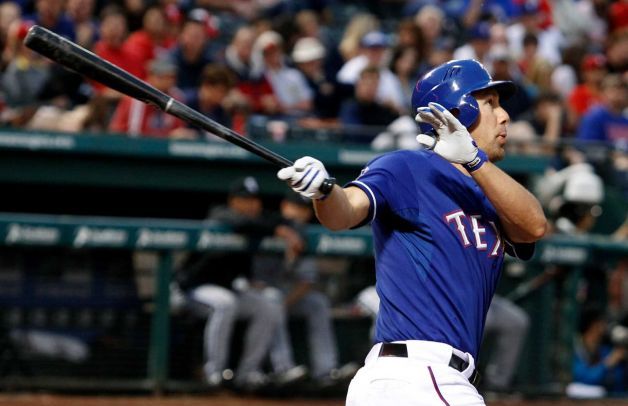 He's finally getting a chance to be an everyday outfielder, and David Murphy's performance over the weekend showed why he's going to be an even more valuable asset to Texas this season.
In the three games, Murphy was one of the main catalysts in the offense, going 5-for-9, batting .556 and hit a homerun on Sunday night when the lights were on bright.
Murphy isn't going to give you two hits a night like he did twice this weekend, but if he can play more than 120 games that he played last year, then the No. 7 spot in the lineup for Texas could be very scary to opposing pitchers. He can hit over .300 this year if he stays healthy.
That homerun wasn't a mirage, either. Murphy can turn on the power when he gets the chance and he can hit for contact with the best of them. He has a shot to set a career high in homers and RBIs this year, especially if the middle of the lineup can produce the way they're capable of.
More pitchers will force errors just by pitching to him then errors he will commit himself.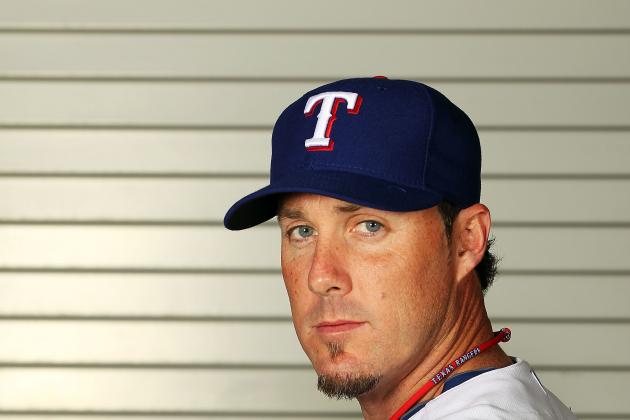 Jamie Squire/Getty Images

Talk about a tough job: taking over as closer for a team who has had one of the best closers in the game for the last couple of years.
But who better to take over that role than a trusted veteran in Joe Nathan?
The long-time closer for the Minnesota Twins got off to a hot start in his Rangers debut on Friday, putting down three straight batters in getting his first save. The next night, however, Nathan was bettered by his former AL Central rivals when Alex Rios hit the go-ahead homer in the ninth to give the Sox the win.
There's a lot of speculation as to how Nathan will do this year, especially coming back from Tommy John surgery last year and being replaced by Matt Capps in Minnesota. He looked good on Friday and he made a mistake he shouldn't have made on Saturday, but he should fit in nicely as being the shut-down man for a perennial contender.
Hopefully he won't make any more mistakes come October.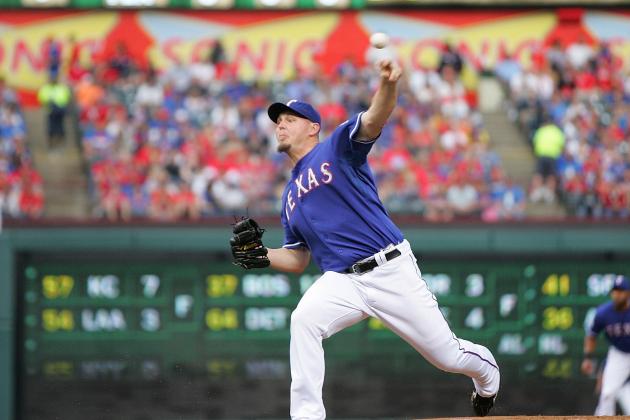 Rick Yeatts/Getty Images

If there were ever a time for Matt Harrison to show he can withstand some sort of pressure, it would've been Game 7 of the World Series last year.
Now, with C.J. Wilson gone west to Los Angeles, Harrison moves one spot up in the rotation and has to show the Rangers that he can do it consistently.
The left-hander got off to a good start on Sunday, pitching a shutout through six innings and struck out three batters in getting the win. Hopefully this is a sign of things to come, and not a showing of inconsistency that bounces himself and Alexi Ogando in and out of the rotation.
No matter where you put Ogando on the roster, most people are going to be happy with his production and I don't think Ron Washington will have a problem putting Harrison back in the pen the minute he begins to show inconsistency by mid-season.
He probably won't take the mound again until the Rangers play the Twins on Friday, which will be a good chance to show if he can control a good offense for a good number of innings.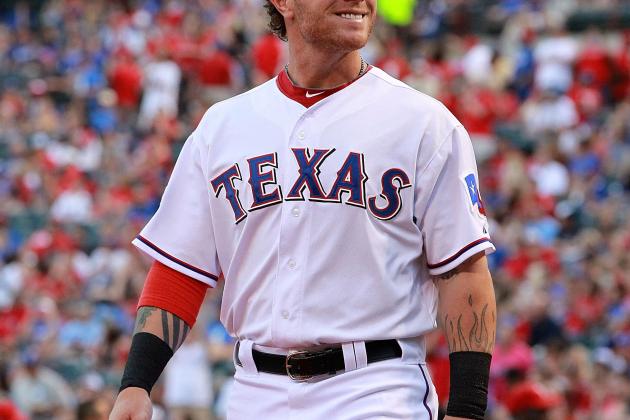 Ronald Martinez/Getty Images

As the ball traveled 441 feet to right-center field on Sunday night, Josh Hamilton showed that the lack of talks regarding a new contract aren't distracting him ... at least at the current point in time.
It goes without saying that a healthy Hamilton is an MVP-caliber player who can strike fear into the hearts of many opposing pitchers. As long as he can stop swinging at the first pitch, like most said he was working on, "Hambone" will have a big-time year.
Of course, by the time June or July rolls around and if Hamilton keeps a great production going, he'll be asked constantly about a new contract. It doesn't help your chances if you say that you don't owe the organization that turned your life around for the better anything, but Josh is a major key if the Rangers want to do anything.
It also doesn't help your confidence if Jon Daniels and Nolan Ryan want to make Ian Kinsler the highest-paid second baseman in the game, while you look for money. But if he keeps playing the game he can play, and stay healthy, then he'll be in the running for another MVP trophy.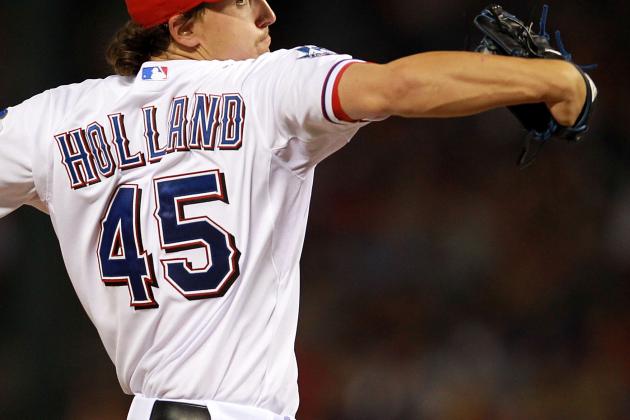 Ronald Martinez/Getty Images

The sky seems to be falling if the Rangers aren't scoring 20 or more runs in a three-game stretch.
But thanks to great production by Colby Lewis, Derek Holland and Harrison, Texas showed once again that their pitching is just as dangerous as their offense.
Lewis always seems to pitch well in games when people take notice, and he did it again on Friday where he allowed only two runs through six innings and struck out nine, and produced a plethora of easy fly balls to be caught. Holland, the guy who's making the mustache look cool, gave up three runs and had trouble in command with three walks, but struck out five in his first game since beecoming a rich man.
Seeing what the first three starters did, the anxiety for what awaits Darvish and Feliz these next two days is going to be through the roof in how Mike and Greg Maddux have worked with those two over the spring.
As long as the music guy doesn't play Soulja Boy when Darvish comes to the mound tomorrow, all will be well.