2012 NFL Draft: Latest 7-Round Vikings Mock Draft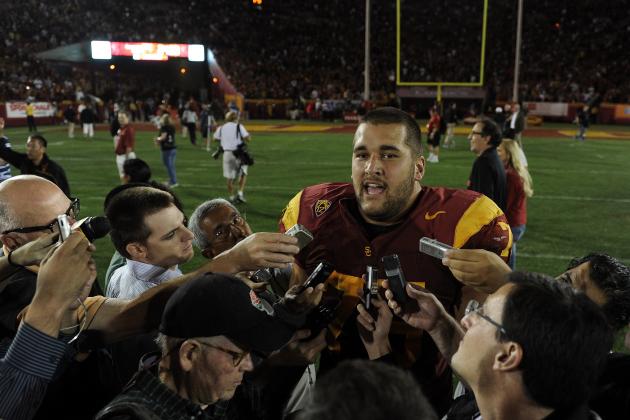 Harry How/Getty Images

The Minnesota Vikings are coming off one of their worst seasons in franchise history. With a 3-13 record, the Vikings will have the privilege to select third in the 2012 NFL Draft.
With the first and second picks in the draft already known, the Vikings will have an option of choosing between anyone not named Andrew Luck or Robert Griffin III.
The Vikings also received two fourth-rounders in compensation for losing wide receiver Sidney Rice and defensive end Ray Edwards to free agency last offseason. This will give Minnesota two extra spots where they can select players to fill remaining holes on their team.
Minnesota has made some signings in the offseason, and although they were not big splash signings, they will definitely alter the way the team goes about their decisions in the draft.
Here is an updated seven-round mock draft for the Minnesota Vikings.
Begin Slideshow

»
Joe Robbins/Getty Images

Unless pigs learn to fly by April 26, don't expect the Vikings to select anyone not named Matt Kalil.
Kalil is a no-brainer for the Vikings. Success in football starts from the line play, both on the offensive and defensive sides—just look at how far that took the New York Giants this year.
The Vikings have invested too much into Christian Ponder to allow him to get blindsided by defensive ends every other time he steps back for a pass. The holes need to open up as well for the running game—especially with Adrian Peterson coming off of an injury.
One offensive lineman can change the whole offensive line. With the signing of offensive lineman Geoff Schwartz, the Vikings have already took the steps to sure their line up.
The addition of Kalil will give the Vikings something they did not have last season—an elite offensive line. Kalil will make sure the Vikes' offensive line is solid for the next 10 years. This pick is a no-brainer.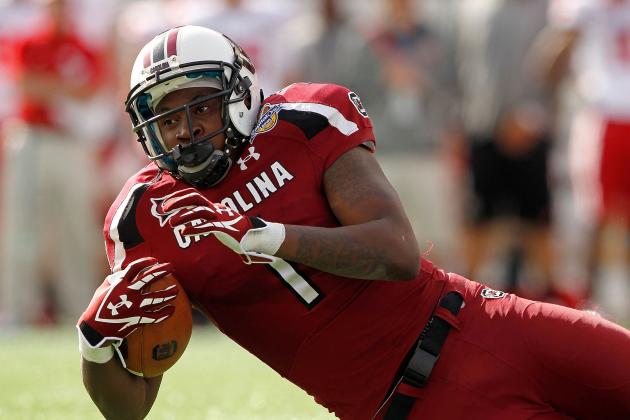 Mike Ehrmann/Getty Images

There has been much debate between Vikings fans on whether or not the team should use their 35th overall pick on a wide receiver or cornerback. Considering the Vikes have signed two solid free-agent cornerbacks in Zach Bowman and Cris Carr, choosing a cornerback here would be outrageous.
Not only has the team signed two cornerbacks, but they will welcome back their second-round pick from 2010—Chris Cook.
The Vikings will likely use this pick on a wide receiver because of how lackluster their current group is. The Vikes will likely choose from Reuben Randle out of LSU and Alshon Jeffery out of South Carolina.
Expect the Vikes to pick up Jeffery because he is more of a value pick. Some consider Jeffery the most talented wide receiver in this year's class.
The reason he dropped to the second round is because of his pedestrian performance in the 2011 season. However, Jeffery is a special talent who makes up for his lack of speed with elite pass catching ability.
The Vikings may see too much of Sidney Rice and Randy Moss in Jeffery and will likely select him to become Christian Ponder's No. 1 target.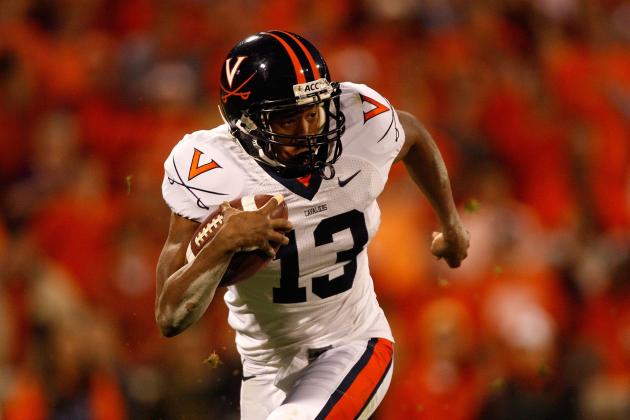 Streeter Lecka/Getty Images

With their third-round pick, the Vikings will look to address their secondary.
The offseason signings of Bowman and Carr are not enough for a secondary that ranked 26th in the league. When you have Aaron Rodgers, Jay Cutler and Matthew Stafford on your schedule six times per year, you need to make sure you can try to contain them with talent.
Enter Chase Minnifield. Drafting Minnifield in the third round was something no one thought would happen coming into draft day. However, he was not able to stay healthy because of a nagging knee injury. Minnifield had surgery and will recover, but unfortunately the recovery hurt his performance at the combine.
According to CBSSports.com's Frank Cooney, Minnifield ensures that his low 40-yard dash time and vertical are skewed by his injury.
Minnifield told an NFL Draft Scout:
"It is so frustrating because I was only 80 percent for my pro day and my hamstring tightened up, too," Minnifield said. "It's taking time for my fast-twitch muscles to come back after surgery."

Minnifield says when those muscles do come back and he is 100 percent, he knows exactly what to expect.

"I will have the same 40-yard times I had before, from 4.38 to 4.41 [seconds]," he said. "And my vertical jump should be between 36 and 38 inches."
If this is all true, and there is plenty of reason to believe so, the Vikings will get a great value pick with Minnifield in the third round. His type of talent might make this much maligned pass defense enter the top 15 in the league.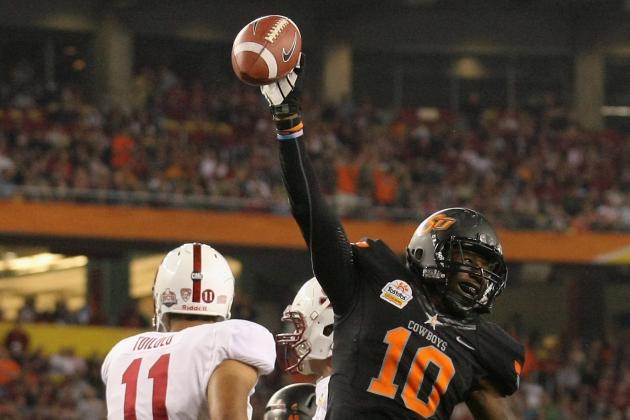 Donald Miralle/Getty Images

Just because the Vikings selected a cornerback in the draft does not mean all of their secondary problems have been solved. The Vikings give up way too many deep plays, and nothing will fix that like a hard-hitting safety.
Martin is not only a hard hitter but he is also decent in coverage—the Vikings would take anything they can get out of Morris. Morris would bring a lot to the table for the Vikings. Gone will be the days of Greg Jennings and Devin Hester scoring 75-yard touchdowns with Morris deep in the secondary watching over the whole offense.
Martin might be eased into the starting line up if Antonie Winfield is not moved to the safety position, but he will definitely provide strength and depth to the Vikings' weak and thin secondary.
Markelle Martin is a great talent whose stock has dropped as of late. If the Vikings can find Martin here in the fourth round, then it would not take them more than a minute to make their selection.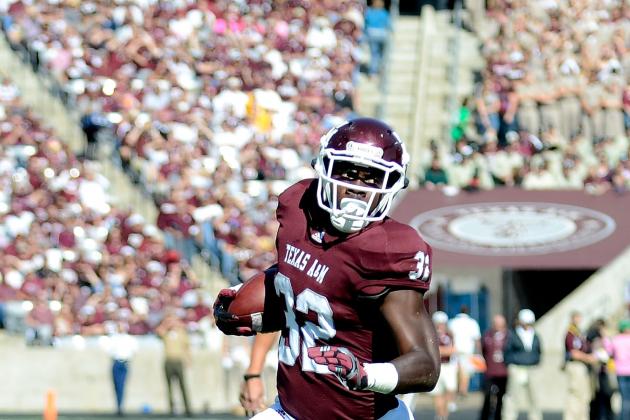 Sarah Glenn/Getty Images

With the first compensation pick, the Vikings might look towards drafting a running back because of the uncertainty revolving around Adrian Peterson.
If Toby Gerhart is asked to start for a couple of weeks while AP is down, the Vikes need another back to counter-balance Gerhart. Cyrus Gray will be that change of pace back for the team.
Gerhart might be powerful and effective, but he is one of the slower running backs in the league. Gray can provide the Vikings with necessary speed. He just might be the Darren Sproles that the Vikings need.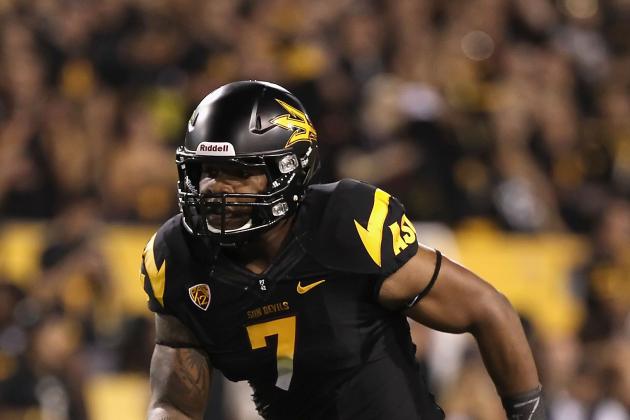 Christian Petersen/Getty Images

If Vontaze Burfict is available when the Vikings are drafting at the end of the fourth round, they must select him.
Burfict is a first-round talent who did not impress anyone in the combine. He has the talent to be one of the best linebackers in the NFL, but he has not shown it on the field.
However, when you give him fourth-round money, he will play like a man possessed. When a man is hungry and wants to be successful, he plays at his best.
The Vikes would make a huge mistake in passing on Burfict if he is available. He may already be better than likely starter Jasper Brinkley.
The 5.1 40-yard-dash that Burfict ran is not something the Vikings should look much into. With the right coaching and direction, he will become an elite middle linebacker for a team who desperately needs it.
Burfict will bring more fire and energy to a defense that has lacked a lot of it at times.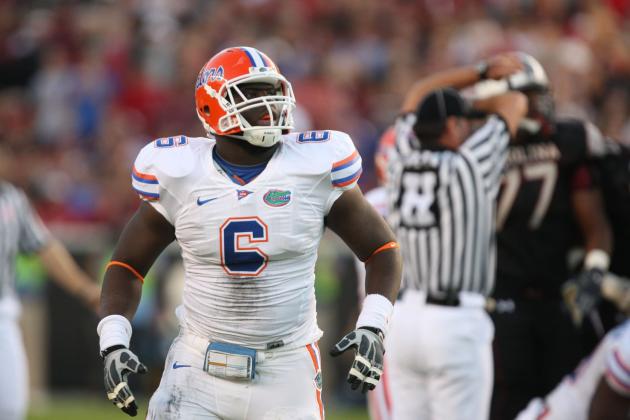 Streeter Lecka/Getty Images

The Vikings used to have the most powerful duo at the defensive tackle position. Now that Pat Williams has retired and Kevin Williams is getting up there in age, the Vikes need to address this position of need.
The Vikes re-signed Letroy Guion to a three-year deal in the offseason, to some dismay from the fans. Guion never really proved himself, but he has always shown some signs of light. Guion's job is definitely not safe with the Vikings because he has not shown enough to make his job a permanent one.
Jaye Howard would provide the team with some great depth at the position. Howard has talent to be a starter on this team.
With the guidance of Kevin Williams, Howard may just get to that level. When you have Brian Robison, an up-and-coming defensive end, Jared Allen, the best defensive end in the NFL, and Williams on your defensive line, it's tough to not do well there.
Howard would be a great pick for a team who needs depth at the defensive tackle position.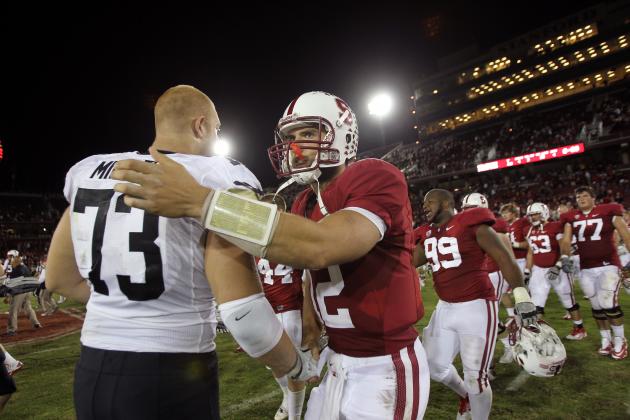 Ezra Shaw/Getty Images

The Vikings need more depth at their offensive line regardless of who they draft or who they have signed.
Ryan Miller is a large talent who will provide the Vikings with depth whenever they need. He has the talent to start for the team because of how thin their line is.
If the Vikings have a chance at selecting the 6'8", 315-pound Miller in the sixth round and they take him, they will have officially beefed up their offensive line—that is, if they did select Kalil with their third overall pick.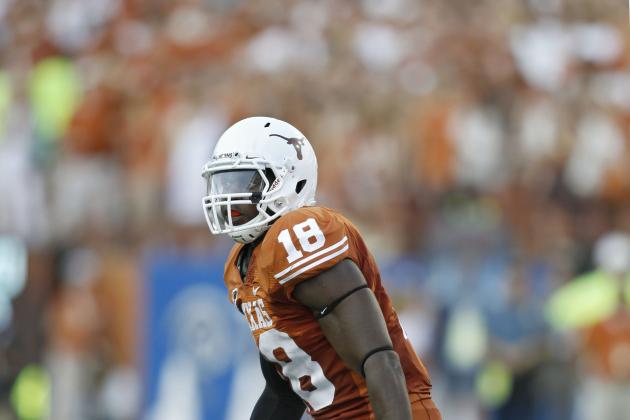 Erich Schlegel/Getty Images

Emmanuel Acho will be a pick of need for the Vikings in the seventh round. The Vikings need some more depth at the linebacker position even though they re-signed Erin Henderson to a one-year deal.
Acho will be perfect for a team who needs some depth at the position.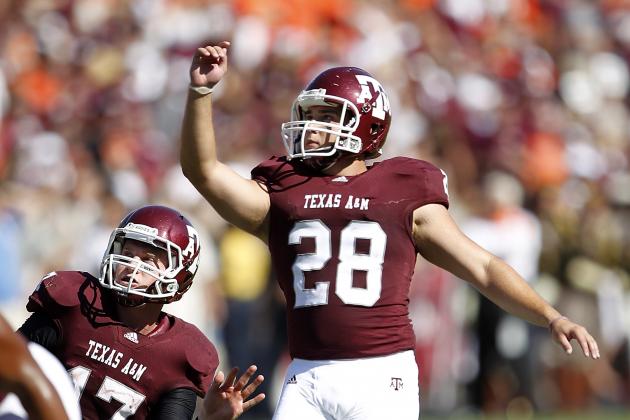 Bob Levey/Getty Images

Vikings' starting kicker Ryan Longwell only made 78.6 percent of his field goals last season. This was Longwell's third-worst season of his career.
Although Longwell is accurate from short distance, he does not have a powerful leg that can help give the team three points when they are 45-55 yards out.
Unlike Longwell, Randy Bullock has a strong leg. Bullock was the nation's top kicker in 2011. He will be the perfect pick for the Vikings if he is available here.
The Vikings are rebuilding, so it may come as no surprise that even their kicker's job is not safe.
Follow me on Twitter for everything NFL/NBA/WWE @ThaFreakness_BR.