5 Reasons to Believe Tim Tebow Will Be Irrelevant in 2012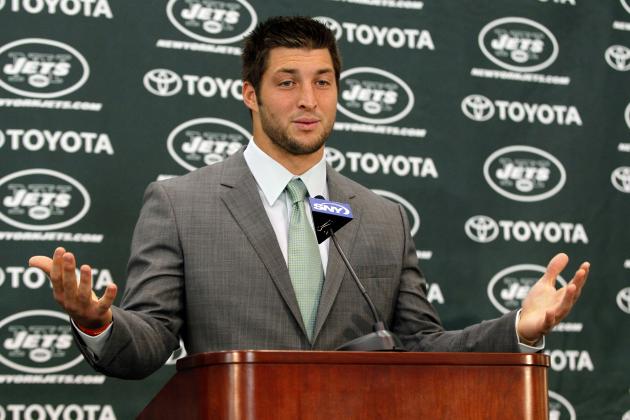 Mike Stobe/Getty Images

By now, everybody has heard of Tebowmania. The unexpected phenomenon swept the nation last year, and the Denver Broncos quarterback became the most talked about athlete in professional sports.
Now a member of the New York Jets, Tebow and his fans will be hoping for a repeat of the enthralling comebacks and game-winning drives that saw him evolve into the media darling that he is today.
But is that possible?
Maybe he'll just go about his business quietly, acting as a backup to Mark Sanchez without ever making the same impact that he did in 2011.
It seems odd, I know.
To think that Tebow will become irrelevant when the media continues to write and talk about him seems illogical. But then again, everything about Tebow's rise to superstardom is illogical, isn't it?
For all of his leadership qualities and his willingness to work at his craft, Tebow's flaws as a quarterback have been well documented. The essential skill for an NFL pivot, passing the football, is something Tebow doesn't do very well.
His throwing mechanics are not fitting of an NFL quarterback, his accuracy leaves much to be desired and he has trouble reading the defense. Tebow had the lowest completion percentage of any signal-caller in the league last season, coming in at 45.6 percent.
Regardless, he won games and led the Broncos to an improbable playoff appearance.
Now in the media hotbed that is New York, it would seem like his star will only continue to grow.
Not so fast.
Tebow simply cannot replicate what he did last year in Denver, and that alone should be enough to see him resort back to being just another backup quarterback in the NFL. All good things must come to an end, after all.
Here are five reasons why Tim Tebow will be irrelevant in 2012.
What do you think? Have your say in the comment section below.
Or continue the conversation on Twitter, @GianlucaNesci
Begin Slideshow

»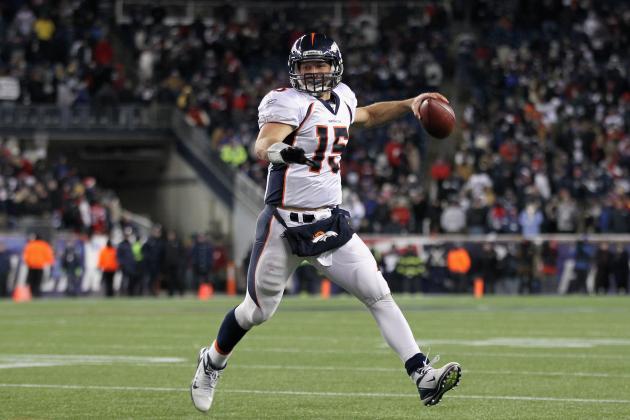 Jim Rogash/Getty Images

Tebow took the nation by storm last season, leading the Broncos to the AFC West title in improbable fashion.
NFL analysts, fans—both in Denver and throughout the country—and even the Broncos management team were perplexed. How did a quarterback who couldn't throw a spiral lead his team to six straight wins?
This year, should Tebow replicate any of his miracle performances, the sporting world will be ready. Yes, it will still be an exciting feat to witness, but it won't be nearly as surprising.
For all of his faults, Tebow has proven he can do the one thing that is more important than any other in the game: win.
Only this year, it won't come as a shock if he does.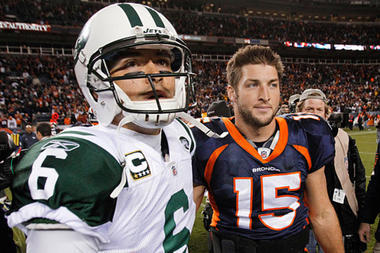 Barry Gutierrez/AP
Mark Sanchez is the starting quarterback in New York. That was determined when the Jets decided to give the 25-year-old a three-year, $40.5 million contract extension this offseason.
The contract announcement left many Jets fans up in arms after they watched the team stumble to an 8-8 record with Sanchez under center.
Without a doubt, the pressure is on "The Sanchize" to deliver.
For all of his detractors, it's easy to forget that Sanchez has led the Jets to two AFC championship games in his young career. He may not have been the sole reason the team got there, but he didn't hinder them either.
In addition, the former USC pivot recorded the best numbers of his career in 2011, putting up personal highs in yardage (3,474), touchdowns (26) and passer rating (78.2).
With the addition of Tebow, Sanchez will be well aware that he is under immense pressure. There will be calls for the popular back-up whenever he falters, and many people are expecting him to do just that.
But what if he excels?
Healthy competition can often bring the best out of players, and it is not inconceivable that this could happen here.
If it does, Tebowmania 2.0 will not get the chance to gain steam, and comparisons like this between the two will be irrelevant.
Tebow will play a role in the offense, coming in off the bench to run the wildcat and other special packages that offensive coordinator Tony Sparano comes up with.
But there is a very big difference between coming off the bench and running roughly 20 plays per game, and being the No.1 option under center.
Last year, Tebow's popularity rose to its current height mainly due to his play on the field. His charm in front of the camera and charismatic persona helped his cause, but only after he was winning football games as the starting quarterback in Denver.
If the Jets are going to be successful this season, it will not be because Tebow is the star of the show. It will be because Sanchez took his game to the next level.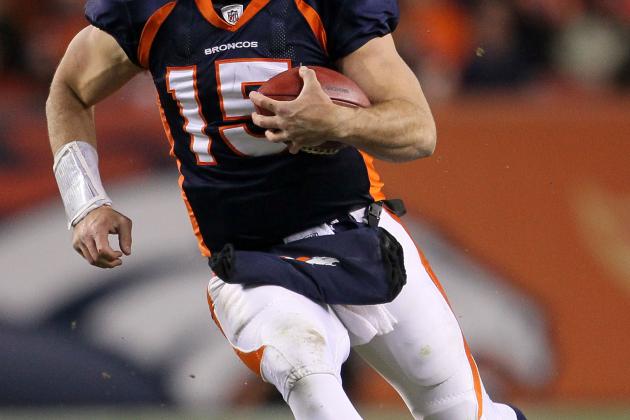 Jeff Gross/Getty Images

With the Broncos, Tebow was very much the underdog.
The former Florida Gator went into the season as the third quarterback on the depth chart behind Kyle Orton and Brady Quinn. Even if he did see the field, he was playing on a team that most people assumed would finish at the bottom of the division.
By no means was Denver supposed to make the playoffs, let alone win a postseason game. In fact, they were expected to be the whipping boys of the AFC West.
Instead, they defied most NFL analysts and managed to not only make the postseason with Tebow behind center, but win a game as well.
It was every sports writer's dream.
The headlines wrote themselves, and radio hosts had an endless amount of material to discuss, all thanks to Tebow.
It set up one of the most beloved situations in sports: the Cinderella story. Everybody loves the underdog who defies the odds and finds success, and that is exactly what Tebow did.
But the New York Jets are a different animal altogether.
Fireman Ed and the rest of the Jets' fans are expecting a winner.
Despite finishing with a disappointing 8-8 record last season, they are still a good football team who will expect to be playing meaningful games in 2013. Tebow will no longer be able to rely on the underdog approach to gain supporters.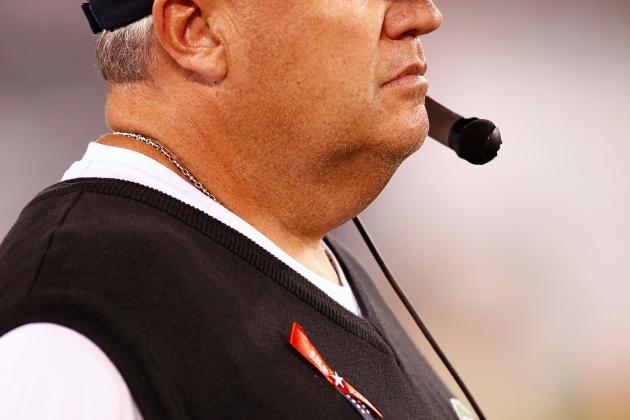 Jeff Zelevansky/Getty Images

Outside of New York, people simply don't like the Jets.
They're a team that may be among the most hated in the NFL, thanks in large part to head coach Rex Ryan, whom some would describe as obnoxious and annoying.
Maybe it's Ryan's confidence (read as cockiness, if you prefer) that turns people off. From his brash demeanor to his Super Bowl guarantees, Ryan is amongst the most hated coaches in the league.
After all, not many people outside of your city will be too thrilled if you sign an NFL tour bus with the phrase "soon-to-be champs" without having won anything in the past.
Bill Belichick may have a say in this contest, but for now, we'll give it to Ryan for his unwavering arrogance despite a lack of championship rings.
How will this affect Tebow?
As an individual, not much. He will not be subjected to the same vitriol as Ryan. But with the 24-year-old wearing the green and white of the Jets, fans outside of New York won't be able to help themselves when cheering for Tebow to fail.
Tebow was relevant in 2011 because, among other things, he was liked by so many. While being disliked doesn't necessarily mean he will fall off the map entirely, it certainly won't help his cause.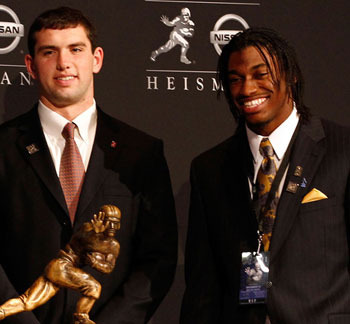 Jeff Zelevansky/Getty Images
With Tebow stuck behind Sanchez for at least the early part of the regular season, there are many casual fans who will go looking for another new and exciting player to rally around.
To keep the bandwagon full, you need to be making headlines for your play on the field, and there is a group of quarterbacks who may be able to do that more effectively than Tebow come the start of the NFL season.
The most obvious name on that list is Andrew Luck. The former Stanford star will most likely be selected by the Indianapolis Colts with the first overall pick in the upcoming draft.
Fans have been hearing about Luck for quite some time now, and you can bet they will be excited to see what he can do. If he has any success at all in his first season, he will take over the hearts of fans across the nation, and with them, the spotlight from Tebow.
There are other candidates in this conversation as well.
Heisman trophy winner Robert Griffin III has the tools to be a star quarterback in the NFL, and will most likely be selected by the Washington Redskins with the second overall pick. In such a large market, RG3 could certainly become a superstar.
It's been reported that he is already learning the Redskins' offense, which could help him get the inside track on a strong start to his pro career.
Conversely, maybe the answer is already within the league.
After sitting behind Aaron Rodgers in Green Bay, Matt Flynn will finally be given the chance to start in the NFL. The former LSU Tiger signed a three-year, $26 million deal with the Seattle Seahawks this offseason, and will now have the opportunity to show that his Week 17 destruction of the Detroit Lions was no fluke.
In that game in early January, Flynn threw for 480 yards and six touchdowns, both of which are Packers records.
If he can come anywhere near those numbers early in the year, Flynn may be the name on every fan's lips.