Why Pau Gasol Is the Real Key to Lakers' Playoff Success
April 10, 2012
Harry How/Getty Images
The past week has revealed a lot about the Los Angeles Lakers and their playoff hopes.
Although Andrew Bynum has emerged as one of the league's best centers, averaging 18 and 12, his inconsistency and immaturity have become major problems.
Over the past 11 games, Bynum's rebounding numbers have dropped, and he has shown signs of apathy on the defensive end.
In addition, his recent ejection against the Houston Rockets displayed his immaturity, which raises the question of whether Bynum is more serious about working as a team and winning a championship or talking trash to opponents. 
Meanwhile, Kobe Bryant's playing time has caught up to him, as he's resting a sore left shin. Furthermore, his inconsistency on the offensive end has been very troublesome.
The issues surrounding Bynum and Bryant should cause some concern.
Without two of the Lakers' big three playing at a high level, the Lakers chance at a title seem miniscule, which is why Pau Gasol must play the best he has ever played in order for the Lakers to contend.
Already, the Lakers lack frontcourt depth, which is why Bynum's immaturity has been such a big problem.
In order to make up for this, Gasol needs to revive his 2010 finals identity. We all know that he can be the most skilled power forward in the NBA, but he needs to utilize his skill in order to maximize the team's success.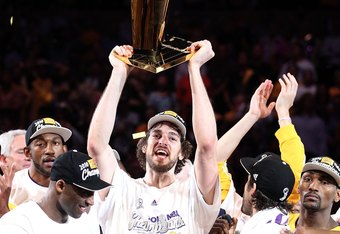 Christian Petersen/Getty Images
Not only will Gasol's scoring make up for Lakers' depth and Bynum's immaturity, but it will be extremely helpful because of Bryant's inconsistency and abundance of injuries.
Furthermore, a key component of Gasol's game during the 2010 finals was his passing. At many times this season, the Lakers' offense has been stagnant. In order to keep the machine running, Gasol should utilize his passing.
For Gasol to do all of this may be asking for a lot, and it may seem almost unrealistic.
That's why the best thing for Gasol to do is to motivate.
Gasol recently stated that the Lakers aren't playing with a "sense of urgency."
Gasol knows what it takes to be a champion, but many of the players on the team clearly do not, including Andrew Bynum (although he has won two titles).    
Gasol's style of play exudes team, and it's up to him to get his teammates to work together.
Because, in the end, winning a championship is a team effort.