NBA Power Rankings: Ranking Every Team's 2nd-Best Player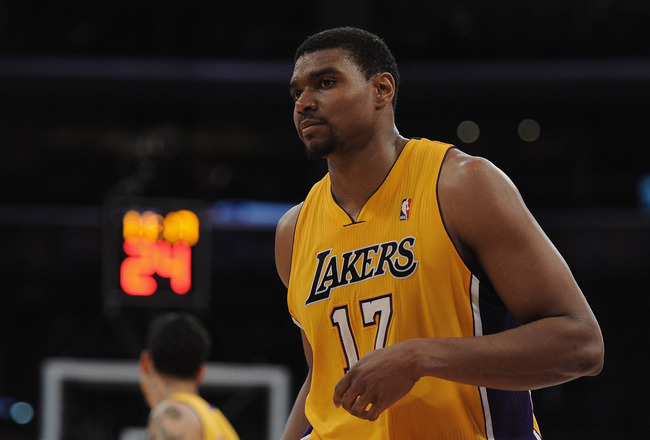 Andrew Bynum is a force down low for the Lakers.
Harry How/Getty Images
In general, it takes more than one great player to win an NBA title.
Michael Jordan had Scottie Pippen; Shaquille O'Neal had Kobe Bryant; Magic Johnson and Larry Bird had a slew of talent surrounding them.
It's easy to name the best players on most teams. You see them front and center in highlights and they're always a focus when discussing their team.
Some of them have a teammate who nearly matches their own prodigious talent; some do not. Most NBA fans will know the names on this slideshow, while some will claim the No. 2 is actually a No. 1; others will no doubt take issue with the numerical ranking.
There's no exact science for this type of stuff. There are stats, accomplishments and, of course, you need to watch the players and see how they interact on the court with teammates and opponents.
By the end, we'll have a top-ranked No. 2.
30. Charlotte Bobcats, Bismack Biyombo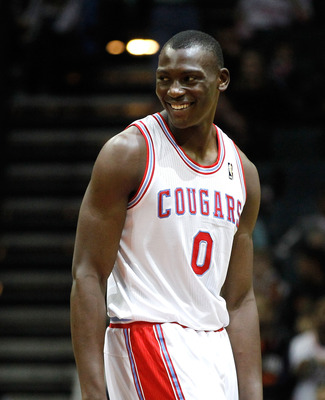 Bismack Biyombo, the seventh overall pick in the 2011 NBA draft, may give Bobcats fans a reason to smile.
Streeter Lecka/Getty Images
No. 1: D.J. Augustin
It wasn't too easy to find a No. 1 player on Charlotte, but the No. 2 has to be Bismack Biyombo.
The No. 7 overall pick in last year's draft entered the NBA as a raw athletic talent who Charlotte hoped would eventually develop into a tough defensive presence.
He's already there. Biyombo averages 5.6 rebounds and 1.7 blocks per game while playing an average of only 21.0 minutes a game.
If Biyombo started, he could easily average over 10.0 rebounds and 3.0 blocks per game. How many players in the NBA currently do that? None.
The future could be bright in Charlotte.
29. Toronto Raptors, Andrea Bargnani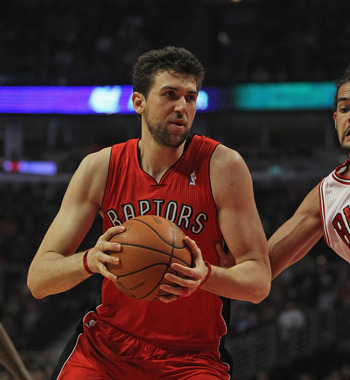 Bargnani is a solid but not spectacular contributor for Toronto.
Jonathan Daniel/Getty Images
No. 1: Jose Calderon
There will be people who say that I'm nuts for claiming that Calderon is better than Bargnani. It's true that Bargnani is the team's leading scorer, and that's worth something.
I just have a hard time heaping too much praise on player who not only is a center, but is seven feet tall and averages only 5.5 rebounds per game. Doesn't it seem like he could probably grab two or three boards by merely existing, seeing as how he averages over 33 minutes per game?
If you're of the opinion that rebounding and effort are often symbiotic, then those rebounding numbers don't speak too highly of Bargnani's effort.
If he could bring those numbers up, he'd be the most valuable player on the team and his standing around the league would also increase by leaps and bounds.
28. Houston Rockets, Kevin Martin
Kevin Martin hasn't performed as expected in Houston but he's still the No. 2 guy there.
Streeter Lecka/Getty Images
No. 1: Kyle Lowry
Kevin Martin wasn't supposed to be a No. 2, as he averaged almost 24 points per game last season. While many people saw room for vast improvement in Kyle Lowry, there was very little in the way of "Kevin Martin won't even average 18 points per game next season" speculation from most NBA observers.
So his place on this list as a No. 2 option represents a bit of a problem for both Martin and the Rockets. Of course, with Lowry shelved by injury and Martin having missed nearly a full month of games since early March, Houston's trouble has little to do with the play of Martin.
27. Dallas Mavericks, Shawn Marion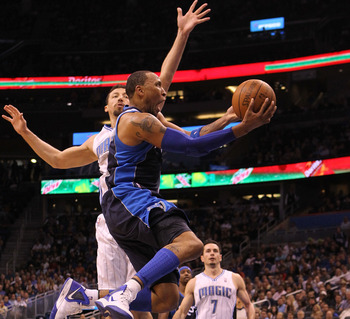 Shawn Marion provides athletic highlights for Mavericks fans.
Sam Greenwood/Getty Images
No. 1: Dirk Nowitzki
Another team whose No. 2 player is indicative of the problems that have beset the team.
You probably know the No. 1 in Dallas, Dirk Nowitzki, pretty well.
As a No. 2 option, Shawn Marion is not without some major pluses. His defense is his greatest asset and he's a solid rebounder for his size as well. It's not enough, though.
Marion is a very good basketball player, but for a team with plans of repeating as NBA champs, he shouldn't be good enough to be the No. 2 guy.
26. New Orleans Hornets, Jarrett Jack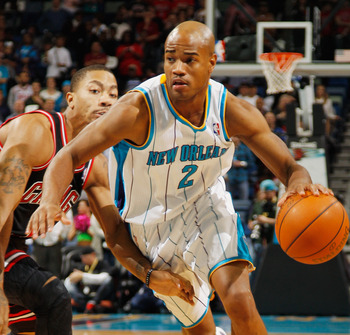 Jarrett Jack has done a nice job trying to fill Chris Paul's shoes.
Chris Graythen/Getty Images
No. 1: Eric Gordon
How would you like this assignment?
Play point guard for a team missing its best scorer and playing under the specter of bankruptcy. Also, there's not much of a supporting cast and oh, by the way, you're filling Chris Paul's shoes.
Welcome to Jarrett Jack's 2011-2012 season. All things being equal, he's done an exemplary job. Jack has been able to score 15.6 points per game as well as dish 6.3 assists per game. If he had a few decent scoring options around him, his assist numbers would no doubt be better.
Jack has probably done himself a lot of good with his admirable performance this season.
25. Detroit Pistons, Rodney Stuckey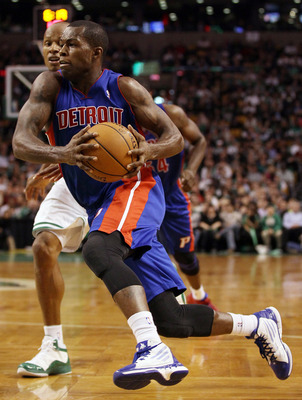 Rodney Stuckey leads the Pistons in scoring and assists per game.
Elsa/Getty Images
No. 1: Greg Monroe
Is Rodney Stuckey one of those guys that just flies under the collective radar of many NBA fans?
Yes, he is. Stuckey is a pretty good point guard who is stuck on a mediocre team surrounded by a collection of fairly ineffective offensive players. The team's best player is Greg Monroe, who is a bruising big man that can practically grab rebounds in his sleep. He scores his points, but he's not a great scorer.
Stuckey is probably the best all-around offensive player on the Pistons—which is not really ideal when you're the point guard. Then again, when you play on such a poor team, there's only so much one can do.
Stuckey isn't a bad player, but he shouldn't be the second-best player on your team.
24. Washington Wizards, Nene Hilario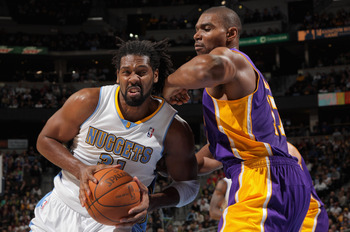 Former Nugget Nene is now with the Wizards.
Doug Pensinger/Getty Images
No. 1: John Wall
He's barely been healthy, but when he is, Nene is the second-best player on a pretty bad Washington Wizards team.
He's just always got something wrong with him.
Now that JaVale McGee and Nick Young have left town and Andray Blatche has misplaced his basketball skills and stability, Nene rockets up to the status as No. 2 guy without much competition.
23. Portland Trail Blazers, Nicolas Batum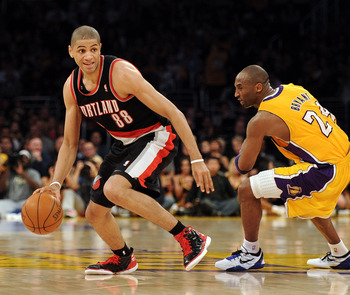 Nicolas Batum is a key part of the Blazers future.
Harry How/Getty Images
No. 1: LaMarcus Aldridge
There are really only two players on the entire Portland roster who are of critical importance: Aldridge and Batum.
Batum's numbers aren't elite yet, but his potential seems very high. He's got unique athleticism and a versatile offensive game. Who the Blazers surround Aldridge and Batum with will go a long way toward determining just how good Portland is over the next few seasons.
The top two are already more than solid.
22. Sacramento Kings, Marcus Thornton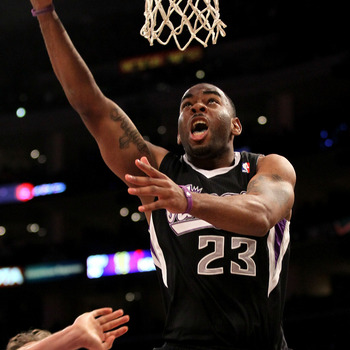 Marcus Thornton has thrived in Sacramento.
Stephen Dunn/Getty Images
No. 1: DeMarcus Cousins
The Kings would probably prefer that former No. 4 overall pick Tyreke Evans occupy this spot, but that's not how this season has panned out.
Evans is still a player with a bright future, but Thornton is the second-best player on the court when the Kings play for the remainder of this season.
Thornton is an undersized shooting guard selected more than 30 spots lower than Evans in the 2009 draft out of LSU.
Today he's the leading scorer on the Kings and he also plays more minutes per game than any other player on the team. He's probably about as good a player as he'll ever be, but in a league in which plenty of second-round picks are sitting on the bench, Thornton is a pretty nice surprise for the Kings.
21. Philadelphia 76ers, Lou Williams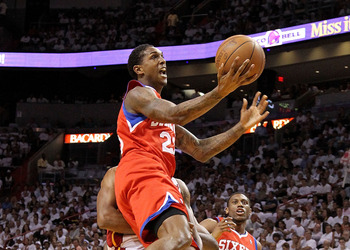 High-flying Lou Williams is one of the best sixth men in the league.
Mike Ehrmann/Getty Images
No. 1: Andre Iguodala
When your sixth man is your team's second-best player, that's a red flag. Perhaps it's part of the reason why the Sixers are limping toward the end of what at one point looked like a very promising season.
Lou Williams is a very talented player, but he's still just a sixth man—another shoot-first, pass-second player who is built like a point guard.
Put simply, the Sixers need to surround their best players with more talent so that the team's sixth man is not one of the biggest scoring threats.
20. Phoenix Suns, Marcin Gortat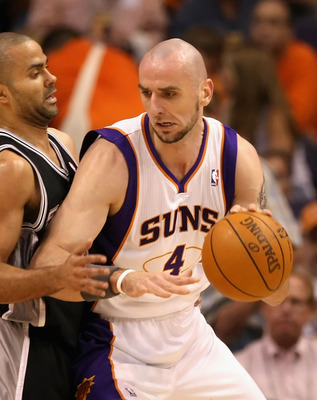 Hard-working Marcin Gortat leads the Suns in scoring.
Christian Petersen/Getty Images
No. 1: Steve Nash
On a lot of teams, Marcin Gortat would be ranked well below the team's second-best player. This year's Suns are just don't have a lot of star power.
Instead, they have Steve Nash and a bunch of guys who all reap the benefits of Nash's 11-plus assists per game. Gortat takes full advantage; he leads the Suns in scoring, even though it's only a mere 16.0 points per game.
19. Utah Jazz, Paul Millsap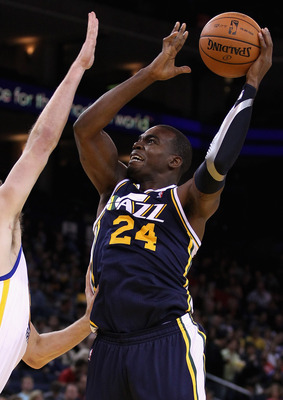 Paul Millsap puts up solid numbers in Salt Lake City.
Ezra Shaw/Getty Images
No. 1: Al Jefferson
The problem with Paul Millsap is that everything he does, his teammate Al Jefferson does better. Ideally you'd like your top two players to complement each other, as opposed to duplicating each other.
Millsap grabs 8.8 rebounds per game; Jefferson gets 9.4. Millsap scores 16.3 points a night; Jefferson pours in 19.6.
If Millsap wasn't on Utah, he'd probably not be the second-best player on his team.
18. Denver Nuggets, Danilo Gallinari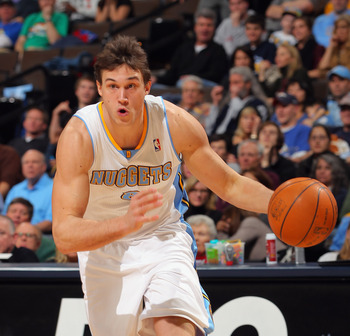 When healthy, Danilo Gallinari is a pretty good player for the Nuggets.
Doug Pensinger/Getty Images
No. 1: Ty Lawson
The Nuggets are another team that lacks a real No. 1 option. Lawson is very good, but in a league of elite point guards, he's not among the cream of the crop.
If Gallinari can stay healthy and continue to develop into a scorer who puts up over 20 points per game, then that would change the outlook for Denver.
Gallinari could stand to improve a bit to enhance his standing as well as his team's. Until then, he's not elite for a No. 2 guy.
17. Orlando Magic, Ryan Anderson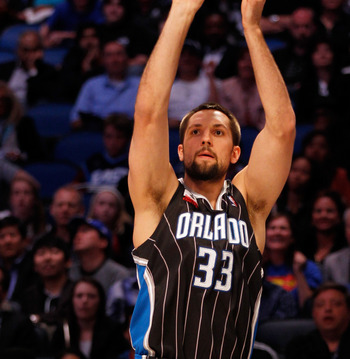 Ryan Anderson's three-point shooting makes him very valuable to the Magic.
Mike Ehrmann/Getty Images
No. 1: Dwight Howard
When your No. 1 player is Dwight Howard, it helps to be a good three-point shooter. That's why Ryan Anderson is so important to the Magic.
He can shoot from the outside, and he's a decent rebounder and defender as well.
With Howard in the middle, Anderson's ability to knock down threes plays a key role in his standing as the No. 2 on Orlando.
16. Cleveland Cavaliers, Antawn Jamison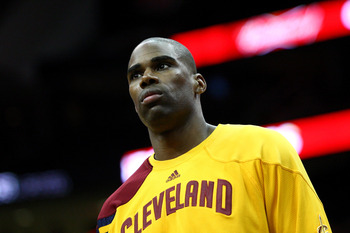 Antawn Jamison has been a steady contributor for Cleveland this season.
Chris Chambers/Getty Images
No. 1: Kyrie Irving
Jamison's numbers have begun to decline a bit. The former top-five pick used to be a near lock for around 20 points and eight rebounds a game.
This season, he's at 17.9 points and 6.5 rebounds. At the age of 35, that's probably to be expected. Jamison has still provided a steady and reliable teammate for last year's No. 1 overall pick, Kyrie Irving.
The rookie point guard has had an exceptional first year and Jamison has been the most consistent running mate he's had. That's going to prove to be important not just this season, but in seasons down the road as well.
15. Milwaukee Bucks, Monta Ellis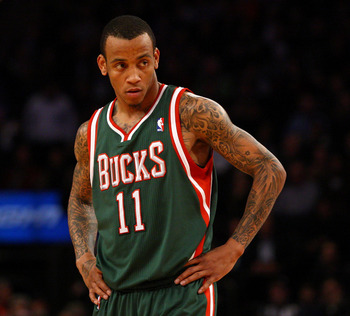 Monta Ellis is trying to figure out how to fit in with the Bucks.
Chris Chambers/Getty Images
No. 1: Brandon Jennings
This was tough to figure out for lots of reasons that don't speak too highly of the Bucks.
At the end of the day, Monta Ellis a player who is a classic tweener—too small to be a great shooting guard, and yet he plays with the style of a 2-guard.
Ellis is good at creating shots for others, but better at doing it for himself.
He's got lots of talent for a second-best player, but he's not elite.
14. New Jersey Nets, Brook Lopez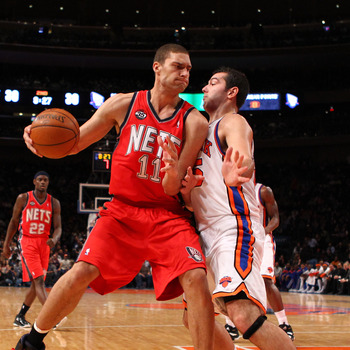 When healthy, Brook Lopez is one of the league's better big men.
Al Bello/Getty Images
No. 1: Deron Williams
Brook Lopez has a problem: He can't stay healthy. When he is healthy, he's really a very good player. He scores, he rebounds and he blocks shots. He's a pretty solid all-around defender and in a league that lacks great big men, he's among the better ones.
Deron Williams is easily the best player on the Nets, but a healthy Brook Lopez is a player a lot of teams would be happy to have.
13. Golden State Warriors, Stephen Curry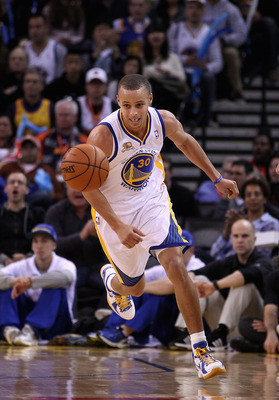 Stephen Curry has spent the season battling injuries.
Ezra Shaw/Getty Images
No. 1: David Lee
It's been another frustrating season for Stephen Curry. The pint-sized point guard has once again battled injuries and the Warriors are once again poised to miss the postseason.
That doesn't change the fact that he's a pretty impressive talent. His days as his team's second-best player might end next year. A healthy Andrew Bogut could make Curry the third-best player on the team, or Bogut could cut into David Lee's production and Curry could flourish.
Either way, Curry won't care as long as his team is better. With the moves they've made this season and the emergence of Klay Thompson as a solid starter, Golden State could be headed back towards respectability in 2012-2013.
12. Minnesota Timberwolves, Ricky Rubio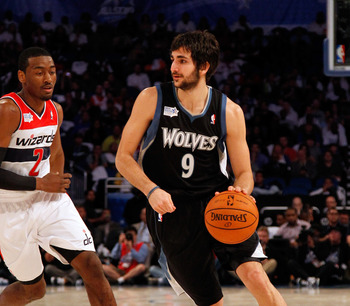 Worth the wait. The highly anticipated arrival of Ricky Rubio was as advertised but cut short by injury.
Mike Ehrmann/Getty Images
No. 1: Kevin Love
Ricky Rubio had a great NBA debut. He was lost for the remainder of the season when he suffered an ACL tear in early March.
Rubio is poised to become an elite point guard in the NBA. He's got a very flashy style and his accomplishments while playing in Spain were such that he was a top lottery pick in the 2009 NBA draft.
Rubio is no Kevin Love, who seems headed for first-team All-NBA status, but the duo may be headed for some real tangible success on the court in the coming years.
11. New York Knicks, Amar'e Stoudemire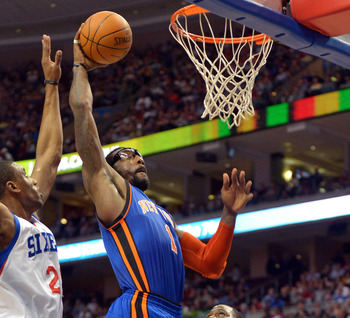 When healthy, Amar'e Stoudemire is a very talented No. 2 option for the Knicks.
Drew Hallowell/Getty Images
No. 1: Carmelo Anthony
The New York Knicks are a pretty talented team. Carmelo Anthony sits atop a nice collection of talent. He's backed by Jeremy Lin, Tyson Chandler and, of course, Amar'e Stoudemire.
Stoudemire is a very good scorer and rebounder. While his defense is nothing to write home about, Stoudemire is still an excellent all-around basketball player.
The problem for the Knicks isn't that Stoudemire is a weak No. 2; it's that he's injured. That's going to be a major problem come the playoffs.
10. Chicago Bulls, Joakim Noah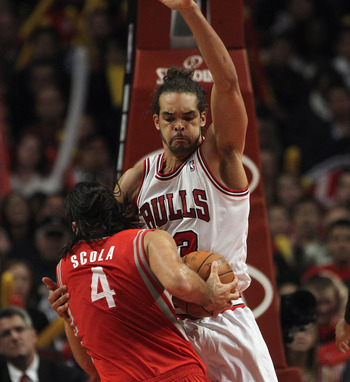 Noah anchors the league's best defense for the Bulls.
Jonathan Daniel/Getty Images
No. 1: Derrick Rose
Derrick Rose is "the man" in Chicago, but for the team with the league's best defense, Joakim Noah is pretty key as well.
That's why he gets the nod as the Bulls' No. 2 and it's also why he gets the nod over some other No. 2's who have better stats.
Defense counts—just ask the Bulls. Better yet, ask their opponents.
9. Indiana Pacers, Roy Hibbert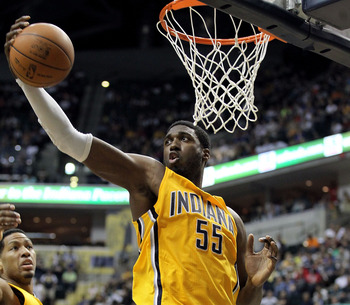 Roy Hibbert is a strong presence in the middle.
Andy Lyons/Getty Images
No. 1: Danny Granger
Roy Hibbert is certainly among the best second options. He's not sky-high on the list, but he's still worthy of a fairly lofty spot.
Hibbert, who leads the Pacers in both rebounding and blocked shots, will get a lucrative contract this offseason in free agency. He may even end up as a No. 1 option on his future team. There's still room for him to improve.
8. Memphis Grizzlies, Marc Gasol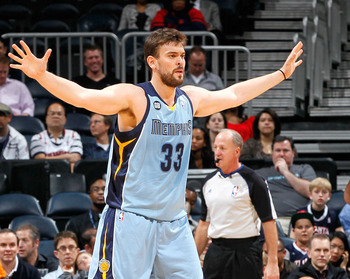 Marc Gasol clogs the middle for the Grizzlies.
Kevin C. Cox/Getty Images
No. 1: Rudy Gay
This team is too talented to easily pick a No. 2. Gasol, Zach Randolph, Mike Conley—they're all very good. If you've been watching any of their more recent on-court performances, you know all too well that these guys don't just look good in box scores and stat lines. They're good on the court, too.
Gay is clearly the No. 1 here, but Gasol gets the nod over Conley for No. 2. It's not to say that Conley isn't a very good player, but Gasol is really the key defensive and rebounding presence in the starting lineup.
That's got to get him this designation.
7. Atlanta Hawks, Josh Smith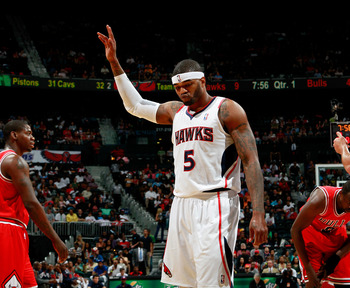 Josh Smith will be missed if he leaves Atlanta.
Kevin C. Cox/Getty Images
No. 1: Joe Johnson
The situation in Atlanta is interesting. Josh Smith really is the second-best player. Some would argue that he may in fact be better than Joe Johnson.
That's the big problem. Smith is coming up on free agency and the Hawks may end up trading him before he leaves as a free agent. They can't afford him and the reason for that is that Joe Johnson is making over $20 million a year.
With that type of pay, you'd probably think that Johnson would be far better than Smith, but he's not—that's part of why Atlanta is struggling.
6. San Antonio Spurs, Tony Parker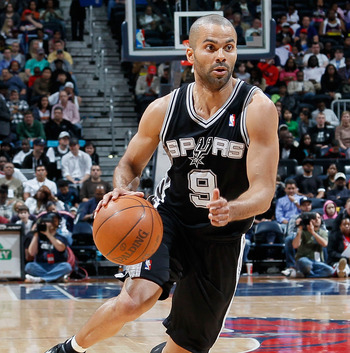 Tony Parker runs the point but Tim Duncan still is the center of the Spurs attack.
Kevin C. Cox/Getty Images
No. 1: Tim Duncan
Another very good team and another tough choice. The edge goes to Parker, due in large part to Duncan's legacy and the manner in which the offense flows through him despite his advanced age.
How does Parker compare to other second options? Quite well. He's not in the Russell Westbrook/Dwyane Wade class, but he's close—that's nothing to be ashamed of.
5. Boston Celtics, Paul Pierce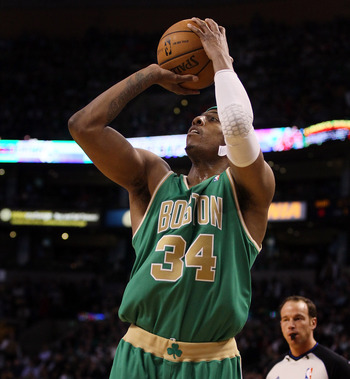 Paul Pierce has been a top player for Boston for over a decade.
Elsa/Getty Images
No. 1: Rajon Rondo
Paul Pierce is one of the best scorers in Boston Celtics history. He's still leading the team in scoring this season, but this is Rajon Rondo's team now.
That hasn't stopped Pierce and Kevin Garnett from putting together a very good run the past month to bring the team back into the playoff pool and on a path to a decent seed as well.
Paul Pierce is a first-ballot Hall of Fame player and one of the better second options in the league.
4. Los Angeles Clippers, Blake Griffin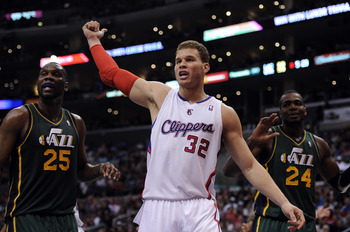 Blake Griffin is near the best second option in the entire NBA.
Harry How/Getty Images
No. 1: Chris Paul
Is this the best second option in the league? It's got to be close. Blake Griffin is certainly one of the most spectacular players in the league. His highlight-reel dunks are a staple of NBA footage.
Griffin is very good. He's strong, has good scoring touch and can be a ferocious rebounder. He's not the best, but he's close.
3. Los Angeles Lakers, Andrew Bynum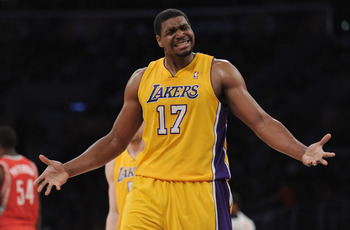 In spite of some immature outbursts, Bynum is one of the league's best.
Harry How/Getty Images
No. 1: Kobe Bryant
Even with his recent outbursts, Bynum gets a nod over Pau Gasol. He's just too good to ignore. Bynum has the potential to be the best center in the league. No word on whether or not he will come close to realizing that potential.
He's only 24 but he's averaging 18.0 points, 12.0 rebounds and two blocked shots a game. Those are very good numbers—so good he'd be a No. 1 on many teams.
Those teams don't have Kobe Bryant, though.
2. Oklahoma City Thunder, Russell Westbrook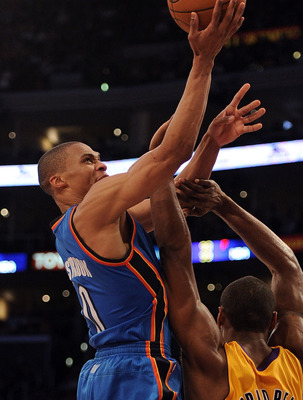 Russell Westbrook is a fantastic point guard.
Harry How/Getty Images
No. 1: Kevin Durant
Westbrook is one of the best point guards in a league stacked with great point guards. He's only 23 years old and he's averaging over 24 points per game. He produces highlight-reel dunks and his team has one of the best records in the league.
He's just not as good as Dwyane Wade. In the very near future, the younger Westbrook will be better than Wade, but he's not quite there yet.
1. Miami Heat, Dwyane Wade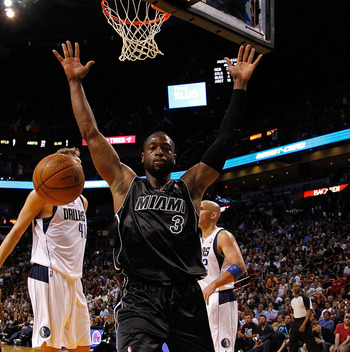 Best of the second best. Wade is a Hall of Fame talent.
Mike Ehrmann/Getty Images
No. 1: LeBron James
It could be different next season, but for now, Dwyane Wade is the best second option in the whole league. On most teams, he'd be the No. 1 option, but most teams aren't the Miami Heat and most teammates aren't named LeBron James.
Wade has won an NBA Finals MVP. He's been an NBA scoring champ and is a two-time All-NBA First Team selection. Yet on the Heat, he's the second option.
Among No. 2's, he's No. 1.
Keep Reading