NHL Playoffs Prediction 2012: Eastern Conference Round One Preview
April 9, 2012

Nick Laham/Getty Images
The Stanley Cup playoffs are finally here, so let's break down the first round of the Eastern Conference.
New York Rangers (1) vs. Ottawa Senators (8)
A week ago I was predicting that the Washington Capitals would upset the No. 1 seed New York Rangers as I felt the Capitals were starting to put it all back together. Well, that was a week ago, and it's the Senators who fell to the eighth spot, and I am no longer predicting an upset here.
The Rangers are extremely well-coached by John Tortorella, who knows what it takes to win. New York added Brad Richards this year as they were desperately searching for that No. 1 center to play with Marian Gaborik.
Even though Richards' production dropped compared to last season, Gaborik saw a drastic improvement. Gaborik improved his point per game ratio by 0.16. Richards won a Cup with Torts with the Tampa Bay Lightning, and that experience was a key factor in the Rangers' pursuit of him.
Don't let the regular season record fool you into believing the Senators are capable of winning this series. Ottawa won the season series 3-1, including a shootout win. However, the Rangers are too strong, too confident and have the x-factor in net with Henrik Lundqvist. 
The only Ottawa players worth picking in your pool are Jason Spezza and Erik Karlsson as all the offense will run through those two. Remember, though, that if you feel the Senators will pull off the upset you should draft more Ottawa players as playoff pools are won by having the most players playing as the playoffs move along.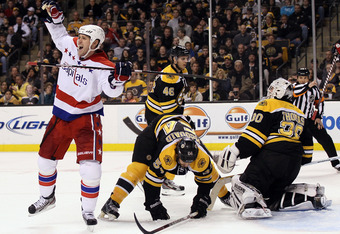 Elsa/Getty Images
New York wins in five. 
Boston Bruins (2) vs. Washington Capitals (7)
Do you remember which team was the last team to win the Stanley Cup in back-to-back seasons?  It was the Detroit Red Wings, who won the Cup back in 1997 and in 1998. It is extremely difficult to win back-to-back Cups, and we are not going to see it happen this year.
The Capitals found a way to correct the sinking ship and battled their way into the playoffs. Things came way too easy for Washington the last few seasons, as they won several division titles but failed to turn that into postseason success. This year, the Caps have been fighting for the last few months and are more than battle-ready for a deep playoff run.
Alexander Ovechkin is red hot going into the playoffs as he has eight goals and 11 points in the last 10 games. The Caps are rounding into contender form with the return of key players from injuries. The x-factor for Washington is Nicklas Backstrom, who returned to the lineup for the final four games of the season after missing 40-plus games due to a head injury. The Caps are a much better team with Backstrom in the lineup. He is a point-a-game player and gives Washington two legit scoring lines.
Washington won the season series 3-1, with a shutout win. The two biggest questions going into this series is who will score those big goals for Boston with Nathan Horton out and which goalie will we see in net for Washington.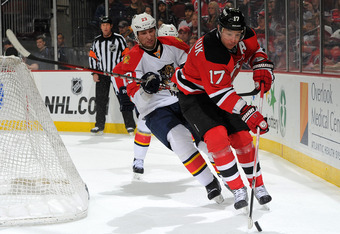 Christopher Pasatieri/Getty Images
Washington in six.
Florida Panthers (3) vs. New Jersey Devils (6)
First off, the NHL needs to fix the way they do conference standings. Grant each division-winning team a playoff berth but rank them accordingly. How does a team that finishes eight points behind their opponent get home-ice advantage?
Secondly, who predicted that the Panthers would make playoffs, let alone win their division after all the changes they went through? I guarantee not many people, but here we are. Panthers GM Dave Tallon helped to build the Chicago Blackhawks into a Cup-winning team, and he has done a fantastic job in Florida. Tallon brought in three pieces from that Stanley Cup team in Brian Campbell, Kris Versteeg and Tomas Kopecky.
Even though the Panthers are the higher seed and tied the season series with the Devils 2-2, they won't be able to hold off New Jersey. Technically this will be an upset, but it really shouldn't be as the Devils are the better team and have the points to prove it.
The Devils have way too many offensive weapons for the Panthers to contain. Rookie Adam Henrique scored 51 points in 74 games. Veteran Patrik Elias rejuvenated his career, scoring 26 goals and 78 points (16 more than last season), and Ilya Kovalchuk finally proved he was worth that big contract.  Kovalchuk scored 37 goals and 83 points in 77 games and chipped in with five game winning goals.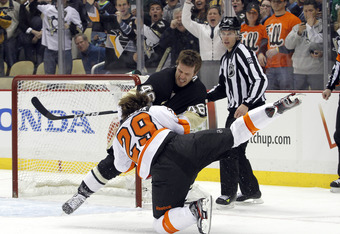 Justin K. Aller/Getty Images
New Jersey's x-factor will be Zach Parise, who may be playing his final games as a Devil this postseason. Parise's production dropped this season for the second straight year, but he is still an elite offensive player who will be an unrestricted free agent this offseason.
New Jersey in five. 
Pittsburgh Penguins (4) vs. Philadelphia Flyers (5)
There are two matchups in the first round of these Stanley Cup playoffs that have the potential to be the best series of the entire playoffs. The Nashville Predators versus Detroit Red Wings series and this one are the two series I am looking forward to the most. After the first round, we are guaranteed to have two teams out of the playoffs that are definite contenders.
The battle of Pennsylvania will be an all-out war, and hockey fans everywhere but Pittsburgh and Philadelphia are praying for a seven-game series.
The x-factor for this series is injuries and who can stay healthy. The Flyers have several key players out with injuries like James van Riemsdyk, Andrej Meszaros, Danny Briere, Nicklas Grossmann and Claude Giroux. The Penguins have had their share of injuries this year with Kris Letang and Sidney Crosby missing games. Don't count on getting any information from teams about injuries either as everyone becomes real vague about injuries during the playoffs.
There are many similarities in the Flyers this year to the Bruins Cup team as they have three scoring lines and a ton of gritty players. Scott Hartnell is a playoff stud and Zac Rinaldo could have a Brad Marchand impact. The biggest difference between the Flyers and last year's Bruins will be in net. Will Ilya Bryzgalov be a stud or choke in these playoffs? I am leaning toward stud.
How will Crosby handle the more intense, tighter checking and very physical play of the playoffs? The biggest fear for Pittsburgh and all fantasy GMs who have him on their roster is that one big hit that will knock him out again. Expect the Flyers to continually play the body on him and to play a little dirty too.
Philadelphia in seven.
Based on my predictions we would see a New York (1) vs. Washington (7) and Philadelphia (5) vs. New Jersey (6) series in the second round.
Aaron Brouwer is the co-creator of www.fantasyhockeycoach.com. FHC is a free fantasy hockey service that developed a ranking system combining post-lockout statistics, current factors and hockey knowledge. Email: brouwer@fantasyhockeycoach.com.