2012 NHL Playoffs: Predictions for Every Series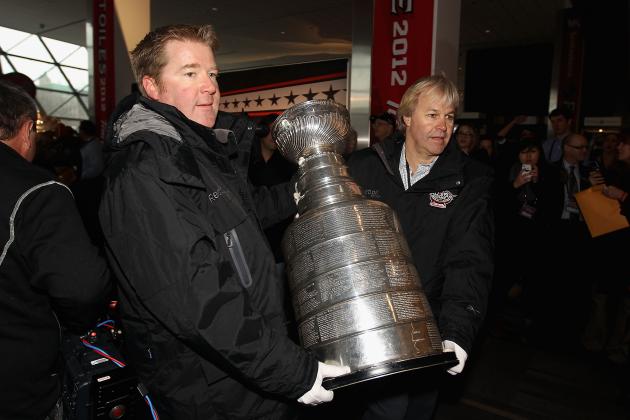 Christian Petersen/Getty Images

This year's NHL playoffs are shaping up to be terrific. Not one match-up in the first round is a walk in the park, and the parity in the league is at an all-time high.
Many questions are to be answered. Can the Coyotes win their first ever playoff series? Can Florida prove themselves in their first playoff series since 2000? Will Jonathan Toews be healthy for the Blackhawks? Will Philadelphia's dominance of the Penguins this season continue? Can the Bruins defend their crown?
The greatest and most exciting two months in sports (in my opinion) start Wednesday. Here is how I think everything will play out.
Begin Slideshow

»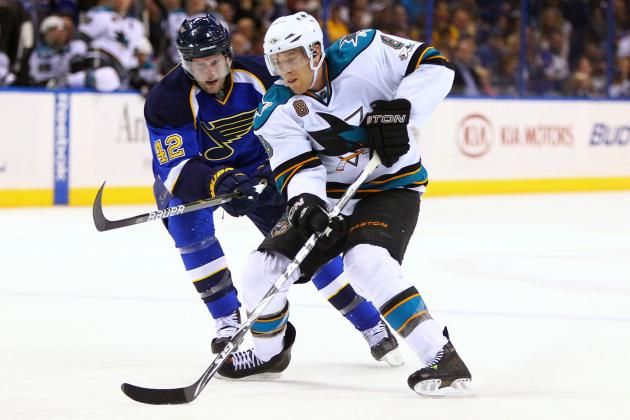 Dilip Vishwanat/Getty Images

No. 1 Vancouver Canucks vs. No. 8 Los Angeles Kings
Is Jonathan Quick the best goalie in the NHL? He will have to prove himself in this series. The problem is that the Kings have had trouble scoring, and even though Roberto Luongo has been inconsistent in goal in the playoffs, the Canucks' potent offense should be able to outscore Los Angeles.
Prediction: Vancouver in 7
No. 2 St. Louis Blues vs. No. 7 San Jose Sharks
In my opinion, this will be the best series of the first round. The Sharks have been to two straight Western Conference Finals and are red-hot entering the playoffs, while the Blues have dominated them all year and make it extremely difficult to score goals against them. This Sharks team is not as good as the teams in recent years, but the Blues are trying to win their first playoff game since before the lockout.
Prediction: St. Louis in 7
No. 3 Phoenix Coyotes vs. No. 6 Chicago Blackhawks
While the relocation rumors have been swirling around more than ever, the Coyotes have wrapped up their first-ever division title and are hoping to win a playoff series for the first time in the desert. Chicago is definitely no pushover, finishing with a solid 101 points and a great offense. Their problem is their defense and goaltending, while Phoenix has a goalie who has somehow given up only two goals in his last five games. If Mike Smith can shut the door on the Blackhawks, Phoenix should have no problem scoring goals with Radim Vrbata, Shane Doan, and Ray Whitney.
Prediction: Phoenix in 6
No. 4 Nashville Predators vs. No. 5 Detroit Red Wings
The Wings have made the playoffs for the twenty-second consecutive season, but they have an extremely tough test in the first round. With the return of Alex Radulov and stars like Shea Weber and Pekka Rinne, this may be the best Predator squad in history. Detroit will only win this series if they can steal a game or two on the road, as they have had struggles in opposing stadiums all season. They also need to win as many of their two-to-three home games as possible.
Prediction: Nashville in 7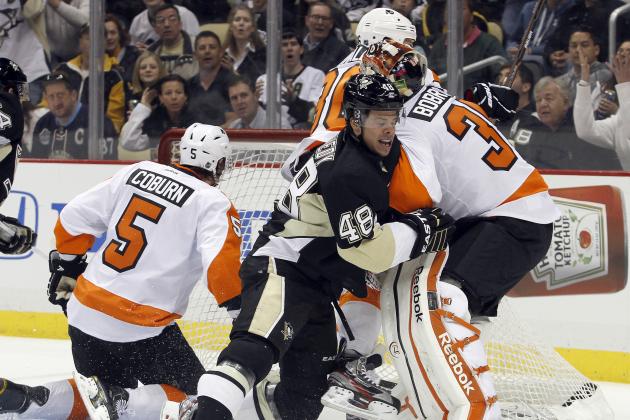 Justin K. Aller/Getty Images

No. 1 New York Rangers vs. No. 8 Ottawa Senators
The Sens have dominated New York all season, but the playoffs begin a new season. The Rangers have too many weapons and young talent to let this one slip away.
Prediction: New York in 6
No. 2 Boston Bruins vs. No. 7 Washington Capitals
After an unbelievable November and December, Boston has basically coasted toward the playoffs. The Bruins have really not been too impressive as of late, but the Capitals have been fighting like crazy to make the playoffs and are playing great hockey. This Bruins team will have a lot of trouble defending the Cup, and this is not the match-up they wanted.
Prediction: Washington in 7
No. 3 Florida Panthers vs. No. 6 New Jersey Devils
Congratulations to the Cats on making the playoffs for the first time since 2000, but they have a very tough foe in the New Jersey Devils. The Devils can be a very exciting team in these playoffs, and they should not have too many problems with the Panthers. I can see Florida winning Game One, but the Devils winning the rest.
Prediction: New Jersey in 5
No. 4 Pittsburgh Penguins vs. No. 5 Philadelphia Flyers
The series everyone has been waiting for. Philadelphia has been all over the Pens this year, but as I said before, the playoffs are a whole new season. I was in Philly for a game last week and although they won, I could not help but notice how many times they gave the puck away by going for the boy instead of the puck. If they do this against the Penguins, they will get burned. This is how I see this series: splitting the first two, splitting the second two, Philly winning Game Five but Pittsburgh winning games six and seven.
Prediction: Pittsburgh in 7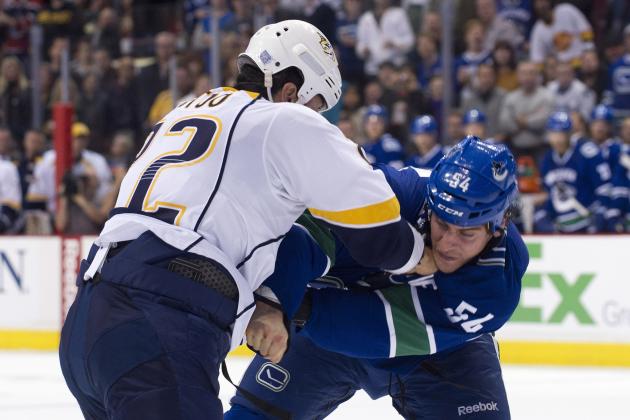 Rich Lam/Getty Images

No. 1 Vancouver Canucks vs. No. 4 Nashville Predators
These teams do not like each other, and I can see a budding rivalry in the works. The Preds are hoping for revenge from last year's series, and they have assembled an even better team than the one that gave the Canucks a slight scare. I do not trust Roberto Luongo, especially against a deadly Nashville power play.
Prediction: Nashville in 6
No. 2 St. Louis Blues vs. No. 3 Phoenix Coyotes
What a game Friday night, eh? This series would be a total toss-up. The Coyotes are hot, and I can see St. Louis having all sorts of trouble scoring on Mike Smith. However, I can also see St. Louis shutting down Vrbata and Doan while riding home-ice to victory.
Prediction: St. Louis in 7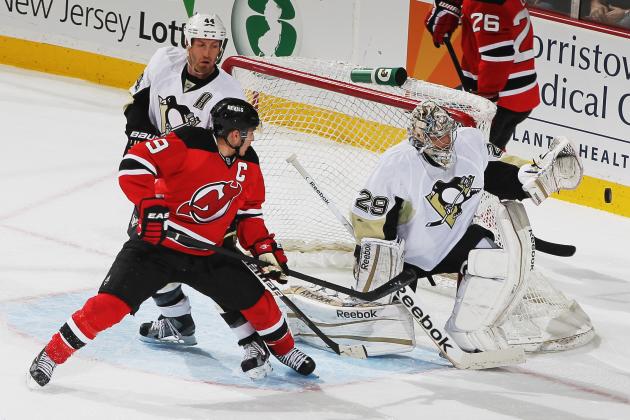 Mike Stobe/Getty Images

No. 1 New York Rangers vs. No. 7 Washington Capitals
The Blueshirts are out for revenge after Washington beat them in 2009 and 2011. Without Vokoun (or maybe even with Vokoun), it would be very hard to stop the Rangers' offense while having to also score on King Henrik.
Prediction: New York in 5
No. 4 Pittsburgh Penguins vs. No. 6 New Jersey Devils
This Devils team is very underrated. Believe it or not, they only finished one point behind the Flyers for fifth. A solid goalie tandem and defense along with an offense featuring Zach Parise, Travis Zajac, Ilya Kovalchuk, and Adam Henrique would be very tough for the Penguins to defend. However, Pittsburgh has an amazing team when healthy and can outscore anyone. The Devils will make it very hard for the Penguins, but Pittsburgh will advance to the Conference Final.
Prediction: Pittsburgh in 7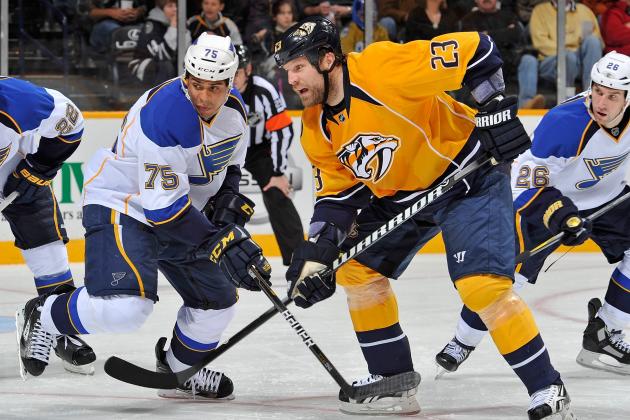 Frederick Breedon/Getty Images

No. 2 St. Louis Blues vs. No. 4 Nashville Predators
A Central Division clash pitting two rivals against each other for the first time in the playoffs. St. Louis has a terrific defense and arguably the best pair of goalies in hockey, but Nashville features a balanced attack that can cause a lot of problems for opposing teams. Both teams have the defense and goalies, but Nashville has the offense that will outscore the Blues.
Prediction: Nashville in 6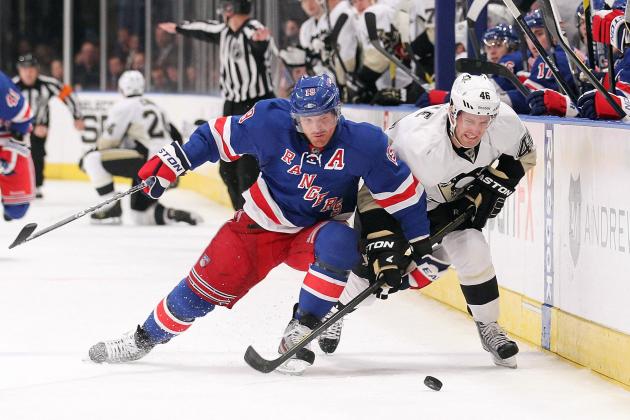 Nick Laham/Getty Images

No. 1 New York Rangers vs. No. 4 Pittsburgh Penguins
Two of the league's deepest teams square off for a shot at the Cup. These Atlantic Division rivals have been going at it all year, and John Tortorella has taken the rivalry off the ice as well. After being unjustly fined by the league for comments about the Penguins, Tortorella's squad is looking for revenge. The Penguins have one of the league's best offenses, but they need to get the puck past Henrik Lundqvist. The Rangers' deep scorers should be able to score on the offensively-minded Penguins enough to take this series and punch their ticket to the Final.
Prediction: New York in 6
Photo courtesy of: predators.nhl.com
New York Rangers vs. Nashville Predators
This would be a terrific Stanley Cup Final. The Rangers have not been this far since they won the Cup in 1994, while the Preds have never been past the second round. However, both of these teams have assembled excellent squads this season, and are both Stanley Cup possibilities.
The Rangers have Henrik Lundqvist, Marian Gaborik, Brad Richards, Dan Girardi and a ton of young talent. The Predators have one of the league's best coaches in Barry Trotz, one of the league's best defensemen in Shea Weber and one of the league's best goalies in Pekka Rinne.
Overall, this series would be very close. I can see the teams splitting the first two as well as the second two, with the Rangers winning Game Five, Predators winning Game Six, and Rangers winning Game Seven at home to capture the Stanley Cup.
Prediction: New York in 7