2012 NFL Draft: Why Robert Griffin III Will Have Better Career Than Andrew Luck
April 8, 2012

Jeff Zelevansky/Getty Images
In my opinion, Andrew Luck is clearly one of the best quarterbacks to come out in the draft in the last decade at least. However, I also believe that he may not be the best QB to come out in this year's draft.
Confused?
To put it another way, I believe that Robert Griffin III will have a better career than Andrew Luck.
Calm down angry reader, let me break it down for you. (This assumption is heavily dependent on the idea that RG3 is going to Washington and Luck is obviously headed to Indianapolis.)
The natural talent is actually pretty close, but talent only goes as far as it is nurtured. These factors are the reason that one QB will be good, and the other will be truly great.
Surrounding Talent
The Colts Have: Reggie Wayne, Austin Collie, and Donald Brown.
Not an overwhelmingly talented group is it?
Luck has been able to make something out of nothing so far in his career at Stanford, but can he do it in the NFL? I would contend that he can't.
With young, emerging defenses all around him in his own division, Luck will have no time to get his feet underneath him. If that weren't enough, the AFC South is scheduled to play the NFC North and the AFC East. The only cakewalk from that group defensively may be the New England Patriots, and they could upgrade with four picks in the first two rounds this year.
While the biggest criticism here will be that Wayne is still a talented number one receiver, I would strongly disagree. ESPN Stats say that with the shuffled QB group in Indy last year, Wayne only accumulated 960 receiving yards.
With a rookie QB, (what I think is) shaky protection from the OL, and tougher defenses this year I think that his stats will look worse this year. I mean like 800 yards. At 33 years old, he is starting to lose his speed in and out of cuts. While he is still a crisp route-runner, he isn't the threat he used to be.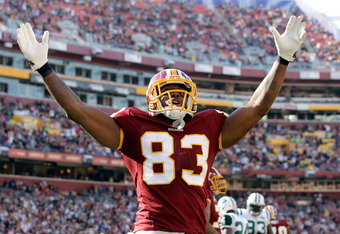 Rob Carr/Getty Images
The Redskins have: Pierre Garcon, Leonard Hankerson, Josh Morgan, Santana Moss, Fred Davis, and Roy Helu.
While there may not be a stud No. 1 WR on that list, there are several quality pieces.
That deep WR group is complimented by a very underrated TE in Fred Davis. Davis can give RG3 an intermediate receiving threat that will draw LBs out of position. I expect a lot of play-action to stem from this, leaving RG3 the decision to run or throw depending on the defender's depth.
Let's not forget the talented Mr. Helu. The rotational back had incredible production with 49 receptions for 379 yards in addition to his 640 yards rushing. A back like that is a perfect compliment to RG3's abilities. Again by reading the LBs, RG3 can decide whether to run the ball or whether to throw to the flat, depending on the depth.
Defensive Help
The Colts Have: Dwight Freeney, Jerry Hughes, Robert Mathis, Pat Angerer, and Brandon McKinney
This team is in the middle of a transition from the 4-3 to the 3-4 and I have some questions.
How well will Freeney/Mathis play as OLBs? Will one of them be benched for Jerry Hughes who projects better to the slash? Are the two veteran defensive leaders being pushed out by the new system? How will they respond to Pagano bringing a familiar face to town in Brandon McKinney? Who is the face of that defense now?
All those questions make me feel uneasy about the success of this team as a whole.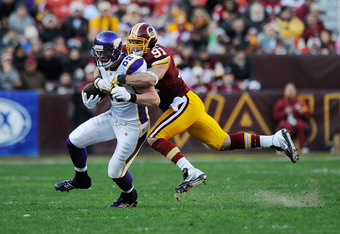 Patrick McDermott/Getty Images
How does that affect Luck? Well the poorer your defense plays the more points you allow. The more points you allow, the more passes you have to throw to try to catch up. The more obvious it is that you are trying to come back, the more pressure the defense will send. The more pressure the D sends, the more times your QB gets hit.
You see where I am going with this?
The Redskins Have: Ryan Kerrigan, Brian Orakpo, Barry Cofield, DeAngelo Hall, Brandon Meriweather
The 'Skins are led by an exciting tandem of pass rushers in Brian Orakpo and Ryan Kerrigan. Both do a good job getting to the QB and both still have a lot of good football ahead of them.
Unlike the Colts, the Redskins have been a 3-4 team for years and have finally built a good defensive roster around that scheme. They also get to face easier opponents like the weak offensive lines of the Giants and Cowboys (that interior is bad).
With RG3's team able to stay close in games, he will be given a bigger playbook to use. The mix of shotgun passes, runs, play-actions and many other plays will help give RG3 the edge he needs to lead his team to more victories than Luck. Griffin may start out relying on his defense, but like Rivers, Eli, and Roethlisberger his talent will carry him to the level of his defense or even higher.
Then it will be him that wins the games, not just his defense.
Athleticism

Luck may be the better passer by a hair, but RG3 is the better athlete by the same margin as you can see. RG3 won two out of the three events he competed with Luck in, and that may be the difference in their career. One extra missed tackle, due to RG3's athleticism may give his team another TD.
A better way to look at it is, what if RG3 can elude one extra defender trying to sack him?
Look at how Eli Manning won his first Super Bowl. Sure, the David Tyree catch was insane, but few people remember that right before that ball was thrown Eli eluded several Patriots defenders. Then with players on his back he delivered the rainbow pass the Tyree. That little bit of athleticism provided a huge spark that set Manning's team up to win that game.
Conclusion
While it is far from decided, RG3 will start the race to be the better QB with a head start. He has a veteran coaching staff, a deeper and more deadly group of receiving targets, and a more trustworthy defense which give him a clear early advantage.
Now don't get me wrong, I think Luck can have a great career with the Colts, but his development will be slow. The few years it takes his team to catch up to his talent may just cost him a chance at true greatness.
The point is, if you asked me to put money on which QB I thought was the most likely to become "elite," my money would be on the man from Baylor. Robert Griffin III.