Rory McIlroy: Bold Predictions for Rest of His PGA Season
April 8, 2012

Mike Ehrmann/Getty Images
Rory McIlroy failed to conquer Augusta National at this year's Masters, but that won't stop him from continuing to become one of the best golfers in the world.
The PGA season is long and arduous. McIlroy has the maturity and support to know this, and he's going to bounce back with a vengeance.
Here are three bold predictions for what you can expect the rest of the season.
McIlroy Will Win His Second Major Championship
I've already conceded the 2012 Open Championship to Tiger Woods, so McIlroy will have to make his bones at either the U.S. Open or PGA Championship.
That shouldn't be a problem. In the last three years, McIlroy has finished in the top three twice at the PGA and in the top 10 twice at the U.S. Open, including his first major win last year.
McIlroy is an excellent all-around player, and he leads all golfers on the PGA tour in scoring average (67.53 strokes per round per PGA.com) and scrambling.
Additionally, McIlroy is an excellent bunker player, and he's currently the third-ranked player on tour in that category.
These skills give him an excellent chance to win every tournament he enters, and there isn't a doubt in my mind that he'll win a major this year.
McIlroy Will Win the Fed-Ex Cup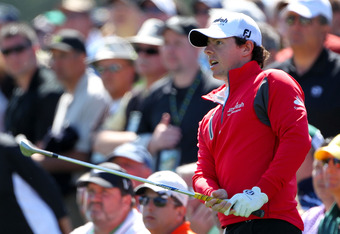 Jamie Squire/Getty Images
McIlroy is currently sitting in third place in the Fed-Ex Cup standings despite the fact that he'd only entered three events before the Masters.
His consistent play from week-to-week makes him one of the favorites to end the year atop that list.
Once he's made it into the Cup, all he has to do is keep finishing in the top 10 for a few weeks, and he'll have a chance to finish off the season with a bang.
This is the year that McIlroy finally establishes himself as the worthy successor to Woods as the undisputed No. 1 player in the world, and winning the Fed-Ex Cup will be the icing on the cake.
McIlroy Will End the Season as the PGA's Money Leader
Before this week, McIlroy was sitting pretty as the second-ranked golfer in this category despite the fact that he'd only entered into three events.
That is amazing production, and there isn't any reason to believe he's going to stop any time soon.
Some people may point to his poor showing at Augusta as a reason to think he's lost his mojo, but a quick look at history clearly shows that he simply doesn't play well at Augusta.
McIlroy will continue to dominate the events he enters on tour, and he will end the season as the PGA's money leader in 2012.
Thank you for making Bleacher Report your source for all your PGA news, reaction and analysis.