Masters Scores 2012: Peter Hanson and Players Who Crumbled Under Pressure
April 8, 2012
Streeter Lecka/Getty Images
The final day of the nation's biggest golf tournament at Augusta National can be too much pressure for some players to handle. Seemingly every year displays a once-thought-champion who crumbles under the moment and fails to win themselves a green jacket.
While nobody had the breakdown that Rory McIlroy had in 2011 as he finished with a final round 80, many players with solid chances to win the Masters came up flat in what was a beautiful Georgia day.
Going from one of hundreds of golfers to the pleasure of nearly 50,000 of golf's greatest fans can be too much for some players who aren't used to the attention. 
Here's a look at some players who couldn't stay consistent with a lead in the 2012 Masters.
Peter Hanson
Hanson, the No. 25 player in the world, wasn't exactly an afterthought in golf, but it's safe to say he was unheard of by millions watching the Masters. Yet, he took a one-stroke lead into golf's final day. 
It only took him one hole to lose his lead after bogeying the first hole, and was suddenly three strokes down after another bogey and an unbelievable albatross by Louis Oosthuizen. 
Many were wondering if Hanson would crumble under the pressure of winning his first major, especially after missing the cut in Augusta last year. They got their answer, as he finished with -----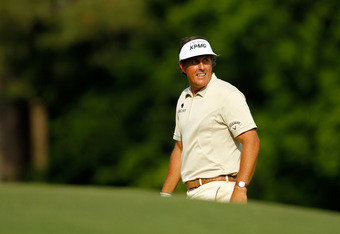 Streeter Lecka/Getty Images
It's hard to say that Mickelson completely crumbled under pressure, but bad decision making and virtually one bad hole kept him from tying Tiger Woods with four green jackets.
Just one terrible tee shot on the par-three fourth hole doomed him. If that wasn't the final straw, a poor backhanded shot that traveled about three inches was. 
No golfer has ever won the green jacket with a triple bogey on his scorecard, and Mickelson had two for the tournament. If he pars that fourth hole, he ultimately wins the green jacket.
Sergio Garcia
Garcia had a solid final round 71, but during a Moving Day Saturday in which many players pushed themselves into contention, he all but pushed himself out with a 75. 
He still had a sliver of hope heading into Sunday, but he double bogeyed the first hole and couldn't muster enough birdies. 
Apparently, I'm not the only one who thinks Garcia was not at his top form through the weekend's action. Look at what he said after his final round.