Cal Football: 8 Reasonable Goals for the Golden Bears' 2012 Season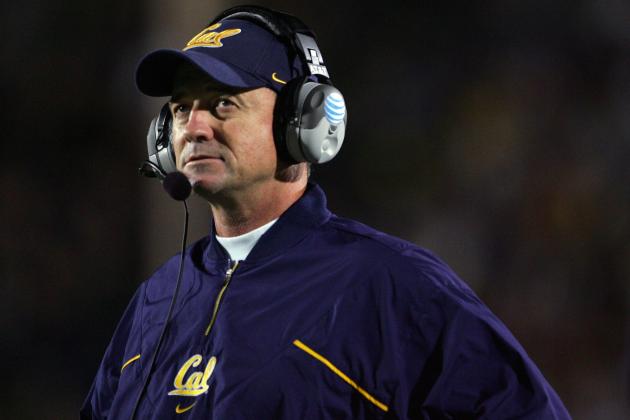 Jeff Gross/Getty Images

California Golden Bears football fans have become used to expecting things from head coach Jeff Tedford He has coached the team to nine winning seasons in 10 years at the helm, and since he turned the team around from an abysmal 1-10 season to a 7-5 record in his first season, Tedford's tenure has been littered with bowl game entries and future NFL draft picks.
The last five years haven't been quite as successful as his first five (seven fewer victories total), but here are eight ways the Golden Bears can help Tedford get back on track from winning ways to dominant ways.
Begin Slideshow

»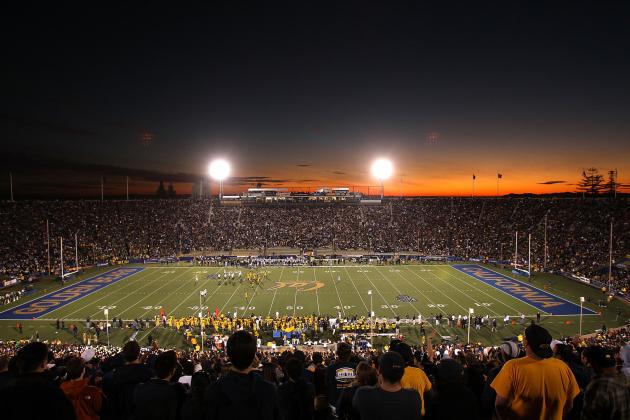 Ezra Shaw/Getty Images

Sure, it sounds simple, but California hosting Nevada in the Memorial Stadium reopening needs to be a Golden Bears victory. After undergoing a $321 million renovation, the venue deserves some love on the field.
Cal is 29-3-1 against the Wolf Pack, although the last matchup ended in a 52-31 drubbing of the Golden Bears. That was when current 49ers quarterback Colin Kaepernick led Nevada, which had five touchdowns in the game.
This time around should be a different story—hopefully like those 29 times Cal defeated Nevada.
The contest will also be the first of the season, meaning the Bears will start the season off on a positive note.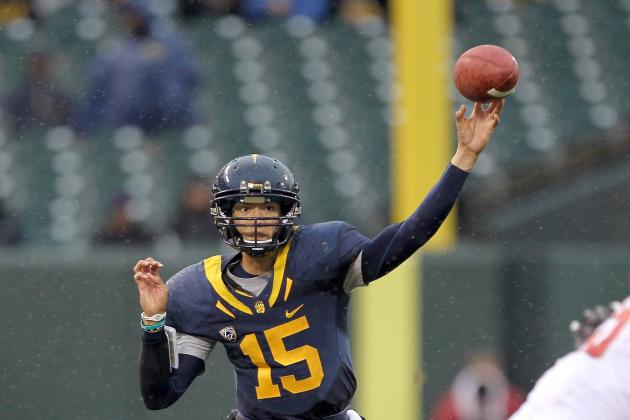 Ezra Shaw/Getty Images

Expectations for starting QB Zach Maynard are high, and he'll live up to them.
Maynard's first season in Blue and Gold was eerily similar statistically to his second season at Buffalo, where he played before transferring to Berkeley.
However, after a year in Jeff Tedford's offense, Maynard should be able to get to 3,000 yards and a two-to-one touchdown-to-interception rate.
"As far as experience, another year is huge for me," Maynard told the San Jose Mercury-News. "Just coming out and working with guys, building that chain throughout the offense that we all connect together."
The quarterback's connections with Golden Bear receivers, like his half-brother Keenan Allen, are essential to his success in 2012.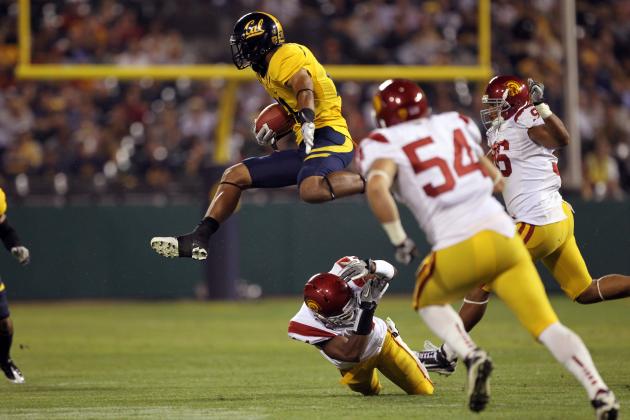 Ezra Shaw/Getty Images

As mentioned, Zach Maynard will rely on half-brother Keenan Allen, and together they could make one of the best batteries in the Pac-12.
The two showed exceptional chemistry in Cal's first six games, with more than half of Maynard's yards going to Allen (52.3 percent). In those games Allen tallied 828 yards and four touchdowns, eclipsing 100 yards in all but one contest. He used sticky hands and sick quickness to his advantage, particularly against Washington (10 catches for 197 yards and a touchdown).
However, tough defenses and a mid-year slump slowed the two. Allen didn't surpass 100 yards again the rest of the year.
In 2012 Maynard-to-Allen will be one of the most common in the Pac-12, and Allen will snag 100 balls for more than 1,500 yards.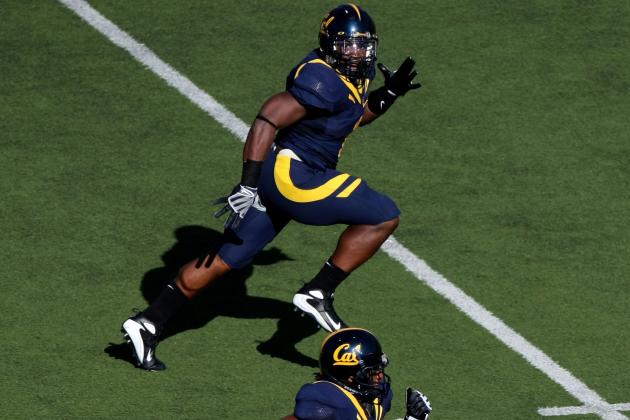 Jed Jacobsohn/Getty Images

The best way to manage the loss of last year's Pac-12 Defensive Player of the Year is to replace him with an absolute beast like David Wilkerson. Since middle linebacker Mychal Kendricks is moving on to the NFL, Wilkerson will get to show his stuff.
Wilkerson was an inside force last year, playing behind Kendricks after missing 2010 due to an ankle injury. His best game came against Utah, when he tallied 2.5 sacks in the Golden Bears' first conference win.
Though he's just a sophomore this year, Wilkerson doesn't shy away from hits and will prove an essential piece to the Cal defense.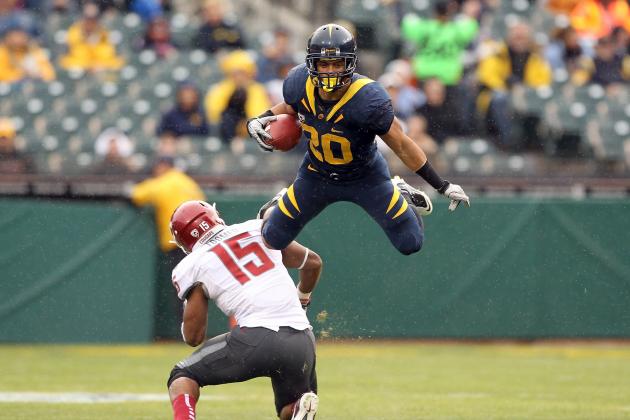 Ezra Shaw/Getty Images

A year ago Isi Sofele continued the recent run of quality California tailbacks by compiling 1,322 yards and 10 touchdowns.
Back for his senior season, Sofele will utilize his speed and cutting ability to reach the century mark again. He surpassed 1,000 yards in a fantastic 190-yard game against Oregon State, and would have cracked 200-yards if not for a penalty call in the fourth quarter.
It took him 10 games to get there last year, but it should only take eight this year.
Despite his 5'8" stature, this dude can run—nay, fly (as seen above).
Sofele has that burst around the corners a feature back needs. Plus, he squeezes through holes like nobody's business.
Look for him to stabilize the offense and open up the passing game for Zach Maynard.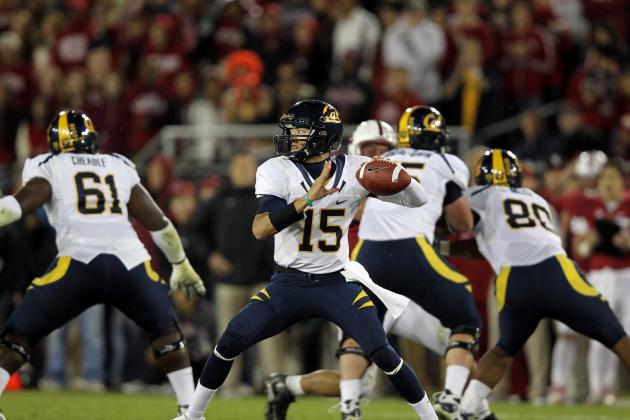 Ezra Shaw/Getty Images

With left tackle Mitchell Schwartz and right guard Justin Cheadle graduating, Cal's offensive line has a few holes to fill up. Schwartz was a key cog on the unit, starting all 25 games in the last two seasons. Cheadle also started 21 of those games.
Fortunately, since Maynard is a lefty the left tackle spot isn't a blindside necessity (returning right guard Matt Summers-Gavin takes care of that), but the Golden Bears need the new starts to open up holes for tailback Isi Sofele and close up holes on the offensive line for quarterback Zach Maynard.
Nothing can make up for that experience, but a quartet of O-linemen will do what they can.
Schwartz's duties fall to either Matt Williams or Bill Tyndall, both former nationally ranked recruits from junior colleges.
Two former 4-star recruits in Chris Adcock and Alejandro Crosthwaite vie for the guard spot.
The best fans can expect are solid season from whoever wins the gigs.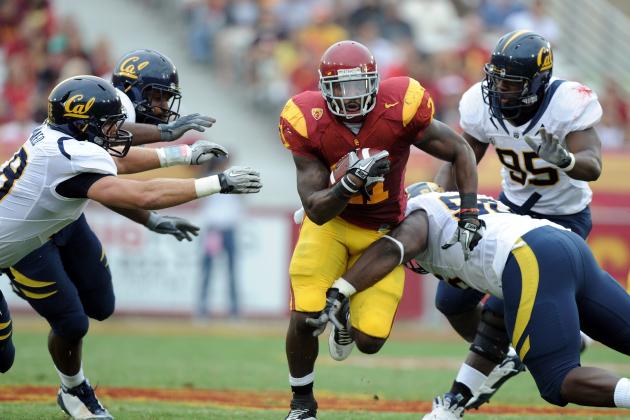 Harry How/Getty Images

The Golden Bears defense will stay in the top half of Pac-12 defenses after a stellar 2011 campaign.
Last year Cal was best in the Pac-12 in yards allowed (332.9 per game) and first downs allowed (17.4 per game). The staunch defense allowed a fourth-best 24.2 points per game.
Yes, just five starters return to the Bears defense, but even the backups contributed to one of the best defenses in the conference last season.
Besides, even a nearly-as-good performance would be praiseworthy.
2012 shouldn't be much different. Non-starters had a notable role in the overall defense last year and learned a great deal playing alongside the starters. While it would be too much to expect a Pac-12-best defense again, staying in the top half of the conference is reasonable.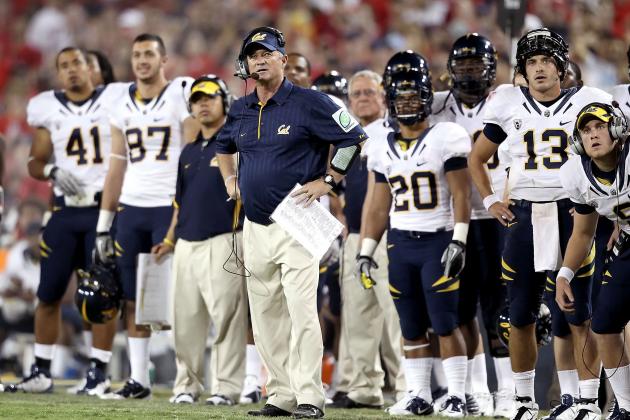 Christian Petersen/Getty Images

This year Jeff Tedford and company will aim for the Golden Bears to up the ante to eight victories after a somewhat disappointing season in 2011.
California can win all three of its non-conference games, even the Week 3 matchup against a mediocre Ohio State squad.
Though the team will have difficulty with USC, it should be able to win two of the following three games: Arizona State, UCLA and Washington State).
Then the Cardinal march into Memorial Stadium, and without quarterback Andrew Luck the Bears will try to take revenge for last year's 31-28 loss.
Cal shouldn't have a problem with Utah, which the Bears beat easily a season ago.
Washington and Oregon will be a little tougher.
Oregon State rounds out the schedule, and if Cal can surprise Stanford then the Bears' win tally will reach seven victories.
Then it comes down to the bowl game.