NHL Power Rankings: Regular Season Grades for Every Team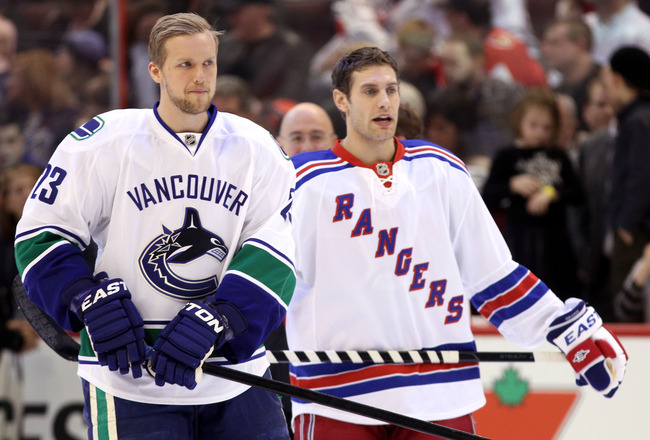 Christian Petersen/Getty Images
I'm not going to write an entire introduction about the regular season because it's over an you are either:
a) Pumped about the playoffs
Or
b) Pissed your team didn't make it
Still, it was a fun regular season. Some upstart teams like Minnesota, Dallas, Colorado and Buffalo showed promise.
The Leafs looked like they might make the playoffs (sorry to rub it in).
Boston looked unstoppable. New York and St. Louis had breakout seasons.
Phoenix and Florida won their first division titles in league history while the Sharks and Capitals slipped and almost missed the playoffs.
Oh, and in case you missed it, New Jersey accrued 102 points and entered the playoffs red hot.
Yet, then again, the regular season is over and all hell breaks loose in the playoffs.
Will the Rangers bring home their first Stanley Cup since 1994 or will the team they took it from in that series, the Canucks, finally win it all?
Can Florida make their first major playoff run since 1996, when they went to the Stanley Cup Finals, or will New Jersey, the team that swept them in their last playoff appearance (1999-00), take them out?
The St. Louis, San Jose matchup is intriguing. Both teams are perennial playoff teams (St. Louis made it every year from 1980-2004, the Sharks 2003-present) that have never won a Cup.
Oh yeah, and that Pennsylvania showdown.
That. Is. Going. To. Be. Ugly.
Those two teams do not like each other.
It's playoff time, baby!
Columbus Blue Jackets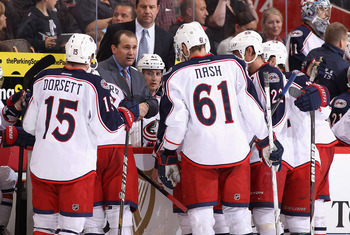 Christian Petersen/Getty Images
Record: 29-46-7 (65 pts), 5th Central, 15th West
This was a tough season for the residents of Columbus, Ohio.
Grade: F
Edmonton Oilers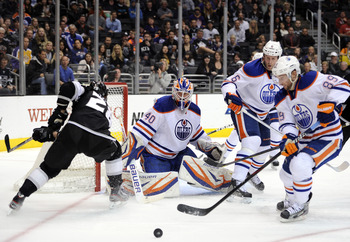 Harry How/Getty Images
Record: 32-40-10 (74 pts), 5th Northwest, 14th West
Well, at least you're not Columbus.
Still, the Oilers owe their loyal fanbase more than this.
They're young and building still, I understand, but eventually Hall, Eberle, Nugent-Hopkins and Co. need to evolve into bona fide superstars.
Maybe next year…
Grade: D+
Montreal Canadiens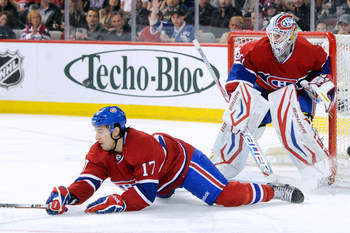 Richard Wolowicz/Getty Images
Record: 31-35-16 (78 pts), 5th Northeast, 15th East
Anytime the Canadiens miss the playoffs, let alone finish dead last in the East, it's a tough season for one of the league's most loyal fanbases.
Grade: F
New York Islanders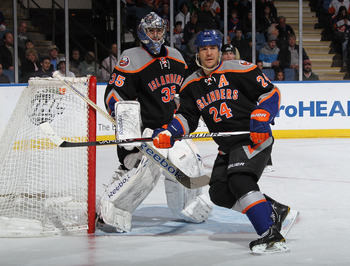 Bruce Bennett/Getty Images
Record: 34-37-11 (79 pts), 5th Atlantic, 14th East
Tied for last in the East with 203 goals scored, the Islanders have decided to use a roster of only defensemen next season.
Okay, that's not true, but this team must do something to start winning soon or they'll be gone when their stadium lease is up.
Grade: F
Toronto Maple Leafs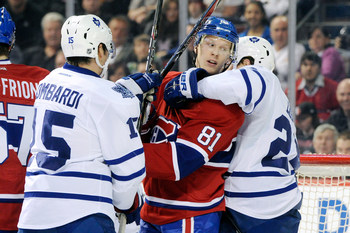 Richard Wolowicz/Getty Images
Record: 35-37-11 (79 pts), 4th Northeast, 13th East
It's gotta be tough being a Leafs fan.
Grade: F
Anaheim Ducks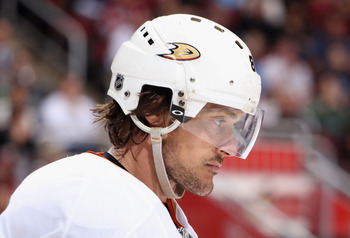 Christian Petersen/Getty Images
Record: 34-36-12 (80 pts), 5th Pacific, 13th West
Hard to call this year a success for the Ducks, a talented team (Getzlaf, Perry, Selanne, Ryan, Hiller) that made a playoff push late in the season.
It was too little, too late for newly anointed coach Bruce Boudreau and his Anaheim squad.
In the future, the Ducks need to shore up their depth and improve along the blue line—which has never been the same since the Neidermayer, Pronger era.
Grade: C-
Minnesota Wild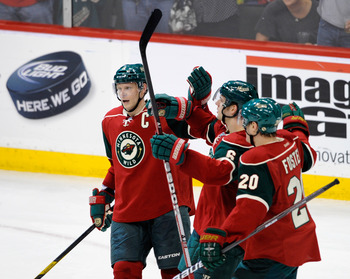 Hannah Foslien/Getty Images
Record: 35-36-11 (81 pts), 3rd Northwest, 12th West
A promising season turned out to be another downer for the Wild.
Fortunately, the organization is moving in the right direction and fans in Minnesota should hope to see talent drafted and developed—a recipe for success in a small market.
Still, the Minnesota faithful has to be wondering how long they have to wait in order to see the Stanley Cup Playoffs in St. Paul again.
Grade: C-
Carolina Hurricanes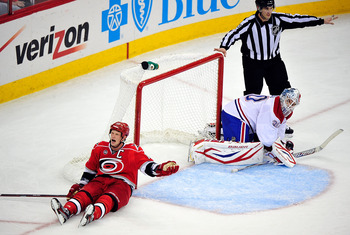 Grant Halverson/Getty Images
Record: 33-33-16 (82 pts), 5th Southeast, 12th East
Maybe I'm being too lenient, but for a team that came into the season with minimal expectations and had a superstar slump, the Canes did alright.
Yes, they finished last in the East's weakest division.
Yes, they've missed the playoffs for a third straight year.
But they were able to keep Tim Gleason and Tuomo Ruutu in town and have great young talent (Jeff Skinner, Jamie McBain, Justin Faulk, Brandon Sutter) to build around.
Grade: C
Winnipeg Jets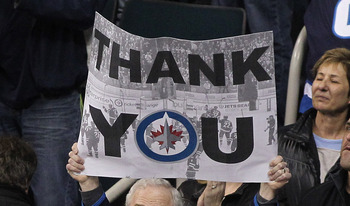 Marianne Helm/Getty Images
Record: 37-35-10 (84 pts), 4th Southeast, 11th East
The Jets are on a Honeymoon—there's no ill feelings about this season.
A Honeymoon in Winnipeg seems a little counterintuitive though, doesn't it?
Grade: B+
Tampa Bay Lightning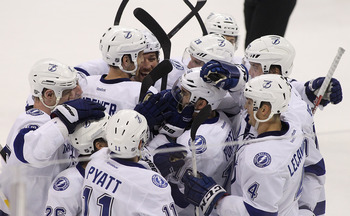 Marianne Helm/Getty Images
Record: 38-36-8 (84 pts), 3rd Southeast, 10th East
Tampa Bay had lightning in a bottle (yes, it's hokey pun, sorry).
The Bolts galvanized the interest of their fans by reaching the Eastern Conference Finals using mastermind Guy Boucher's don't forecheck defense.
They changed their unis and appeared poised to change the culture of hockey in Tampa.
The city even hosted the Frozen Four this season.
Then, the league figured out Boucher.
Next season it'll be back to the old drawing board for Boucher and his Bolts.
Grade: D
Colorado Avalanche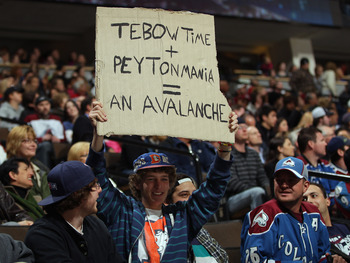 Doug Pensinger/Getty Images
Record: 41-35-6 (88 pts), 3rd Northwest, 11th West
This constitutes the second straight year the Avalanche have missed the playoffs and fans in Denver are becoming apathetic.
The team does have young talent to build around, however.
Matt Duchene, Gabriel Landeskog, Jamie McGinn, Peter Mueller, Semyon Varlamov and Ryan O'Reilly all have shown promise and have yet to reach their 24th birthday.
Grade: C+
Buffalo Sabres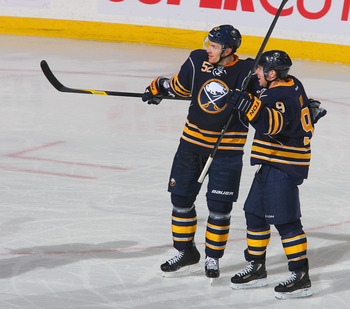 Rick Stewart/Getty Images
Record: 39-32-11 (89 pts), 3rd Northeast, 9th East
Close, but no cigar.
There were high hopes for this Buffalo squad last year, but despite their payroll increase the team could not reach the postseason.
Grade: C-
Dallas Stars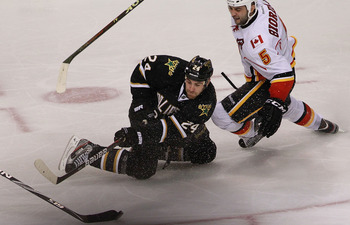 Ronald Martinez/Getty Images
Record: 42-35-5 (89 pts), 4th Pacific, 10th West
Dallas really needed a playoff appearance this season.
Bankruptcy has made it difficult for management to put a quality team on the ice and the players have to get tired of playing in front of rows of empty seats night after night.
Winds of change should be coming in Dallas, but a playoff appearance certainly would have galvanized the Stars' fanbase.
Grade: C-
Calgary Flames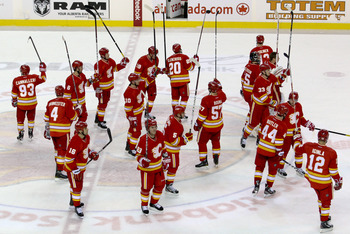 Mike Ridewood/Getty Images
Record: 37-29-16 (90 pts). 2nd Northwest, 9th East
At first glance it looked like the Flames had a shot to be the second Northwest team to make it to the dance.
The team was five points out and had a minus-24 point differential, however, indicating were farther from the playoffs than the standings indicate.
Its been said before, but it's time for this team to rebuild.
Grade: D+
Ottawa Senators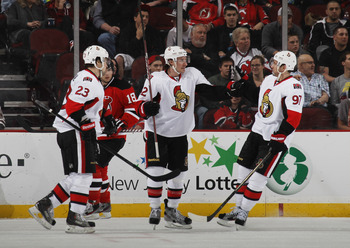 Bruce Bennett/Getty Images
Record: 41-31-10 (92 pts), 2nd Northeast, 8th East
After giving Boston a little bit of a scare late in the season, the Sens cooled off and limped into the playoffs.
It's tough to see this team getting out of the first round this season, but, then again, most people didn't see the Senators making the postseason.
Grade: B
Washington Capitals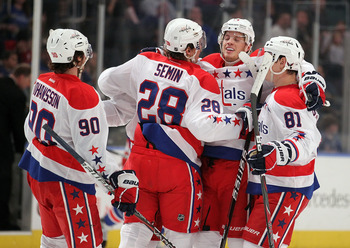 Nick Laham/Getty Images
Last week: 6
Record: 42-32-8 (92 pts), 2nd Southeast, 7th East
Nobody in Washington is happy about a season where the Caps relinquished their stranglehold over the Southeast Division and almost missed the playoffs.
Still, who knows? Maybe being a late seed is just what this team needs
Grade: D
Florida Panthers
Joel Auerbach/Getty Images
Record: 38-26-18 (94 pts), 1st Southeast, 3rd East
This team backed into the playoffs.
They went 2-3-5 in their last 10 and almost lost the division lead to Washington.
Still, this is Florida's first playoff appearance since the 1999-00 season, when they were swept by the Devils in the first round.
Oh, by the way, Florida's opponent in the first round this season?
The Devils—a team that has won their last six games.
Grade: B
Los Angeles Kings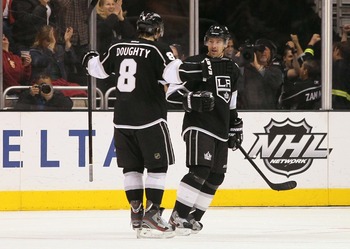 Victor Decolongon/Getty Images
Record: 40-27-15 (95 pts), 3rd Pacific, 8th West
The Kings and Sharks were supposed to competing for the Pacific Division crown, not a playoff spot.
Then again, I guess they were kinda fighting for the division title at the end…
Either way, the Kings are in and while the Canucks are a tough first round opponent, they won the President's Trophy, LA has a chance. Chicago gave Vancouver a scare last season.
Grade: B-
San Jose Sharks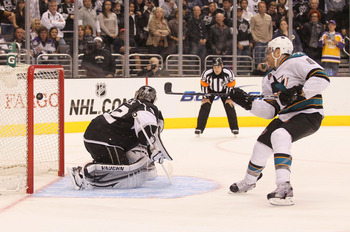 Victor Decolongon/Getty Images
Record: 43-29-10 (96 pts), 2nd Pacific, 7th West
No Sharks fan is going to be happy with a seventh seeded team that almost missed the playoffs.
Still, who knows? Maybe a late seed is just what this team needs to make a run.
Grade: D
Phoenix Coyotes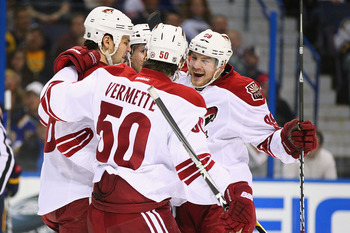 Dilip Vishwanat/Getty Images
Record: 42-27-13 (97 pts), 1st Pacific, 3rd West
Even if things go awry in the playoffs (Chicago is a tough matchup), the embattled Coyotes can hang their hat on the fact that they brought home their first division title this season.
Grade: A-
Chicago Blackhawks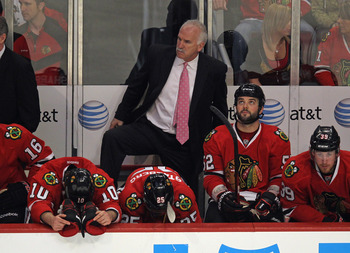 Jonathan Daniel/Getty Images
Record: 45-26-11 (101 pts), 4th Central, 6th West
Yeah, coming in fourth place in the Central isn't thrilling, but it was the West's best division and the Hawks get a favorable first round matchup against the Coyotes in the playoffs.
St. Louis and Nashville have both improved their clubs and the window may be closing on the forever young Red Wings, meaning that Chicago shouldn't be too unhappy with where they ended up.
Grade: B+
New Jersey Devils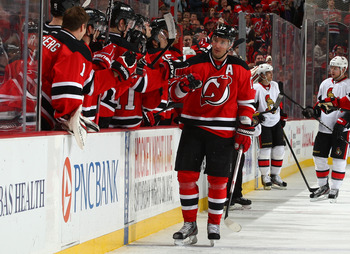 Chris Chambers/Getty Images
Record: 48-28-6 (102 pts), 4th Atlantic, 6th East
The Devils finished with the same amount of points as the Bruins.
However, by nature of playing in the East's toughest division and being sandwiched in a market full of Rangers and Flyers fans, the Devils seem to have acquired those 102 points with a lower profile.
A six-seed doesn't sound all that great, until you realize that this red-hot Devils team will be facing the slumping Panthers in the first round.
Grade: A
Detroit Red Wings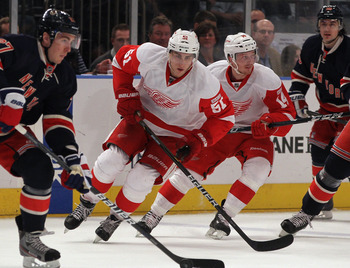 Bruce Bennett/Getty Images
Record: 48-28-6 (102 pts), 3rd Central, 5th West
Owners of the league's best home record (31-7-3), the Red Wings benefitted from playing in front of the Detroit faithful this season.
Their limping to the finish line and a tough first round matchup with the Predators has to be somewhat concerning for the Wings, however.
Grade: A-
Boston Bruins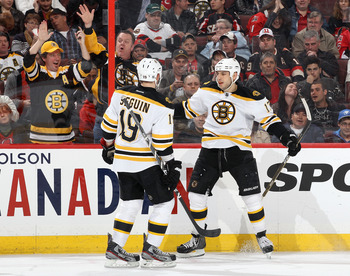 Jana Chytilova/Freestyle Photo/Getty Images
Record: 49-29-4 (102 pts), 1st Northeast, 2nd East
For basically three quarters of the season I thought I'd be giving this team an A plus, plus, plus…
Unfortunately, just like Ralphie, the Bruins had a rude awakening.
Not that there's any shame in a 100-plus point season that merited a second seed in the playoffs.
Grade: A-
Philadelphia Flyers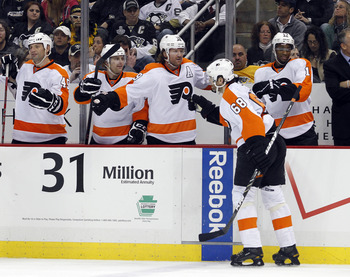 Justin K. Aller/Getty Images
Record: 47-26-9 (103 pts), 3rd Atlantic, 5th East
The Flyers, Penguins first round matchup should be the most intense playoff series this season.
The vitriol between these teams is palpable.
This crosstown brawl is going to get ugly.
Grade: A-
Nashville Predators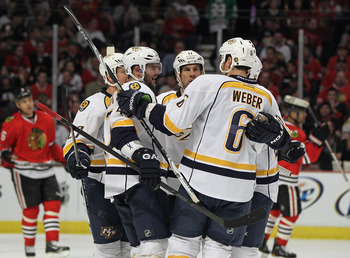 Jonathan Daniel/Getty Images
Record: 48-26-8 (104 pts), 2nd Central, 4th West
Nashville went all-in, acquiring Hal Gill and reuniting the Kostitsyn brothers at the deadline in an effort to keep Ryan Suter and Shea Weber in Tennessee for the long term.
Can the Preds get past the first round for the second consecutive season?
They'll have to pass the almighty Red Wings to do so.
Grade: A
Pittsburgh Penguins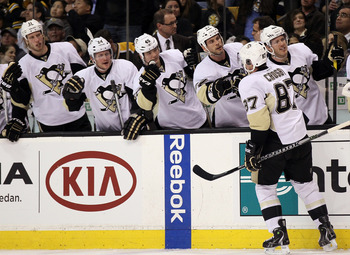 Elsa/Getty Images
Record: 51-25-6 (108 pts), 2nd Atlantic, 4th East
Only the Bruins had a better goal differential than Pittsburgh's plus-61.
And Pittsburgh got that total without superstar Sidney Crosby for most of the season.
The first round matchup with Philly will be tough, but if Pittsburgh can get past that they may be on their way to a fourth Stanley Cup Championship.
Grade: A
St. Louis Blues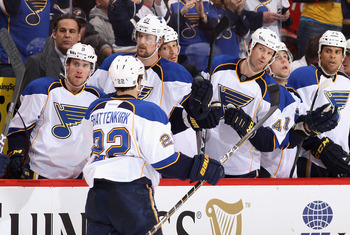 Christian Petersen/Getty Images
Record: 49-22-11 (109 pts), 1st Central, 2nd West
Finally, the Blues have arrived.
Season after season the team was 'young and promising' (see: Avalanche), but couldn't make a splash in the playoffs.
This season they should.
Facing the Sharks in the first round is tough. However, this team has put themselves in a position to be good not just this season, but in the long run.
Grade: A
New York Rangers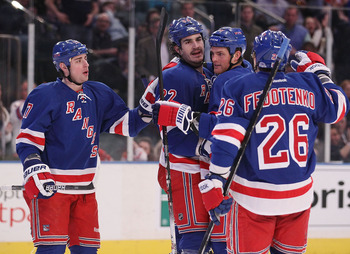 Nick Laham/Getty Images
Record: 51-24-7 (109 pts), 1st Atlantic, 1st East
Finally, it has all come together for the Rangers.
Free agents Brad Richards and Marian Gaborik are producing.
Longtime Rangers Ryan Callahan, Marc Staal and Henrik Lundqvist have been stellar.
And the young talent, Michael Del Zotto and Derek Stepan, give fans in New York hope that this team is going to be good for years to come.
Grade: A
Vancouver Canucks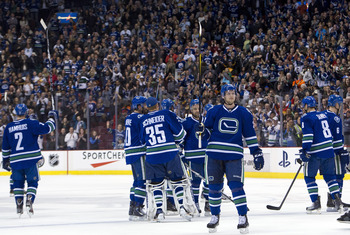 Rich Lam/Getty Images
Record: 51-22-9 (111 pts), 1st Northwest, 1st West
The Canucks got hot at the right time (8-1-1 in their last 10) and snagged the President's Trophy away from the Rangers and Blues.
Things are looking good, but buyer beware: this team beat up on the league's worst division this season.
Grade: A
Keep Reading