NHL Playoffs 2012: Injuries Will Hurt Blackhawks' Chances of Winning Cup
April 8, 2012

Christian Petersen/Getty Images
The Chicago Blackhawks will have a difficult road ahead of them in this year's NHL playoffs, and while they must first get past the Phoenix Coyotes, their biggest challenge is actually their roster's pending health.
Currently, the Blackhawks are waiting to see if they will have back important pieces like left winger Andrew Brunette (foot), center Dave Bolland (upper body), defenceman Steve Montador (upper body) and their team captain in center Jonathan Toews (concussion).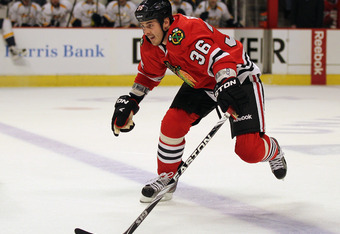 Jonathan Daniel/Getty Images
All four skaters did not participate in Saturday's regular season finale, a match in which the Hawks defeated the Detroit Red Wings 3-2 in a shootout.
According to Chicago Sun-Times writer Adam Jahns, Montador is out indefinitely, but he reports the rest continue to be questionable, with their status being day-to-day.
Obviously, the most important player needed in to return is Toews, who was a critical part of the team's Stanley Cup triumph back in 2011. He was named the series MVP, so his return not only would help the team on the ice, but will also motivate them to see their leader skating by their side.
The Hawks have experienced quite a roller-coaster season, but head coach Joel Quenneville has kept them alive and in the playoffs.
While they do still have the likes Patrick Kane and Duncan Keith, who is returning from a five-game suspension, these key injuries may ultimately hurt their chances in this seven-game series with the Coyotes.
The first game won't get started until Thursday April 12, so the team should have plenty of time to evaluate their health over the next few days.
Anything can certainly happen, but pending another injury, or the inability of any of these men to return, the Hawks will continue to fight an uphill battle to make some noise this postseason yet again.
Jeff Chase is a Featured Columnist for the Chicago Cubs and Arizona State football.
Follow @Real_Jeff_Chase